When you're craving something savory and delicious, nothing hits the spot like some of your favorite international flavors wrapped in a taco or tossed in a fried rice dish! And, the best part is that some of those seemingly complicated dishes can be made at home. But don't worry, no matter your skill level, with a little help from Minute® Rice and a few simple ingredient combinations, it's not only possible, it can be simple too!
Sometimes all it takes to send your taste buds on an adventure are a few ingredients and familiar flavors. We'll show you how easy it can be to recreate crave-worthy and international dishes with simple-to-find ingredients and give you recipe ideas along the way. To make them even more accessible, most can be prepared in about 30 minutes or less.
Essential Meal Items
Across the globe, rice is the backbone of many important cuisines from Southern Louisiana dishes all the way to Asia and South America. So each of these meals include rice in some way for taste and texture as well as a hearty, filling touch. Grab your preferred variety of Minute® Rice and get ready to travel from the comfort of your own kitchen by trying these tasty meals using international inspired ingredients.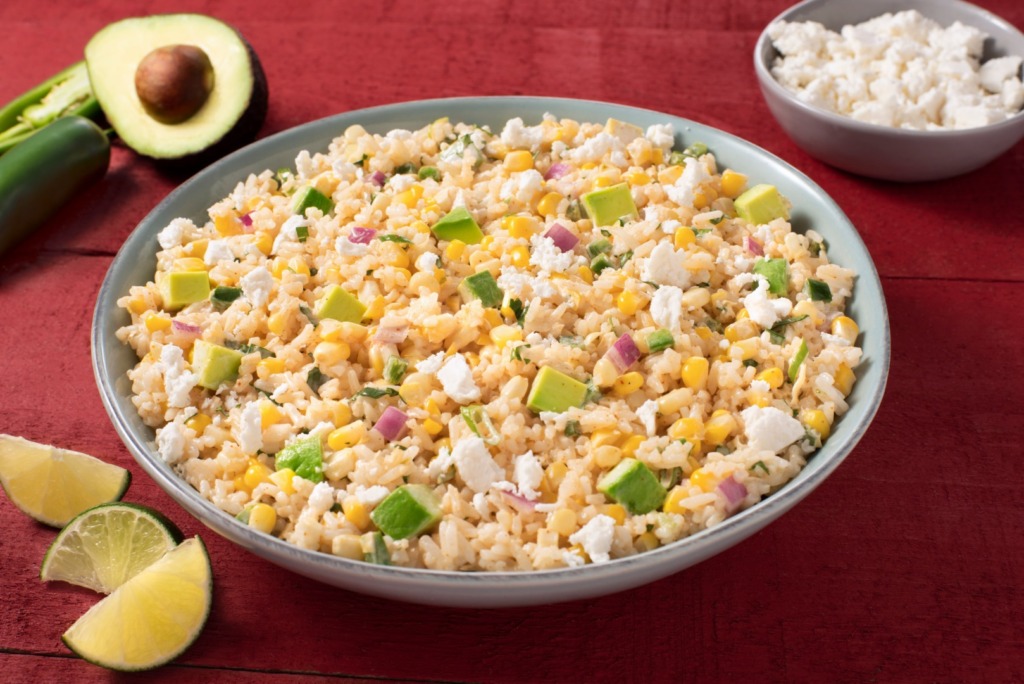 Not sure where to find some of the items listed? Check the international aisle at your local supermarket or specialty food stores. Or, ask your favorite take out restaurants if you can purchase a bit of their sauce.
Latin American Spice
Starting close to home, Latin America is known for its wide variety of flavors and vibrant colors. Combining a range of cuisines all the way from Mexico down to Argentina, try adding these ingredients to your meals for a touch of something tasty with a kick.
Herbs and Seasonings: taco seasoning, cilantro, chile pepper, cumin, garlic
Fruits and Vegetables: lime, avocado, peppers, onions, jalapeños, tomatoes, plantains
Grain and cereals: rice, quinoa, corn, tortillas (grain product), black beans, kidney beans, refried beans
Sauces and cheese: salsa, chimichurri, hot sauce, salsa verde, cotija cheese, cheddar cheese, queso fresco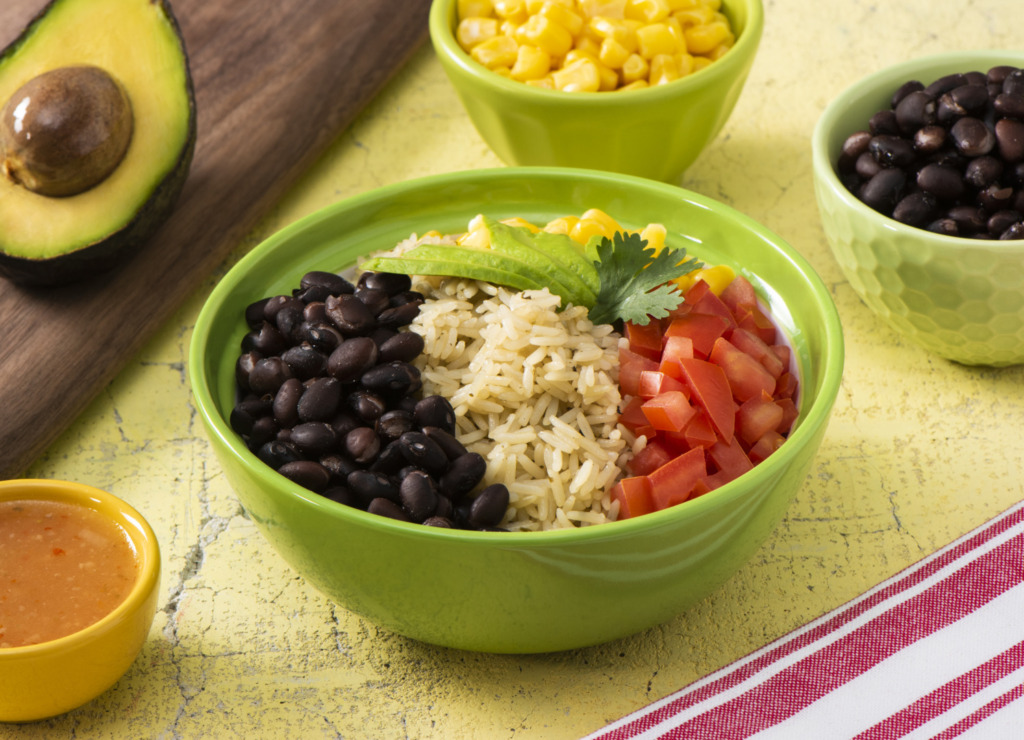 Mexican Fiesta
To have your own Cinco de Mayo fiesta or a Taco Tuesday feast at home, start with a side of elote-inspired Mexican Street Corn and Rice Salad, a classic Cilantro Lime Rice or a simple Mexican Cobb Salad. For a meal for one, these Quick and Easy Chicken Soft Tacos are perfect or make it a family-style meal with these seasoned Chicken and Rice Tacos.
South American
Take your dish all the way down to South America with a simple store-bought chimichurri sauce! Try it in a Grilled Steak and Brown Rice Salad Platter or a simple Chimichurri Tuna Salad with canned tuna and a base of Minute® Ready to Serve Brown Rice & Quinoa.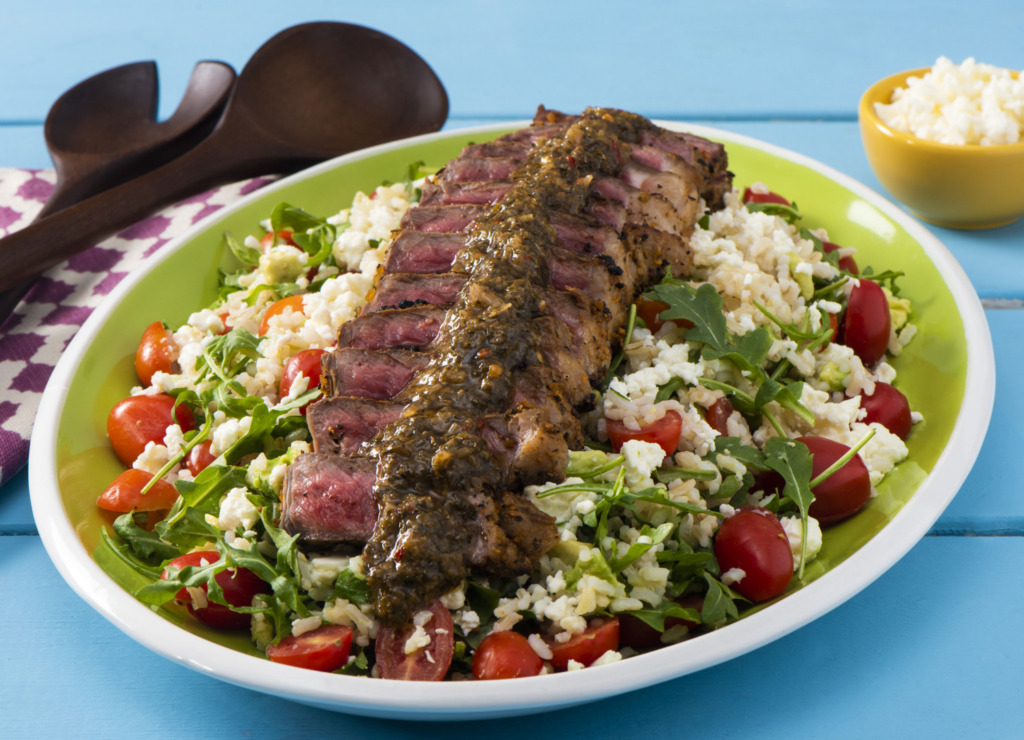 Mediterranean Tastes
Along the coastline, Mediterranean cuisines are commonly found in the form of Italian, Spanish, French, Greek and other cooking. Using lots of fresh vegetables, herbs and simple dressings, there are plenty of ways you can add some zesty flavor to your meals.
Herbs and Seasonings: basil, oregano, parsley, mint, dill, garlic, thyme, rosemary, Za' atar seasoning
Fruits and Vegetables: lemon, tomato, zucchini, olives, cucumber, eggplant
Grains, legumes and seeds: rice, lentils, quinoa
Sauces and cheese: Greek tzatziki, yogurt, tomato sauce, hummus, olive oil, feta, mozzarella, Parmesan, pesto, Alfredo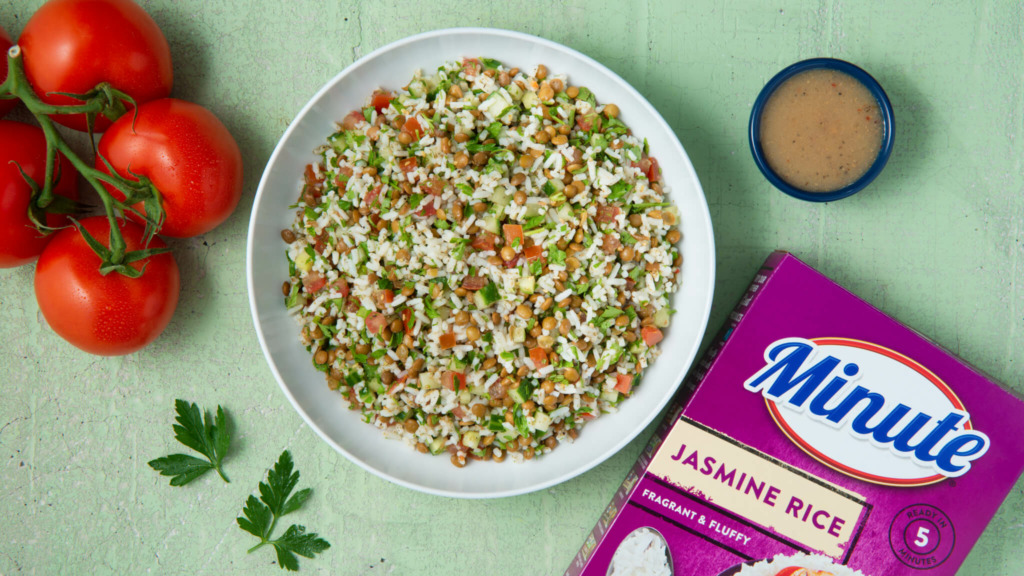 Never used Za'atar seasoning before? Now is your chance to try it by making a deliciously fresh Rice and Lentil Tabbouleh Salad. Speaking of seasonings, put that spice rack cumin and paprika to good use with a can of herb diced tomatoes in a One Pot Rice Shakshuka.
Comforting Italian Dishes
Recreating Italian-style restaurant dishes is simpler than ever with store-bought sauces like creamy Alfredo in this 5 Minute Alfredo Chicken and Rice. Or try a basil and sun-dried tomato pesto sauce in this Pea and Pesto Rice with Pecorino cheese, grape tomatoes, and garlic over Minute® Jasmine Rice for a tasty and simple meal.
You can also use jarred tomato sauce from your pantry and a few other ingredients like herbs and cheese to make your own comforting Italian flavors. Try it with Rice Stuffed Eggplant Parmesan using tomato basil pasta sauce and Minute® Instant Jasmine Rice with mozzarella and Parmesan cheese.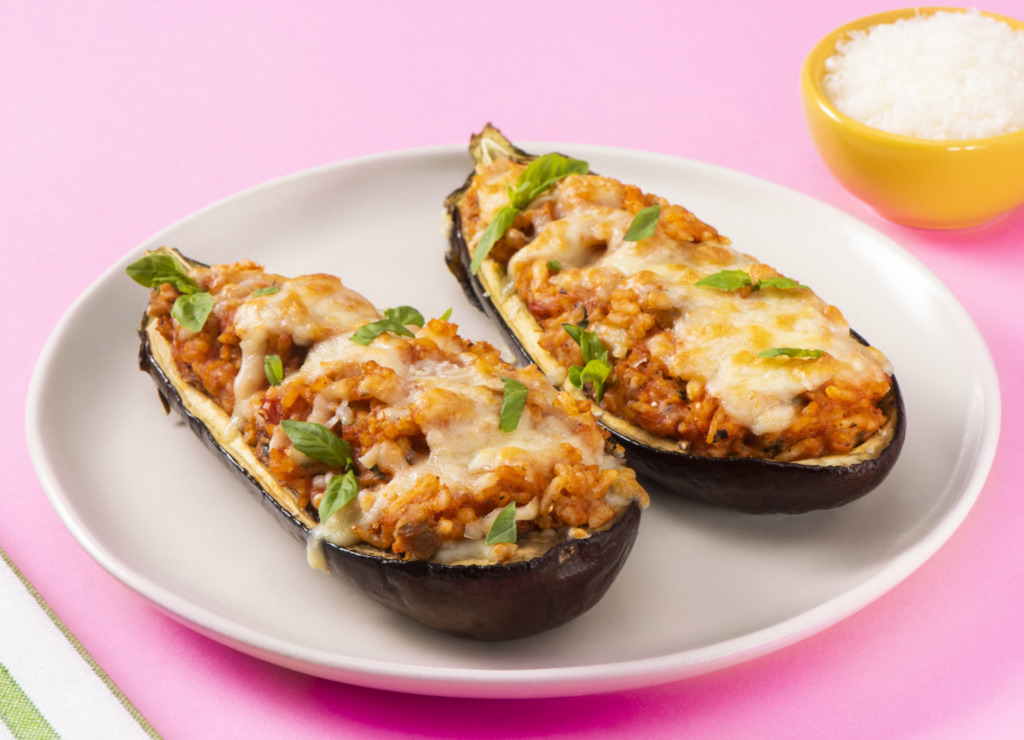 Greek Goodness
Greek flavors are often considered refreshing with herbs, fresh cheese, hummus, chickpeas and lemon to name a few. Grab some fresh greens like mint, dill and arugula along with feta cheese for this 10 minute Mint and Feta Rice Salad. Or, use vegetables like cucumber, tomato and red onion with your preferred store-bought hummus in this 5 minute Spicy Hummus Rice Bowl.
East Asian Flavors
Any meal can benefit from a simple Asian-inspired upgrade using umami sauces or a combination of sweet, salty and savory flavors in one bite. Try using these ingredients to add Asian taste to your meals.
Herbs and Seasonings: ginger, garlic, 5 spice, toasted sesame seeds, hot pepper flakes, cilantro
Fruits and Vegetables: seaweed, water chestnuts, mushrooms, carrots, greens, green onion
Grains: Rice
Sauces and cheese: soy sauce, sesame oil, Korean gochujang, fish sauce, coconut milk, kimchi, hoisin sauce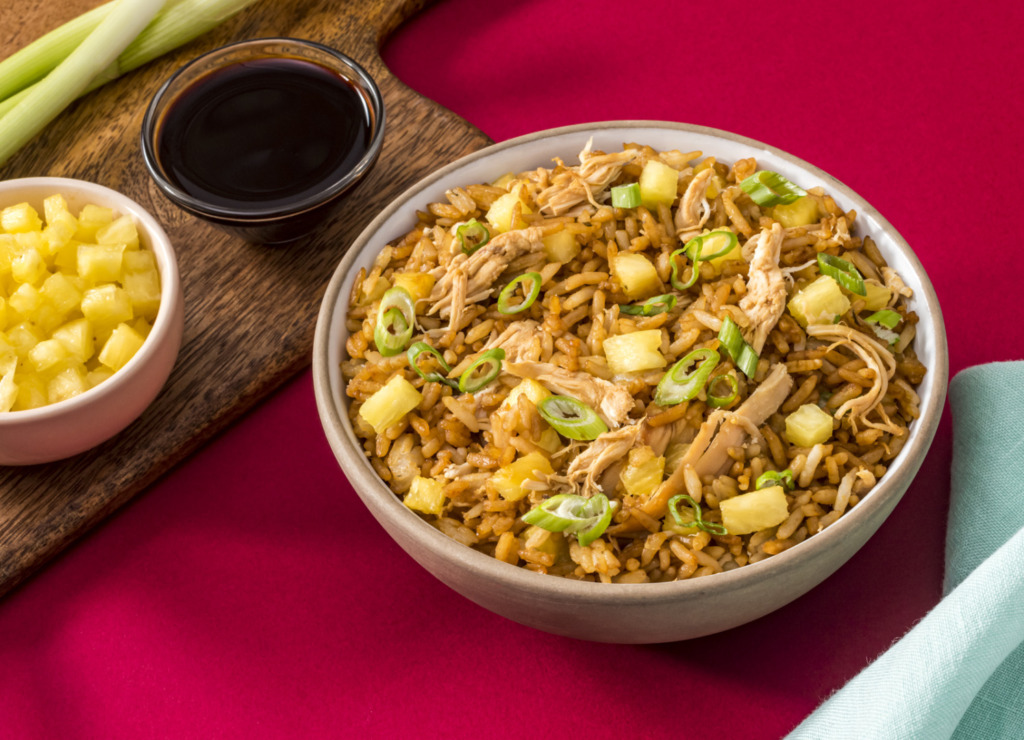 Tip: Love Asian takeout? With a few of these ingredients, learn how you can make your own easy and homemade takeout dishes such as Fried Egg on Rice.
Chinese Food
Many Chinese dishes combine salty with citrus or sweet with sour. Try it for yourself in this no fuss Pineapple Chicken Fried Rice dish using diced pineapple, rotisserie chicken, soy sauce, green onion and a base of Minute® Ready to Serve Garlic & Olive Oil Jasmine Rice. It's so simple, all you need is a microwave to heat and enjoy!
Thai Flavors
Thai dishes often combine spicy, sweet, sour, salty, or creamy tastes in their dishes and using a few pantry staples like sauces and seasonings you have on hand, you can recreate those same flavors at home.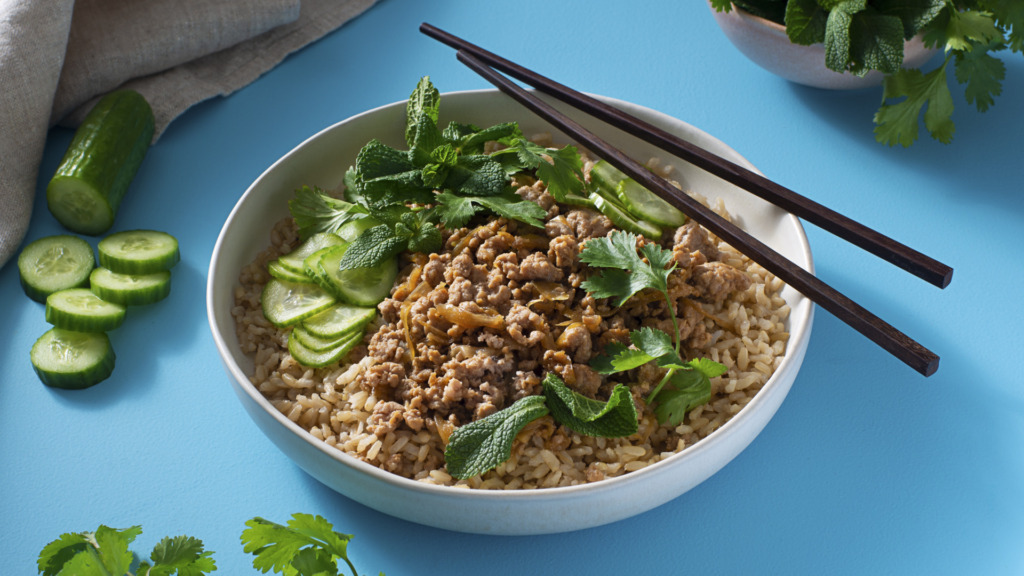 If you're feeling intimidated, try our helpful tip of starting with a store-bought sauce like Thai Sweet Chili in this drool-worthy and 5 ingredient Sweet Chili Chicken Rice dish served over aromatic Minute® Ready to Serve Jasmine Rice. Or you can choose your own sauce such as a Thai-style dressing or peanut sauce in this Thai Tuna Rice Salad.
When you're ready to add in a few more traditional Thai ingredients, try this Crispy Pork and Rice made with ground pork, herbs, brown sugar, soy sauce, fish sauce, cucumber and rice wine vinegar.
Korean Ingredients
Commonly known for their fermented mixed vegetables like kimchi, Korean cuisine is loaded with proteins, vegetables and grains. Try your hand at a simple classic using store-bought kimchi, bean sprouts, carrots and more in this Quick Bibimbap Bowl made with a base of Minute® Jasmine Rice.
Koreans are also known for their unique barbecue style using a special sauce called gochujang, a chili pepper paste. Found in most grocery stores in the international sections, try it for yourself in this fast Korean Barbecue Style Rice Bowl made with thinly sliced beef and Minute® Ready to Serve Organic Brown Rice.
Indian Seasonings
While still within the Asian continent, Indian flavors are a world of their own including a strong blend of seasonings such as curry and tikka masala.
Herbs and Seasonings: ginger, curry powder, garam masala, tikka masala, cardamom, turmeric, saffron, cumin or cilantro
Fruits and Vegetables: tomatoes, carrots, onions, shaved coconut
Grains: basmati rice, white rice, naan bread
Sauces: tandoori sauce, coconut milk, butter chicken sauce, curry sauce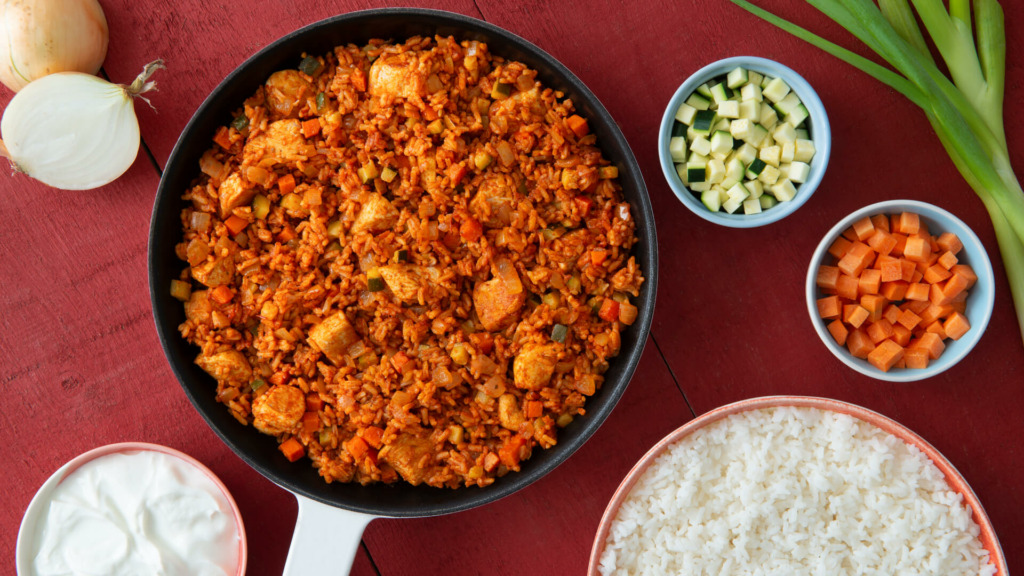 If you're unsure about where to start using Indian spices and flavors, start simply with a store-bought sauce like curry, tikka masala or tandoori. This vegetarian Tandoori Cauliflower and Rice Bowl is made simply with Greek yogurt, store-bought sauce and Minute® Ready to Serve Cilantro & Lime Jasmine Rice. For a creamier option to serve a crowd, combine your tandoori sauce with Greek yogurt, tomato sauce and broth in this Tandoori Chicken Rice Skillet Casserole.
Indian meals often combine sweet and savory together and one way to do the same at home is with raisins like in this Chicken Curry Rice Salad or alongside coconut milk in this Bombay Basmati Rice.
With only a few ingredients and a little creativity, you can make anything at home. For example, why not try adapting one of our Chicken and Rice recipes? Using Minute® Rice you can travel from your own kitchen any day of the week. And, if you want to experiment with some flavor that's a little closer to home, take a look at the best beans and rice recipe!