Creamy and delicious with a vibrant green color, avocados are a wonderfully versatile ingredient. Pressed into avocado oil, sliced and served over tacos, or whipped into ice cream there are no limits to the ways this traditional fruit can be used.
But, while there are plenty of tasty options, it can sometimes be a little intimidating to slice open an avocado, especially when it has such a short window for peak ripeness. So to make things easier, at Minute® Rice, we've compiled an approachable list of tasty recipes with our rice and quinoa products for any meal of the day! But first, we've got a little avocado 101.
How to Tell If an Avocado is Ripe
If you're new to using avocados or always seem to cut into it too soon or right after its peak freshness, we'll give you a few pointers for choosing and slicing into them at just the right time.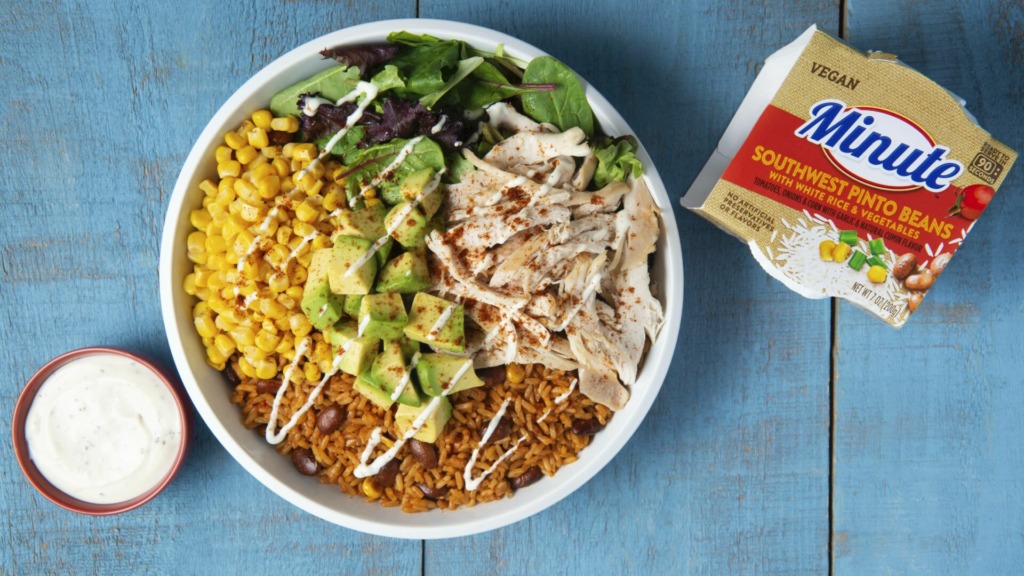 Avocados are cut from the tree before they are ready to be eaten, so it's natural for them to be unripe when you buy them.
Although they can be enjoyed all year round, their peak season is between spring and summer. They just tend to taste better when they are eaten when freshest.
First, check the stem. If it's difficult to remove, let it be another day and try again. When you remove it, the color should be green, brown would indicate it is overripe.
Ripe avocados tend to be deeper in skin color with a dark black or rich emerald green.
Use those that are slightly squishy. To tell, hold them in your palm and check for a relatively soft texture, not with your fingers which might bruise them.
If you want to help them ripen faster, place in a brown paper bag with a banana or apple.
Tips to Store Avocados
Now that you've got a perfectly ripe fruit, don't let it go to waste! Use these tips for taking full advantage of that delicious avocado.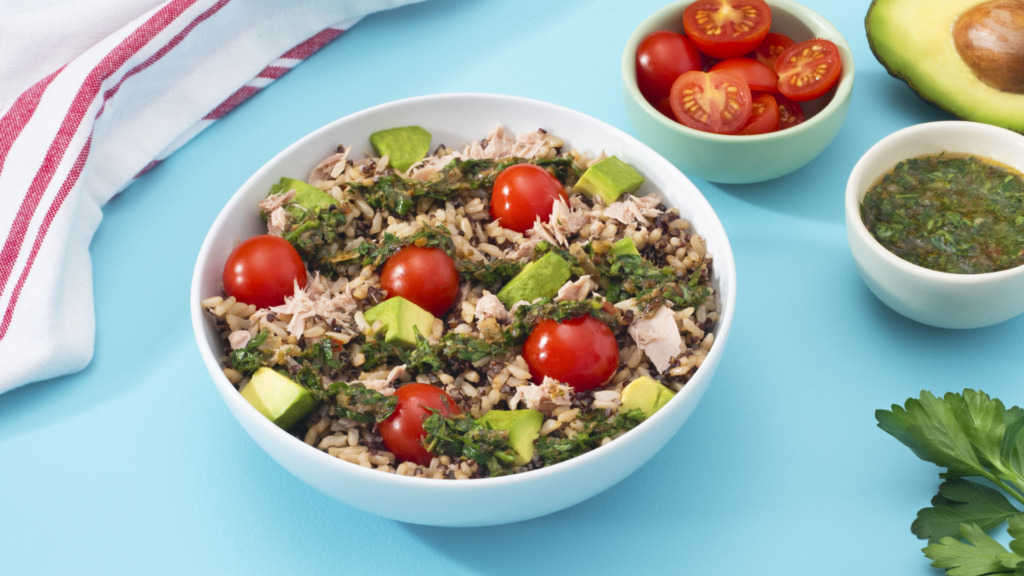 Freeze them whole before cutting into them. To defrost, simply place under running water, then let rest on your countertop for about 30 minutes.
Leftover slices? Coat with a squirt of lemon or lime juice to keep from turning brown in the fridge. Store in a sealed container.
Only want part of the avocado? Halve, scoop out the pulp you want to use and cover the other remaining half with the empty skin, including the pit. Or place the remaining half upside down in a shallow bowl of water. Store both techniques in the fridge to stay fresh for later.
Let's get down to some of those amazing recipes using your newly acquired skills.
Recipe Ideas With Avocado
This delicious ingredient can be used for breakfast, lunch or dinner and we'll give you some simple recipe ideas to prove what a tasty addition it can be.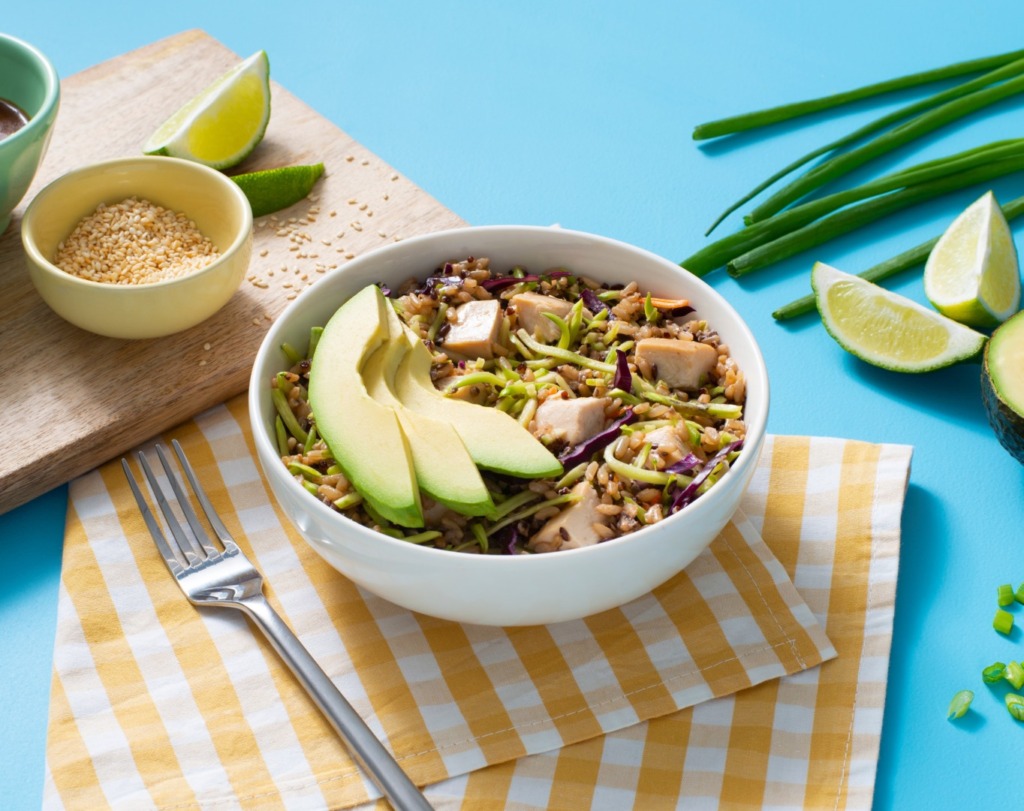 Breakfast
Enjoy the benefits of eating avocados first thing in the morning, especially mashed and served over a breakfast grain bowl. Make your own upgraded version of avocado toast using quality grains! For an effortless bowl idea:
Heat up your favorite variety of our convenient Minute® Ready to Serve Products. We suggest Minute® Ready to Serve Brown Rice or a blend like Brown Rice and Quinoa.
Top with mashed avocado and a pinch of salt.
Enjoy as is, or include other sauces, vegetables, eggs or seeds.
Are you a fan of eggs and avocado? Try a microwavable 5 minute Easy Cheesy Rice Omelet and stuff mashed avocado inside or place slices on top. Alternatively, why not combine avocado with Fried Egg on Rice? If you like to make your breakfast ahead of time, heat up a slice of this Brown Rice Frittata with Bacon and Edamame while you cut into your fresh avocado to serve on the side.
Lunch
Slice it up and toss into a salad, mash it into a dressing for grain bowls or find how this fruit works best for you in these easy lunch ideas you can make in under 10 minutes.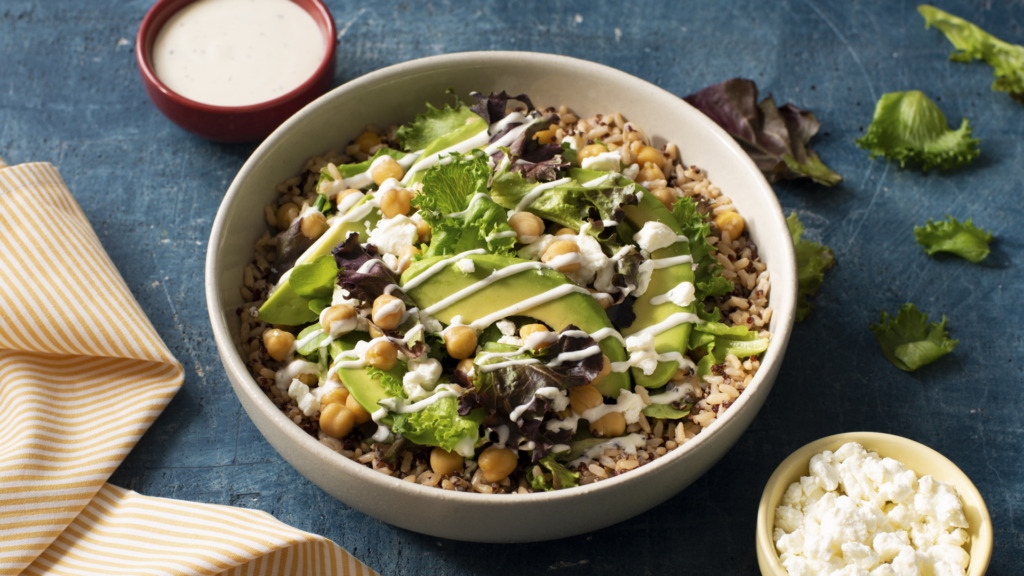 Avocado Power Salads
Power up your average salad lunch with hearty grains like rice and quinoa, avocado, veggies and protein! Make your own Avocado Chicken Power Salad with protein-packed quinoa and chicken, or an Asian-inspired Chicken and Broccoli Slaw Salad with Minute® Ready to Serve Multi-Grain Medley.
Give yourself plenty of fuel to finish the rest of the day with this meat free California Grain Bowl using brown rice, quinoa and chickpeas.
Zesty Rice Salads with Avocado
Pairing perfectly with vegetables and zesty dressings, this fruit is ideal for quick grain bowls and salads. Make a vegetarian Mexican Cobb Salad using Minute® Ready to Serve Cilantro Lime Rice and Italian dressing. Or try a Chimichurri Tuna Salad with store-bought herbed chimichurri and canned tuna. No need to reheat these rice salads after they are tossed together. They are great for bringing to the office or for a lunch on the go.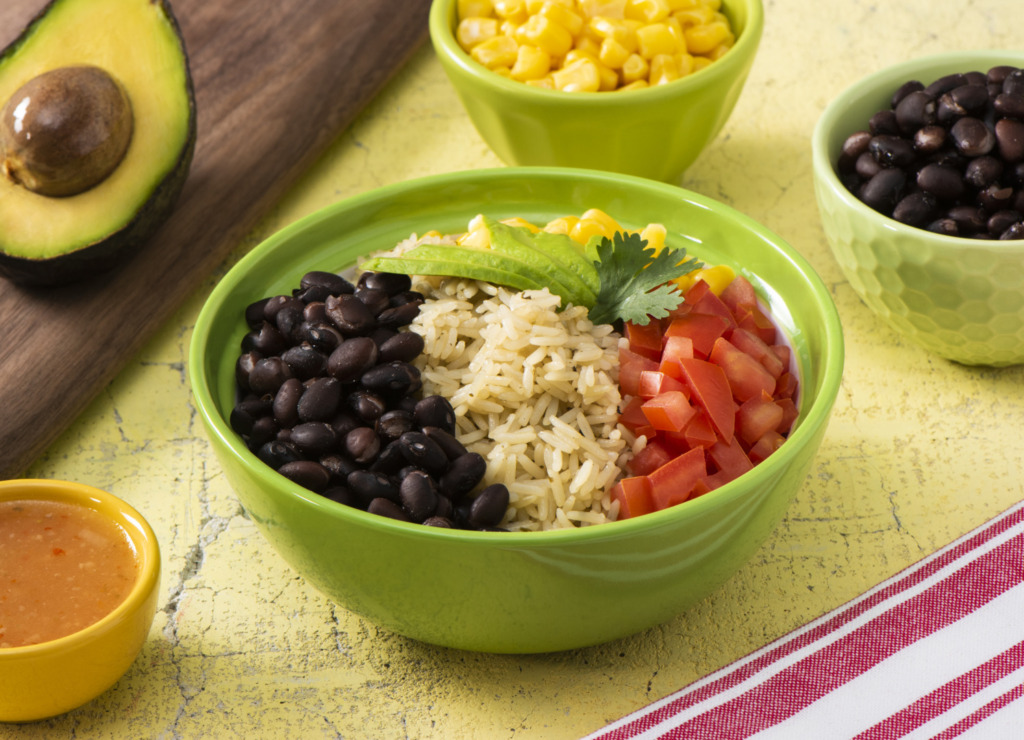 Spicy Flavor Options
Use the creamy avocado consistency to mellow the spicy flavor in these hearty lunch ideas.
Dinner
If you're looking for recipes to make for dinner, this section is for you!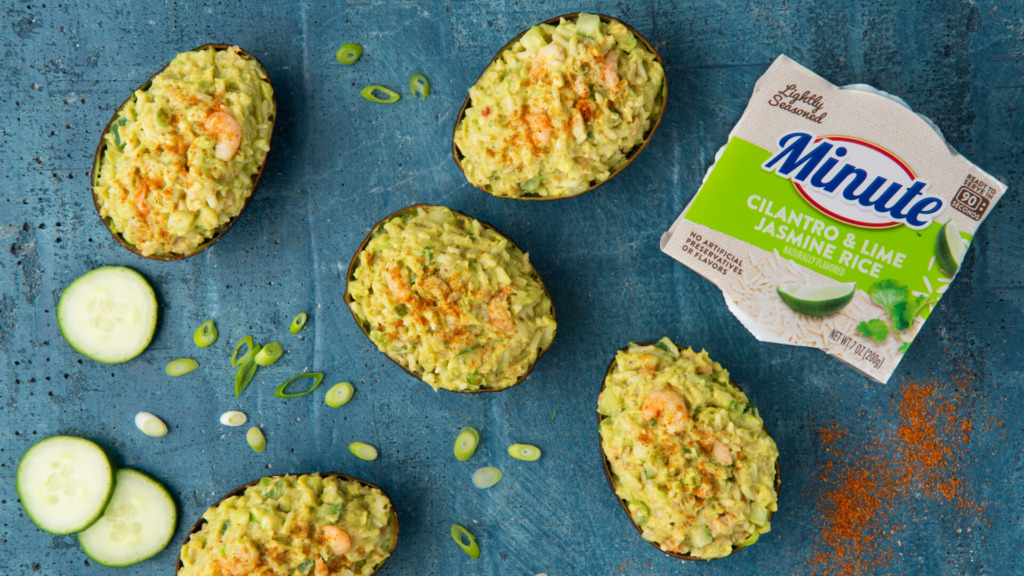 Seafood Recipes
Seafood pairs well with fruits like avocado as it tends to bring out the sweetness in foods like shrimp, crab and other shellfish. Try it in this recipe for Shrimp and Rice Stuffed Avocados and repurpose every bit. Serve as an appetizer for dinner or as a side to the main meal.
If you're looking for a main dish, this Creamy Avocado Crab and Rice Salad is loaded with aromatic Minute® Instant Jasmine Rice, vegetables, cheese and chives.
Summer Dinner
Great for all kinds of grilling season recipes, and perfectly ripe in spring and summer, prepare this recipe for Grilled Steak and Brown Rice Salad Platter with avocado for a bright touch to a filling meal. Or serve alongside a Mexican Street Corn and Rice Salad or a Baked Chicken and Rice recipe for a summery BBQ dinner!  Also, try our eggplant parmesan recipe for a vegetarian favorite.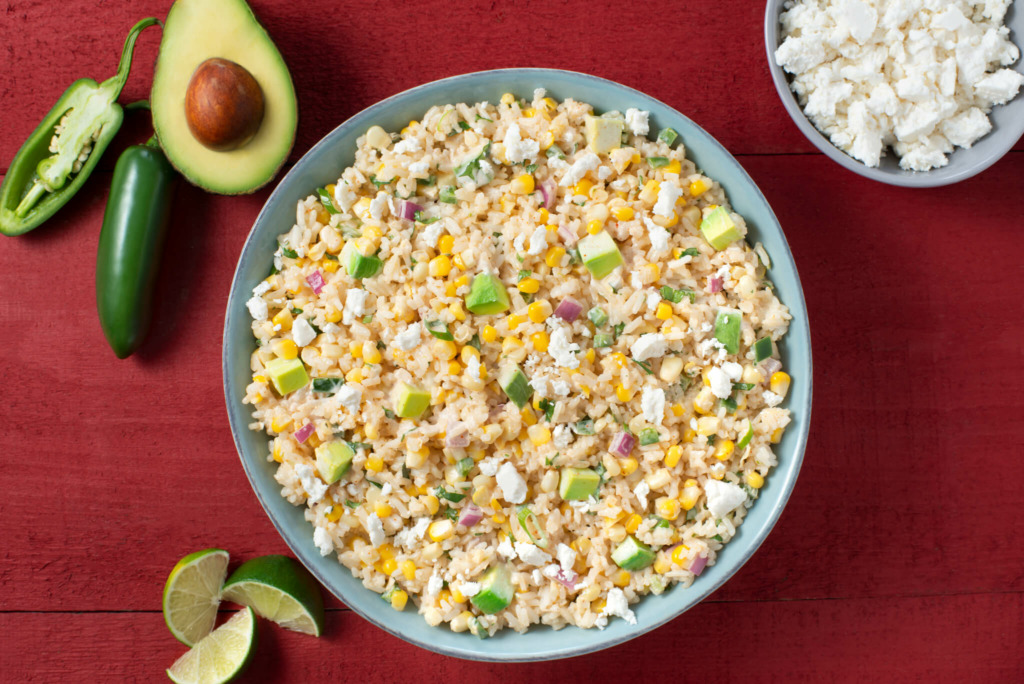 Homemade Sushi
Avocado makes its way around the globe in all kinds of cuisines. Try it today with this Kimchi Vegetable Sushi recipe. Don't worry! We'll help you through the process in a step by step guide to making simple homemade sushi – recipe video included!
This fun fruit has taken the world by storm and if you love it as much as we do, or you're looking to use more of it, we're sure you'll appreciate these practical recipe ideas highlighting it in all of its glory, alongside convenient Minute® Rice and Quinoa. Which are you trying first?