Grilling season is back, and that means delicious outdoor barbecue get-togethers with family and friends for everything from Father's Day to the 4th of July, or simple summer parties! There is just something special about food smoked over the grill and all of those delicious side dishes and desserts you can serve with it.
One advantage to cooking out either on a weeknight or weekend is the ease of using the grill outside rather than having to heat up your house in warm weather! So, we've put together a few ideas for you to enjoy outdoors both on and off the grill to spruce up your menu this year. While you might have your go-to grilling main dishes you look forward to all year long, like hamburgers, corn on the cob or a juicy steak, there are always new ideas to add to the mix.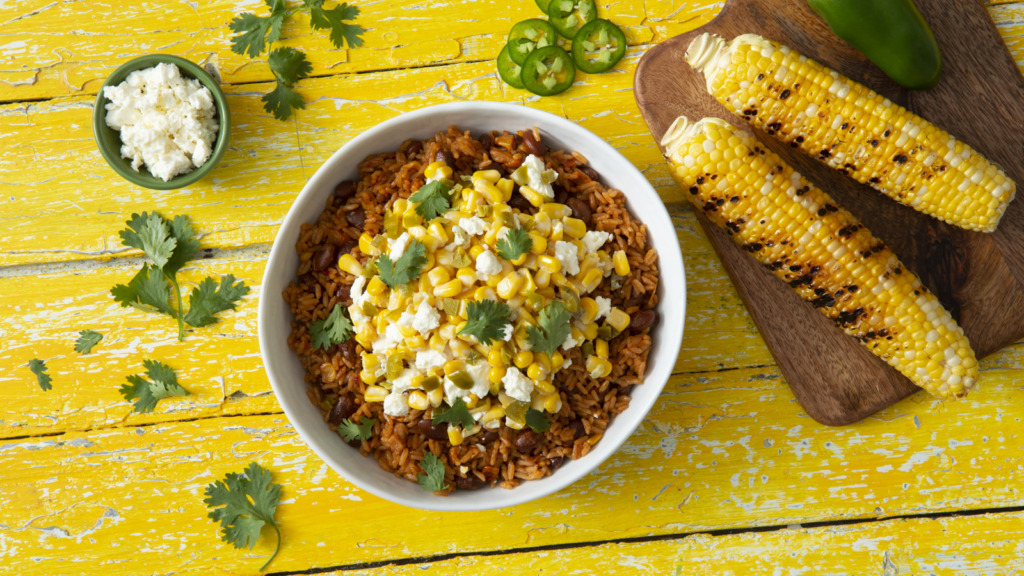 Whether you're making dinner for your family or hosting a backyard cookout, these easy grilling ideas are guaranteed to get your meal off to a fun start.
Recipe Ideas: On the grill
Use your grilled ingredients to create tasty and simple meals!
Juicy Steak
Start off with a hearty Grilled Steak and Brown Rice Salad Platter. Serve your favorite juicy grilled steak over a brown rice salad with arugula and avocado all drizzled with a store-bought chimichurri dressing. It's simple and impressive looking to wow any guests!
Seasoned Chicken
If you prefer chicken, make your own Chicken Shawarma and Rice Pitas. Perfect for celebrating with just two people, this recipe is a great way to swap in the grilled version, simply add it in with the Greek yogurt after you heat your rice and seasonings.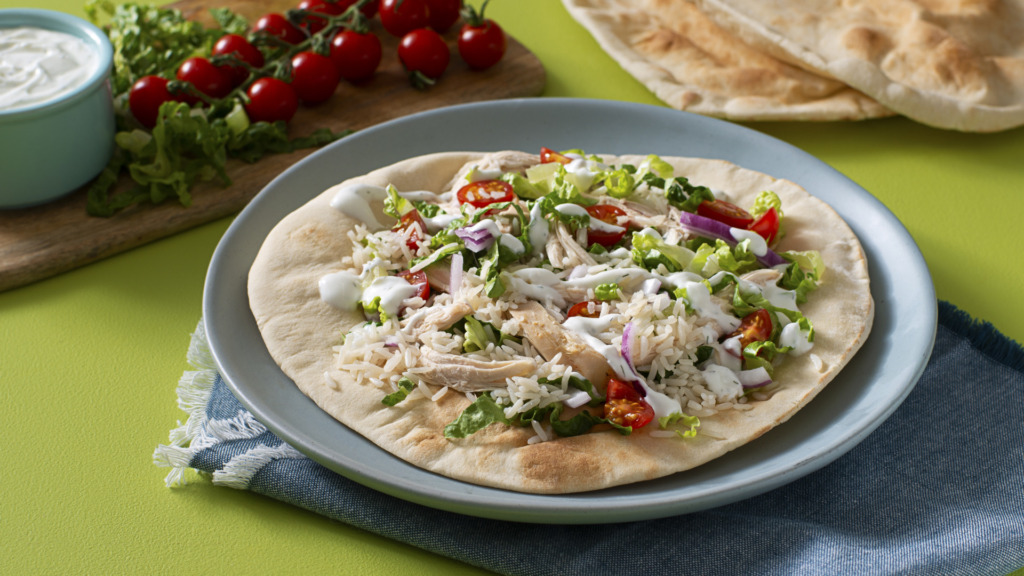 If you want to share with a crowd for your 4th of July get-together, double or triple the ingredient amounts. For an extra flavorful dish, season the chicken with your shawarma spice blend before placing on the grill.
Veggie Burgers and Meat Alternatives
Make your next event Meatless by tossing meatless burgers on the grill!
Use your favorite vegetarian or vegan variety for this Brown and Wild Rice Bowls with Veggie Burgers and add on top after your rice is heated. It's perfectly portioned for one, but if you're serving a crowd or making a family dinner, set up a burger making station. Simply double or triple the ingredients depending on how many people you're serving and let everyone make their own burger bowl.
Vegetables are perfect for grilling, especially those that are seasonal to summer like bell peppers, zucchini, eggplant and corn on the cob! You can even turn those vegetables into delicious side dishes for your BBQ event spread like this Street Corn Style Rice Bowl. Increase the ingredient amounts to have a dish to share. Have everything ready while your corn cooks on the grill and simply toss together after you slice it off the cob.
Refreshing Side Dishes: Off the grill
For a great BBQ spread, there is nothing better than a refreshing side dish to pair with all of those smoky grilled foods!
For familiar flavors that everyone is sure to love, this dish of Cilantro Lime Rice with fresh herbs pairs well with all kinds of grilled ingredients including meats, shrimp and vegetables.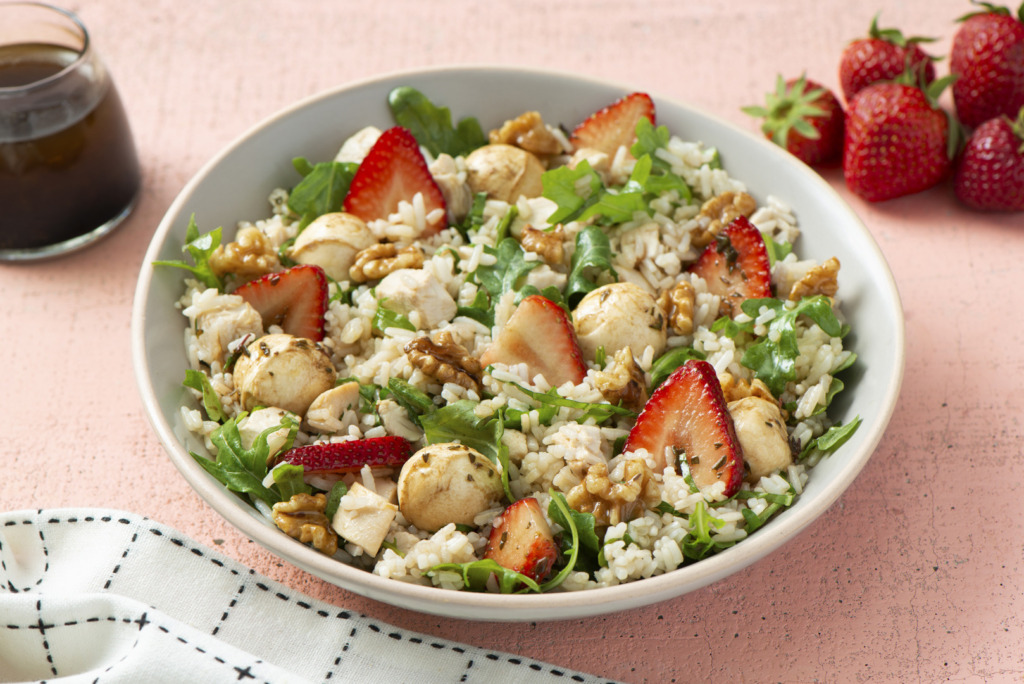 You can also serve a foolproof trio, this BLT Rice Salad made with crispy bacon, crunchy lettuce and juicy tomato is made in just 15 minutes for a delicious side! Save some of those tomatoes to toss into this Chicken Caprese and Strawberry Rice Salad. Use grilled chicken or omit for a meat free yet vibrant salad packed with fruits, nuts, vegetables and aromatic Minute® Jasmine Rice.
Want something incredibly fresh and tossed with a simple homemade dressing all in under 30 minutes? This Mediterranean Tabbouleh Salad is exactly that. Using a blend of Minute® Rice and Quinoa, fresh summer vegetables and 4 ingredient dressing, you've got a quick and elevated looking salad.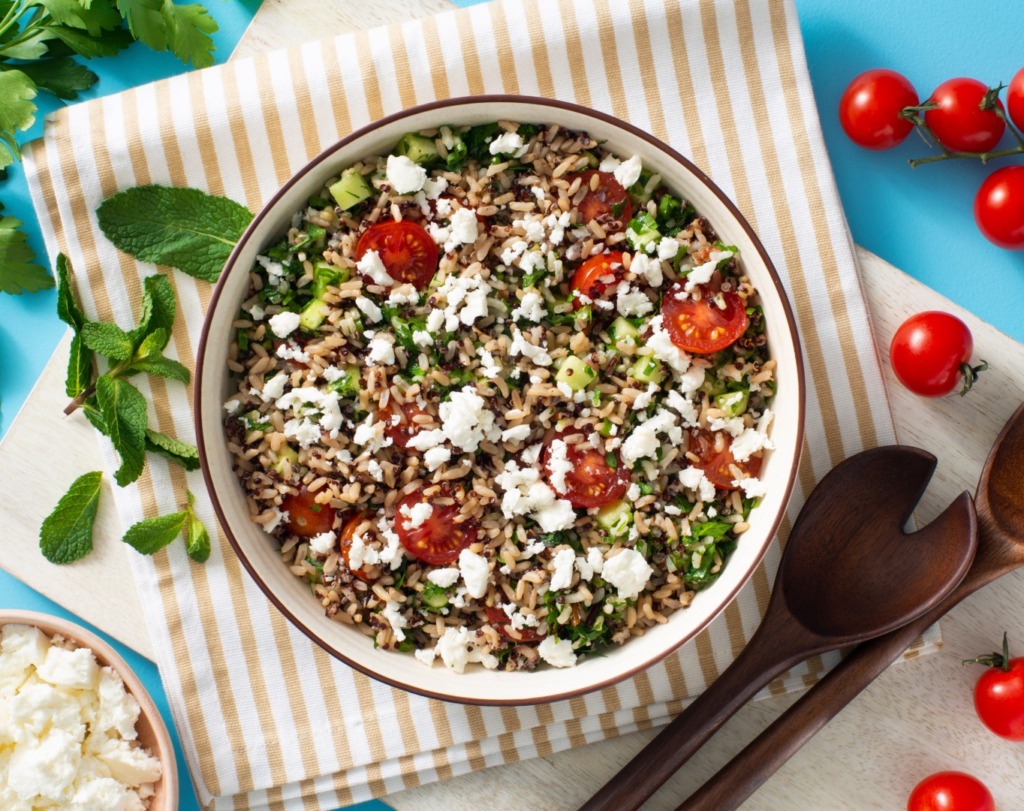 Want more ideas? Take a look at our Quick and Hearty Salad Recipes for all of your summer get-togethers.
Bonus – Dessert Recipes
Every summer event deserves a sweet finish, especially if you're celebrating Father's Day or the 4th of July.
Ice Cream is almost a necessity, and this Salted Caramel Rice Pudding Ice Cream Pie is a simple way to make a homemade version without needing an ice cream machine. With a cookie crust and salted caramel rice pudding filling, it's a perfect make ahead dessert.
For a simple option, this Rice Banana Horchata Shake uses store-bought vanilla ice cream or your favorite variety. You can even swap in another complementing fruit for the banana! If you're making these in July, top with whipped cream and red, white and blue sprinkles.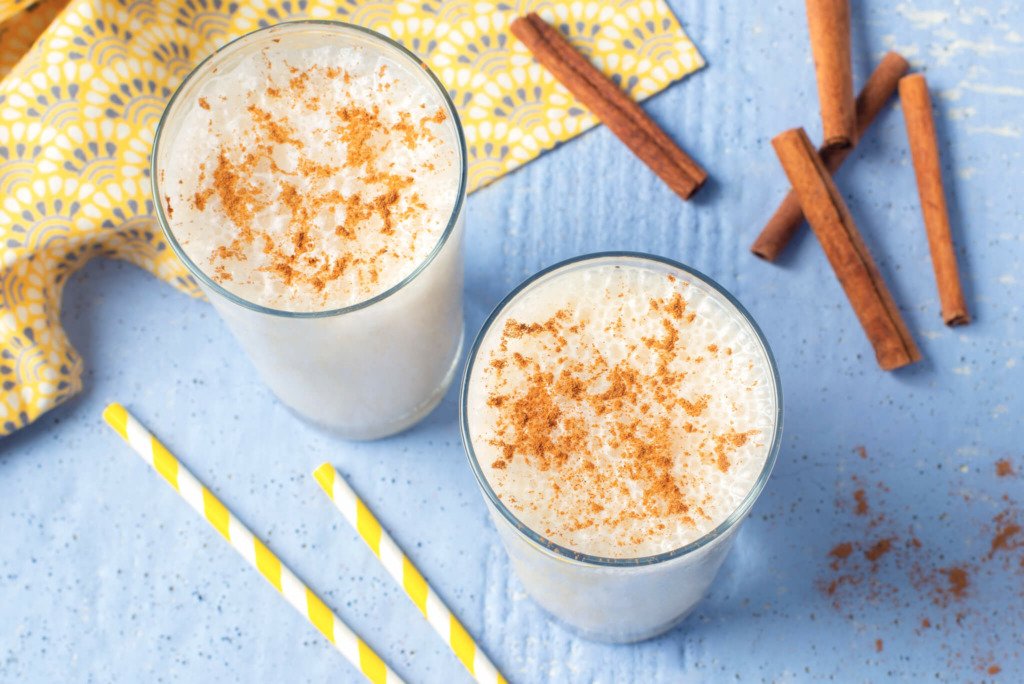 For more horchata-inspired flavors, these Mexican Spiced Rice Paletas are deliciousness on a stick! Prepare the day before, leave in the freezer and take out when you're ready to enjoy. It's simple and great for keeping cool.
Take a look at more Dessert Ideas for Memorial Day and all of your other summer events!
Whether you're serving a dinner for two on the grill or hosting a family and friend get-together, or maybe just rustling up one of our Red Beans and Rice recipes or a rice cooker Mexican rice recipe, you can count on Minute® Rice to help you with simple and amazing meal options for any skill level!