If you've got a lot going on with a busy schedule juggling work, family and household activities, or if you're a college student with lots of classes, it can often pay off to have a minimalist view on cooking. Essentially, that translates to simplifying mealtime with easy to prep and quick meals, without a lot of ingredients. However, that doesn't mean you have to sacrifice taste!
At Minute® Rice, we know a lot about convenience, so we've put together a guide for those without much kitchen space (like a college dorm or shared apartment), or looking for ways to make life easier. Come with us as we look at a few necessary things to stock up on for meal variety as well as some recipe ideas to try!
How to Stock Your Pantry or Shelf
Whether you have a communal kitchen or just a bit of storage space in your room, you most likely don't have a whole shelf to yourself for storing food. Or even if you do have the room, if you don't utilize them, they just occupy space.
That's why it's important to start with a few versatile ingredients that can work for a variety of meals and can be stored simply! Use these examples to start and branch out to other additional ingredients of choice.
Grains: Use microwavable options like Minute® Ready to Serve Rice and Quinoa.
Spices: Seasoning blends or a few key favorites.
Sauces: Your favorite dressings, restaurant sauce packets or jarred sauces like marinara or chili.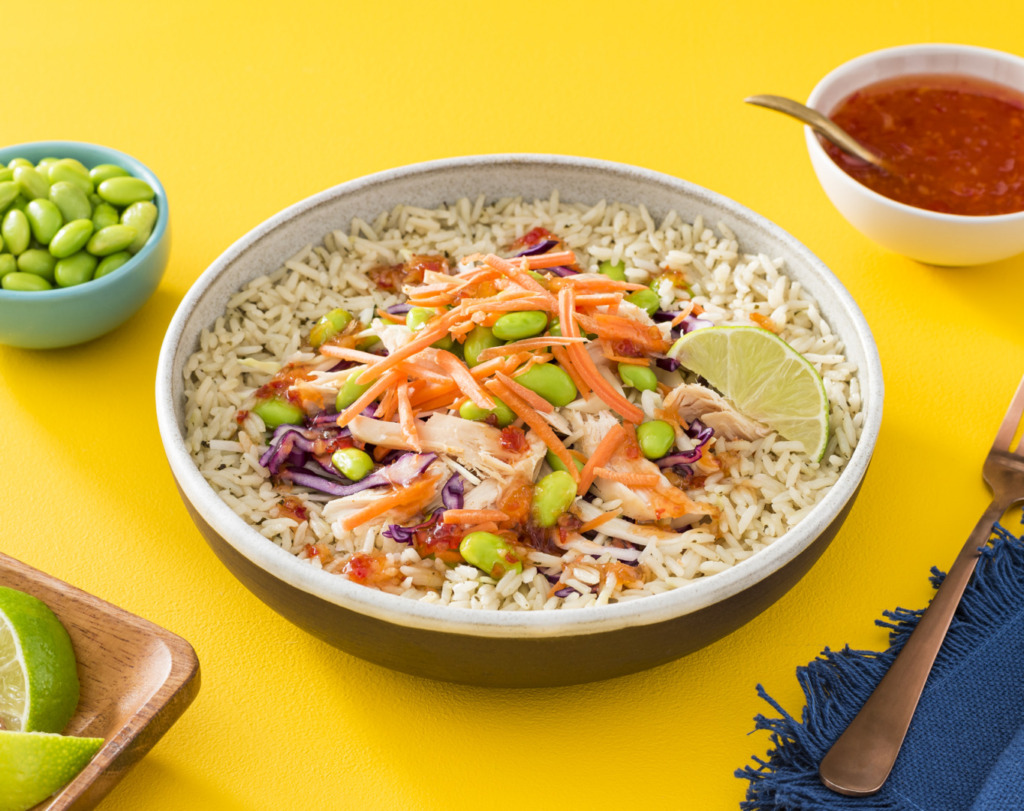 Microwavable Grains: Simple Cooking Lifeline
It's hard to decide what the best part about these convenient grains is. It might be that there are a lot of different options for rice, quinoa and blends, so it's hard to get bored, or that they come perfectly portioned in single servings so you waste less food and don't eat more than your fill. Some might love the fact that they can be microwaved in just 60-90 seconds and tossed with a few ingredients for a full meal. In any case, we'll let you decide!
Try our classics like Minute® Ready to Serve White Rice, Brown Rice or Jasmine Rice. You might also enjoy our naturally seasoned options like Ready to Serve Cilantro and Lime Jasmine Rice which come in larger cups so you can split for two different meals, or share with someone else. With these portions of rice there are plenty of things you can make, for example check out this recipe for Red Beans and Rice.
Tip: Did you know that our Instant Rice can also be cooked in the microwave? It's great if you want to share food or batch cook because you can make more at one time.
Spices and Sauces
Keeping a few helpful spices and sauces on hand can be a lifesaver. Sprinkling some salt, cumin or a bit of sauce on top of your food can add a whole world of flavor. Imagine a piece of warm toasted bread with butter, Parmesan cheese and garlic powder. Toast for a minute more and voilá, simple and tasty garlic bread!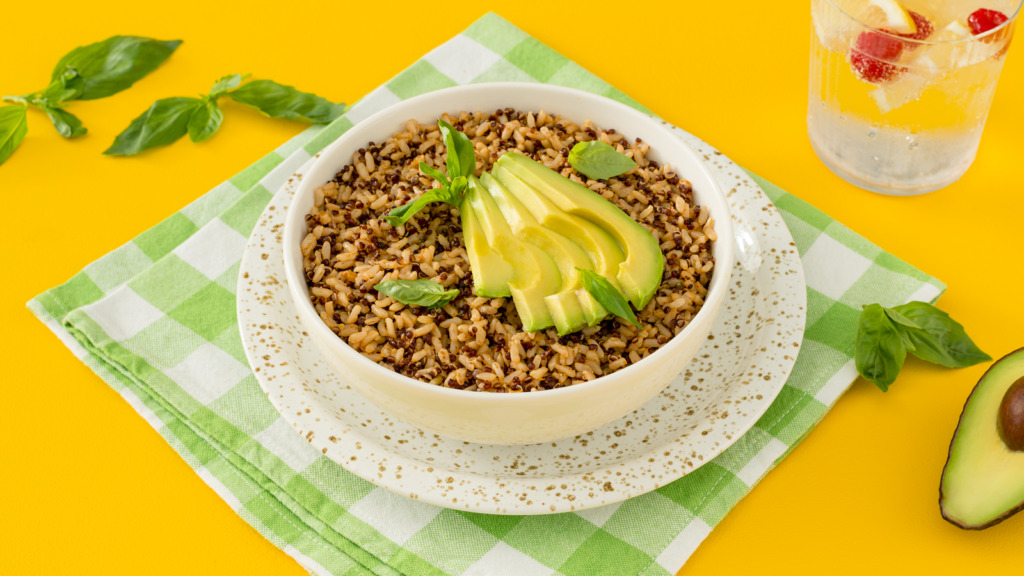 But, it might be hard to decide which to buy if you're trying to keep to a minimalist list. So, we've put together a few ideas for you to choose from with a couple of recipes to try.
Spices
Salt and pepper, cumin, chili powder, garlic powder, Italian seasoning, cinnamon, crushed red pepper, pizza seasoning blend, everything bagel mix, and taco seasoning.
Use your cumin and chili powder to try this Spiced Quinoa Rice Bowl with avocado and a blend of Minute® Ready to Serve Brown Rice & Quinoa.
Sauces
Sriracha hot sauce, salsa, soy sauce, marinara sauce, Thai sweet chili sauce, restaurant packets (mayo, mustard, ketchup and hot sauce), fruit jam or jelly, ranch and Italian dressing.
Use up some mayo packets and ground curry in this Chicken Curry Rice Salad, or combine it with hot sauce in this Spicy Chipotle Tuna over Rice. You can also use chili sauce for this Thai Sweet Chili Rice or ranch to make your own Veggie Burger Bowl Recipe.
Now that you've got a few simple essentials, let's get to some microwave-friendly recipe inspiration!
Easy Microwave Meals
We're focusing on all microwave-friendly recipes with just a few ingredients and loads of taste!
Breakfast on the Go
For college students or those with a busy schedule, breakfast might seem like mission impossible! That's where these incredibly easy breakfast options come into play.
Use your favorite yogurt, granola and cleverly stocked cinnamon with our Minute® Ready to Serve Organic Brown Rice for this 5 Minute Breakfast Parfait. If you haven't got fresh fruit on hand, keep some jam or jelly in your fridge and layer it in. If you don't have 5 minutes to spare in the morning, layer it the night before, but make sure to sprinkle the granola on right before serving to keep its crunch.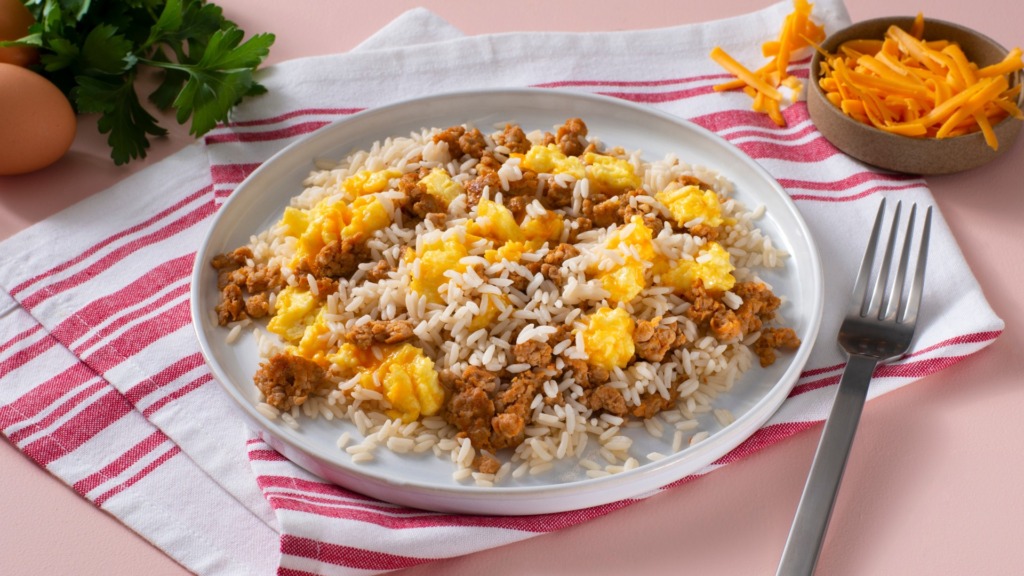 If you prefer protein-packed eggs in the morning, these items are for you! Learn how to cook an egg in the microwave using this Bacon and Egg Rice Salad recipe or make your own Cheesy Rice Omelet instead. If you prefer your egg scrambled, try this Breakfast Scramble with crumbled sausage.
Cup or Mug Recipes
If you have a mug, a microwave and 5 minutes, these options are for you! Microwavable mug or cup recipes are wonderful for all kinds of meal ideas.
Try this Irresistible "Mac" and Cheese in a Cup made with 6 simple ingredients including garlic powder and Cheddar cheese with our Minute® Ready to Serve Jasmine Rice.
Microwave Takeout Recipes
When the craving hits for a bit of takeout, now you don't have to waste money on expensive delivery or restaurant prices! Try one of these microwavable takeout recipes.
Fried Rice
With only a handful of ingredients, this microwaved Pineapple and Chicken Fried Rice recipe with soy sauce, canned pineapple and rotisserie chicken is both fast and flavorful.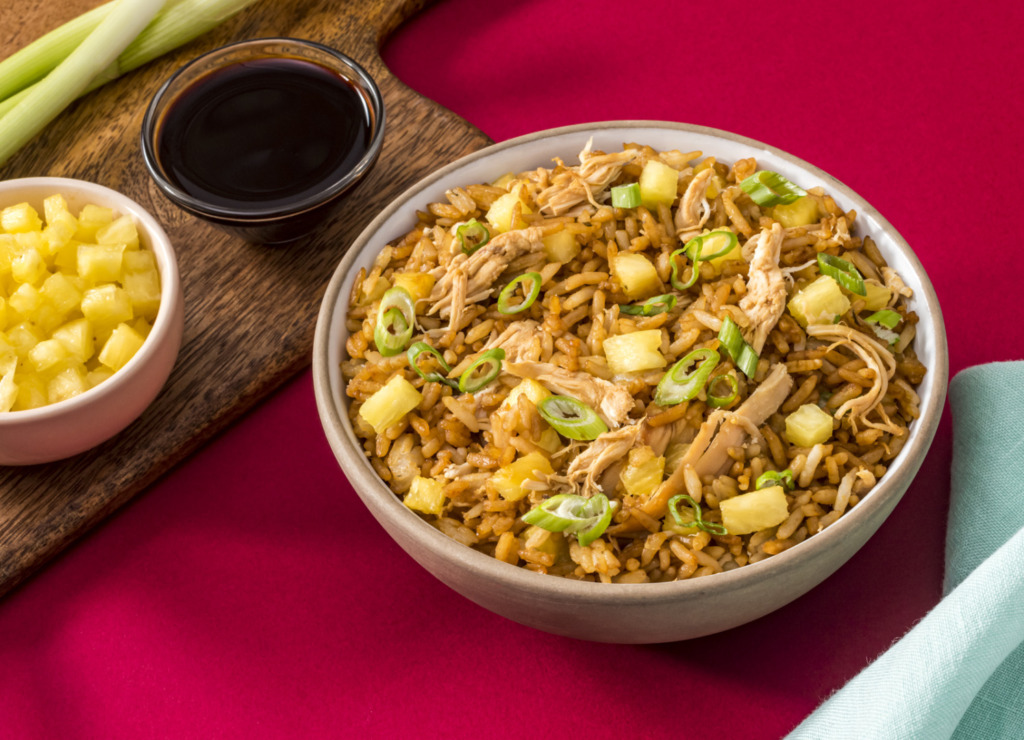 If you don't have chicken, try this Microwave Egg Fried Rice with pre-shredded coleslaw mix, soy sauce, Sriracha hot sauce, frozen peas and Minute® Ready to Serve Jasmine Rice.
Burrito
Keep a few tortillas on hand to try this Chicken and Yellow Rice Burrito when you're looking for a bit of spice. For a meal idea, grab a bag of tortilla chips to serve on the side with your favorite salsa or guacamole. Another super easy recipe to follow is our: cheesy chicken over rice.
Using Frozen Items
Another great way to stock up, even if you don't have much shelf space is to embrace your freezer. Try using frozen fruits or vegetables, or precooked and frozen meats like meatballs, chicken, bacon or veggie burgers.
With just 4 ingredients you can put this Brussels Sprouts and Meatball Rice together. Use frozen and thawed vegetables and meatballs with jarred Alfredo sauce and Minute® Ready to Serve White Rice. It's as simple as that!
Desserts
Satisfy that late night craving with something sweet and tasty like these Banana Peanut Butter Rice Bites using just 4 simple ingredients. If you don't have much room in your fridge or don't want to wait, simply drizzle on the chocolate and enjoy as is.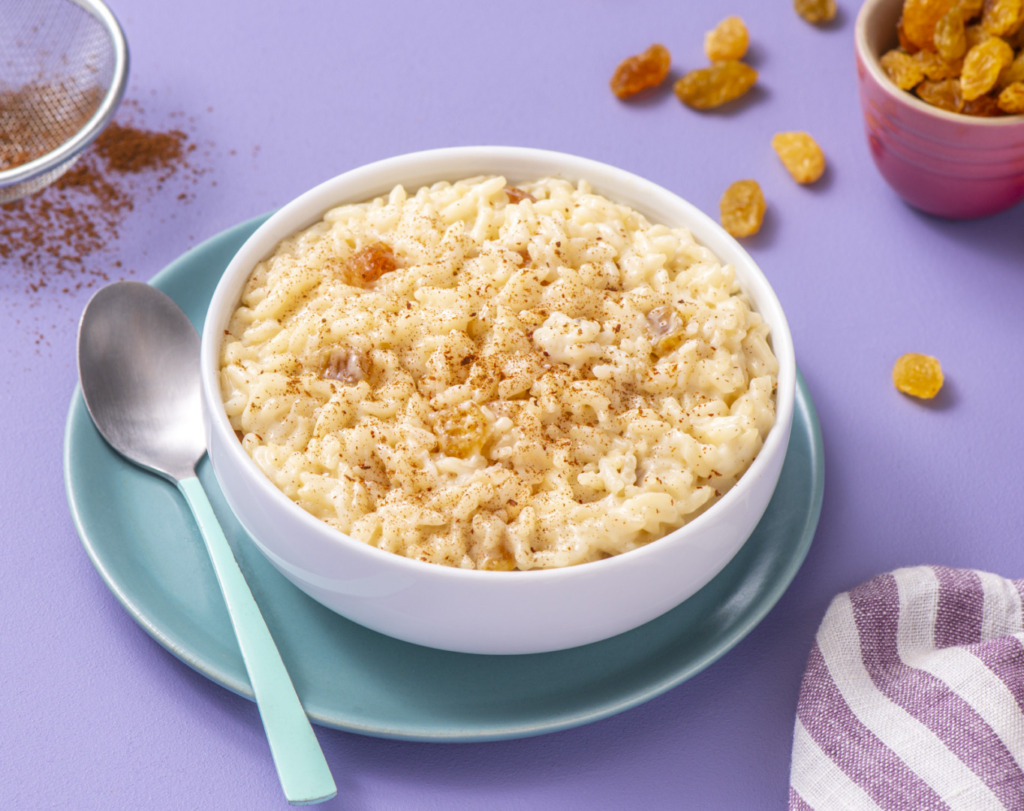 For something a little bit more creamy, this Easy Rice Pudding uses a pudding cup and dried fruit with cinnamon. Make it your own to indulge in, topped with chocolate, mini-marshmallows, fresh fruit or jelly, and caramel!
At Minute® Rice, there are no excuses for not eating great! With a few ingredients and a bit of creativity you can make something incredible even without a fully equipped kitchen.