The holiday season brings with it all kinds of events, some larger and some a bit more intimate with just a few guests. And, with the daunting task of hosting a large event, one of our tips and meal ideas for a stress-free holiday menu includes keeping things simple! That same idea works for smaller gatherings too.
Starting with appetizers, working through main dishes and sides all the way to dessert, we've got options for those occasions when you don't need that many portions. If you're worried you don't have the right skills to prepare something impressive or that adds an elevated touch to the table, don't worry. With smaller portions, these meals are easy to put together and perfect for any skill level! This year, spend more time with those who are nearest to you and slow down around the table with some great food.
Starters
One of the most fun parts of the holiday season is enjoying bite-sized appetizers or meal starters. You can even add a special touch without much effort by making them stuffed fruits or vegetables! Try these options out for any gathering.

Party Popper Peppers: Using jalapeños or another mini pepper of choice, stuff with a blend of cream cheese, lemon juice, garlic, paprika, salt and pepper with rice, Cheddar cheese and chives.
Shrimp Rice Stuffed Avocados: These avocados are filled with Minute® Ready to Serve Cilantro & Lime Jasmine Rice, baby shrimp, cucumber, Italian dressing and seasoning!
Cheesy Rice Stuffed Mushrooms: These mushroom bites are filled with herb and garlic butter basmati rice and topped with three cheeses for melty goodness!
Main Dish Ideas
One way to make your meal fuss free is by adding everything together into one dish!
These Festive Chicken and Rice Rolls may require a bit of work, but require no extra side dish. The glazed chicken breast is filled with a delicious stuffing that you can even serve on the side! This recipe serves 6-8, so if you've got a smaller crowd only make half of the recipe or save the extras for leftovers.
Or, let your oven do the heavy lifting for you while you get everything else set with these Turkey Sausage Sheet Pan Dinner Bowls. With just 4 ingredients, including protein, veggies and Minute® Instant White Rice, you've got a warm and filling meal to share in under an hour – or try this microwave Turkey Bacon Rice Melt for speedier prep. If you have a bit more time on your hands, you can also try a Baked Chicken and Rice recipe.
For something even simpler, use our whole grain Minute® Brown & Wild Rice Blend as a base for this Sausage and Mushroom Gravy Rice dish. Ready in just 10 minutes, take a look at how simple it is to put together. Another recipe you can prepare quickly and simply is Fried Rice with Egg.
Side Dish Recipes
If you're missing a feast style meal, you don't have to settle for one side, with our Ready to Serve Rice cups you can make a variety of small portioned sides to share, for example a recipe for Red Beans and Rice!
Side Salad
Starting with tasty salads, these options are prepared with just 1-2 portion sizes. Try any of these holiday favorites:
Arugula and Pear Multi-Grain Salad: This salad is a mix of flavors and textures using just 5 ingredients: Minute® Ready to Serve Brown Rice & Quinoa, 1 pear, red wine vinaigrette, blue cheese and walnuts.
Holiday Rice Salad: Using just 6 ingredients, this Jasmine Rice salad uses spinach, pecans, goat cheese and cranberries.
Pear and Walnut Salad: Just 5 ingredients make up this Multi-Grain Medley Salad including arugula, ½ pear, lemon-honey vinaigrette and pumpkin seeds.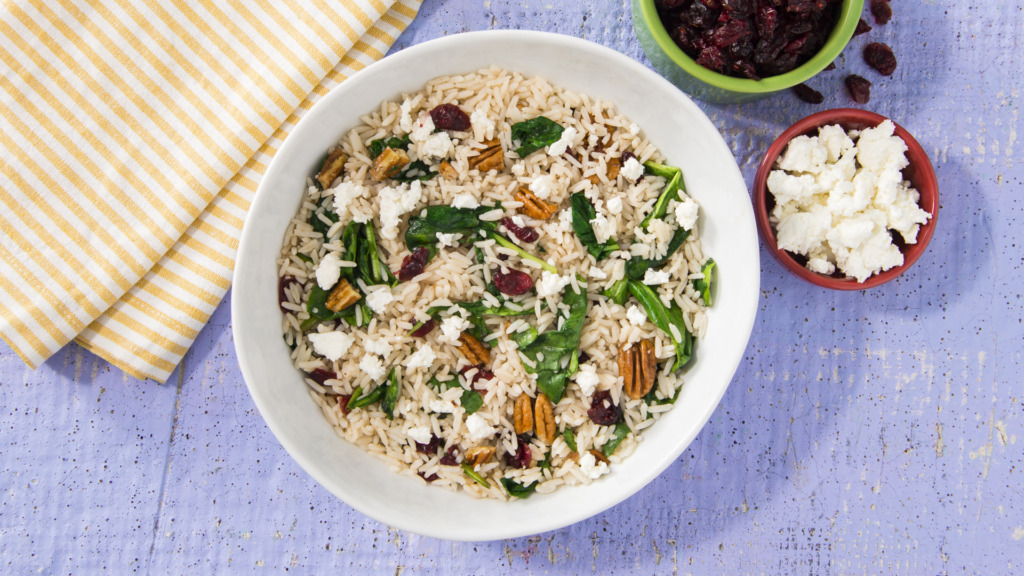 Seasoned Rice
Spice up your rice side by using simple fresh and pantry items like lemon juice and zest, cumin, chili powder, salt, pepper and basil. Combine with a blend of Brown Rice & Quinoa to prepare your own Spiced Quinoa Rice in minutes.
Rice and Roasted Vegetables
These simple recipes combine two sides into one! Using fall harvest produce like butternut squash and apple, this Harvest Rice Bowl is a colorful and tasty option to add to your table.
For another take on this seasonal theme, this Harvest Rice is made with Brown and Wild Rice, dried cranberries, pecans, chicken, and a light vinaigrette dressing.
For a holiday classic, try this plate of Roasted Brussels Sprouts with vanilla toasted pecans.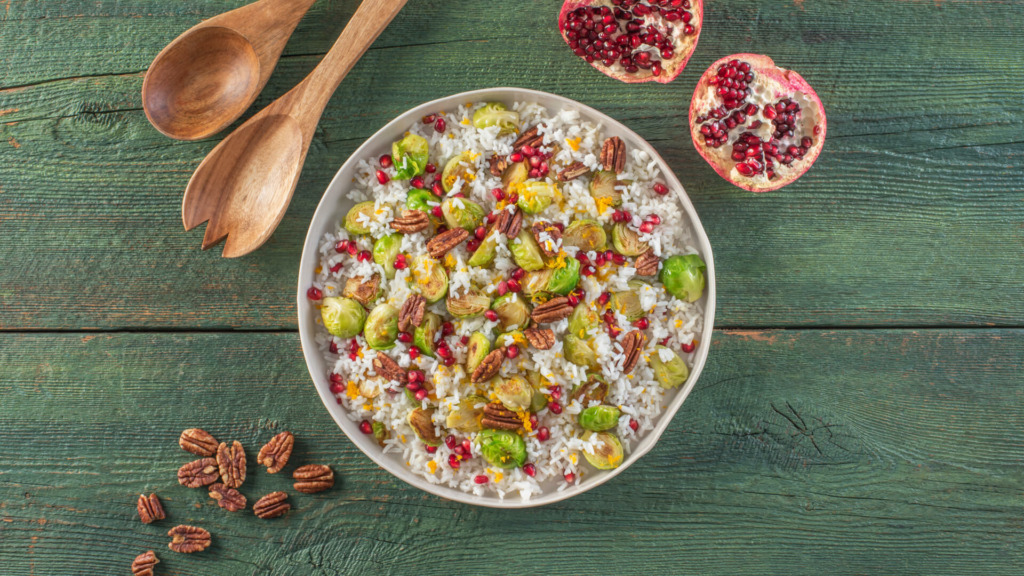 If you need more ideas, take a look at our Thanksgiving Holiday Sides too. 
A delicious vegetarian option would be our: eggplant parmesan recipe.
Dessert Recipe Spread
Finally, finish your meal off with an incredible dessert spread. Desserts can be fit for 1-2 as well, no need to make a large cake for a small crowd.
For chocolate fans try a Layered Chocolate Caramel Rice Pudding Mug Cake. For something more classic, try our Vanilla Rice Pudding but adjust it to your needs. Need it for a small occasion try our Easy Rice Pudding, or a Banana Rice Pudding, coffee or even pumpkin pie inspired.
Make your holiday a special one no matter the size of your crowd! If your plans are less elaborate than other years, no problem, Minute® Rice has what you need.