Between work, family, weekly events, exercise and everything else going on, it may not seem like there is enough time to get it all done, let alone enjoy a quality meal. But, that's why Minute® Rice is so fast! We believe that when you spend less time cooking, you have more time to slow down and really enjoy all the small, wonderful things that happen around the table with friends or family.
With our rice and quinoa in the cupboard, you've always got time to sit down to the meal you deserve. We'll show you just how simple it can be to mix in all of your favorite ingredients, anytime!
How It Works
If you're looking for a little less mealtime stress in your life, we've got what you're looking for. Using our microwavable Ready to Serve products, all you have to do is choose your favorite variety and mix in tasty ingredients. Yeah, It's really that simple, and delicious!
Microwave your rice or grain blend (60-90 seconds)
Mix in ingredients: sauces, proteins, beans, vegetables, nuts, yogurt, etc.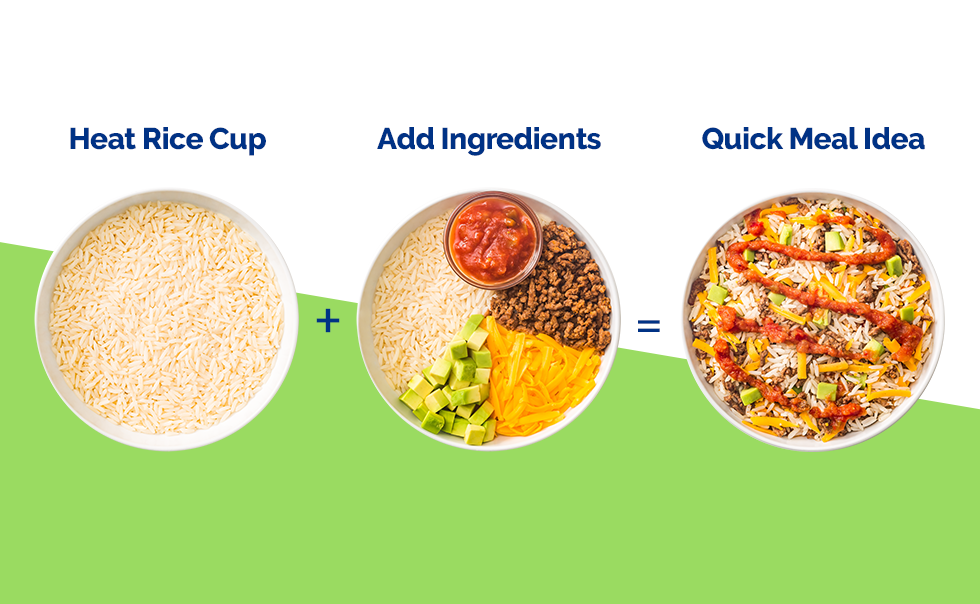 In just 2 steps, you've got something great:
Microwave your rice or grain blend (60-90 seconds)
Mix in ingredients: sauces, proteins, beans, vegetables, nuts, yogurt, etc.
Turn it into a breakfast, snack, or a delicious dessert using all kinds of stir-ins. And, if you want to ensure you're getting a complete meal for breakfast, lunch or dinner, take a look at our No Recipe Recipes guide with a fool-proof formula to always get what you need whether you enjoy vegetarian or meat-lovers meals.
There are endless possibilities with mix-ins however here are some more quick examples to help get you started in coming up with your own creations:
Spicy African: By heating up a Minute® Multi-Grain Medley Rice cup and mixing with diced sweet potatoes, piri piri sauce, mayonnaise and chopped peanuts, you can have this simple but delicious Spicy African rice bowl.
Spicy Mexican Bowl: For another spicy rice bowl you can have in no time at all, heat up a Minute® Brown Rice and Quinoa Cup and mix in some shredded chicken, grilled corn and chili crunch.
Herbed Artichoke: Mix together a Minute® Yellow Rice Cup, some chopped artichoke hearts and top with some grated parmesan, chopped basil, and olive oil to have this tasty rice bowl.
Now you've tried these ideas, try mixing and matching your own favorite ingredients with Minute® Rice Cups and invent your own recipes.
Note: If you like to meal prep, batch cook enough servings of our Instant Rice and use it to make quick meals throughout the week.
If you like what you see, this is just the beginning! Learn how you can customize any meal of the day and boost the flavor by simply mixing your ingredients of choice.
Breakfast Inspiration
With a tasty and quick breakfast, you might just save some extra time to walk your kids to school, to commute in the morning or grab a morning coffee with coworkers. Use a few of these sweet and savory ingredient ideas to mix into your preferred rice of choice:
Savory options: Eggs, bacon, sausage, cheese, avocado
Note: Use pre-cooked store-bought or leftover sausage and bacon and learn how you can cook your eggs in the microwave using this Simple Breakfast Scramble that only takes 4 minutes to put together. Don't believe us? Take a look at this recipe video and see just how simple it is:
Sweet options: Frozen berries, peanut butter, jam or jelly, crunchy granola, nuts, yogurt, cinnamon and sugar.
Coffee boost: You can even add a boost of morning coffee like in this Coffee Breakfast Rice Pudding Recipe. Add in hot brewed coffee, cream, sugar, vanilla and fruit if desired.
Lunch
Wherever you enjoy your lunch, we've got some great ideas for mixing into your rice of choice. Bring a few things with you to toss together at the office, or bookmark these ideas and stop by the grocery store during your lunch break.
If you're looking to toss together something hearty that will keep you satisfied make sure to mix in: grain (rice or quinoa) + protein + vegetables + a drizzle of sauce to boost flavor. Want some ideas for combinations you can add in? Take a look at all of our Savory Stir-In Ideas.
Love a good BLT sandwich? Bring those flavors together with this Spicy BLT Bowl. Grab a cup of brown rice and mix in: precooked bacon + shredded lettuce + diced tomato + spicy mayo.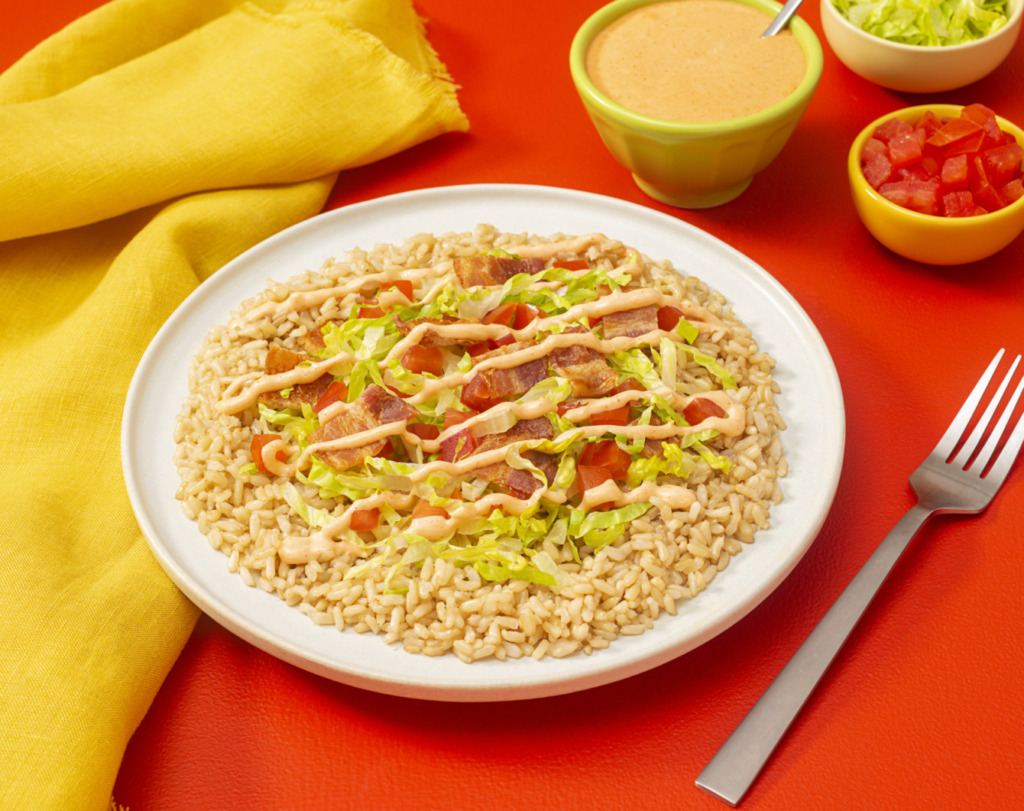 Or, if you want a more veggie-loaded rice salad idea, try this Greek Salad. Grab microwave white rice and mix in: tomato + red onion + cucumber + black olives + Greek salad dressing. Or make it a Mexican Cobb Salad with Cilantro Lime Rice or Garlic and Olive Oil Jasmine Rice Cups + black beans + corn + tomatoes + avocado + Italian dressing.
Want a bit of crave-worthy international taste? Try this Thai Sweet Chili Rice, grab Minute® Ready to Serve Cilantro Lime Rice and mix in: pre-shredded cabbage and carrots + edamame + rotisserie chicken + Thai sweet chili sauce.
What will you be using first for your office or home office lunch?
Dinner Sides and Main Dishes
When it comes to dinner, you can mix in different ingredients to create a simple side dish or main dish!
Sides
Make it a side dish by simply mixing in spices, a sauce, or added ingredients.
Side Dish inspiration
Persian Rice: Ready to Serve Brown Rice + turmeric + salt + pomegranate seeds + walnuts + parsley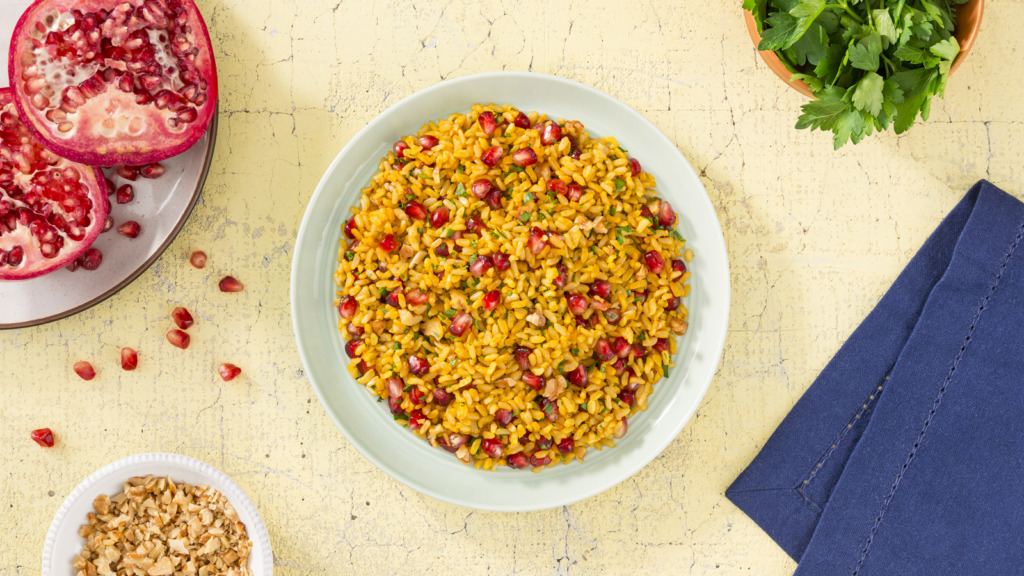 Pesto Rice: Ready to Serve Jasmine Rice + sliced mushrooms + jarred basil pesto + jarred roasted red peppers + feta cheese
Spiced Quinoa Rice: Ready to Serve Brown Rice & Quinoa + lemon juice and zest + chili powder + cumin + salt and pepper + avocado + basil
Garlic Parmesan Rice Bowl: Ready to Serve Garlic Olive Oil Rice + parsley + Parmesan cheese + Italian seasoning + red chili flakes
Make Takeout at Home
Prepare a few small items in minutes by mixing in your favorite takeout ingredients. Start with your own homemade fried rice recipe made in the microwave like an Egg Fried Rice in the Microwave or a Pineapple Chicken Fried Rice.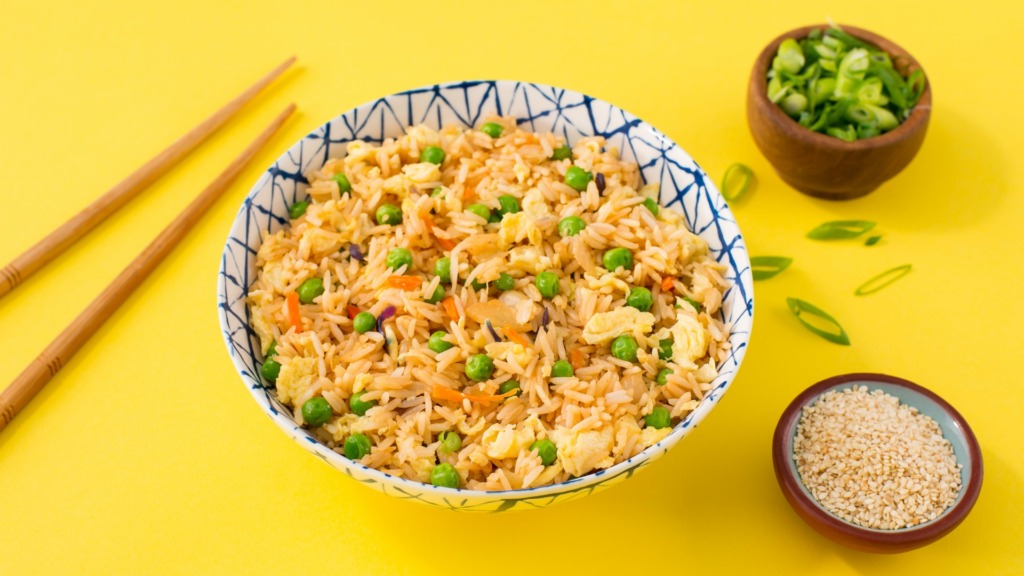 Get all kinds of inspiration with our homemade Asian takeout ideas made easy!
Or, stir together a Hawaiian-inspired Tuna Poke Bowl made with sushi grade tuna, Sriracha sauce, soy sauce, avocado and green onion!
TikTok Inspired
Get inspiration from your favorite online sources like our Top Tik Tok Recipes with Rice!
Use ingredients you have at home, leftovers or pick up a few things to prepare our take on a dish of Pesto Egg Rice.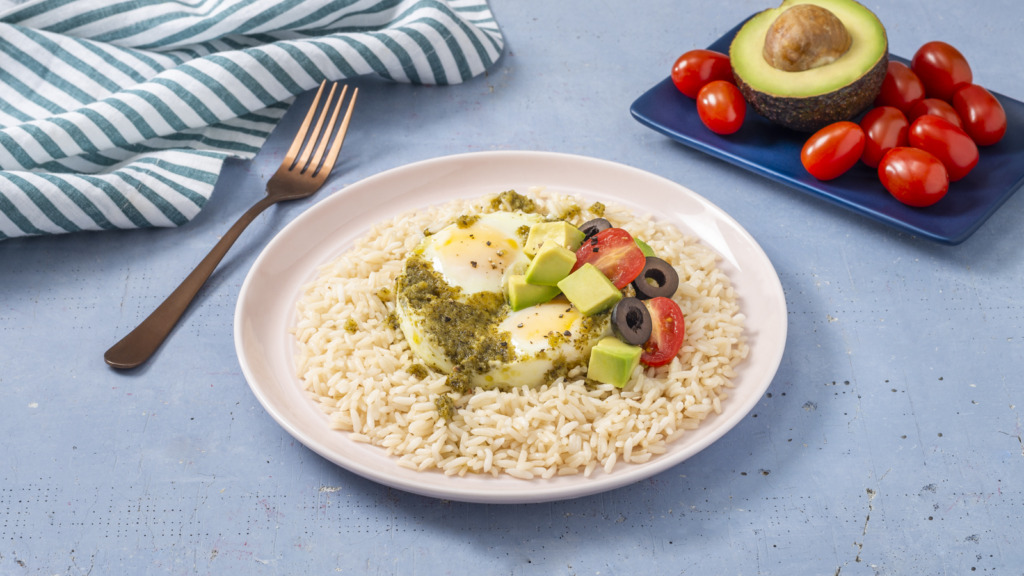 Forget the oven for this Feta and Tomato Rice and get creative with this Salmon Rice using salmon, mayo, hot sauce, soy sauce and nori.
Snacks On The Go
After the gym or in between meetings or classes, mix in a few ingredients to create a tasty snack!
To make your own snack on the go, start with your favorite variety of Ready to Serve Rice and stir in protein packed ingredients like canned tuna, shredded chicken, cheese, beans or seeds.
Or, give it a sweeter touch like this Nutty Buddy Honey Rice. Simply stir in chocolate chips, honey, peanut butter and nuts!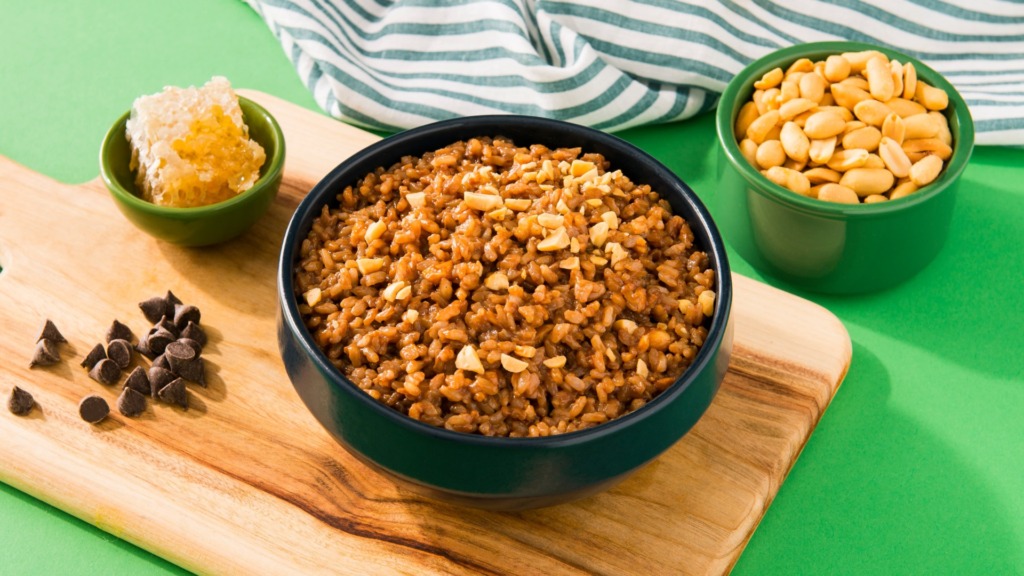 Sweet Stir-in Desserts
Yes, you can even make your rice into a tasty dessert!
Try it for yourself with one of these options:
Easy Rice Pudding: Minute® Ready to Serve White Rice + vanilla-flavored pudding cup + raisins + cinnamon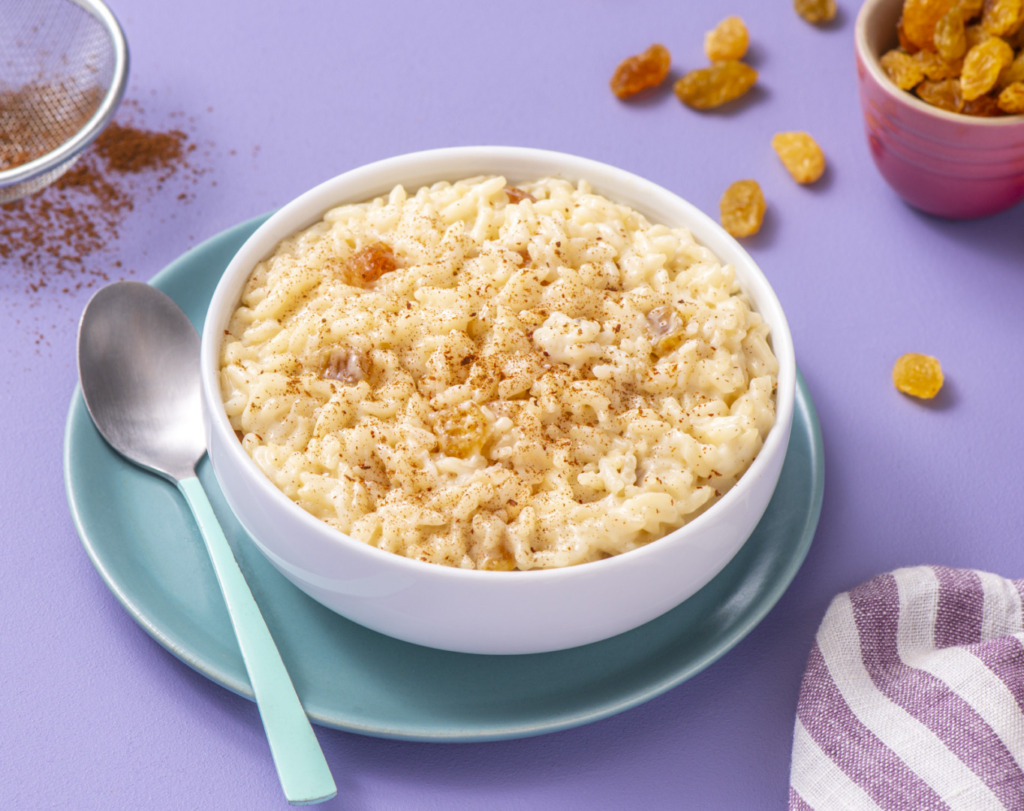 Chocolate Hazelnut Rice Pudding: Ready to Serve Jasmine Rice + milk + chocolate hazelnut spread + fresh or frozen berries
Mango Sticky Rice: Ready to Serve Jasmine Rice + coconut milk + mango + sesame seeds + cinnamon
When you've got Minute® Rice on hand, you make the rules with your personalized meal, ready in no time!