There are some food combinations that just seem to pair perfectly together like broccoli and cheese, a Chicken and Rice recipe, and of course, rice and beans. You might have eaten a classic chili soup or maybe tried them together at your favorite Mexican restaurant, but there's a lot more to this combination than just its great taste!
So, what's so great about rice and beans? Together they are:
Pantry staple and budget-friendly foods.
Nutrient-dense foods and, when combined, create a complete protein with all nine essential amino acids.
Plant-based and great for a variety of diets like vegan, vegetarian, Gluten Free and more.
International favorites included in staple dishes around the globe.
And, if your recipe ideas stop after opening up a can of baked beans and pouring over rice, this combo can be incredibly tasty and easy to enjoy! We'll show you how it's done using your favorite variety of Minute® Rice and any choice of beans. To make things easier, we've listed a few of our top bean favorites and a few recipe ideas so you can stock up on your new go-to rice and bean combination.
Choosing Your Bean and Rice Combo
No matter which dry or canned beans you've got in your pantry, we've got a recipe you can use!
Pinto Beans
Starting with one of the most popular and commonly eaten beans, the pinto bean is brown in color and pairs perfectly with white rice for contrasting flavor, texture and color! This combination pairs so well, we've created a specialty Ready to Serve Southwest Pinto Beans and White Rice blend that is naturally seasoned with cumin and hints of garlic to enjoy on its own or blended into one of these delicious recipe ideas.
Try any one of these quick recipe ideas using our specially made blend (all ready in under 10 minutes!):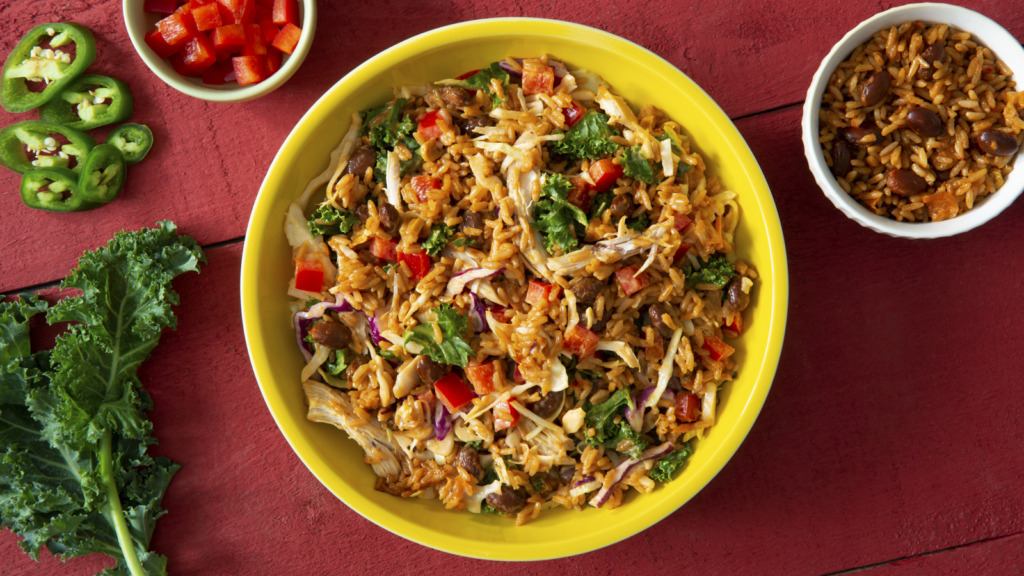 Black Beans
As their name suggests, black beans are small with a bold black color and meaty texture. They are often used in Latin American dishes like a Cuban Mojito Quinoa and Rice Salad as well as Carribean cuisine like this 5-minute Black Beans and Rice Mango Salad with cilantro and lime jasmine rice. Give your weeknight dinners an international touch in minutes using store-bought canned or precooked black beans!
You can also spice things up with a Mexican-inspired dinner using black beans and your choice of traditional Minute® Instant White or Brown Rice like in these Black Bean and Rice Tostadas or a Southwest Spicy Rice, Bean and Cheese Skillet dinner.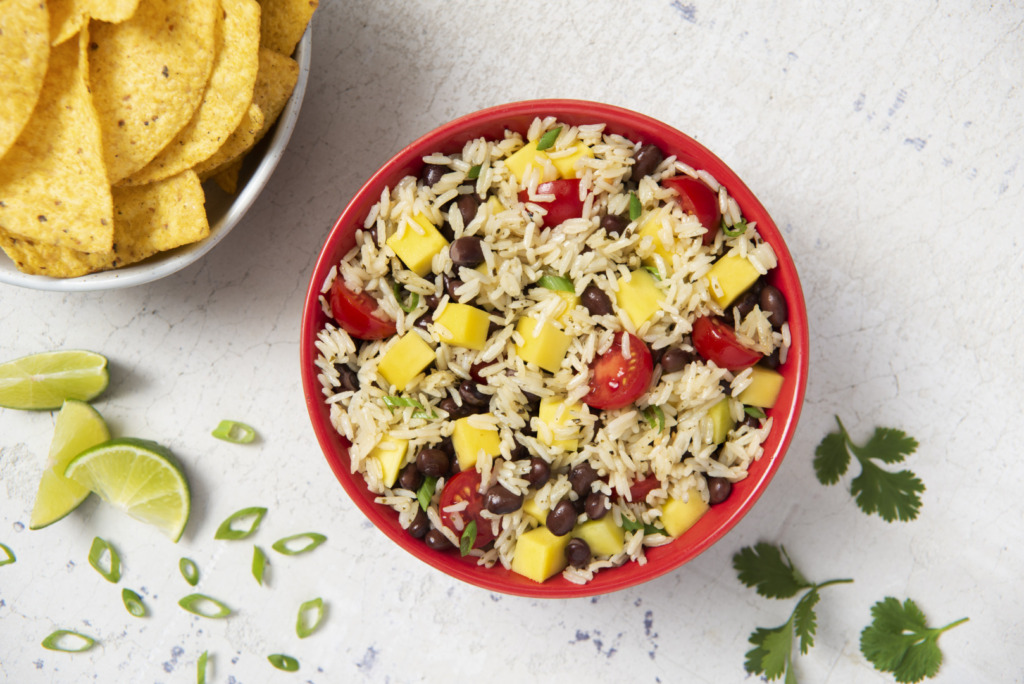 White Beans
In contrast to black beans, white beans are often larger in size, which make them perfect additions to soups, chilis and even rice bowls!
Soup
For a comforting soup loaded with beans and rice, this Hearty Rice Minestrone Soup is made quick in an Instant Pot for a meal ready in just about 30 minutes.
Chili
For a simple yet tasty dish, this Turkey Meatball and Rice Chili makes for a delicious bowl of 10 minute chili using pantry ingredients like enchilada sauce, frozen meatballs, Ready to Serve White Rice and canned white beans.
Rice Salad
Make your rice salad even heartier by combining white beans with not one but two rice varieties like in this White Bean and Tuna Rice Salad Bowl using a blend of Brown and Wild Rice.
Minestrone Soup Recipe with Jasmine Rice and Cannellini Beans
Red Kidney Beans
Red kidney beans are often exclusively used for Louisiana cooking like jambalaya or red beans and rice as they are filling and add loads of flavor!
For an authentic southern dish, this Easy Red Beans and Rice is for you, made with smoked sausage, tomatoes, chili powder, Instant White Rice and kidney beans. If you want a filling vegetarian version, try this Red Beans and Rice using Cajun seasoning, bell peppers, onion alongside Instant White Rice and red kidney beans, simply swap out the beef broth for vegetable broth.
Kidney beans aren't only ideal for Southern dishes, these Easy Chicken and Rice Tacos are made using a skillet blend of white rice, vegetables, taco seasoning and kidney beans too!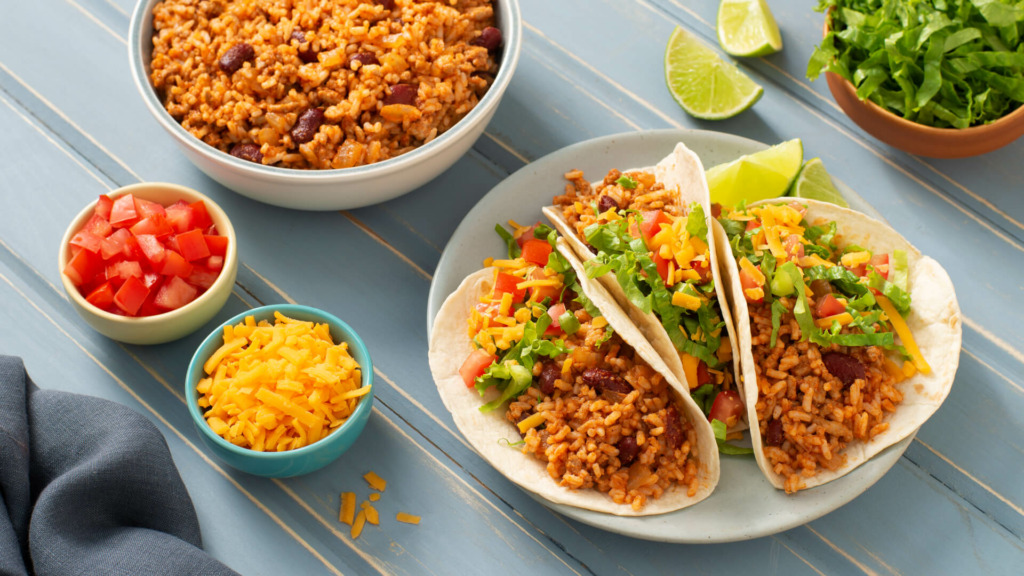 Chickpeas or Garbanzo Beans
Often called garbanzo beans, chickpeas are small, white in color and have a subtle nutty flavor. Much like other beans, they are incredibly versatile and used often in Indian, Mediterranean and Middle Eastern cuisine like hummus, falafel or mixed into rice salads.
This simple Greek Brown Rice and Veggie Bowl combines our Ready to Serve Brown Rice with vegetables, chickpeas, feta cheese and store-bought tzatziki for a meal in 5 minutes! This Easy Garbanzo Bean and Rice Salad is an upgrade from the average salad as it's made with a multi-grain medley of brown rice, flaxseed and quinoa alongside garbanzo beans tossed in a lemon vinaigrette for the ultimate power salad blend. 
With the wide variety of recipes out there, which will you choose first? One of our red beans and rice recipes? or maybe a Fried Rice with Egg recipe? Make sure to stock up on your favorite Minute® Rice variety for any occasion and your favorite bean variety of choice. Looking for a vegetarian option? Try our: eggplant parmesan recipes.