What if we told you there was a so-called superfood that you could enjoy anywhere, anytime that was fiber dense, high in protein and had all 9 essential amino acids? It's true, using our quinoa from Minute® Rice, we've made eating great even easier with not only our quick cooking and quality products.
You might know all about our rice products, but we'd like to give our quinoa center stage with recipe inspiration for all types of meals with unlimited possibilities using everything from Ready to Serve Organic Quinoa to a blend of Instant Rice & Quinoa and everything in between.
Start enjoying all kinds of meals, made with quality and tasty ingredients like quinoa, vegetables and other pantry staples in no time!
Hearty Quinoa Breakfast
Fresh Fruit and Quinoa
Start your morning with an on-the-go power meal like this Breakfast Cup with protein-packed quinoa, Greek yogurt, fresh fruit and nuts! Layer it together in a mason jar or container and take it with you to the office, school or wherever you choose to enjoy it.
Tip: You can even save it for a guilt-free afternoon snack!
Quinoa Muffins
Whether you enjoy sweet or savory breakfasts, there is always a place for quinoa, even baked goods! Adding cooked quinoa into breads or muffins adds an extra fluffy texture and a bit of nutty flavor. These Rice and Quinoa Fruit Muffins are ideal for a grab and go meal in the morning, or if you're a fan of savory flavors, you'll enjoy these Quinoa and Sausage Muffins made with Ready to Serve Organic Quinoa.

Soup and Salad Lunch
Quinoa Salad
Adding quinoa to salads is a great way to add extra protein and whole grains to keep you feeling more full and energized throughout the day. And, quinoa salads don't have to be dull, boring or complicated!
This Mediterranean Tabbouleh Salad is made with fresh herbs, tomatoes, cucumbers, feta cheese and our Minute® Instant Rice & Quinoa for a refreshing meal made in no time! You can even make a large batch of rice and quinoa to enjoy throughout the week, or swap in our Minute® Ready to Serve Brown Rice & Quinoa for a shortcut version of a Mediterranean Rice Salad with Quinoa on the go.
This Asian-inspired Chicken and Broccoli Slaw Salad uses just 4 simple ingredients tossed together in less than 5 minutes made with our microwavable blend of quinoa, brown rice and flax seeds for a delicious and flavorful multi-grain quinoa salad.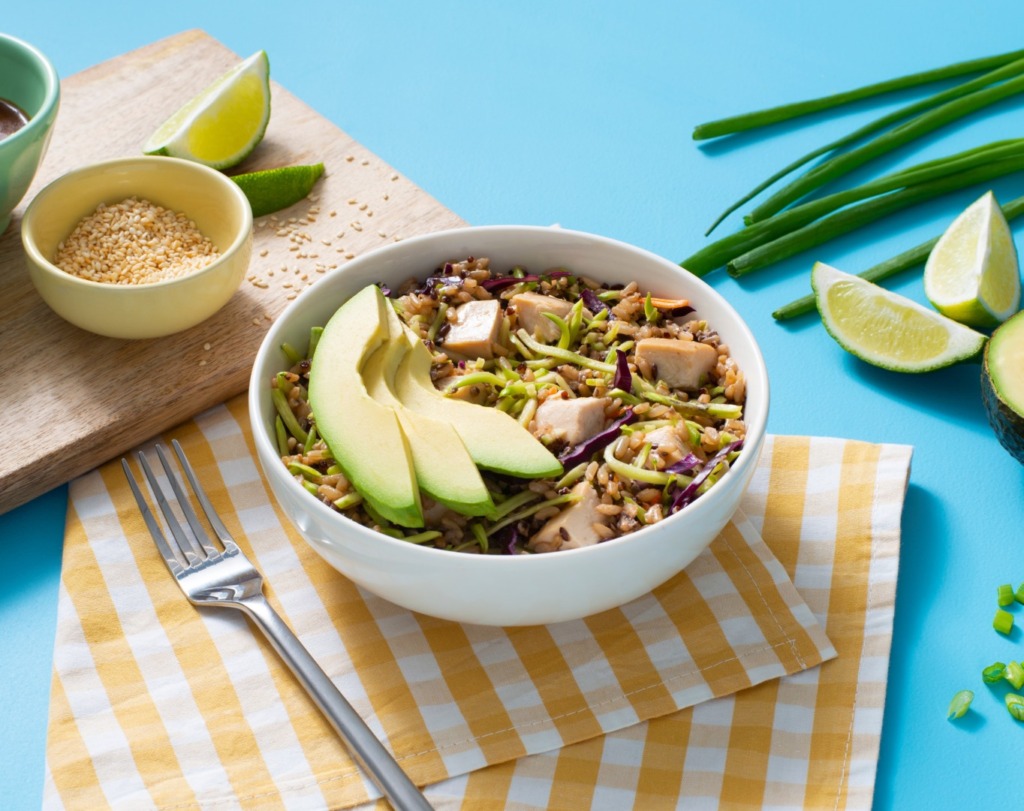 Quinoa Bowl
Rice bowls are excellent meals for lunch on the go or a quick dinner to take out of the fridge and toss together. Personalize your own bowl to how you like it best no matter your dietary habits!
Vegetarian
For a filling plant-based vegetarian bowl in just 5 minutes, this Rice and Quinoa Bowl is topped with harissa glazed carrots, chickpeas and spinach with a hearty base of rice and quinoa. Our stuffed eggplant recipes are another perfect vegetarian choice.
If you're wondering how do you make red beans and rice with quinoa? Simply swap in our Rice & Quinoa, but ensure you adjust the cook time and water ratio accordingly. Find all of the information you need on the product page.
Meat
If you're a meat lover, this Italian Meatball and Grain Bowl is made with Minute® Ready to Serve Multi-Grain Medley, rich tomato sauce, kale mushrooms and mozzarella.
Rice and Quinoa Bowl with Harissa Glazed Carrots
Quinoa for Dinner
Sauce Specialties
Take your dinner from good to great in no time using quinoa and your favorite store-bought or homemade sauce! Need a few ideas?
Enjoy a taste of Hawaii with this delicious Chicken & Vegetable Stir-Fry with Rice and Quinoa made using a blend of sweet and savory flavors including pineapple juice, plum sauce, rice vinegar, soy sauce and cornstarch.
Make it an Asian style dinner with this No Fry Stir Fry using a multi-grain medley of quinoa, brown rice and seeds, Asian-style mixed vegetables and chicken in ponzu sauce and sesame oil, ready in under 5 minutes.
Skip the Thai takeout with this Sweet Chili Shrimp with Quinoa using sweet chili sauce, Brown Rice & Quinoa, vegetables and shrimp.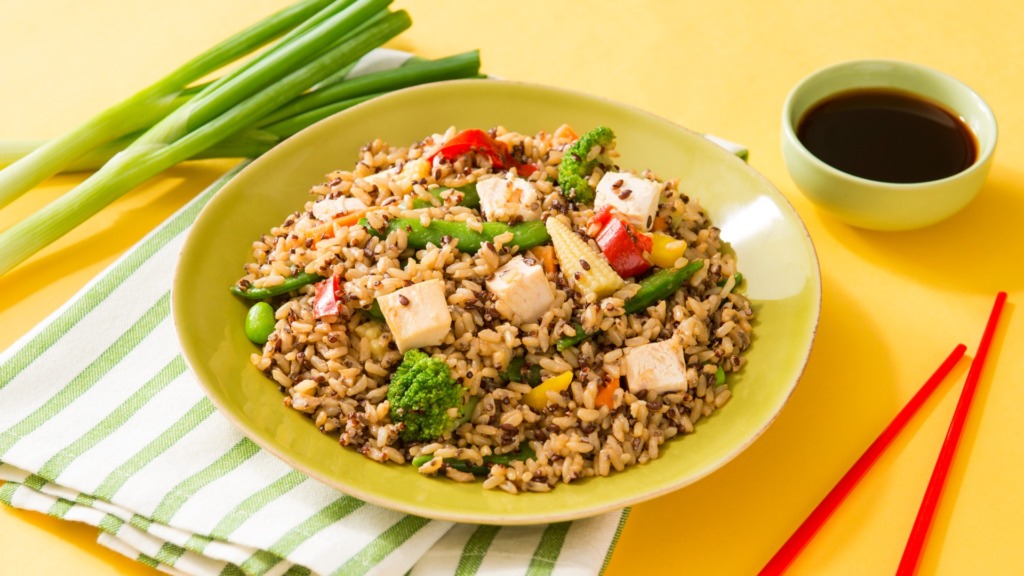 Quinoa Filling
As its Gluten Free and filled with natural vitamins and minerals, quinoa and rice make for the perfect whole grain combination to fill anything from stuffed vegetables to chicken breast. Try out any one of these delicious fillings using a specialty Minute® Rice blend of rice and quinoa.
Stuffed Peppers Filling: Ready to Serve Quinoa & Brown Rice, ground beef and tomato basil sauce with shredded mozzarella.
Stuffed Tomatoes Filling: Rice & Quinoa with tomato, feta cheese, currants or raisins, mint, parsley, garlic, oregano and cinnamon
Stuffed Chicken Breast Filling: Rice & Quinoa with apricots, feta cheese and cranberries
Stuffed Acorn Squash Filling: Italian sausage, kale, dried cherries, rosemary, thyme and rice and quinoa.
Minute® Rice makes it easy to enjoy delicious meals and eat great, even when you are pushed for time, for example check out this quick to prepare fried rice with egg recipe or this Chicken and Rice recipe. Our stuffed eggplant recipes is a perfect choice for the family vegetarian.