After a long and busy day, when dinner time seems to sneak up more quickly and you just don't have time to think about what to make, Minute® Rice is there to help! You don't have to settle for drive thru dinners, make your mealtime easier, tastier and more filling using pantry ingredients and your favorite rice variety.
We've compiled our favorite speedy weeknight dinner ideas using our Instant and Ready to Serve Rice products. No matter if you're looking for meals for one or two, or to feed a crowded family table, we've got something for everyone. All of these meals are ideal for any night of the week from pantry to table all ready in 30 minutes or under.
Meals For One or Two
To make quick meals for one or two, we suggest using our Ready to Serve Rice varieties which are packaged in a single serving size and heat up perfectly in 60-90 seconds! Using what you've got in your pantry, fridge or freezer, there are simple recipes you can make. All of these meat and vegetable filled options are perfect meals for one or doubled for a meal to share. Did you know you can heat up two cups at the same time for double the servings?
5-10 Minute Meals
These easy to make meals are all ready in just 5-10 minutes! Keep a few in your back pocket no matter if you eat a vegetarian or flexitarian diet or if you just love savory dishes with meat.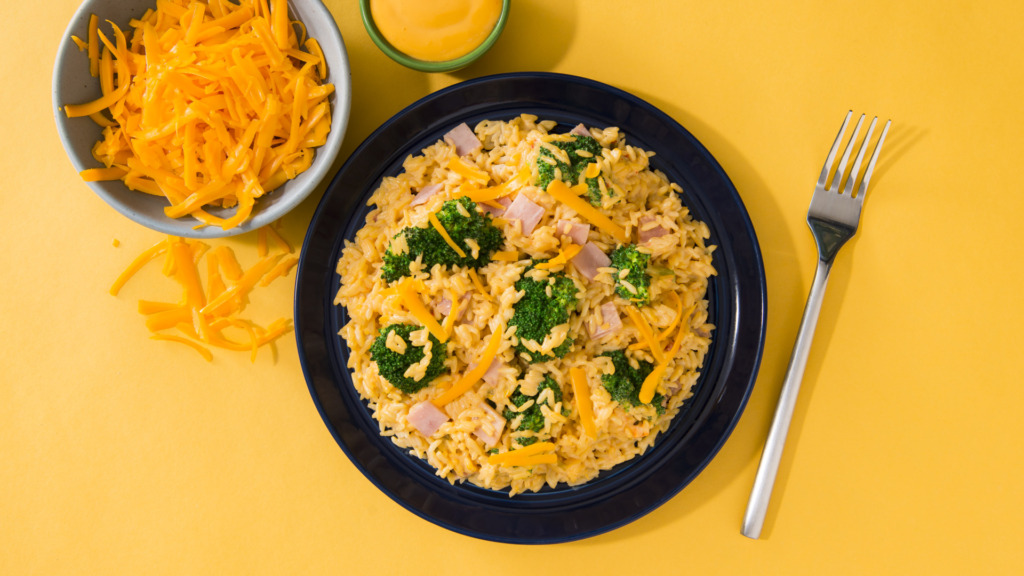 Made With Meat
Beef: If you've got ground beef and corn in the freezer, this Mexican Corn and Beef Rice Bowl is a fast and simple option made with white rice and topped with crumbled feta cheese, diced avocado and pickled jalapeño peppers.
Chicken: Use up leftovers or store-bought rotisserie chicken and fragrant jasmine rice to make this Sweet Chili Chicken Rice for a homemade takeout night using just 5 ingredients.
Ham: This Cheesy Ham and Broccoli Rice uses shortcuts like sliced ham, frozen broccoli, Ready to Serve White Rice and your favorite cheese sauce for an incredibly easy and hearty meal.
Pulled Pork: Use the store-bought variety for this Pulled Pork and Green Bean Rice Dinner with Ready to Serve Brown Rice, bean, pulled pork and Cheddar cheese.
Vegetarian
If you're focusing more on meat free dishes loaded with vegetables and other proteins, take a look at these delicious options.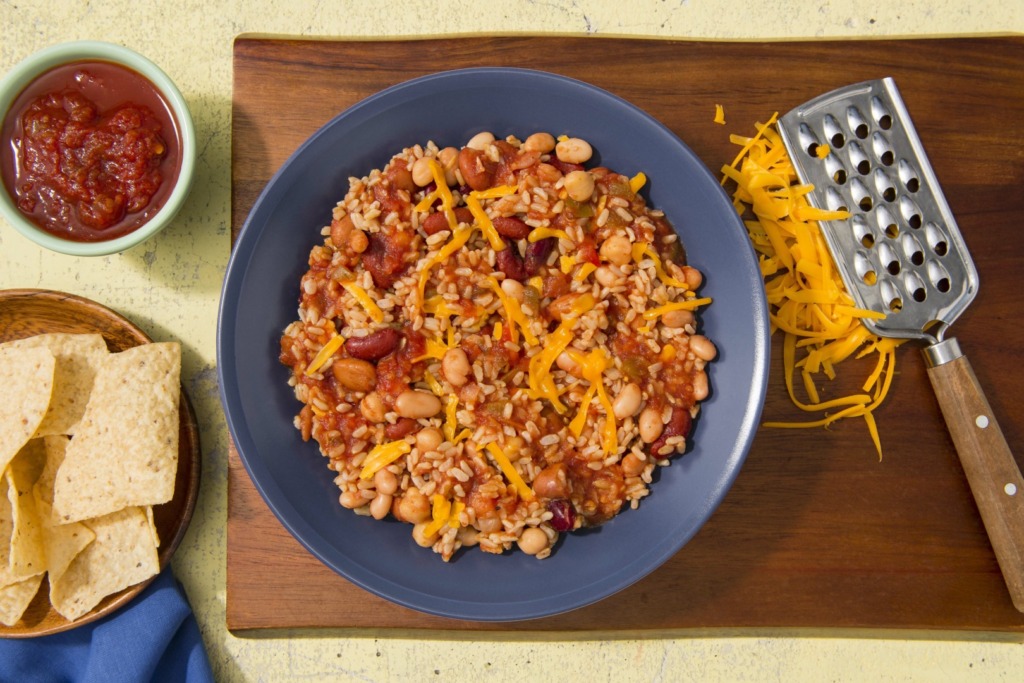 Beans: Packed with beans and whole grains, this Brown Rice and Bean Chili is comforting, quick and delicious! Alternatively you can check out one of our Red Beans and Rice recipes.
Veggie Burger: Keep your favorite meatless burger on hand for this Brown and Wild Rice Bowl topped with a veggie burger.
Tofu: The sweet, savory and fragrant flavors of this Thai Tofu and Rice Salad made with cilantro and lime jasmine rice are sure to impress for a simple and plant-based weeknight meal.
For more Meatless Monday meal ideas, check out our Easy Vegetarian Meals Ready in Under 5 Minutes.
Family Meals for a Crowd
Between meetings, practice, homework or life in general, finding time for a quality meal is made easy with these recipe ideas ready in under 30 minutes.
When you need to feed a few more hungry family members, we suggest Minute® Instant Rice varieties, which cook up in just 5-10 minutes for hassle-free meals, so make sure to keep a few boxes on hand!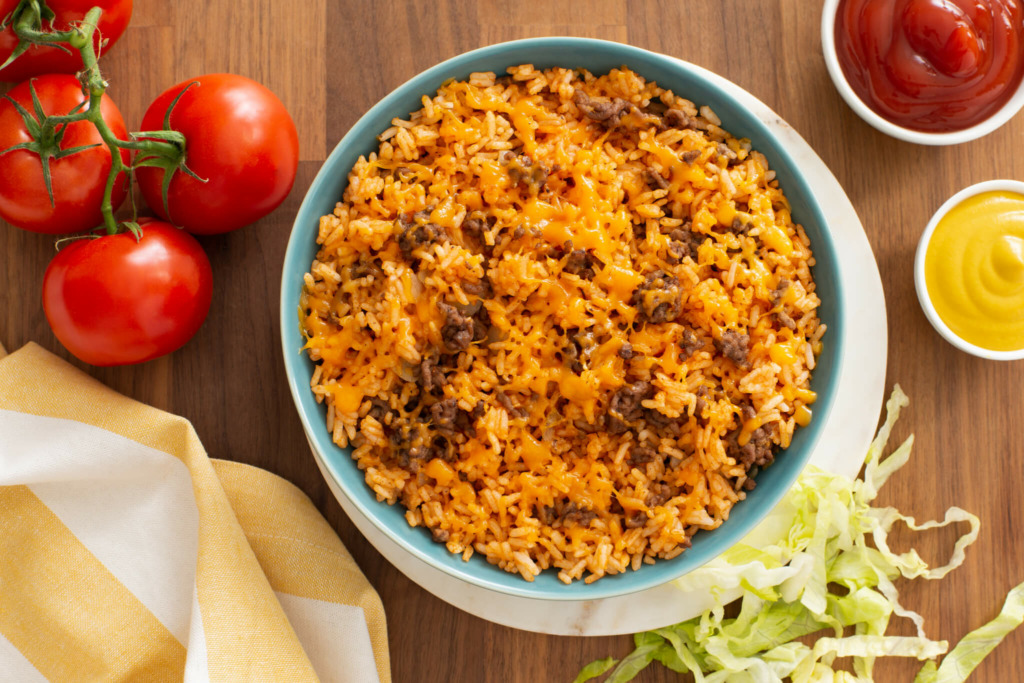 One Skillet Mexican Night
Make your weeknight dinner more festive with this Mexican Chicken and Rice Dinner using chicken breast, white rice, vegetables and Cheddar cheese!
Or make any night taco Tuesday with these Easy Chicken and Rice Tacos made with a skillet filling of ground chicken, beans and rice that everyone can personalize with their favorite toppings! If you want to skip the tortilla, make it into a One Pan Taco Dinner using ground beef and white rice cooked in taco seasoning garnished with toppings like tomato, guacamole, cheese, lettuce and more!
Chicken and Rice Classics
You can't go wrong with a combination like chicken and rice for dinner. Try this 15 minute Chicken and White Rice Dinner for all of the flavor with none of the dinner-time stress. Or, switch things up with this Chicken and Brown Rice Skillet Dinner simmered in teriyaki sauce and garlic powder ready in no time!
Foolproof Casseroles
Oven-baked casseroles are foolproof dinner ideas no matter what time of year, simply toss your ingredients together and let your oven do the work for you! Use up your summer produce in a Squash and Zucchini Casserole or cozy up with a warm and comforting Brown Rice and Lentil Lasagna Casserole.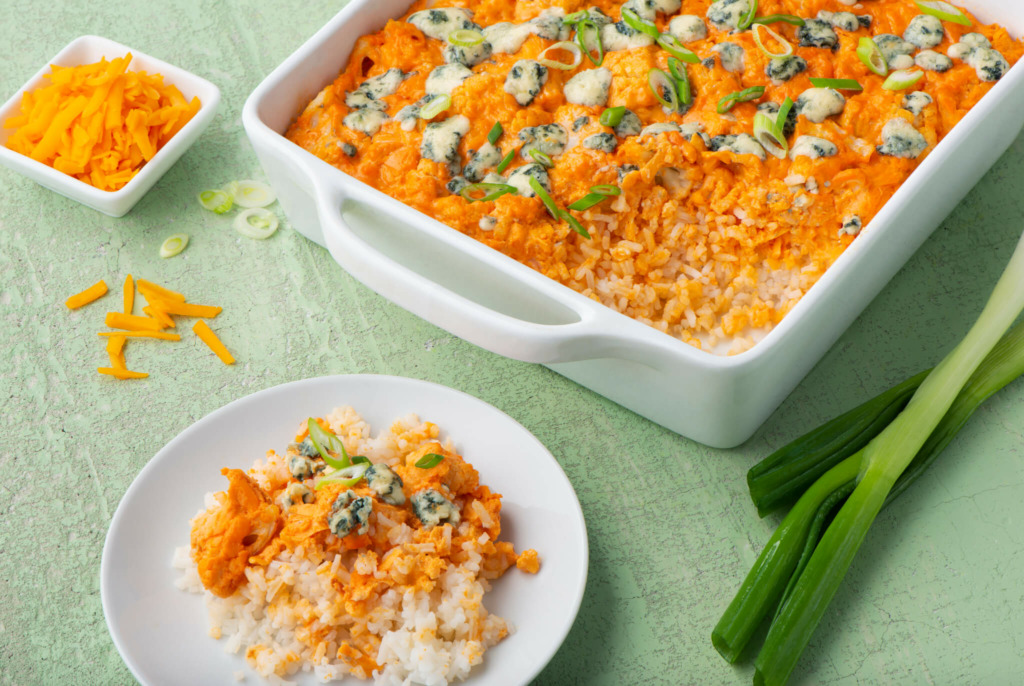 They can also be veggie-forward like this Buffalo Cauliflower Casserole or International inspired and loaded with flavor like this Chicken Tandoori Rice Skillet Casserole.
Tip: Casseroles are also budget-friendly because you can make filling meals with few ingredients and help you to waste less, as you can use up any leftover meat and veggies in the fridge before they go bad.
Hassle-Free and Fun Dinners
These skillet dinners are great for when you need to switch things up from the classic stir fry and rice. Skip the bun with this One Pan Cheeseburger Rice Skillet made with all of your favorite burger flavors like ground beef, sautéed onion, ketchup, mustard and Cheddar cheese.
Take your dinner up a notch with a Classic Beef Stroganoff combining beef with sliced mushrooms of choice in a rich and creamy sauce, ready to enjoy in 20 minutes! If you and your family enjoy seafood, this impressive Ginger Seared Salmon served over brown rice looks like a restaurant-style dish made at home.
Make sure to keep this list handy and a few of our Minute® Instant or Ready to Serve products on your shelf for when you need a simple and hassle-free delicious rice lunch or dinner like this recipe for Mexican rice!