Game day usually means two things, rooting for your team of choice and hosting a fun viewing get-together at home with sweet and savory, delicious snacks!
But, if you find you're left without enough party food or need to make something quick, we've got you covered! Minute® Rice is here for the win with easy snacks and appetizers made with minimal effort, so you can focus on following the game while enjoying a few tasty treats.
No matter what sports event you're planning to watch, indulge in this lineup of snacks and appetizers that just seem to taste better when you're cheering on your favorite players!
Fast Finger Food
These bite-sized morsels are finger licking good! And, the beauty of finger food is that you can enjoy them in just 1, or maybe two bites while you watch your team score.

Party Peppers
Start by adding a bit of color and flavor to your spread with these stuffed Party Peppers. Stock up on a few essentials like Minute® Jasmine Rice, cream cheese, Cheddar, lemon juice, a few spices and some garlic. In just 4 steps you can put these together and take out of the oven right before the game starts!
Tip: If you can't find mini peppers, use spicy jalapeños, milder poblano peppers or slice larger bell peppers into four fillable pieces.
Homemade Meatballs
Homemade Porcupine Meatballs are an excellent finger food idea ready in 30 minutes. They require just a few ingredients and use Minute® White Rice instead of breadcrumbs. Serve in your favorite jarred or canned tomato sauce and enjoy!
Frittata Bites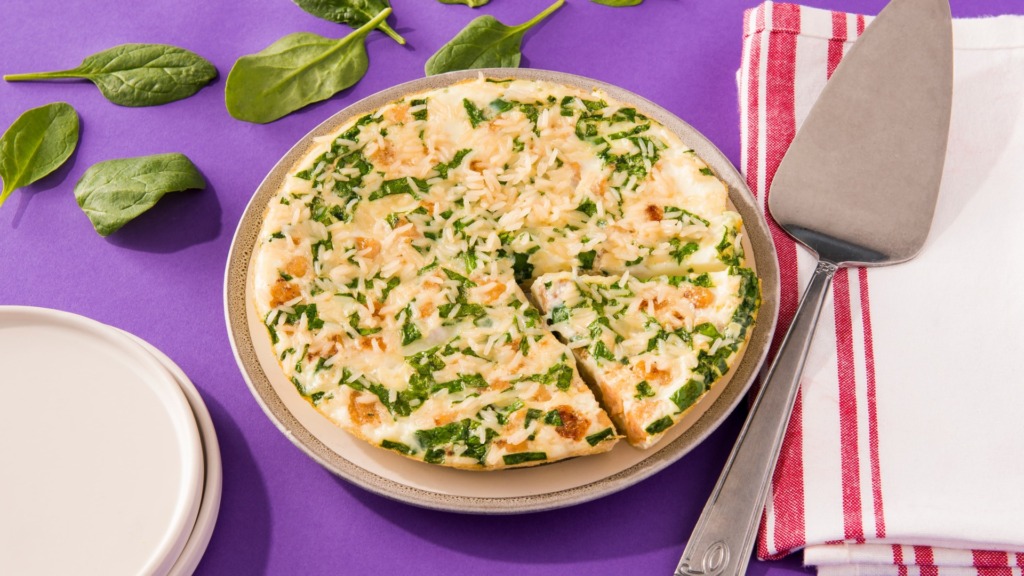 When in need, get creative with what you have in the fridge and pantry! This microwave, 4-ingredient Egg White and Rice Frittata may sound like a breakfast, but also doubles as a fun snack! Made with turkey sausage, fresh spinach and Minute® Ready to Serve Organic White Rice, prepare it in the microwave in just 5 minutes, cut into slices like a pizza and enjoy!
Pizza Tip: To give your frittata more pizazz, top with mozzarella cheese and serve with a side of marinara or pizza sauce for dipping!
Skillet Starters to Dip
Scoop up these crave-worthy skillet appetizers with chopped vegetables, tortilla chips or more!
Great for sharing with a crowd, this simple One Pan Taco Dish pairs perfectly with tortilla chips to spoon up all of that ground beef, cheese, lettuce and tomato goodness in each bite! If you want to make it meatless, simply follow our recipe for this Taco Rice Skillet using your favorite vegetarian burger or tofu.
Get creative with your favorite slider ingredients in this One-Pan Cheeseburger Rice made with all of the classics like ketchup, mustard, Cheddar cheese and ground beef for a scoopable version to savor. If you want to turn this into a finger food option, serve over sliced garlic bread or simple bread slices. You can also adapt one of our Egg Fried Rice recipes into a great starter option!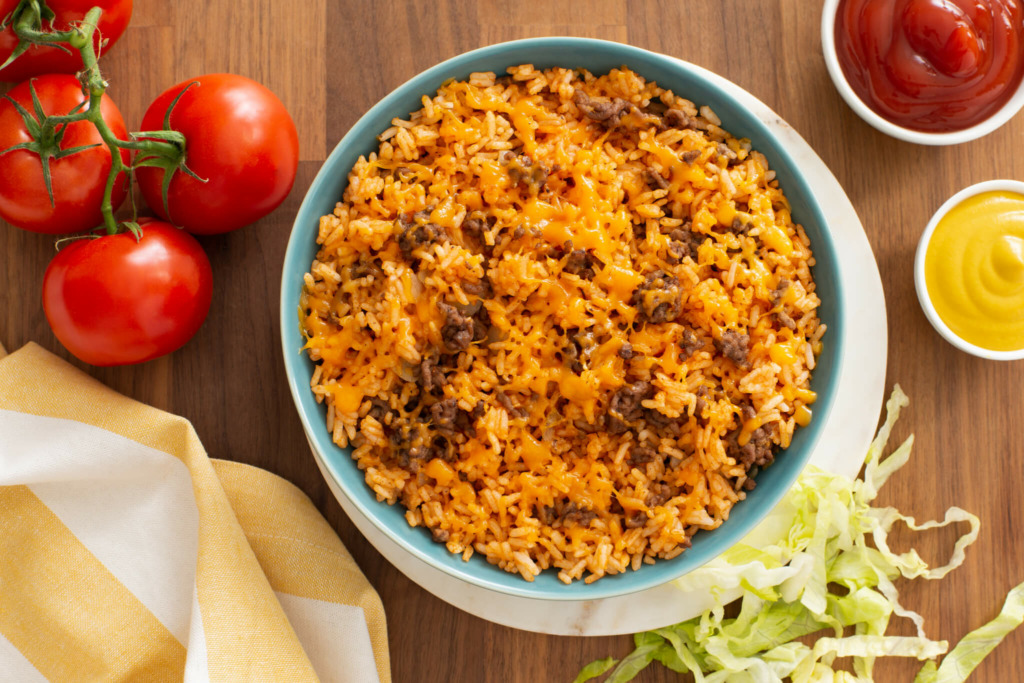 Classics Reinvented
Buffalo Sauce Casserole
Watch the game and get more veggies on your plate! Spoon up a heaping helping of this Buffalo Cauliflower Casserole made with cauliflower marinated in Buffalo-sauce topped with crumbled blue cheese and green onions. Simply assemble and bake, letting your oven do the hard work for this comforting and cheesy classic!  Our cheesy chicken broccoli rice casserole is another hit!
Avocado Skins
For a lighter version of the classic potatoes, these "avocado skins" or Shrimp and Rice Stuffed Avocados are a flavorful way to enjoy something new. Served cold, these filled avocados are put together in just ten minutes with Minute® Ready to Serve Cilantro & Lime Jasmine Rice, shrimp,vegetables and seasoning!
Filled Tostadas
Skip the hefty burrito and use your favorite chicken, bean and rice combo for 15 minute Chicken and Rice Tostadas. Instead of larger tostada shells, use smaller ones to make for easier eating. Simply prepare the filling, place on top and enjoy! Make it a meat-free topping with a recipe for red beans and rice.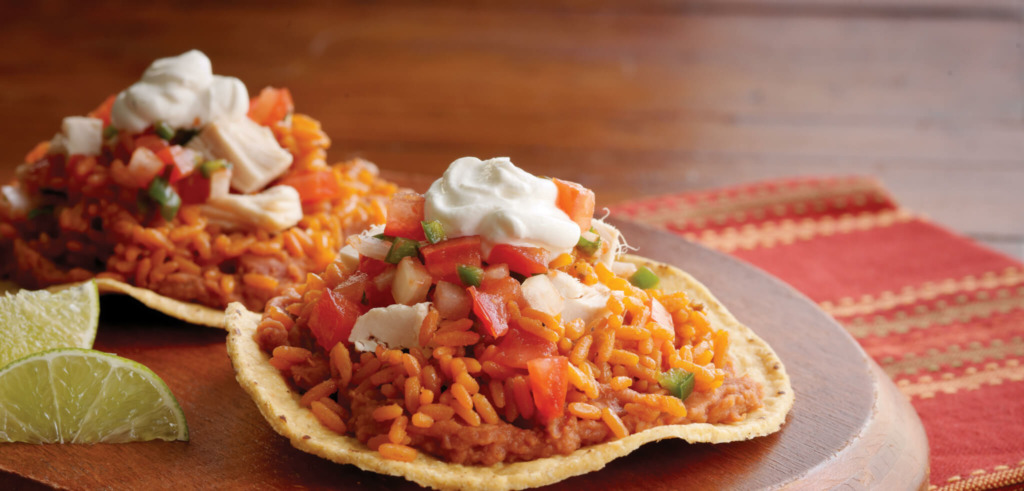 Drinks and Sweets
After all of the excitement of the game, treat yourself and your guests to something simple and sweet!
For Peanut Butter Lovers
These Banana Peanut Butter Rice Bites are an excellent bite-sized dessert made in no time with just 4 simple ingredients! You can even set up a make-your-own banana bite table for everyone to personalize their own.
Not a fan of bananas? This simple Nutty Buddy Honey Rice is made using Minute® Ready to Serve Brown Rice, honey, chocolate, peanut butter and chopped nuts! Add other fruit of choice, if desired.
Refreshing Drinks
Wash all of those savory snacks down with a Rice Banana Horchata Shake in fun glasses for a fun treat! Decorate the rim of each glass with chocolate or caramel, if desired.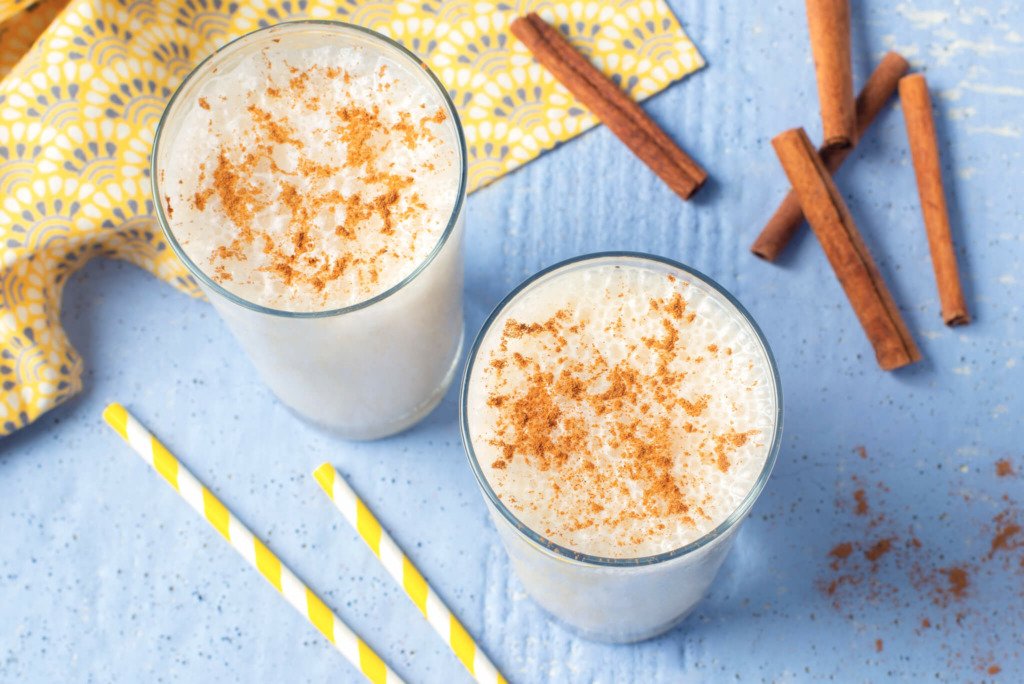 For Chocolate Lovers
These Energy Rice Bars are a delicious treat made with beneficial ingredients like Minute® Ready to Serve Brown Rice & Quinoa, cranberries, almonds, coconut oil, peanut butter and dark chocolate. Cut these bars into the perfect bite-sized treat to share.
As this fun spectator sports season marches in, there are so many great excuses to spend time with family and friends in person or online having fun bonding over favorite athletes, teams, or rivals. Make sure to stock up on your favorite variety of Minute® Rice to get the party started!