You might be all too familiar with staring at the fridge or cabinet trying to figure out what to make for dinner, yet again. It doesn't matter whether you're preparing a meal for yourself or your family, it can sometimes be a daunting task if you don't have something planned. So, at Minute® Rice, we're making mealtime easier with simple solutions!
Based on what you've got in your pantry, fridge or freezer all the way to what kind of cravings you have, we've put together some tips and meal ideas when you don't know what to cook for dinner. You're going to want to save or bookmark this list and these recipe ideas for busy weeknights – you can thank us later!
Recipe Ideas With 5 Ingredients Or Less
Whether you don't have much time to spend in the grocery store or a short trip to the supermarket isn't possible, there are times when you're left with just about as many ingredients as you can count on your hand. Don't worry, we've got you covered. There are plenty of meals you can make for one or for a family with 5 ingredients or less.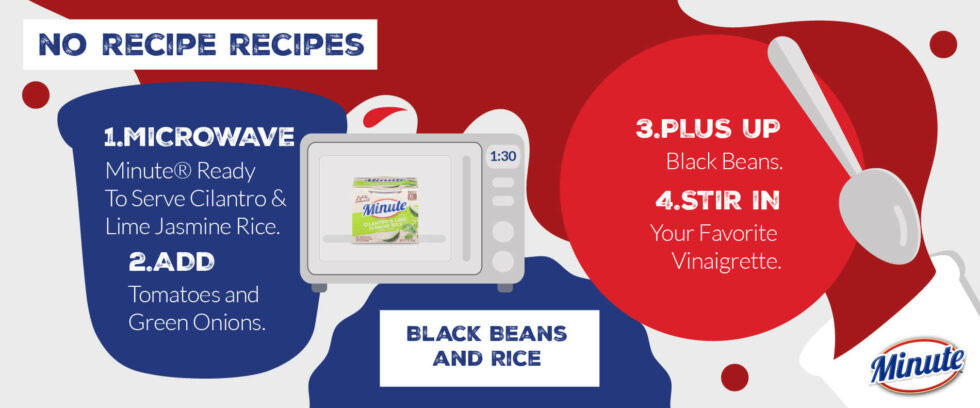 It all starts with our No Recipe Recipes Formula in four steps.
Start with a grain of choice: Microwave our Ready to Serve Rice or cook your favorite Instant Rice variety over the stove. You can even use a flavorful infusion by swapping out the cooking water for something like broth, coconut milk or seasoned water.
Add vegetables: Toss in fresh, frozen or pickled vegetables of choice. Stop by the salad bar at the store for a quick blend.
Stir in a protein: Use precooked rotisserie chicken, lunch meat, hard-boiled eggs, or canned beans.
Drizzle on sauce: Use anything from sauce packets to salsa in your fridge or tomato sauce on your shelf. The stir-in possibilities are endless.
Adapt the recipe to however many are eating, and try this out with the ingredients you have or use these meal ideas with 5 ingredients or less.
Use Ingredients You Already Have On Hand
If you're really stuck, start by focusing on one ingredient you have on hand. Do you have a bunch of broccoli or maybe frozen chicken breast? To avoid getting overwhelmed, begin with one ingredient and work your way to a recipe by using what you have.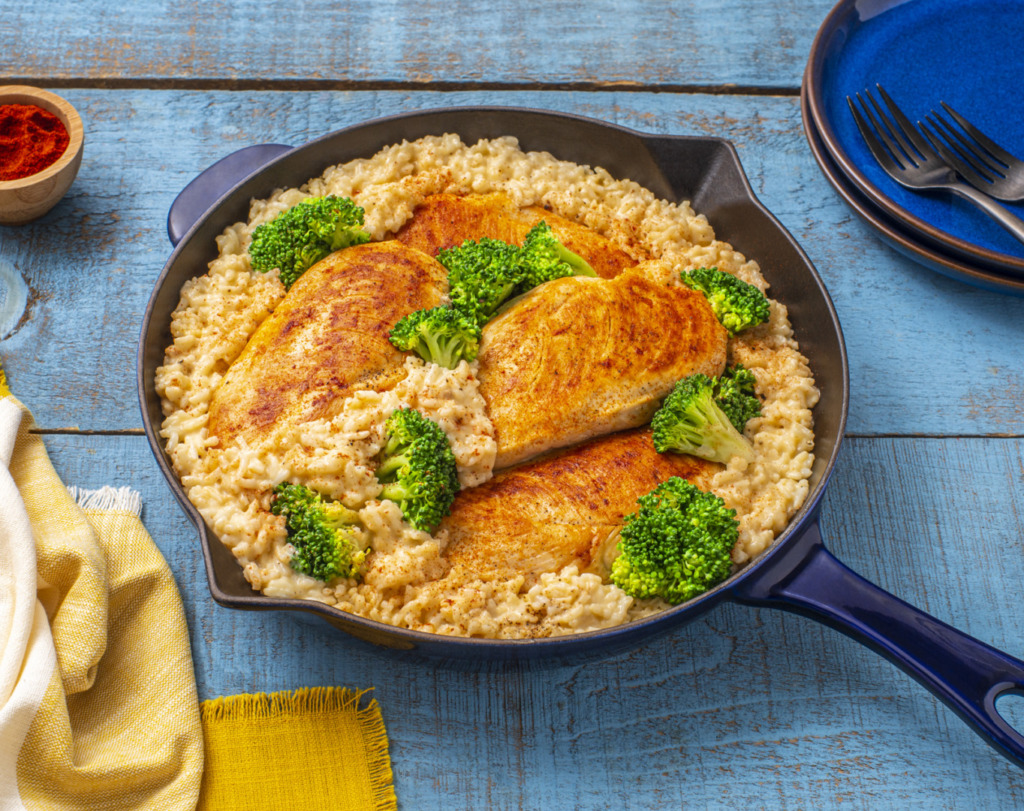 Frozen Meat and Poultry
If you have frozen, cooked or leftover chicken, beef or pork use these recipe ideas.
Chicken
Take a look at more meal ideas and tips for making chicken and rice recipes.
Beef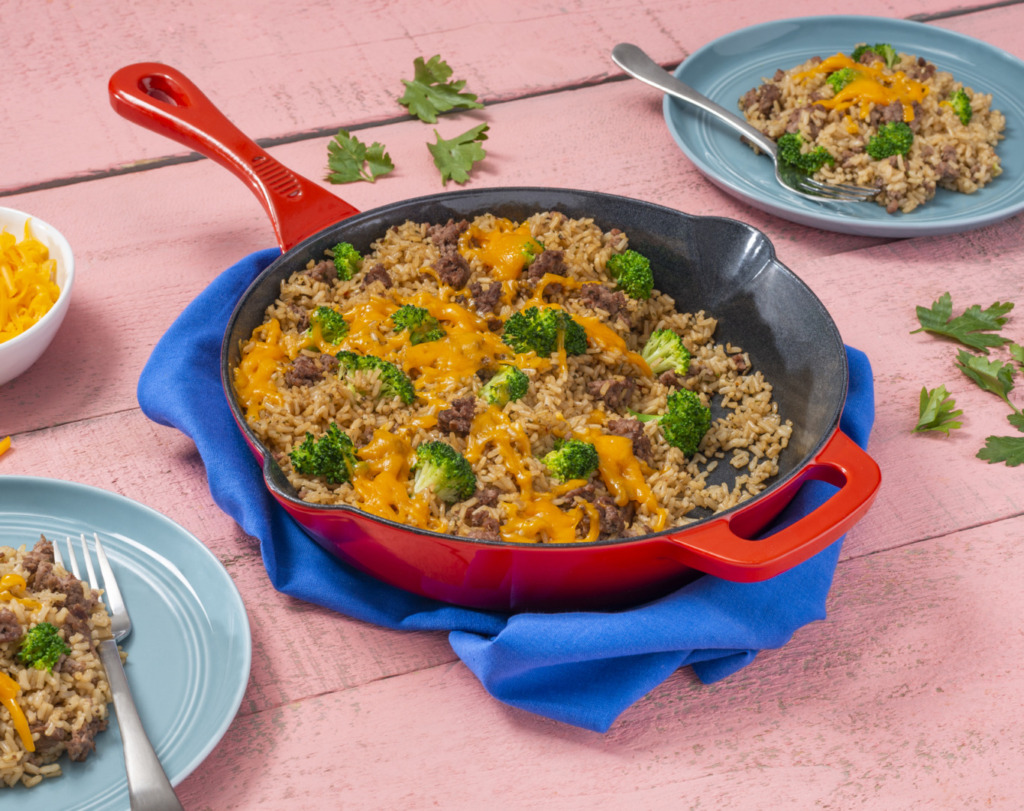 Pork
Vegetarian
If you've got frozen vegetables, veggie burgers or canned beans on hand you can even make a hearty meat free meal.
Frozen Veggie Tip: Did you know you can buy more than just frozen peas and carrots? There are pre-chopped and frozen onions, riced cauliflower, sliced peppers and more that can make your life much easier! If you know you struggle with prep time, make sure to keep a bag or two on hand of frozen vegetables.
Turn Restaurant Cravings Into a Meal
When you don't know what to make for dinner, the temptation to dial for delivery is strong. But with a few meal ideas, you can make your own takeout for a budget-friendly yet still delicious meal.
Italian
Whether you've got rice and chicken or mushrooms at home, you have everything you need to make a simplified risotto recipe. Use an Instant Pot for this Creamy Italian Mushroom and Rice dish or a skillet for this Chicken Carbonara Risotto.
Mexican
Make your own fiesta at home with a Mexican-style dinner. Fill crunchy or soft tortillas with this One-Pan Taco Dinner skillet and serve alongside a Mexican Street Corn and Rice Salad.
Asian
There is no need for Chinese takeout when you can make this simple Chicken Fried Rice recipe at home. Or, try making an Indian dish at home like this Chicken Tandoori Rice Skillet Casserole.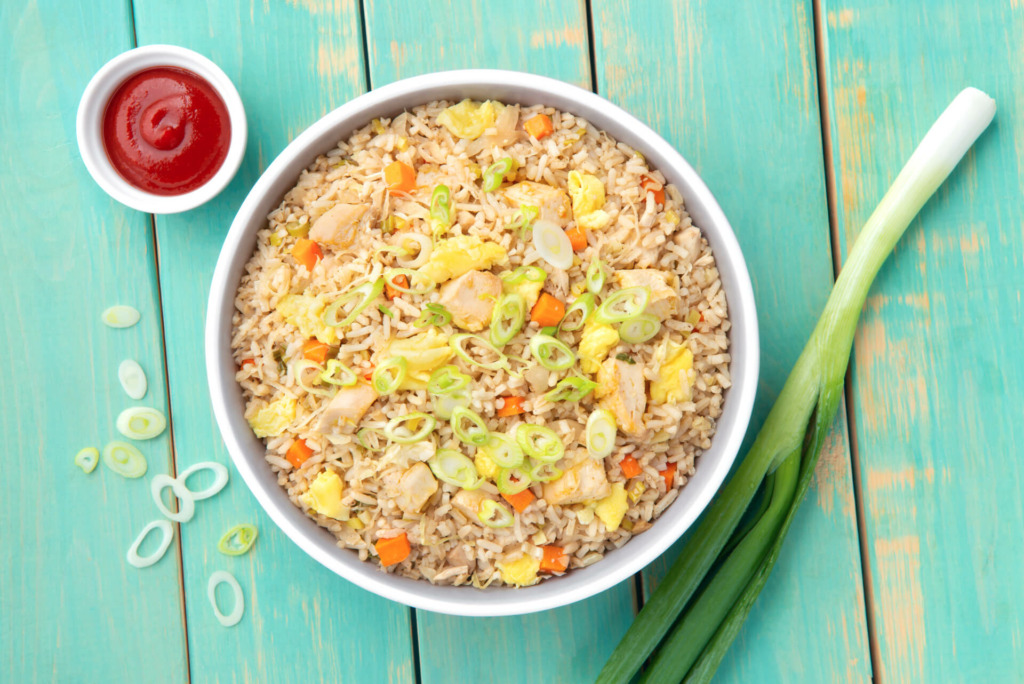 Make Breakfast for Dinner
Sometimes, all it takes to get you excited about a dinner is switching up your routine a bit, so why not make it a breakfast for dinner night?
If you've got eggs in the fridge, you've got part of the meal ready. While there is nothing wrong with tossing a few fried or scrambled eggs on top of cooked rice and making one of our Egg Fried Rice recipes, you can spruce your meal up with tomato sauce and veggies for this One Pot Rice Shakshuka dish. And, of course, for many, breakfast would not be complete without bacon like in this oven-baked Brown Rice Frittata with Bacon and Edamame. Swap in additional vegetables or if you don't have edamame use the vegetables you prefer.
Learn How to Meal Prep
If you are thinking about getting ahead of the game so that you don't have to worry about weeknight dinners, it's time to take a look at our guide to meal planning and prep where you guide you through how to make organizing and preparing your meals in advance easy.
Hopefully this cheat sheet will help you enjoy a delicious meal fast so that you can slow down! Take a look at more recipe ideas that you can add to your list of simple weeknight dinners in our recipe collection.