What is the best part of traveling to a new country? Trying out the local street food of course! Here we have some of our favorite street food recipes that can be made with Minute® Rice from all over the world so you don't need to go on holiday to try authentic-tasting international food.
Asian Street Food
Thailand Favorites
Our first stop is Thailand with this aromatic Thai Green Curry recipe which is packed full of green herbs with some added kick. Although this dish calls for jasmine rice, feel free to use basmati instead if you prefer your rice to have a fluffier texture. Although this is a vegetarian recipe, feel free to add in some chicken or shrimp for some added protein.
Mango Sticky Rice is another Thai street food favorite! This sweet recipe is made with coconut milk along with our Minute® Jasmine Rice to get that authentic Thai sticky rice texture! The great thing about this recipe is that it's so versatile, feel free to swap in another fruit like pineapple, berries or banana for a different flavor. For best results, make sure you are preparing this dish with ripe fruit.
For another Thai delicacy, try this Thai Chicken and Rice Soup made with authentic local flavors like coconut milk and green curry paste along with our Minute® Ready to Serve Cilantro and Lime Jasmine Rice. This authentic tasting Thai dish can be microwaved in just 5 minutes. If you want to turn the heat up, try adding in some red chilis into the mix!
Alternatively for a Thai soup that uses red curry paste instead, try this Creamy Thai Soup recipe. You can make this soup in just 30 minutes, however to save time, make sure your ingredients are chopped and ready to go beforehand. To add to the flavor, try sprinkling in some peanuts or cashews
You can't really go wrong with a classic Pad Thai Rice recipe. This recipe takes just 10 minutes and offers up an authentic tasting, restaurant-quality dish. For a more authentic version of this recipe, try adding in a scrambled egg towards the end of cooking.
Tastes of Vietnam
Let's take a quick stop off in Vietnam, and try this Chicken Banh-Mi-Style Rice Bowl. This simple recipe is chock full of veggies like cucumber and carrots along with herbs like cilantro to give it that authentic Vietnamese flavor. If you really want to enjoy this dish the Vietnamese way, try switching out the jalapeno peppers for spicy chilis.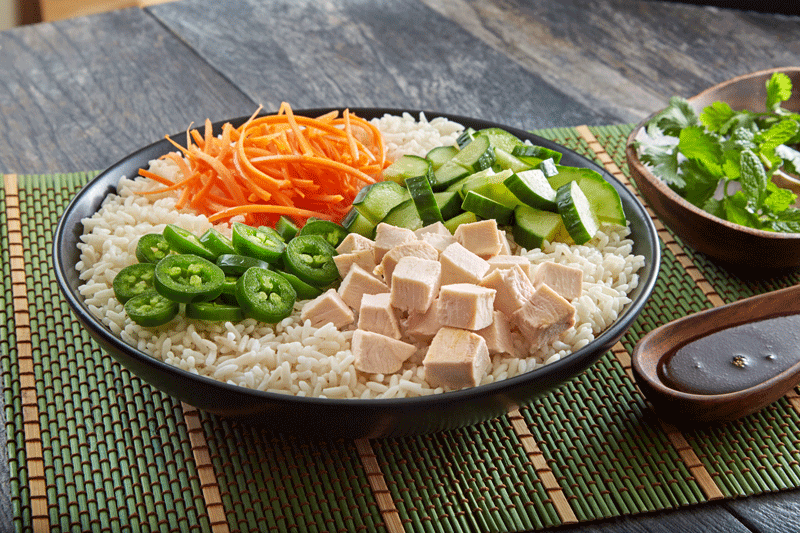 Middle Eastern Street food
Our next destination is the Middle East, home of the Shawarma Chicken and Rice Pita. Made with seasoned chicken along with our Minute® Ready to Serve Jasmine Rice, this dish is ready to go in just 10 minutes!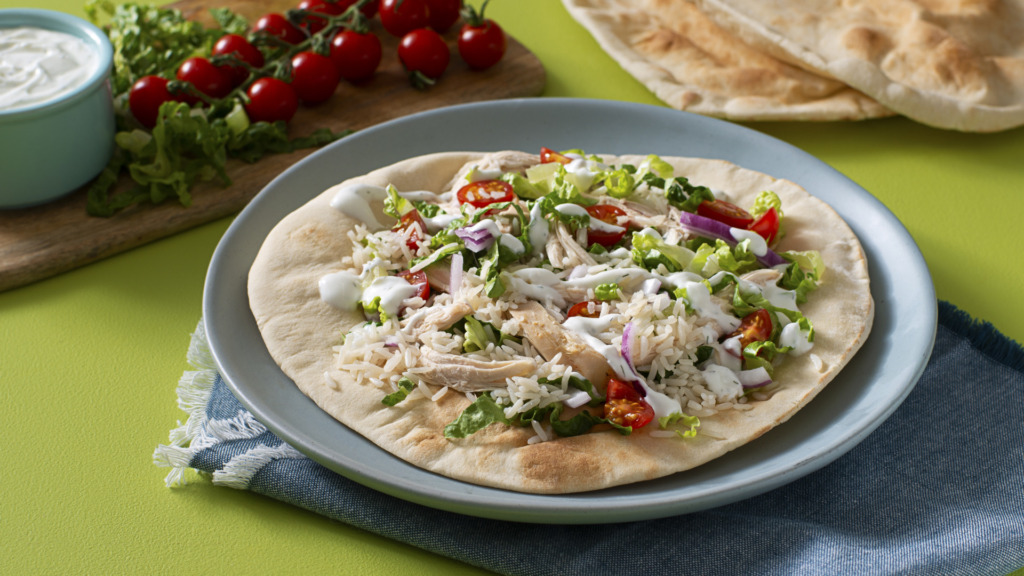 This Spicy Hummus Rice Bowl is a Middle Eastern takeout classic with a Mediterranean twist. Complete with a soft cooked egg, this great tasting recipe can be enjoyed on the go with some pita bread!
Latin American Street Food
What street food list guide would this be without mentioning Latin America! For something tasty and sweet, try this Churro Rice Pudding next time you are celebrating Cinco de Mayo. Made with Minute® Instant White Rice, this recipe can be enjoyed either warm or cold. To really customize this dessert, try sprinkling some shaved coconut or almonds.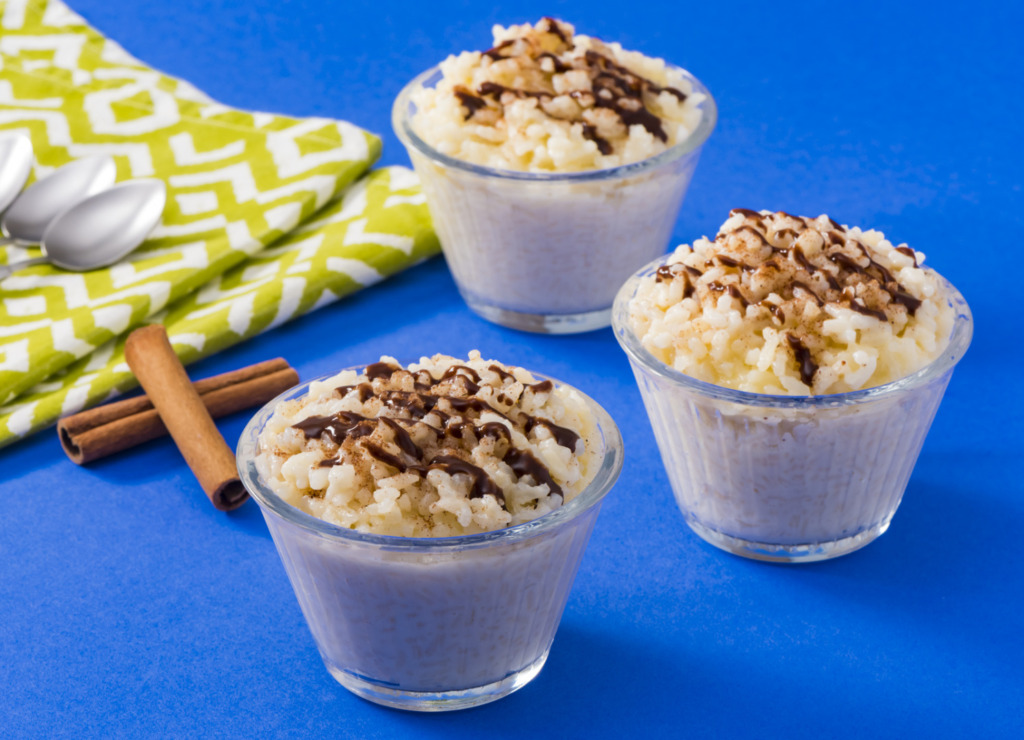 This Mexican Black Beans and Rice Tostadas recipe made with black beans and Minute® Instant White Rice can be customized to include whatever ingredients you fancy. To really turn up the authentic flavor, try adding in a dash of chili flakes to your boiling water before adding the rice. Alternatively, turn this dish into a no-cook option by using our Minute® Ready to Serve White Rice along with canned beans and replacing the seasoning with some salsa.
These Chicken and Brown Rice Burritos made with Minute® Brown Rice along with cheddar cheese and salsa is perfect for Taco Tuesday. The great thing about this recipe is that it's so versatile. Try putting your own personal spin on these burritos by swapping in your favorite toppings. To really experiment, you can even try filling these burritos with one of our other recipes, like this Breakfast Scramble for example.
Speaking of Taco Tuesday, we can't really talk about Latin American street food without tacos. For one of our favorite taco recipes, try these beginner-friendly Beef and Rice Soft Tacos made with Minute® Instant White Rice. Feel free to add in your favorite toppings like avocado, cilantro and guacamole to really make them your own! Additionally, why not also try swapping out the beef for chicken!
If you're looking for a nice street salad to serve alongside your tacos, try this Mexican Street Corn and Rice Salad made with chili and lime mayo sauce and jalapenos! If you don't have any queso fresco on hand, you can use an alternative like feta cheese instead.
If you're still craving a Latin American street-corn dish, why not try making this flavor-packed Street-Corn Style Rice Bowl with Minute® Ready to Serve Southwest Pinto Beans & Rice. For some added protein, you can add some shredded chicken, shrimp or beans.
Fans of piña coladas will love this tropical, rich and creamy Coconut Lime Rice Pudding recipe made with Minute® Jasmine Rice.
For more kitchen tips and tricks along with recipes like this simple Mexican rice recipe, stay tuned to Minute® Rice!