While life may seem pretty hectic at times, getting a great meal can make all the difference. And with Minute® Rice, it doesn't have to be impossible to include fresh produce like fruits and vegetables into your meals, whether it be on-the-go or at the table with family.
Cooking with fresh ingredients that have been picked or produced recently is a great way to get more flavor while also cutting down on preservatives. With Minute® Rice, there is no shortage of simple recipes you can make using fresh items, and we'll show you how easy it can be to mix in some delicious ingredients for a fast and flavorful meal.
How to Store Fresh Food
To get the best flavor out of your fresh fruit and vegetables, you'll want to make sure that you are storing them properly. Perhaps the first step in ensuring your fruits and vegetables have the longest possible storage life in your kitchen is to make sure you are buying the freshest produce.
Some food items like potatoes, garlic and onions seem to keep better when left in cooler room temperatures rather than in a fridge. Food that is kept at room temperature needs proper air circulation, or in other words, outside of properly sealed containers so the produce has a chance to breathe.
On the other hand, if you are keeping fresh produce like peppers, cucumbers or carrots in the fridge, you should try to make sure that they are kept in sealed containers while also wrapping them in a moist paper towel. Doing this will prevent your fresh food from dehydrating as any excess moisture will be absorbed.
Another thing to consider is that some fresh food items like apples and bananas release ethylene gas which speeds up the ripening (and decaying) processes in ethylene-sensitive produce like cabbage, leafy greens and lettuce. So you will want to be mindful of where you store ethylene gas emitting foods.
When it comes to storing rice in the fridge, you will want to do the following:
How to store your rice in the fridge
Cook your rice, let it cool and store it in an airtight container.
To reheat it, add a splash of water to a microwave-safe container or a pot on the stove.
Now that we know how to store our fresh food, let's take a look at some cooking tips.
Tips for Cooking With Fresh Food
When cooking with fresh food, make sure you cut any vegetables in advance. This will significantly cut down your preparation time.
You can also make a large batch of food and freeze it in the freezer. This way you can have meals ready to go whenever you need them. When freezing rice, you can either freeze it cooked or uncooked.
Freezing uncooked rice will prolong its shelf life, though you'll want to store it in a properly sealed freezer bag with as much air as possible removed. When cooking frozen rice, there is no need to defrost beforehand, you can simply cook it the way you would normal rice.
When freezing cooked rice, you'll want to cool it down beforehand. This will stop it from potentially thawing out any other food you may have in the freezer. Once your rice has cooled, you will then want to put it into a freezer bag and remove as much air as possible.
When it comes to freezing vegetables, you should make sure that you have cooked them or at the very least, blanched them in hot water beforehand. By doing this you will stop your vegetables from discoloring or turning mushy. Fruits on the other hand, can be frozen just fine raw.
Fresh Produce by Season
Depending on the time of year you are cooking, you may want to switch up which produce you are using. Fresh fruits and vegetables have different peak seasons which can affect the taste and availability of these ingredients.
Winter Ingredients include:
Lemons
Leeks
Kale
Chestnut
Grapefruit
Spring Ingredients include:
Avocado
Mango
Pineapple
Apricots
Strawberries
Asparagus
Carrots
Chives
Summer ingredients include:
Blackberries
Blueberries
Tomatoes
Watermelon
Cucumber
Green Beans
Zucchini
Fall ingredients include:
Apples
Butternut Squash
Cauliflower
Garlic
Ginger
Mushrooms
Potatoes
Pumpkin
Now we know a bit more about fresh ingredients. Let's take a look at some recipes that use them!
Fresh Food Recipes
There are plenty of recipes that call for fresh produce. Below are some of our favorites.
Rice Bowls
This Asian-inspired Zucchini Noodle Rice Bowl recipe is loaded with fresh veggies like zucchini, edamame and carrots. This dish can also be made using sesame, peanut or soy salad dressings.
For another Asian inspired rice bowl which uses Minute® Jasmine Rice, learn how to make this Veggie Fried Rice. Using fresh ingredients like grated ginger and carrot along with bell peppers, this dish also tastes great when mixed with a bit of sesame oil.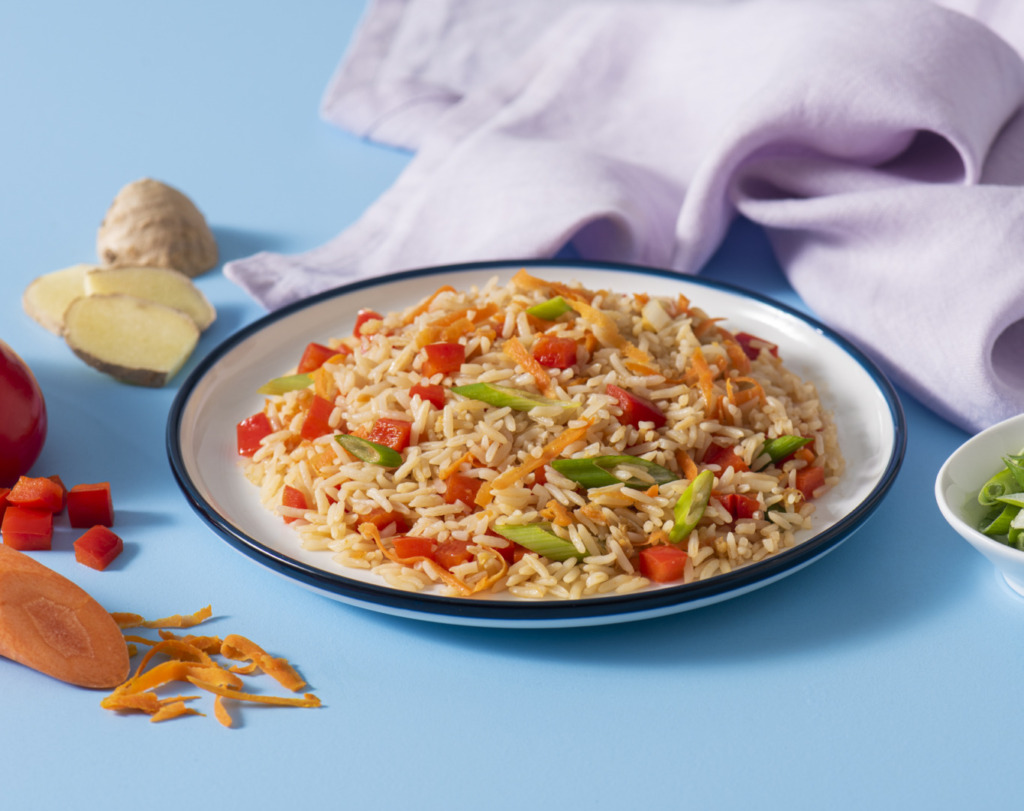 With ingredients like cherry tomatoes and parsley along with Minute® White Rice, this Summer Squash Rice is perfect for those who want to include more fresh ingredients to their diet.
Made with bell peppers and a dash of basil, this Pineapple Basil Chicken and Rice recipe is perfect for those who like a bit of spice and is ready in just 3 steps.
Rice Salads
This Black Beans and Mango Salad made with Minute® Ready to Serve Cilantro & Jasmine Rice is packed full of fresh fruit and vegetables and takes just 5 minutes to make! For best results, you'll want to make this salad using ripe mango. This recipe also offers the perfect opportunity to create your own homemade vinaigrette out of olive oil, vinegar, lemon juice and herbs.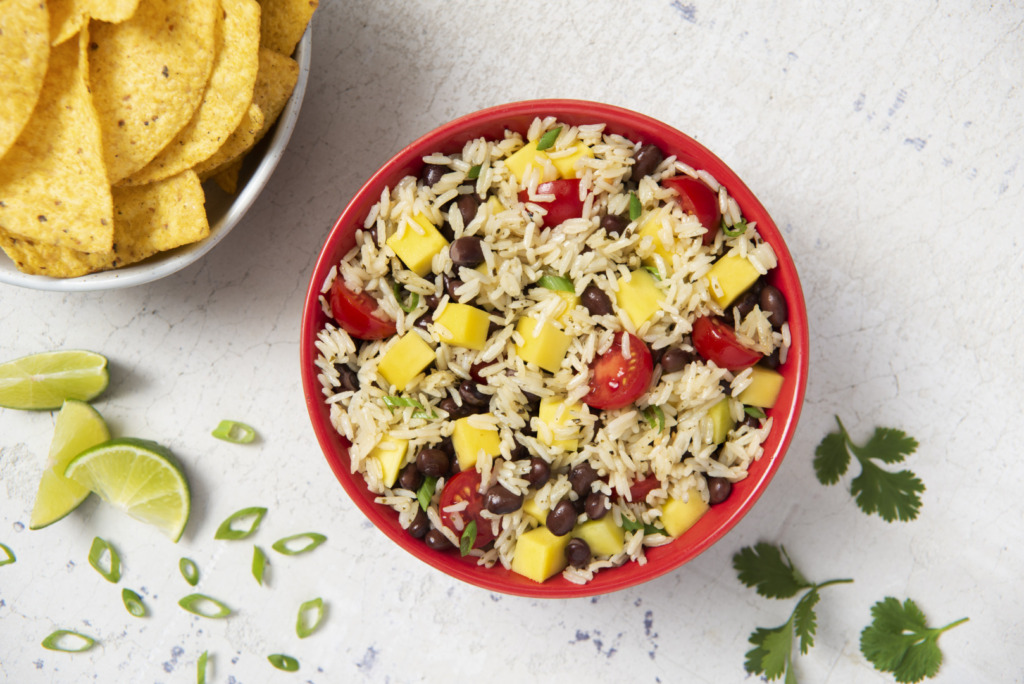 For something with a bit more of a refreshing summer flavor, check out this quick and easy-to-make Chicken Caprese and Strawberry Salad recipe, made with mozzarella and Minute® Jasmine Rice.
Fans of Mediterranean food will love this Greek Salad made with plenty of refreshing fresh veggies like cucumber, tomato and red onions. Feel free to toss in some chickpeas, feta cheese or chicken to make it more filling.
Stay up to date with Minute® Rice for even more kitchen hints, tips and tricks along with plenty of other recipes like this Mexican rice!