The holiday season is filled with all kinds of events, get-togethers and fun times. However, if you have to host a friend or family lunch or dinner and are not completely confident in your kitchen skills, no problem! Minute® Rice is here to help you. We've compiled simple baked dishes and casserole recipe ideas that you can put together, toss in the oven, and have enough delicious food to serve a crowd.
Simplify things with these meals that are easy to prepare using Minute® Rice. Make this holiday season as stress-free as possible, so you can spend quality time with those that matter most to you!
Note: If you're hosting less people this year, we've also got you covered. Take a look at our holiday meal ideas for small gatherings.
Classic Casserole Recipe Ideas
The best part about casserole dishes is that they can be a dump and bake dish or they require minimal prep using pantry ingredients. And, most importantly, a lot of the heavy lifting for baked dishes is done by your oven. Take a look at our favorite meat and vegetarian casseroles.
Buffalo "Wings" Style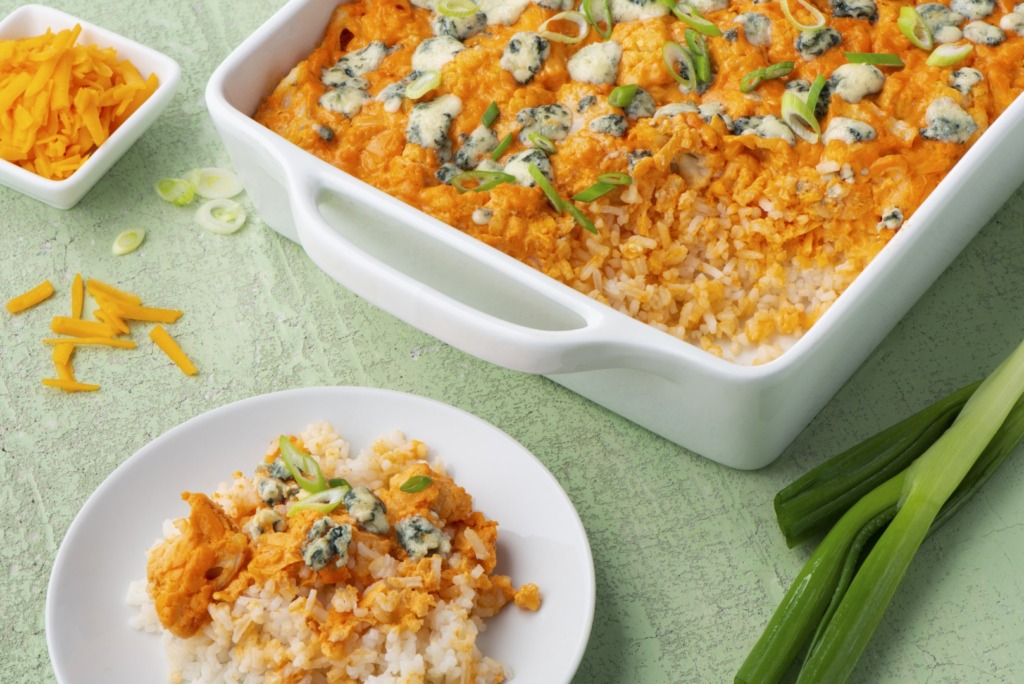 Inspired by buffalo hot wings, this vegetarian version of Cheesy Buffalo Cauliflower is incredibly delicious to feed a very hungry crowd as a starter or meat-free main. Simply combine everything together including hearty Jasmine rice, cauliflower and Cheddar cheese and top with blue cheese and green onions.
Tuna Casseroles
There is always room at the table for classics like a Super Easy Tuna Casserole made with ingredients you probably already have in your kitchen like canned tuna, frozen peas, condensed cream of mushroom soup, white rice, milk and cheese!
To really impress your guests, without much extra effort, use smaller casserole dishes or pick up oven-safe mini pie tins and bake individual portions of this Seven Seas Tuna Casserole.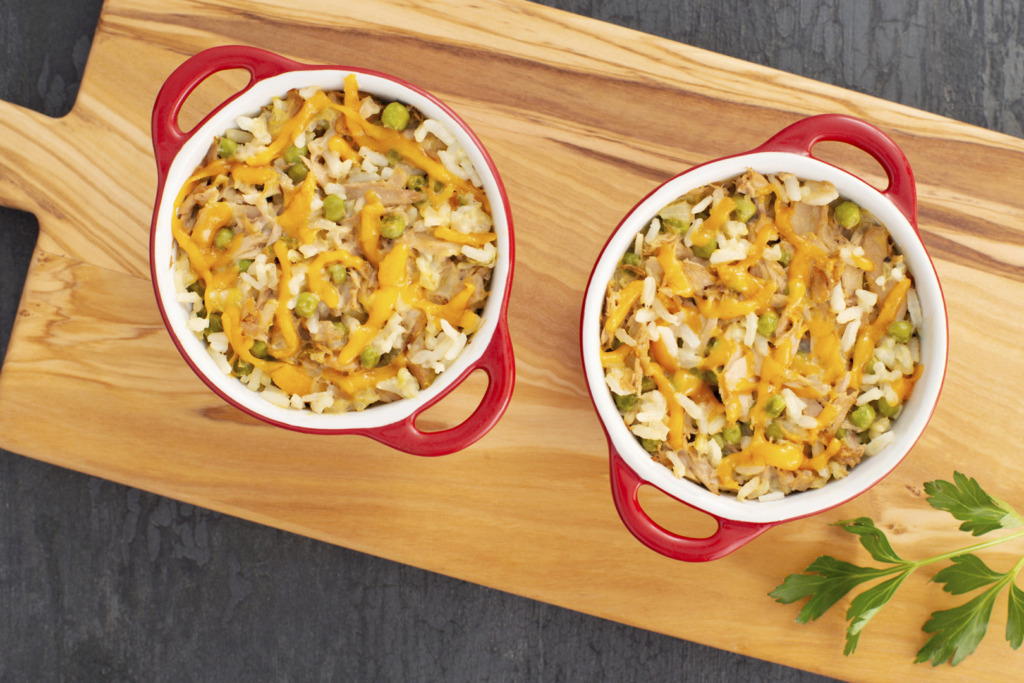 Lasagna
Nothing says holiday comfort food quite like a homemade lasagna. But, this year, switch things up with this vegetarian Brown Rice and Lentils Lasagna Casserole. Cooked in marinara sauce, fresh basil, ricotta and mozzarella, it's all ready in under an hour.
Vegetable Bakes
Everyone will be wanting to eat their vegetables with these crave-worthy oven baked dishes loaded with all kinds of veggie options.
Casseroles With Veggies
If you've got any leftover pumpkin purée, this Pumpkin and Spinach Layered Rice Casserole is perfect for using it up! With three cheeses, cream and Jasmine Rice, everyone will be asking for another helping.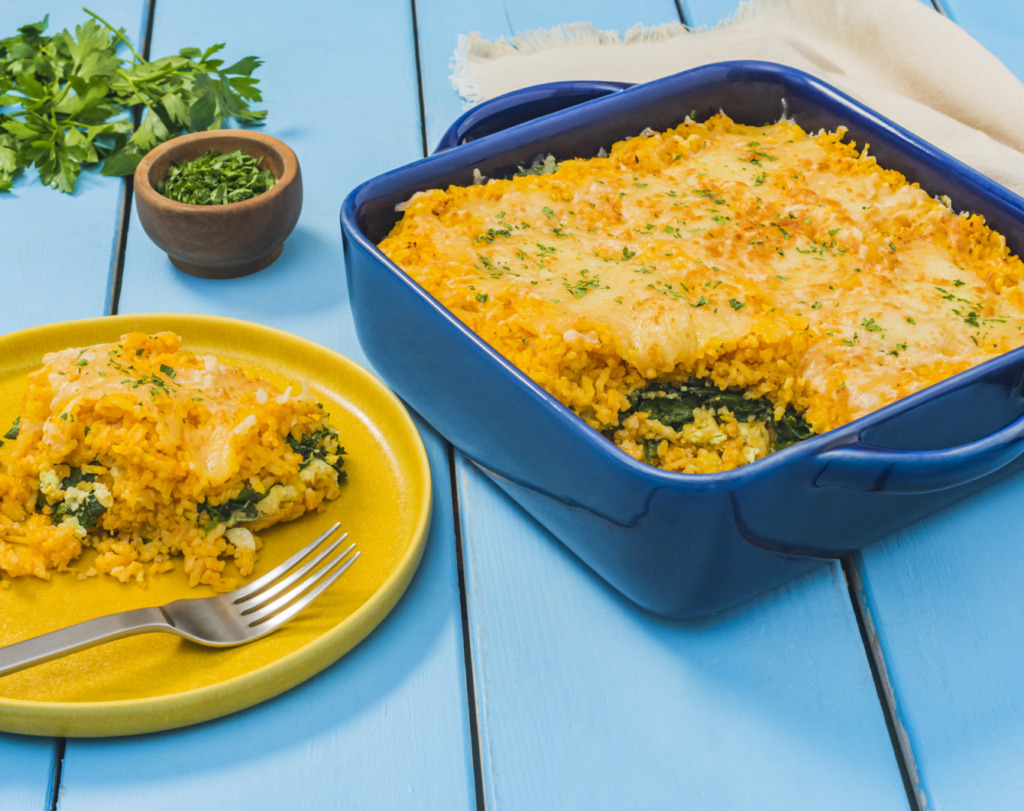 For a true dynamic duo, this Broccoli and Cheese Rice Casserole has got all of the delicious and creamy taste you'd expect!
Adding a bit of bacon is always a good option like in this Spinach and Bacon Casserole. Starting with a base of whole grain brown rice simmered in broth, onions and garlic, savory bacon is added along with condensed soup, spinach and cheese for flavor in every bite!
Casseroles can also be great for using up leftover vegetables you've got in your fridge. Try a Squash and Zucchini Casserole or a Creamy Cornucopia Casserole and toss in all those veggies you have on hand to really add a pop of color to your table.
Oven-Roasted Vegetables
Instead of turning them into a casserole, simply bake your vegetables on a tray and make them into a dish of their own!
Try roasting different vegetables like this dish of Brussels Sprouts tossed with Jasmine Rice, pomegranate seeds, honey, orange juice, orange zest and vanilla roasted pecans. Or, add meat to the vegetables like with these Turkey Sausage Sheet Pan Dinner Bowls. Use sweet potatoes, bell peppers and turkey sausage or switch things up based on your family preference.
For another elegant looking touch that doesn't require you to have chef skills, simply transform your meal into a stuffed vegetable! Try these Kale and Sausage Multi-Grain Stuffed Acorn Squash and see what we mean.
Baked Treats
When it comes to baked dishes for the holidays, we couldn't forget the dessert table.
This Apple Cinnamon Rice Crisp is going to be your new holiday favorite to make with fall apples. This dish of pure comfort food is made with white rice, apple pie filling, brown sugar, raisins, walnuts and cinnamon, and to top it off, a crumble made with oats, butter and more brown sugar.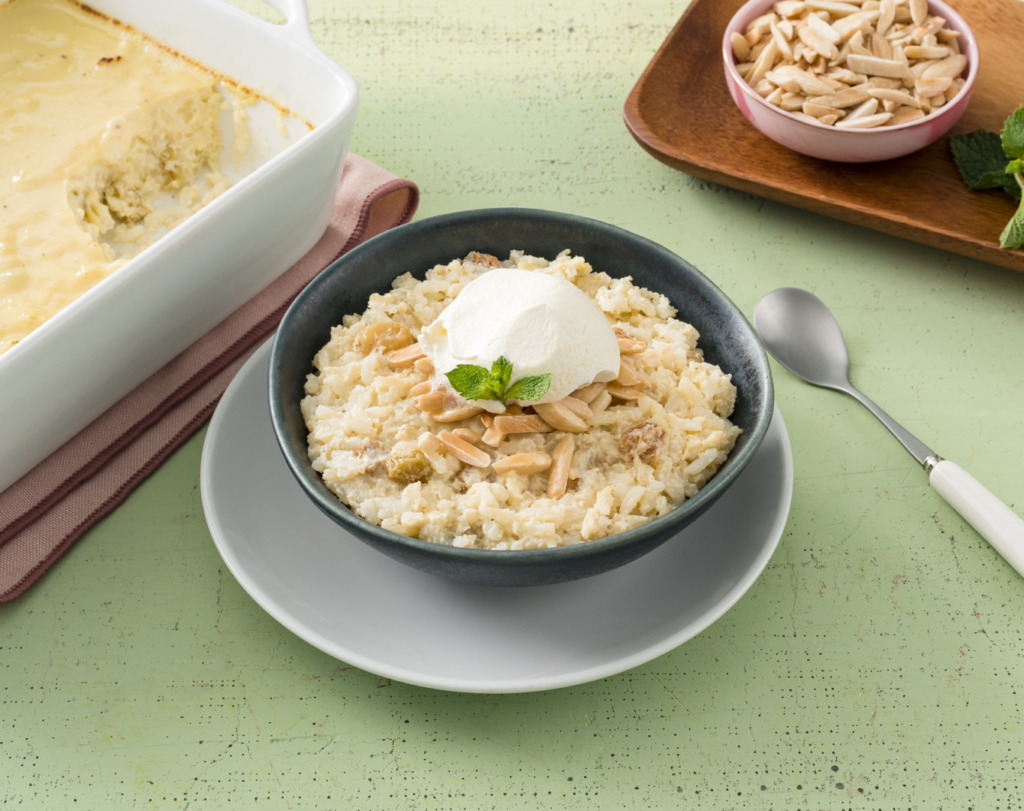 For a classic touch, try a Baked Rice Pudding using kitchen essentials like white rice, eggs, sugar, vanilla, milk and a few more seasonings like nutmeg.
Bonus: Breakfast Ideas
If you have a few family members staying over around the holidays, a make-ahead breakfast can be a lifesaver! Try this Brown Rice Frittata with Bacon and Edamame to have on hand and warm up in the morning. Find more recipe inspiration using these Simple and Filling Breakfast Ideas.
Let Minute® Rice help you in the kitchen, so you can get back to spending quality time with those you care about this holiday season from Thanksgiving all the way to New Year's Eve. You can check out many of our other classic dishes on our website, for example this Red Beans and Rice recipe or this easy Mexican rice recipe.