For many, the Mediterranean offers some of the best cuisine in the world. With an emphasis on natural ingredients over processed foods, Mediterranean food is perfect if you are looking to add more veggies to your diet. Here we have some of our favorite simple Mediterranean rice bowl recipes which can be made with Minute® Rice.
Mediterranean Ingredients
Mediterranean dishes typically emphasize fresh ingredients instead of processed foods, so it's a good idea to keep your kitchen well-stocked with the following. . .
Your choice of Minute® Rice
Extra virgin olive oil
Fresh vegetables (tomatoes, peas, peppers, zucchini)
Dried fruit (apricots, raisins,)
Canned foods (tuna, chickpeas)
Nuts and seeds (pistacchio, almonds)
Herbs and spices (oregano, cumin, paprika)
Which Rice Should I use in my Rice Bowls?
The rice that you should use in your rice bowl largely depends on what recipe you are making and your own personal tastes. Minute® Rice has a wide variety of rice types that go well in Mediterranean cuisine, including:
Yellow Rice: Minute® Yellow Rice Cups go perfectly with seafood dishes like in a simple paella recipe.
Rice and Quinoa: Minute® Instant Rice and Quinoa tastes great in salads along with plenty of other meals
Multi-grain Medley: Minute® Multi-Grain Medley Rice Cups contains a blend of brown rice, flaxseed, red quinoa and chia seeds. This type of rice goes very well in vegetarian and vegan dishes.
Basmati Rice: With a nutty and aromatic flavor, Minute® Basmati Rice Cups can easily be served with salads and soups.
White Rice: The most versatile variety of rice you can serve is Minute® Instant White Rice as it goes with anything from casseroles to rice bowls and even desserts! For an even faster way to cook white rice, check out our microwaveable Minute® White Rice Cups.
Brown Rice: Minute® Instant Brown Rice's nutty flavor, makes it the perfect companion to any Mediterranean salad. If you're looking for a simpler way to prepare your brown rice you can also check out our microwaveable Minute® Brown Rice Cups.
Chicken and Herb Seasoned Rice: Minute® Chicken and Herb Seasoned Rice Cups makes a great addition to Mediterranean style soups and salads.
Mediterranean Rice Bowl Recipes
So now we have our ingredients and rice ready, let's take a look at some simple Mediterranean rice bowls.
Breakfasts
For a simple, yet savory way to kick start your day, check out this Pesto Egg Rice recipe. If you want to add some more veggies to your breakfast, try scattering over tomatoes and olives as well.
This recipe calls for store bought pesto, however it is very easy to make your own pesto at home by simply blending together basil leaves, walnuts, olive oil, garlic and parmesan cheese in a food processor.
Seafood Dishes
This Quick and Easy Paella made with Minute® Instant White Rice and shrimp is a simpler take on a Spanish seafood classic. Paella is typically cooked in a special pan known as a paellero, however you can also just use a normal skillet if that's all you have available.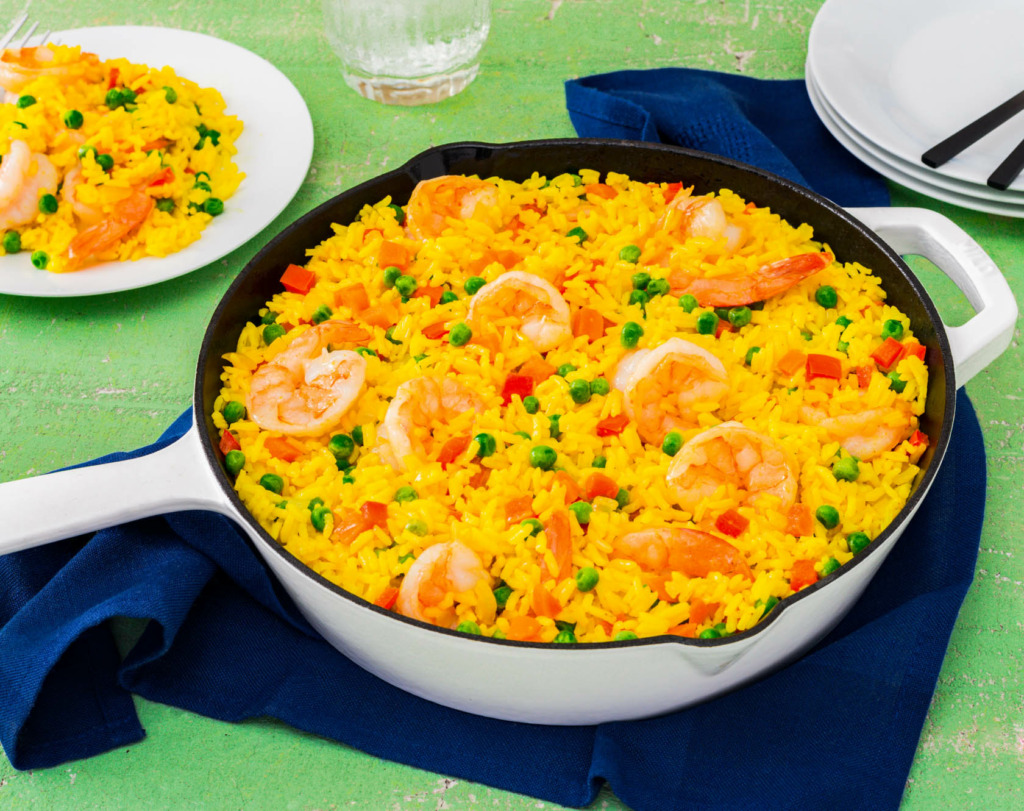 If you are still craving a seafood dish, then you can also try this Mediterranean Shrimp and Rice made with Minute® Yellow Rice Cups.
Rice Bowls
For a rice bowl that's packed with Mediterranean flavors and takes almost no preparation, try this Greek-style Feta and Tomato Rice recipe which can be ready in less than 10 minutes. Feel free to add in some additional protein like chicken, chorizo, beans or lentils.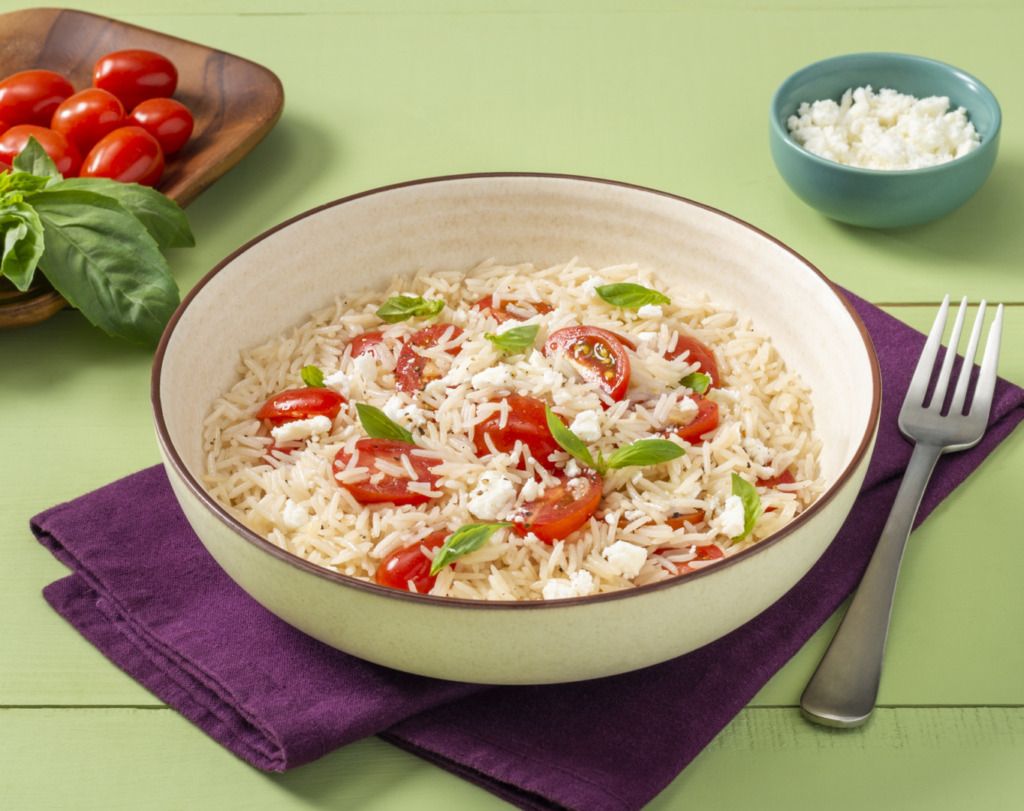 This Greek Brown Rice and Veggie Bowl made with tzatziki sauce can be tossed together at a moment's notice whenever the mood strikes. To really turn up the Greek flavors, try serving with kalamata olives.
For another quick and simple-to-make lunch option, take a look at this vegetarian Greek Rice Bowl. You can make this recipe even quicker if you prepare your veggies in advance. If you want to add a bit more protein to this dish, try adding in some chicken, egg, chickpeas or lentils.
In just 5 minutes, you can have a restaurant-quality rice bowl with this Spicy Hummus Rice Bowl served with a soft boiled egg and Mediterranean veggies like cucumber and tomato.
Salads
This Mediterranean Tabbouleh Salad is perfect for either a main dish or a veggie-filled side. For a quick DIY dressing that tastes great with this dish, try whisking together olive oil, lemon juice, shallots and mustard. The Minute® Instant Rice and Quinoa provides a nutty taste to this recipe.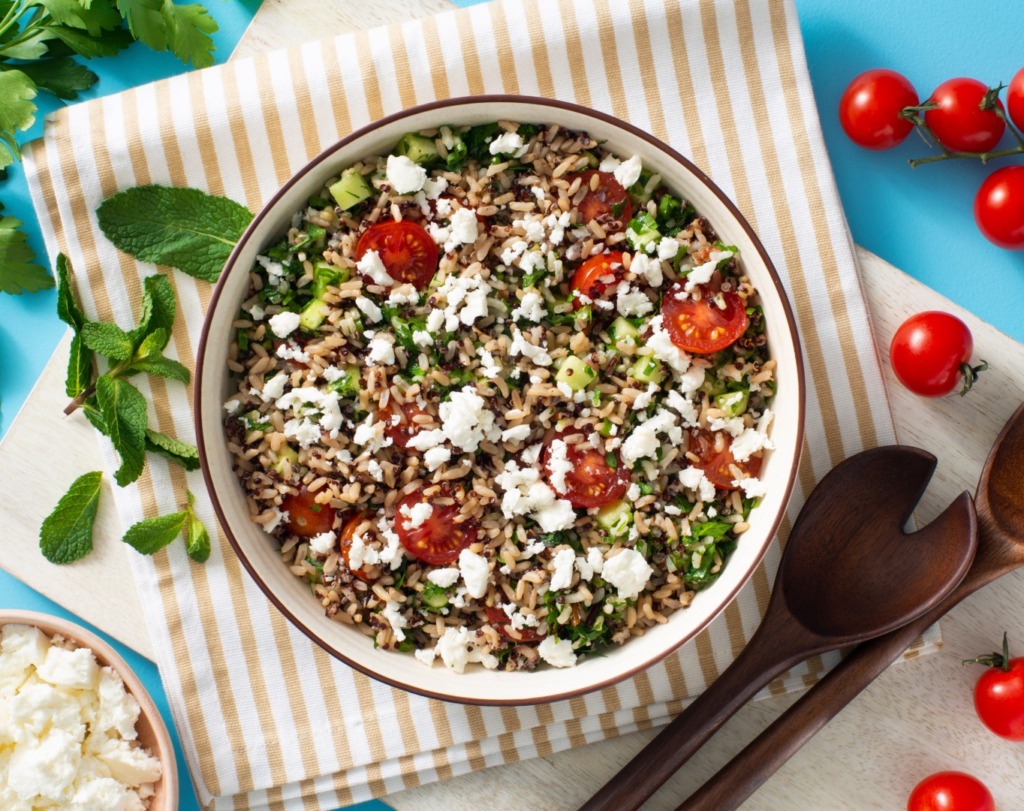 Learn how to make this Mediterranean-Style Rice and Quinoa Salad for a zesty Greek-style dish. Although this is a vegetarian recipe, feel free to add in some meat for some added protein.
If you are still craving Greek cuisine, try this Greek Salad made with Minute® White Rice Cups and filled with veggies, herbs and citrus flavors. As with any Greek dish, this recipe also tastes great with the addition of some feta cheese.
Meaty Mediterranean Dishes
For something that packs a bit more protein, learn how to make this hearty Spanish-Style Chicken Rice which is ready in mere minutes. This family-friendly recipe is great, especially if you need to "eat down your pantry" as it uses plenty of kitchen staples.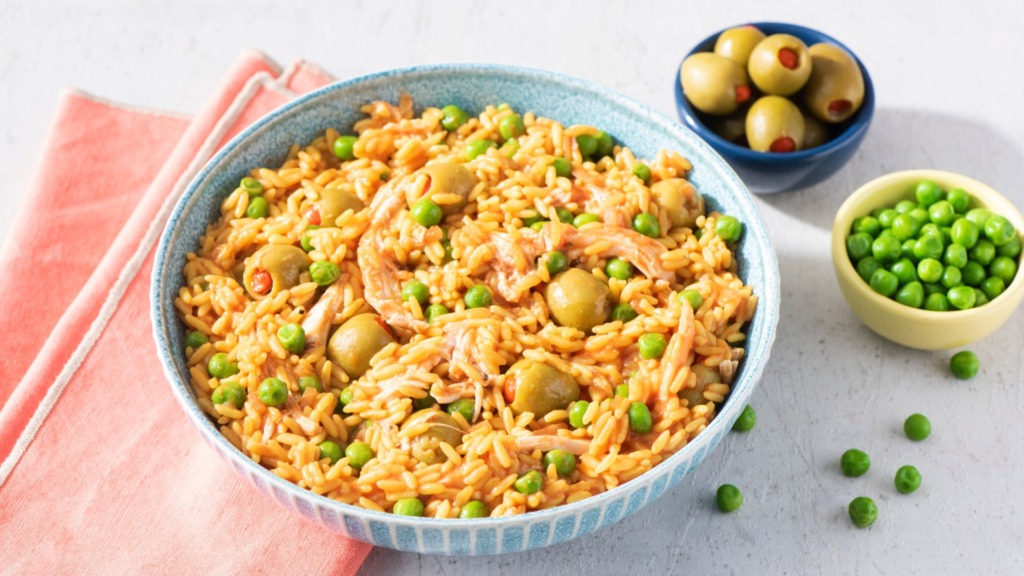 If you're looking for another quick meat dish, take a look at this 15 Minute Mediterranean-Style Chicken and Rice dish made with beans, tomatoes and Minute® Instant White Rice. This dish is perfect if you need to rustle up a weeknight meal at short notice.
If you are looking for another chicken rice dish try our: cheesy chicken and rice.
For more international recipes along with plenty of cooking tips and tricks stay tuned to Minute® Rice.