The 4th of July is the perfect time to celebrate America's independence with family and friends. Red, white and blue bring us together, as we celebrate with fireworks, pool parties and food! There is no better time or place to indulge in delicious shareable bites. Whether you're looking for something savory or sweet, there are plenty of 4th of July recipes that will have your taste buds singing. Get ready for some fireworks as Minute® Rice provides you with all the best recipe options to celebrate America in style.
Whether you will be on a boat, gathered at a pool party or chilling in your backyard for a classic 4th of July BBQ- Minute® Rice has a recipe option for every type of social gathering.
Poolside Tips to Make a Splash
Nothing quite beats the feeling of lounging poolside, soaking up the sun and taking a refreshing dip in the cool water. With its excitiing atmosphere and inviting waters, it's no wonder why so many people love pool parties. Make sure you reapply your sunscreen, fill up your beverage and don't forget your towel as you head on over to celebrate poolside. Follow our tips to ensure your festivity is as flavorful as it is fun!
Tips
Prepare snacks in advance. It's one less thing to worry about on the day of your party!
Portion out your plates. In order to ensure your snacks are at their best, refresh your snack table every so often instead of piling full platters just before the party.
Select ingredients that can handle the heat. For example, opt for a cheese variety that can withstand the weather; cheeses like feta or ricotta soften but won't melt in the summer sun.
Opt for in-season produce. Fresh fruits and vegetables never fail to please, boasting peak flavor and texture.
Keep your chilled dishes cool. Arrange your snacks in a dish on top of an identical dish that has been packed with a layer of ice.
Minute® Rice is the perfect ally for any last minute dish ideas!

Give your swimming fins a break and get your sailor hat ready!
Quick and Easy Boating Tips- Hop on Board!
There's no better way to celebrate the 4th than feeling the wind in your hair as you take on your role as sea captain. As you settle in behind the wheel your guests can enjoy amazing food as you crash through the waves. One way to ensure smooth sailing is preparing your menu the night before your open water endeavors. Here are some tips to make your day on the boat stress-free:
Make sure you store hot and cold food separately. For cold food, don't forget to bring your cooler and ice packs.
Bring containers with lockable lids so they won't pop open as you hit those waves.
Wraps are a great option since they create fewer crumbs than sandwiches!
Don't forget a garbage bag or bin to properly dispose of waste.
Snacks to Celebrate
Now that you know how to prepare for your 4th of July party, it's time to select what to prepare!
Stuffed Veggies
Veggie options are an ideal choice to offer your guests and luckily Minute® Rice has several to choose from. After reading our Quick Guide to Stuffed Vegetables and trying our recipes, there will be no veggie left unturned!
Mushrooms: Why not start the party out by offering them some Cheesy Rice Stuffed Mushrooms. Loaded with 3 cheeses and fragrant basmati rice, these bite-sized mushrooms will be gone in no time as they are the perfect munching size!
Peppers: Stuffed peppers are always a party favorite and these Party Peppers Stuffed with Jasmine Rice are ideal when it comes to finger foods. They'll vanish quickly because they're made with cream cheese, cheddar, lemon juice, a little paprika, and garlic.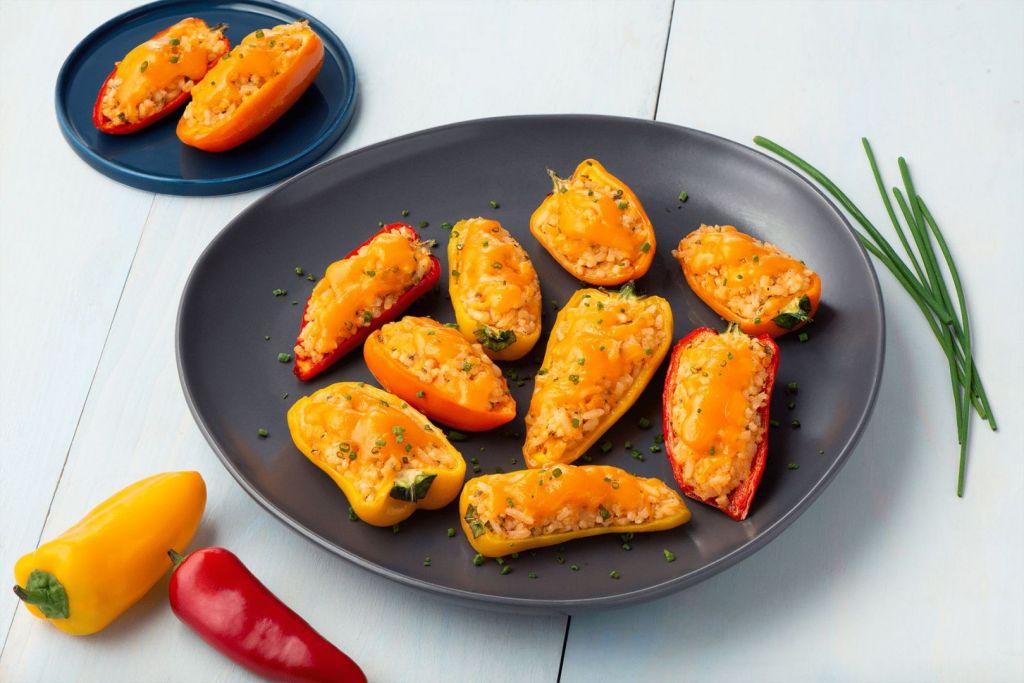 Tomatoes: For something refreshing, serve up some juicy stuffed tomatoes. In fact, our Greek Stuffed Tomatoes could not be easier to make! They are the ideal finger food for larger crowds. Packed with chicken broth, garlic, oregano, parsley, mint, currants, cinnamon, and feta cheese, these scrumptious stuffed tomatoes will soon become your go-to recipe when looking for an easy and delectable small bite to share. They are packed with flavors like chicken broth, garlic, oregano, parsley, mint, currants, cinnamon, and feta cheese.
The fireworks are starting, the games continue on as well as your guests appetites. Let's take a look at some tasty recipes that your guests and any cheese lover will appreciate.
Cheese Lovers Options
These small appetizers- Cheesy Chicken and Wild Rice Bites– are flavorful, satisfying, and creamy. They contain whole grains in every delicious morsel since they are made with Microwaveable Brown & Wild Rice Cups.  Another super easy recipe that is grab-and-go perfection are the Rice, Broccoli 'N Cheese Cups. The prep time on these is only 5 minutes and they are easy to freeze if you have some leftovers!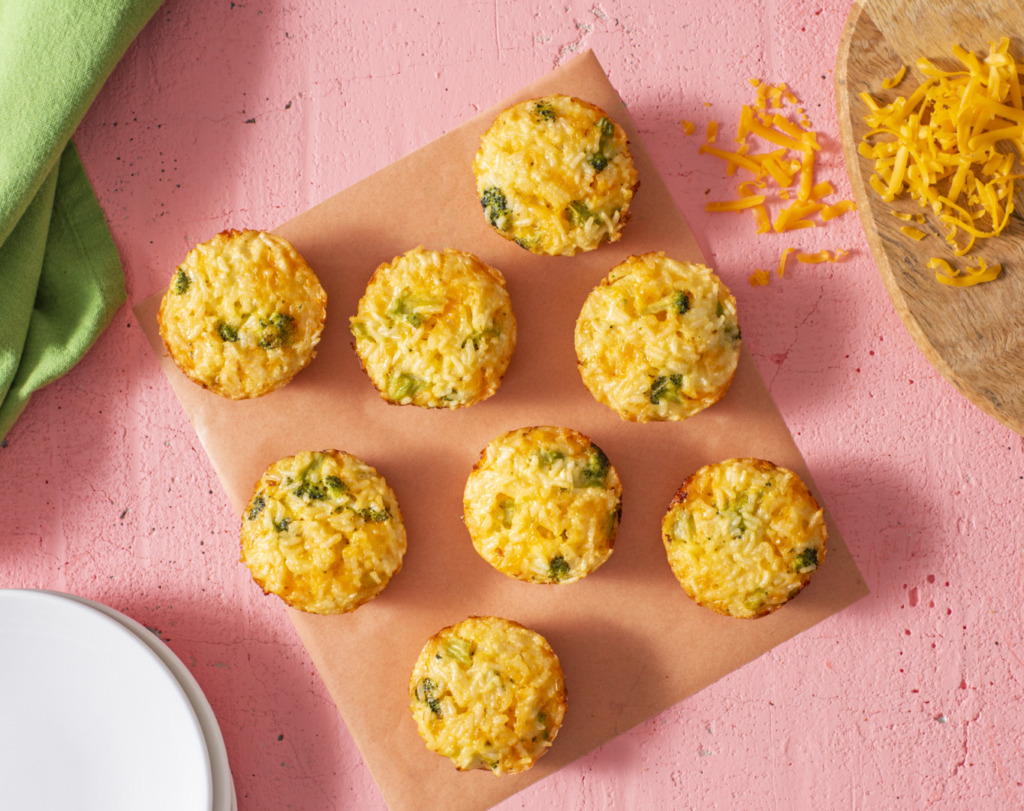 Chicken Creations
These Chicken Lettuce Wraps are fun and easy to make (and eat!) With whole grain brown rice, succulent chicken, and a ton of vegetables-your guests will be begging for seconds. Try using fresh pineapple for a stronger burst of tropical flavor! With Minute® Rice, it's easier than you think to become a lettuce wrap expert!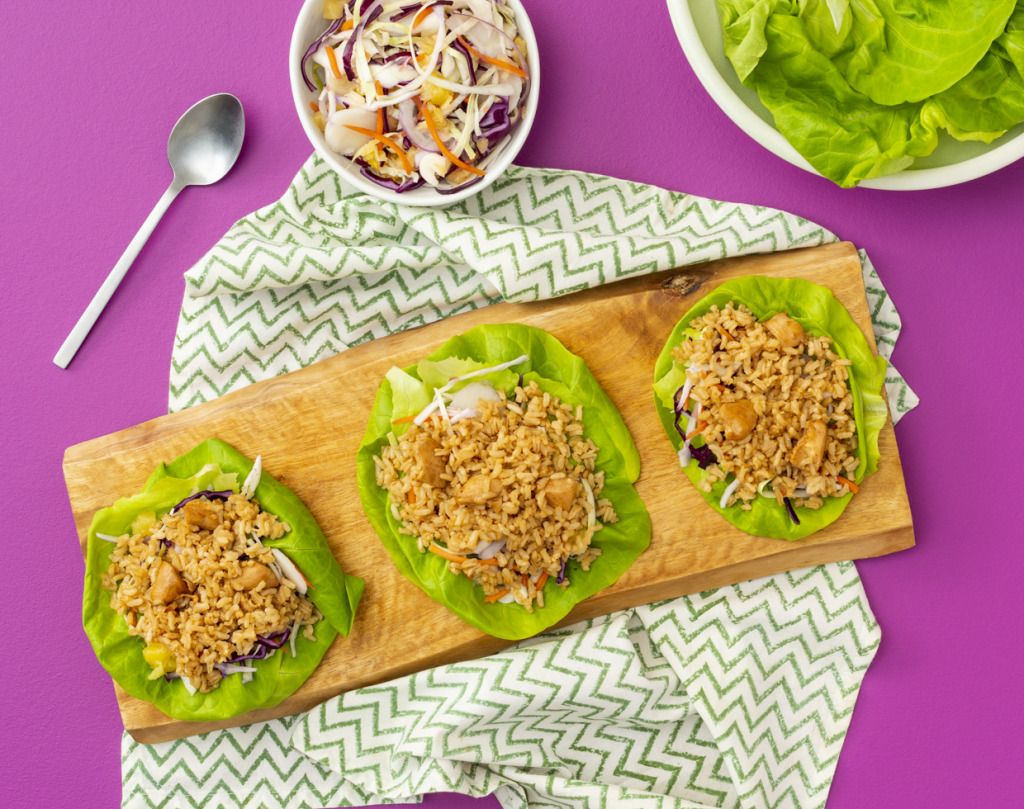 Or try our Chicken and Mushroom Quesadilla – made with our Microwavable Butter & Sea Salt Jasmine Rice Cups, shredded chicken, mushrooms and cheese – don't forget to take some extra salsa, guacamole or sour cream for dipping. Your friends and family can recharge with these yummy quesadillas!
Seafood Sides
The music is pumping, the flag is waving and your guests' appetites forges on. Offer them these Shrimp Tostadas to tide them over! Packed with all the perfect ingredients they will love-like fresh shrimp, spicy salsa and creamy avocado.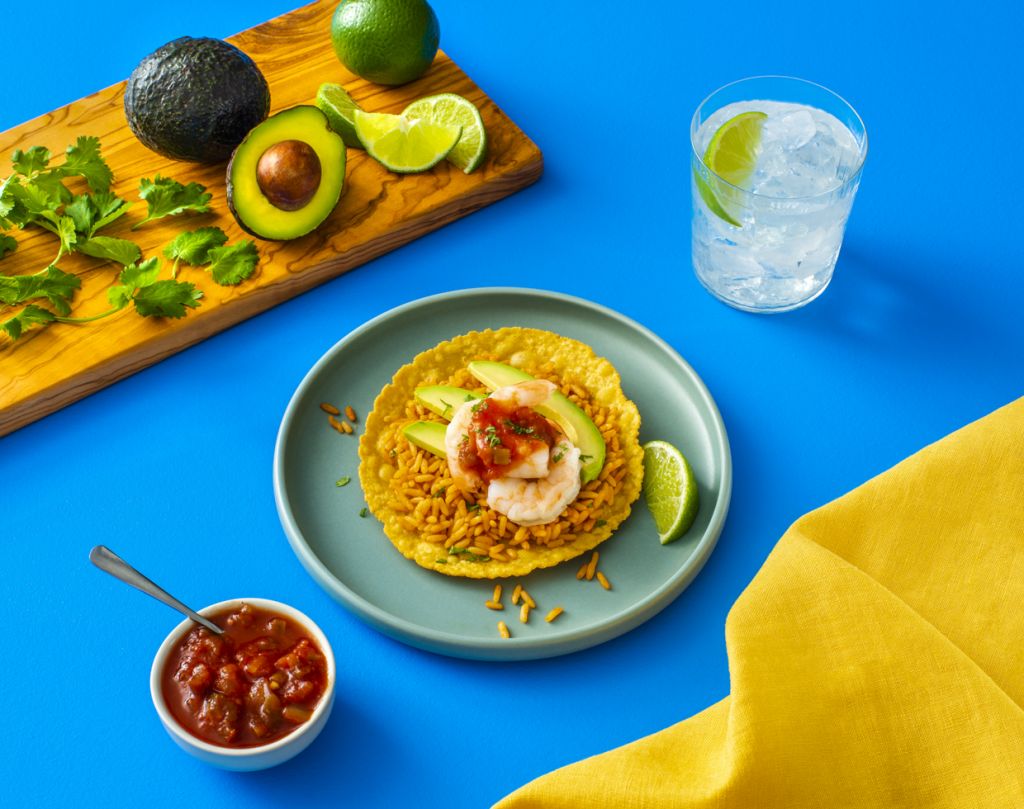 The golden sun has finally sunk into the horizon and the crowd pleasing fireworks have started. Before your guests head home, make sure to end the event right with some irresistible desserts!
4th of July Desserts
No party is complete without ending on a sweet note. Make your event memorable with a satisfying sweet treat!
On the Sweeter Side
The Coconut Pineapple Clusters are both tropical and chocolatey with coconut, pineapple, creamy rice and chocolate chips. Or have them try these Banana, Peanut Butter Rice Bites. They're quick and delicious to create with brown rice, banana, chocolate chips, and crunchy peanut butter. Made with only four simple ingredients-you can whip them up in no time! If you don't want to use peanut butter, try any other type of nut butter that you wish.
Berry Delicious
Let the Tropical Flavors of summer wash over you with our Vanilla Berry Parfait. Made with Basmati, mixed berries and vanilla yogurt- pop in some strawberries and blueberries to make this a patriotic treat! Keep the red, white, and blue coming with this Lemon Berry Parfait.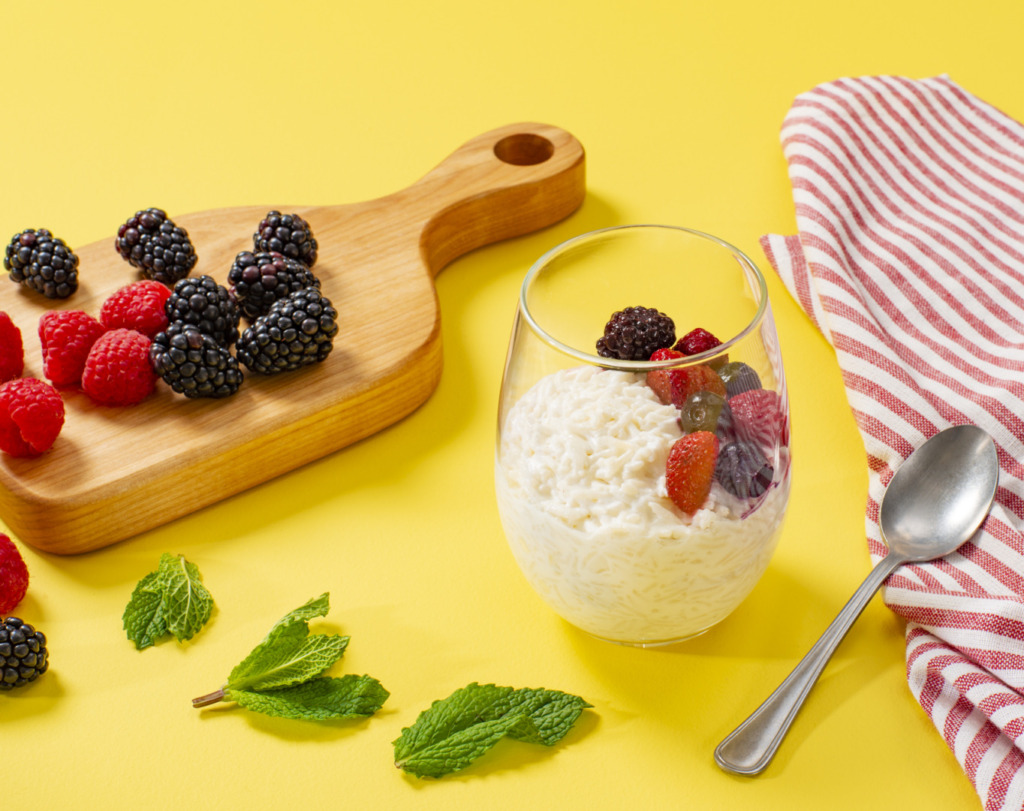 Chocolate Lovers
This Layered Chocolate Caramel Rice Pudding Cake is the perfect dessert to have in hand while watching the fireworks light up the sky. Loaded with cookie peanut butter topping and dulce de leche rice pudding-it will be gone in minutes! Chocolate Almond Rice Pudding is another chocolate lover's dream. Make sure you have the whipped cream and sliced almonds nearby to top to perfection.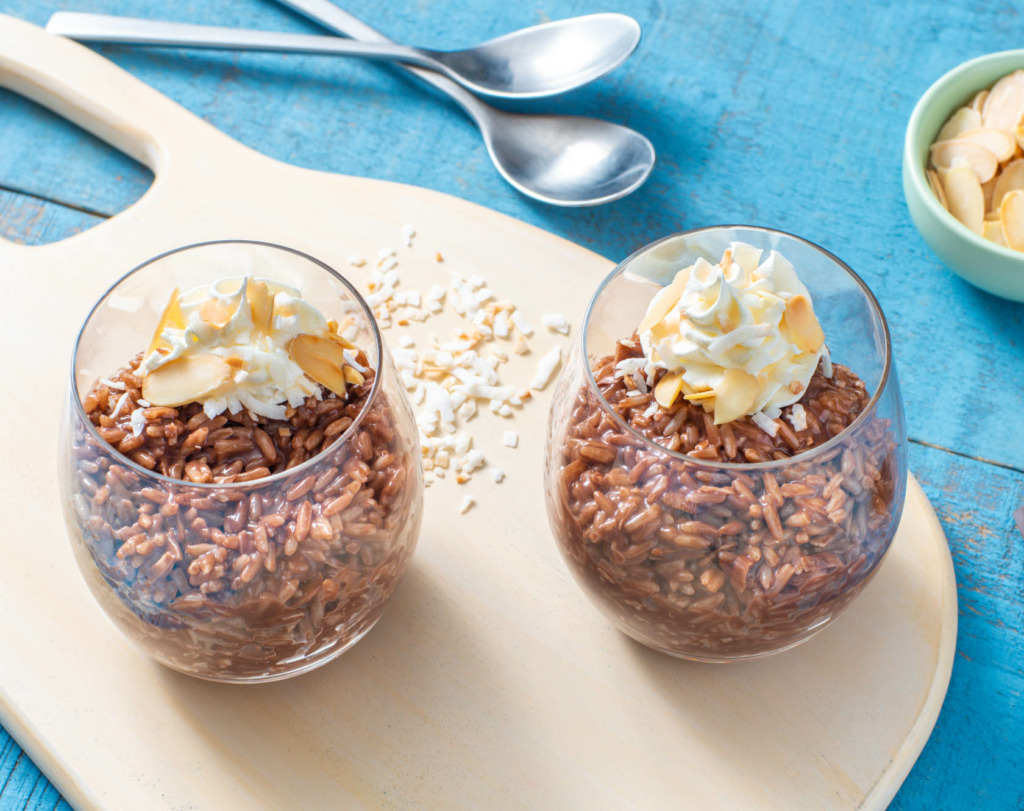 No matter the occasion, with Minute® Rice, you always have something to celebrate!