A dependable meal option, stuffed vegetables are always a good idea! They're customizable based on what you have at home, and not to mention, a great way to incorporate grains and veggies into your family meal when you've got picky eaters. And while you've probably had stuffed peppers once or twice, you can expand using other vegetables. That's right, peppers aren't the only produce option.
So, to help get you on your way, we've decided to compile some of the most common questions regarding making stuffed vegetables with some tasty rice and quinoa recipe ideas! Get your pen and paper ready to start taking some notes.
What Vegetables Can Be Stuffed?
The answer to this first question depends entirely on preference. With a little creativity, any vegetable — and some fruits— can be stuffed with a variety of filling ingredients.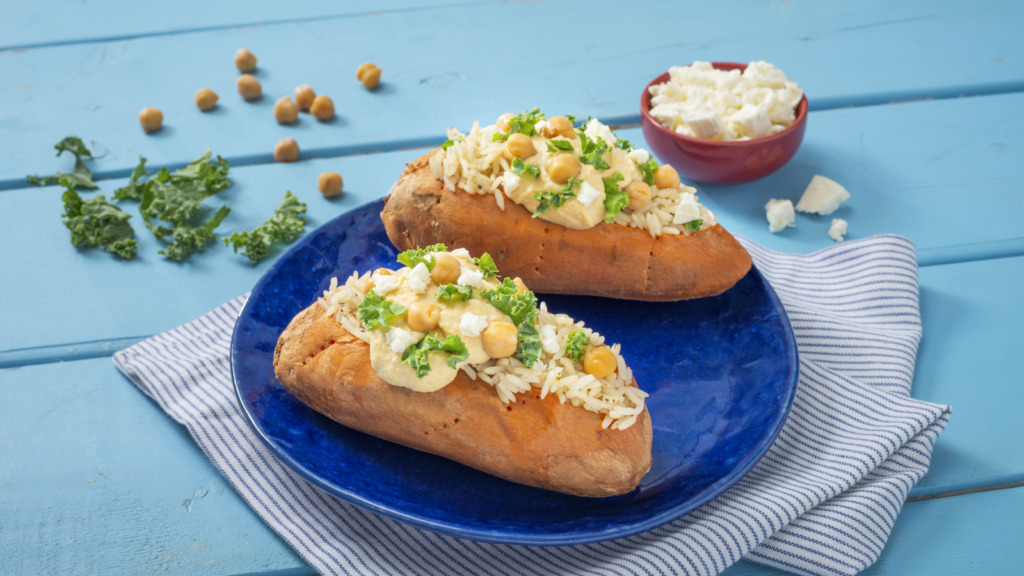 There are some staples we all know and love with a wider cavity that make stuffing easy such as peppers (of all varieties), eggplant, mushrooms, squash and zucchini. However, there are also a few fruits that fit in like avocado or tomato and some unlikely but still tasty options such as plantains, artichokes, onions or lettuce, and cabbage.
If you've never tried making them from scratch before, start with a real crowd-pleaser like these cream cheese and rice stuffed Party Peppers with Cheddar cheese on top.

Do You Have to Pre-cook the Vegetables Before Stuffing Them?
No, it's not necessary to pre-cook the vegetables before stuffing. However, recipes may vary and some might call for it while others don't. The reason is because if the vegetables are pre-cooked beforehand they result in a softer final texture, or it might just be easier to scoop out the flesh and create a hole to fill.
For example, these Kale and Sausage Multi-Grain Stuffed Acorn Squash require roasting beforehand as the inside is very difficult to remove without first making it tender. Even these quick Cheesy Rice Stuffed Mushrooms require microwaving for just 3-4 minutes, or until they are tender, resulting in a more pleasant bite-sized snack.
What Are Ways to Cook Stuffed Vegetables?
The wonderful thing about stuffed vegetables is that they can be prepared using a variety of cooking methods. We'll use a classic like stuffed peppers for an example of a recipe that can be as simple or complicated as you choose. We'll show you how you can make them with three different options.
Microwave
Try making these Microwavable Easy Italian Stuffed Peppers simply with Minute® Ready to Serve Garlic & Olive Oil Jasmine Rice, frozen mixed vegetables, marinara and cheese. It's really that simple!
Slow Cooker
If you know you won't have much time in the evening to prepare a complete dinner, these slow cooker Pork and Rice Stuffed Peppers are ideal. Just set and forget them for 5-7 hours on low or 2 1/2 to 3 1/2 hours on high. You'll know they are done when they are tender and the ingredients are cooked through.
Oven
Quite possibly the most traditional method is in the oven with these Classic Stuffed Peppers. Bake covered with foil for around 45 minutes or until the peppers are tender.
How Can I Make My Stuffed Vegetables Taste Better?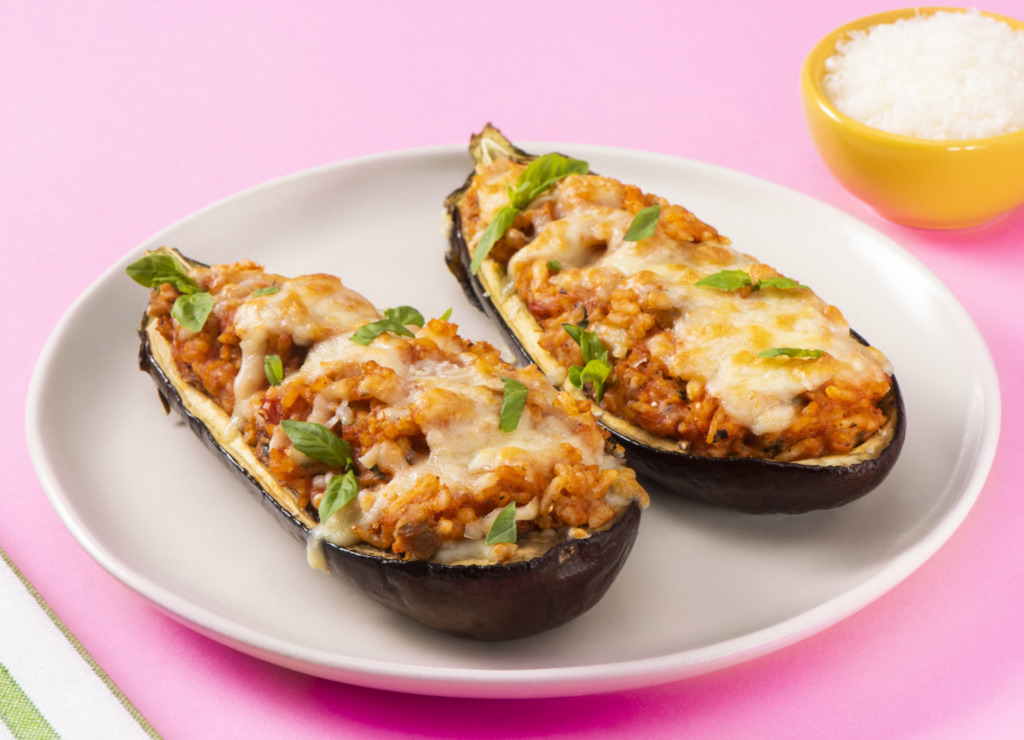 The best part about making stuffed vegetables is that the filling is very forgiving if you've never tried experimenting before. That is, if you stick to a formula! We suggest using at least 4 of the following 5:
Grain (like rice or quinoa)
Additional vegetables
Sauce (like marinara, salsa, carbonara, enchilada sauce, Teriyaki, soy sauce, Thai sweet chili, etc.)
Flavor enhancers (herbs, seasonings, nuts, seeds, etc.)
protein (optional, cheese, meat, beans, tofu, etc.)
Now that you've got your base formula you can mix and match however you please! But, if you still want a few more flavor tips, take a look at these below.
Tip #1 Enhance the Flavor of Your Grain Base
Infusing your grains with sweet or savory flavors like broth or juice is one of the easiest methods to add an extra punch to your favorite Minute® Instant Rice varieties. Take a look at our ideas for easy flavor boosters or simply use our Ready to Serve naturally flavored rice options for tastier results on the go.
Try it out using Minute® Ready to Serve Cilantro and Lime Rice in place of traditional white rice in these Power Rice Stuffed Sweet Potatoes. Mix with hummus, kale, cheese and chickpeas for even more delicious flavor.
Tip #2 Create a Flavor Theme
Another simple way to give your stuffed vegetable filling a twist is by creating a flavor theme. If you're looking for a new Mexican night recipe, try a taco inspired filling or an easy Mexican rice filling, or for a refreshing option, try these Greek Stuffed Tomatoes with feta cheese, mint, parsley and oregano along with sweet raisins and Minute® Rice & Quinoa. 
If you like the idea but aren't sure where to start, take a look at our savory stir in ideas for rice meals including different flavor themes and ingredient ideas for cuisines like Italian, Southern Cajun, Asian, Indian or Mexican!
Do You Put Raw Meat in Stuffed Vegetables?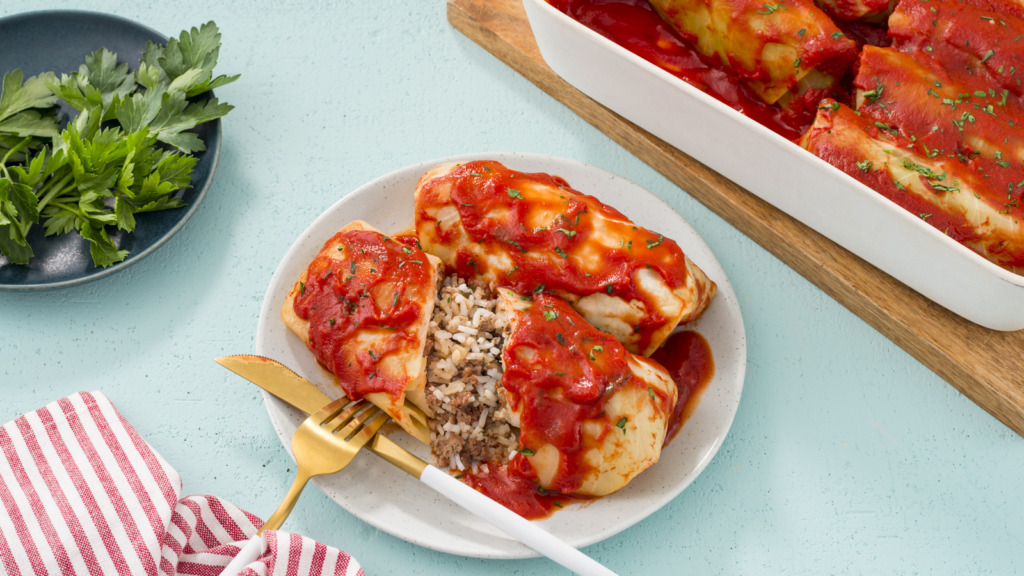 In reference to the formula we suggested for the filling, many people might wonder if they should use raw meat or cooked meat for the protein. Again, this depends on the recipe but most commonly your filling will have all cooked ingredients like rice, browned meat, sautéed vegetables and sauce. This is to ensure that everything is cooked through when the vegetables are stuffed.
However, you should always read the instructions of your recipe because there are others like these Stuffed Cabbage Rolls that require raw meat, uncooked rice and other vegetables. This is because the cabbage wrap is thin and while they are simmering everything can cook evenly.
If you're in doubt, make your recipe vegetarian like these meatless Rice Stuffed Eggplant Parmesan.
Can I Freeze Uncooked Stuffed Peppers or Other Vegetables?
Of course! Making stuffed vegetables for weekly meal prep or just using up leftover ingredients you have is a great way to plan ahead and have lunch or dinner on hand. We suggest freezing them before cooking to avoid having to cook and then reheat them. However, make sure to take a look at our guide to freezing recipes with rice for more details!
Let Minute® Rice help you make a quality meal fast with our convenient products and quick tips and hacks so you can spend more time with family and friends or just get back to your to-do list. For some other meal inspiration, why not take a look at one of our red beans and rice recipes?