Lettuce isn't just for salads; it serves as a Gluten Free wrap for your handheld foods. So next time you're in the mood for a wrap or a sandwich, why not try a lettuce wrap instead with one of these great tasting recipes from Minute® Rice.
But first things first, how do you actually make lettuce wraps?
How do you Make Lettuce Wraps?
The simplest way to prepare lettuce cups is to first remove the core of the lettuce using a knife and then run it under a tap, allowing the leaves to peel away. If your leaves have started to wither, you can place them in a bowl of ice water to revive them.
Which Lettuce is Best for Lettuce Wraps?
When making lettuce wraps, opt for a heartier lettuce type like romaine or butterhead. Durable yet flexible, these lettuce types are ideal for wrapping up your fillings.
Now we have our lettuce ready, it's time to fill them with delicious ingredients!
Lettuce Wraps
There is no shortage of great tasting filling options for your lettuce cups. Here are some of our favorites to get you started:
Seafood Lettuce Wraps
Made with Brown Rice cups, these Sweet and Spicy Salmon and Brown Rice Lettuce Wraps  can be enjoyed at home or on the go. If you want to add a little creaminess,  throw in some avocado as well. 
For something a little more fruity, try these Shrimp and Pineapple Lettuce Wraps with some Instant White Rice.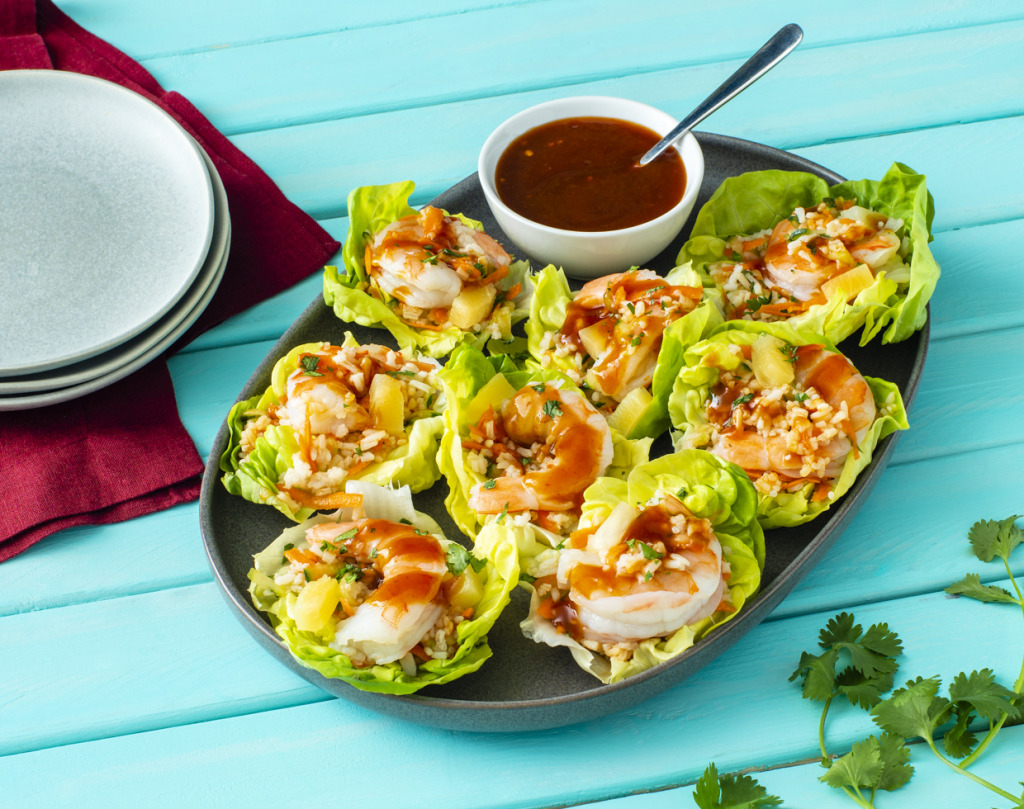 International-Inspired Lettuce Wraps
For a simple lettuce wrap recipe that's packed with Asian flavors, try these Chicken and Basmati Lettuce Wraps made with Basmati Rice cups and Asian-style dressing. These lettuce wraps also go very well with sesame and peanut dressing types, if you're in the mood to experiment.
These Asian Lettuce Wraps also provide Asian flavors packaged inside a nice crispy lettuce cup.
Repurposing Other Recipes Into Lettuce Wraps
Once you've mastered these lettuce wrap recipes, you can start getting creative with your fillings.
Rice Bowl Recipes
Many rice bowl recipes can very easily be repurposed into fillings for your lettuce wraps; this zesty Southwest Style Chicken Bowl can be whipped up in just 5 minutes. The great thing about this rice bowl is that it is easily customizable. For example, although this recipe calls for avocado, feel free to swap in guacamole instead. You can also switch up the Minute® Rice varieties – mix things up so you never get tired of your meals!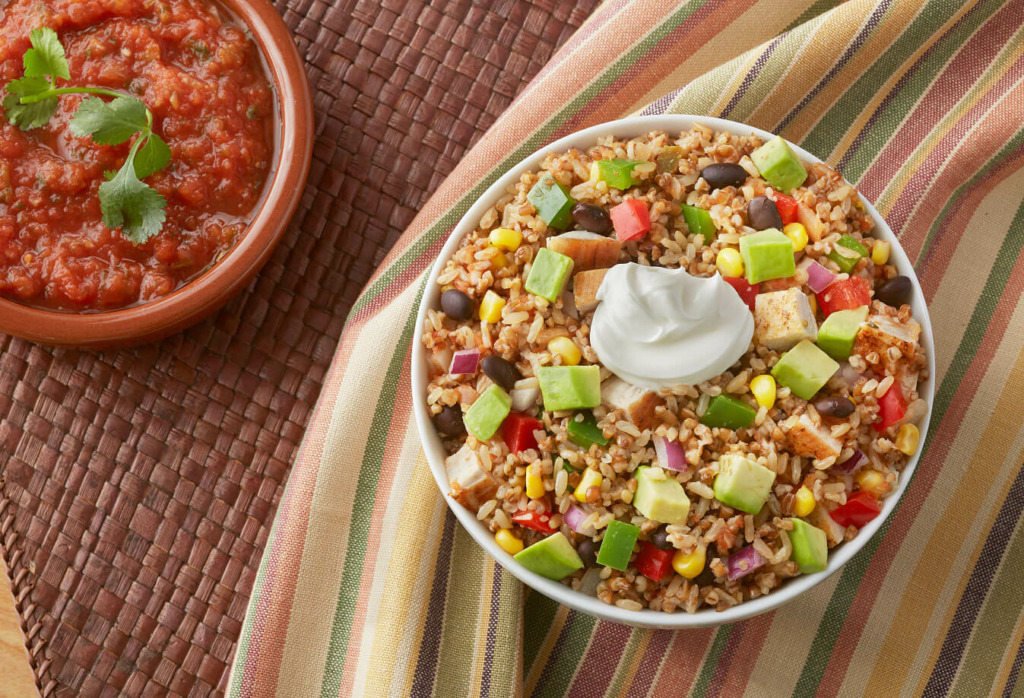 Salad Bowl Recipes
Salad bowl recipes, like this quick 5 minute White Bean and Tuna Salad Bowl with Brown and Wild Rice Cups, make excellent lettuce wrap fillings. Feel free to experiment with different tuna types for this recipe or add in some extra veggies. 
For a colorful salad filling, toss together this Mango Basil Chicken and Brown Rice Salad.
This quick and simple Artichoke and Asiago Chicken Rice made with Chicken and Herb Seasoned Rice cups is another excellent choice for a lettuce wrap filling. Although this recipe calls for spinach, kale is another hearty option. This recipe is also perfect for if you have leftover chicken that needs to be repurposed.
This Asian Chicken and Rice Salad served with Jasmine Rice cups are packed with citrusy flavors.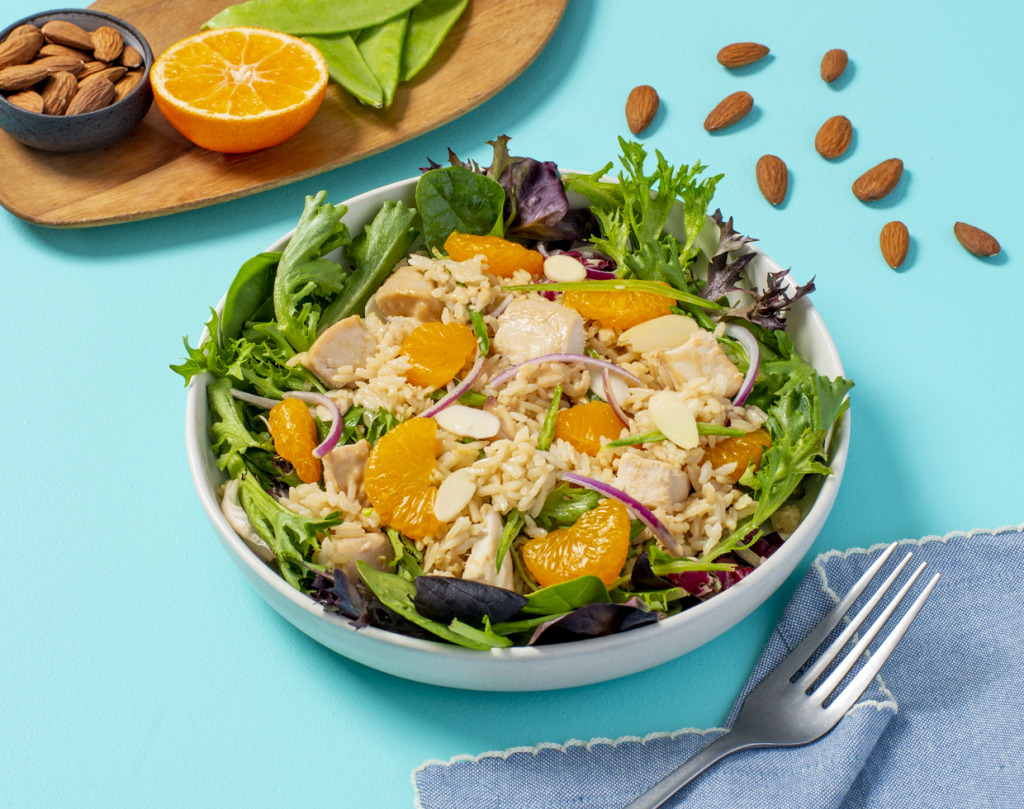 Taco Bowl Recipes
Taco bowl recipes also go very well with lettuce wraps as they are already designed to be used as filling. Try this quick and convenient One-Pan Taco Dinner made with Instant White Rice – the tortilla chips give your lettuce cups a satisfying crunch.
For more quick and easy recipes and convenient cooking tips, stay tuned to Minute® Rice.