If you find yourself in a hurry, but still want a quick delicious meal, then Brown Rice & Quinoa Cups are a must. They can be prepared in just 1 minute and in no time at all you will be enjoying a blend of two amazing 100% whole grains.
Combining the crunchiness of red quinoa with the chewy texture of brown rice, our cups are a great way to make any meal count. Brown Rice & Quinoa Cups not only adds texture and exciting flavors, but also a dose of filling protein to any dish. 
How to Prepare Minute® Microwavable Quinoa Cups
Whether you decide to prepare them in the microwave or on the stove, both ways are simple and easy.
Microwave
Remove the film completely from the rice cup.
Place the cup in the microwave.
Heat on HIGH for 1 minute. Heating time for 2 cups is 1 ½ minutes.
Stir & serve immediately.
CAUTION: Cup & steam will be extremely hot. DO NOT place your hand over the top of the cup when removing.
Microwave ovens and cooking times may vary.
Cover and refrigerate unused portions after opening.
Stove
Remove film from the cup. Empty contents into a small skillet or saucepan and break up any clumps.
Add 1 tablespoon of water (or broth, juice) and heat on low for 1-2 minutes until heated through, stirring occasionally.
Remove from heat and serve immediately.
Recipes Made With Minute® Microwavable Brown Rice & Quinoa Cups
These ideal on-the-go cups are perfect for any quick meal. Let's take a look at some of the many options that Minute® Rice has to offer:
Breakfast
Studies have shown that breakfast is indeed the most important meal of the day. Even if you don't have time to sit down at the breakfast table, there are still ways that you can fit breakfast in. This Breakfast Cup With Quinoa recipe is ready in three simple steps and less than five minutes. Pop a cup of our Brown Rice & Quinoa in the microwave, mix your rice and quinoa with yogurt and lastly, top with fresh fruit and walnuts and voilà! Breakfast is served!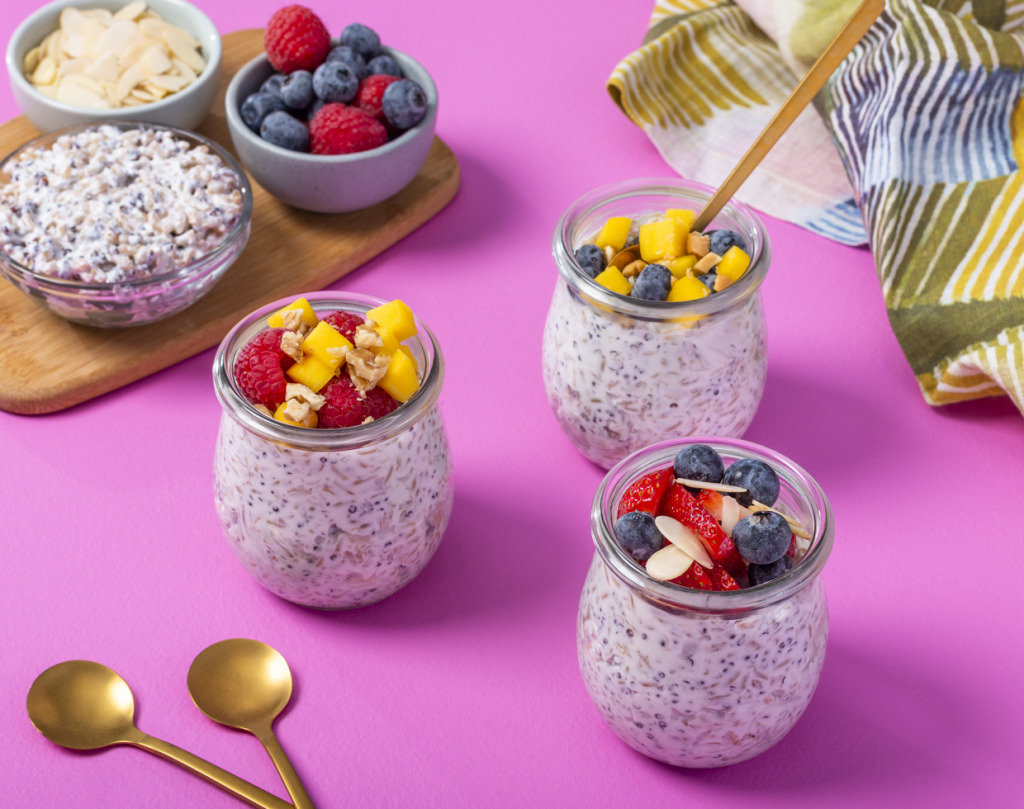 Salads
Whether you are needing a lunch or dinner option, these delicious brown rice and quinoa salad recipes will hit the spot! With apples, celery and walnuts, this Curried Waldorf with Quinoa is a sweet and savory mixture that is fast, delicious and convenient.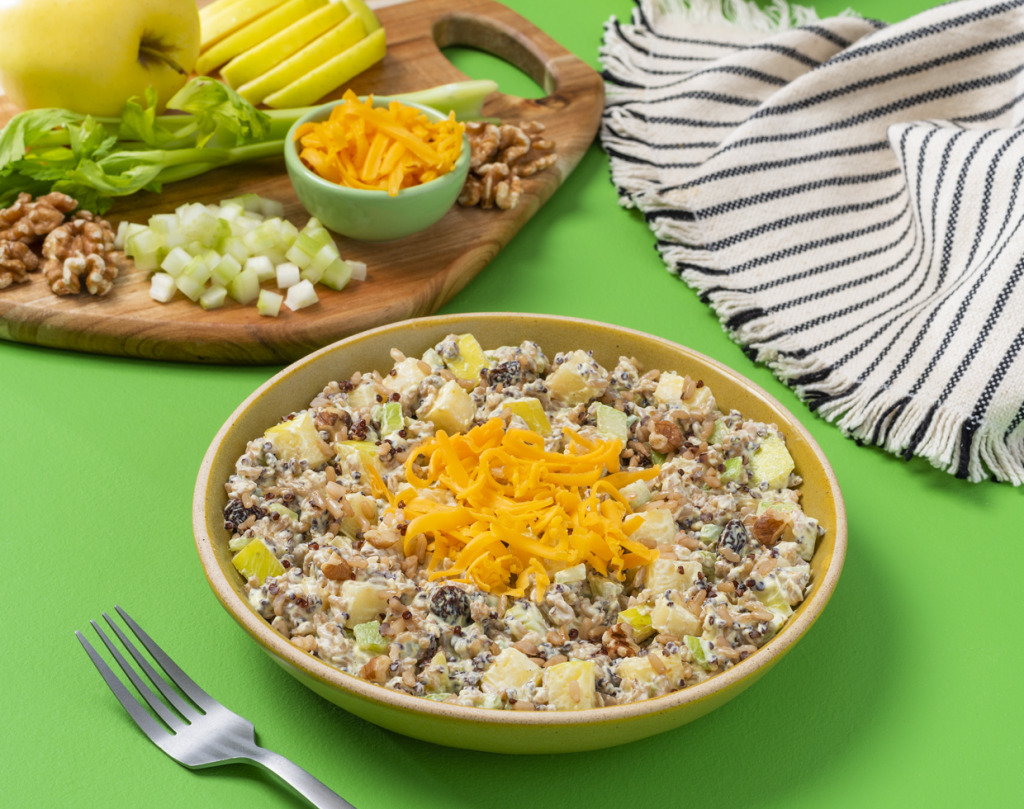 The Caesar Salad with Rice and Quinoa is a classic salad that is taken to new heights by adding rice and quinoa. This salad is perfect to take to the office. Lastly, this Cuban Mojito Quinoa Salad is sweet, tangy and minty. It will make you feel like you are sipping on a mojito!
Lunch/Dinner
There are no shortages of lunch and dinner recipes which can be made with Brown Rice & Quinoa Cups. With these quick and easy recipes you will be spending less time in the kitchen and more time on the go.
Craving Stir-Fry? With Quinoa and Brown Rice with Stir Fried Vegetables you will be enjoying your stir fried rice and veggies in no time.
If you need some more spice in your life try the Spiced Quinoa Rice. This spiced rice has cumin and chili powder. The lemony whole grain bowl with brown rice, quinoa and avocado is bursting with flavor.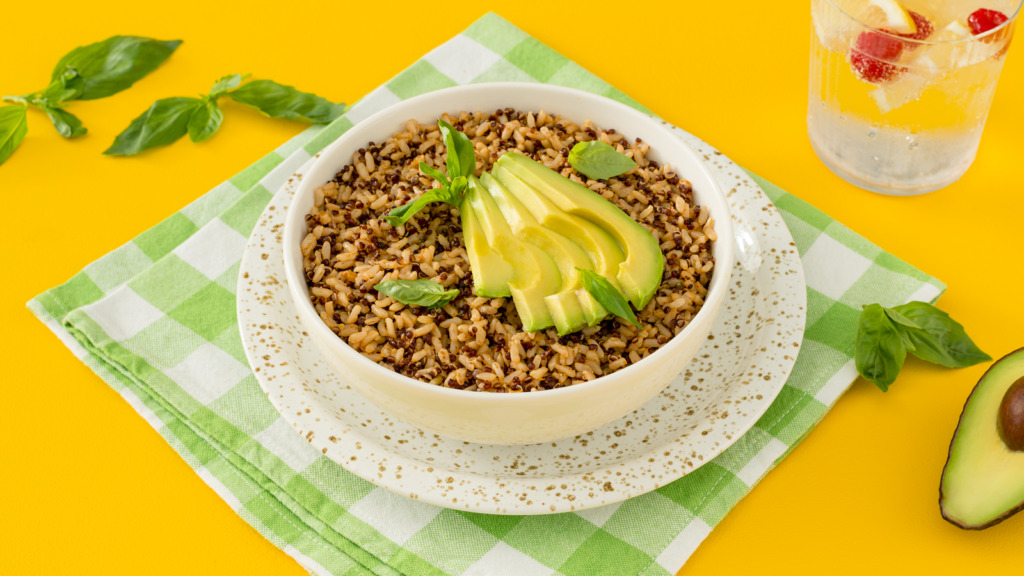 Or if you enjoy stuffed veggie recipes try this Rice and Quinoa Stuffed Peppers. These ready in ten minute stuffed peppers have mozzarella, ground beef and tomatoes. They are the perfect on-the-go meal.
Rice Bowls
You can quickly elevate any rice bowl with Brown Rice & Quinoa Cups. Here are a few options:
This Rice and Quinoa Bowl With Harissa Glazed Carrots veggie power bowl will have you energized in no time!
If you are looking to add some protein in your rice bowl try the Monte Cristo Rice Bowl. Loaded with ham, turkey, Dijonnaise sauce and Swiss cheese, this rice and quinoa bowl is a delicious twist on the classic sandwich.
If you enjoy asparagus, try the Asparagus Lemon Whole Grain Bowl. With shaved asparagus, brown rice and quinoa, this bowl is bright and refreshing.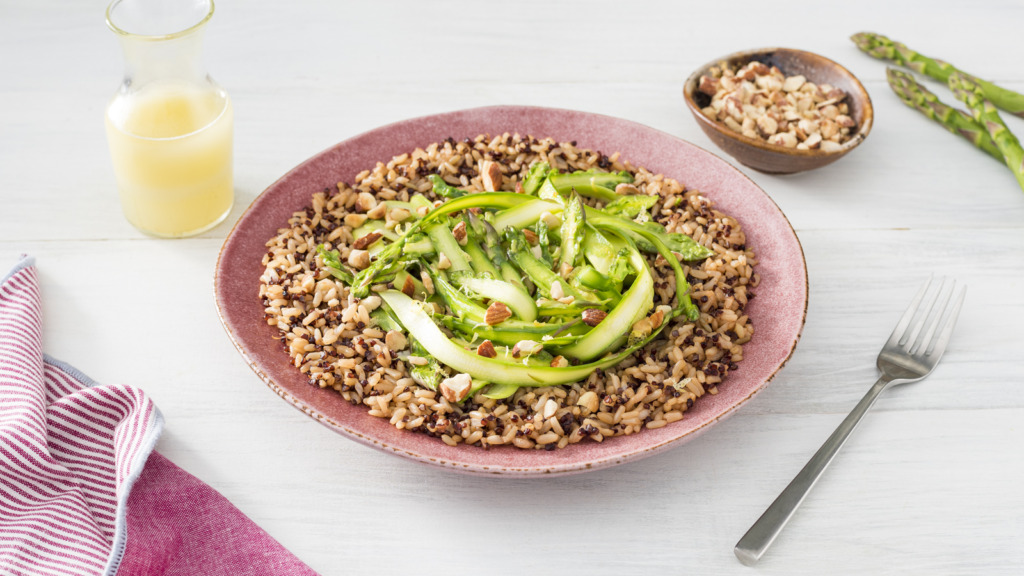 Snack
Need a quick pick-me-up to get you through the day?
These Energy Rice Bars are the perfect option! Made with chocolate and cranberries they are finger-licking good!
As you can see, the options are endless when it comes to brown rice and quinoa recipes.
For even more convenient meal ideas you can enjoy on the go, check out the recipes page on the Minute® Rice website.