Have you ever been in a tropical paradise of flavor before? With our Minute® Rice recipes we'll make you experience the essence of the tropics, diving into a tantalizing blend of vibrant and exotic tastes. Pairing rice and tropical fruits is not as unusual as you may think! In fact, this combination is pretty iconic and is quite common in many cuisines all over the world.
In Southeast Asia and the Caribbean rice has been a staple food for centuries, resulting in distinct flavor combinations that are unforgettable: just think about their colorful and vibrant dishes, or their mouth-watering tropical fruit bowls. As a matter of fact, the unique climate and geography of these areas are what makes them the ideal place for growing and harvesting an extensive range of exotic fruits, which represent a delicious addition to any meal.
Luckily, we now can all enjoy those tasty tropical fruits all over the world. In just a few simple steps, your rice dishes will be taken to a whole new level with the addition of some colorful tropical fruits: from juicy pineapples to creamy coconuts.
Today, you'll learn how easy it can be to prepare various tropical rice dishes!
Mouthwatering Meals With Mango and Rice
When mixed with rice, mango is one of the most successful combinations in the domain of exotic fruits. It's native to South Asia, but is now cultivated in many countries around the world. Mangos are known for their sweet and tangy flavor, and their bright orange juicy pulp.
Flavor Tip: Don't forget that, for the best outcome, it is important to choose the right mango; in fact, it shouldn't be too firm (unripe), or too squishy (overripe).
What makes mangos so compatible with our Minute® Rice Cups is that they come in different varieties, shapes and sizes – but above all – that they can be enjoyed in a variety of ways.
Spiced: Instead of sipping on mango lassi – the creamy Indian drink – why not mix it up? If you're a lover of tropical flavors, make your favorite tropical beverage a meal. Our Mango Lassi is made with coconut milk, diced mango, and ground cardamom for a meal that's spiced to perfection!
Sweet: The perfect shortcut to prepare a delectable breakfast or dessert, as well as a beloved Thai classic is our Mango Sticky Rice. You'll just need to assemble some easily available ingredients (a cup of  Jasmine Rice Cups together with coconut milk, a mango, sesame seeds and cinnamon), and – in only 4 minutes – you'll have tried one of the best desserts you'll ever have in your life!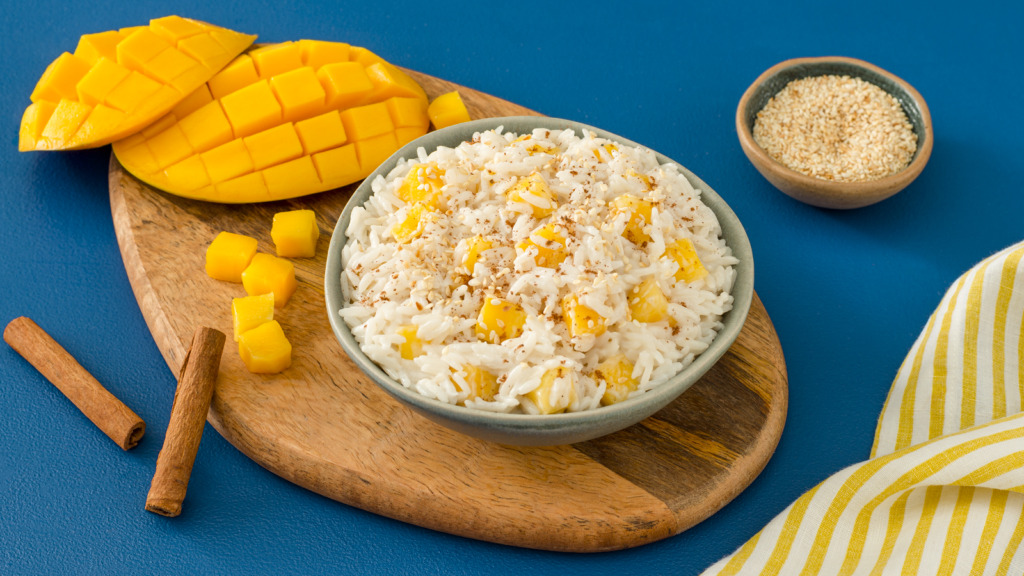 Perfect Pineapple Pairings
Similar to mango, pineapple makes a delightful combination with rice. In truth, the sweetness of the pineapple perfectly complements the mild taste of the rice – plus our fluffy grains will absorb all that flavor! It is believed that Thailand is where people started to mix tropical fruits with rice: not coincidentally, but due to the large availability of both these ingredients. This yellow exotic fruit adds a refreshing twist in recipes because of its juicy texture.
One of the most famous dishes found is the Pineapple Thai Rice, which features diced pineapple, veggies, and – only if you want them – scrambled eggs tossed with rice and seasonings. For a tangy topping, toss some diced pineapple onto a Hawaiian-style poke bowl.
Why not mix it up with Minute® Rice? This aromatic Tropical Island Rice is made with chunks of fresh pineapple, cubed ham, and then seasoned with a blend of sesame oil and soy sauce: it'll take your tastebuds straight to the tropics!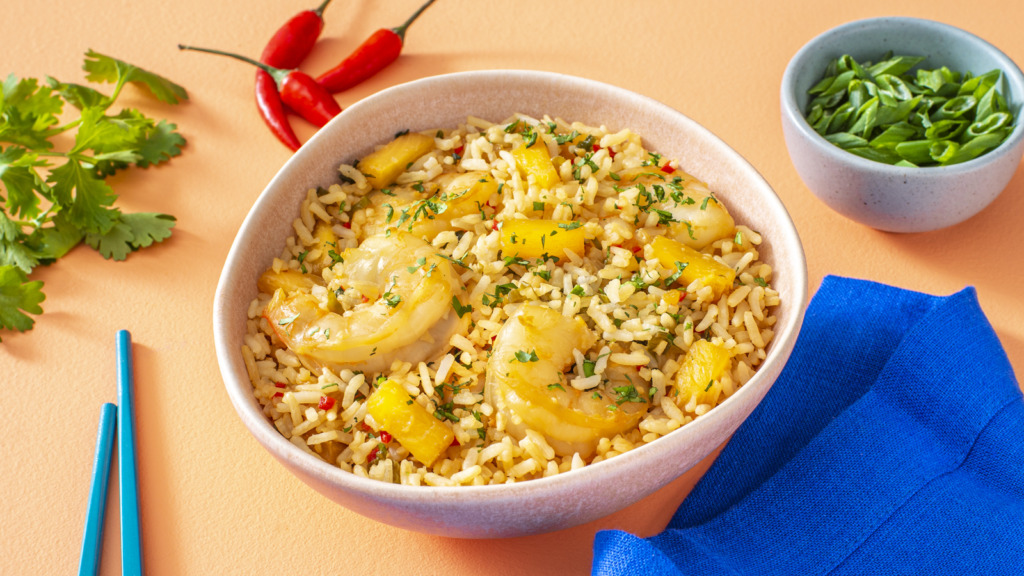 Irresistible Island Wraps
Escape to a tropical island with our irresistible Lettuce Wrap Recipes. We challenge you to imagine the flavorful blend of fluffy rice and luscious tropical fruits that this deliciously wrapped perfection will unleash on your palate, creating a mouthwatering taste sensation; every bite will transport you to an exotic place!
Shrimp: A refreshing change of pace and a perfect choice for a hot summer's day is our Shrimp and Pineapple Lettuce Wraps All of its ingredients – including chopped pineapple chunks – are wrapped inside a lettuce leaf to unleash fresh flavor on your taste buds.
Chicken: Have some extra roast chicken? If you're looking for the perfect lunch idea or quick dinner, take those leftovers and make these tasty Chicken Lettuce Wraps.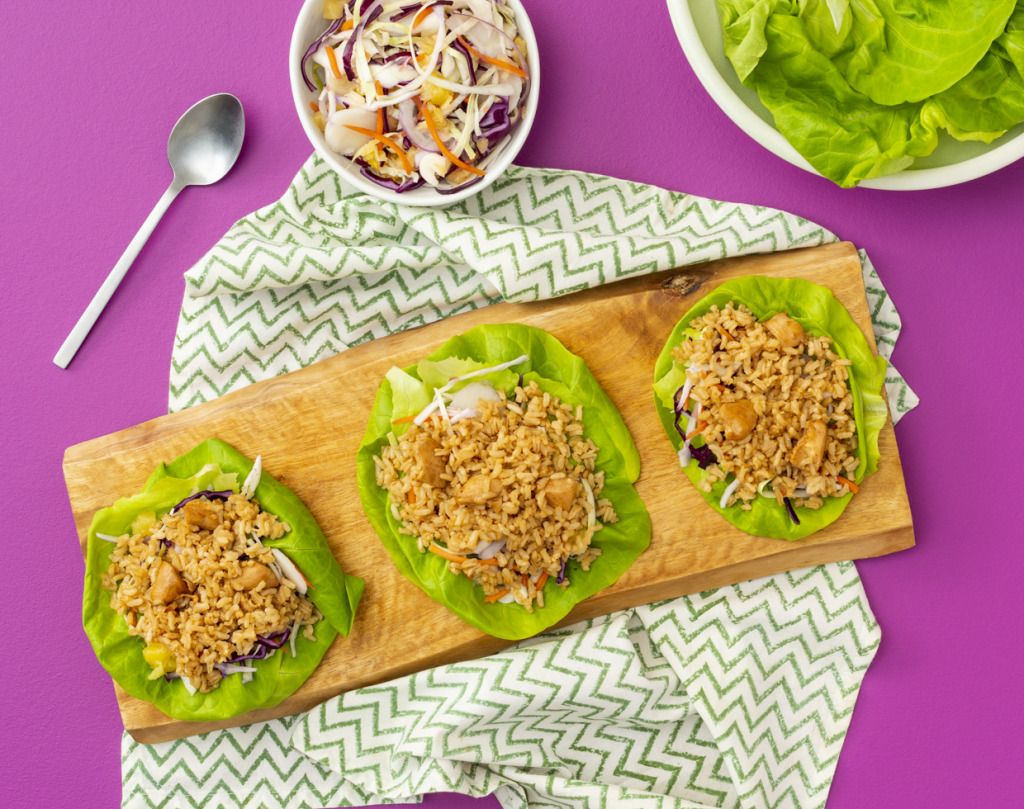 Go Bananas with a Banana Breakfast
Looking for a breakfast meal that will give you lots of energy to tackle your long and busy day? Try our Coffee Breakfast Rice Pudding made with White Rice Cups.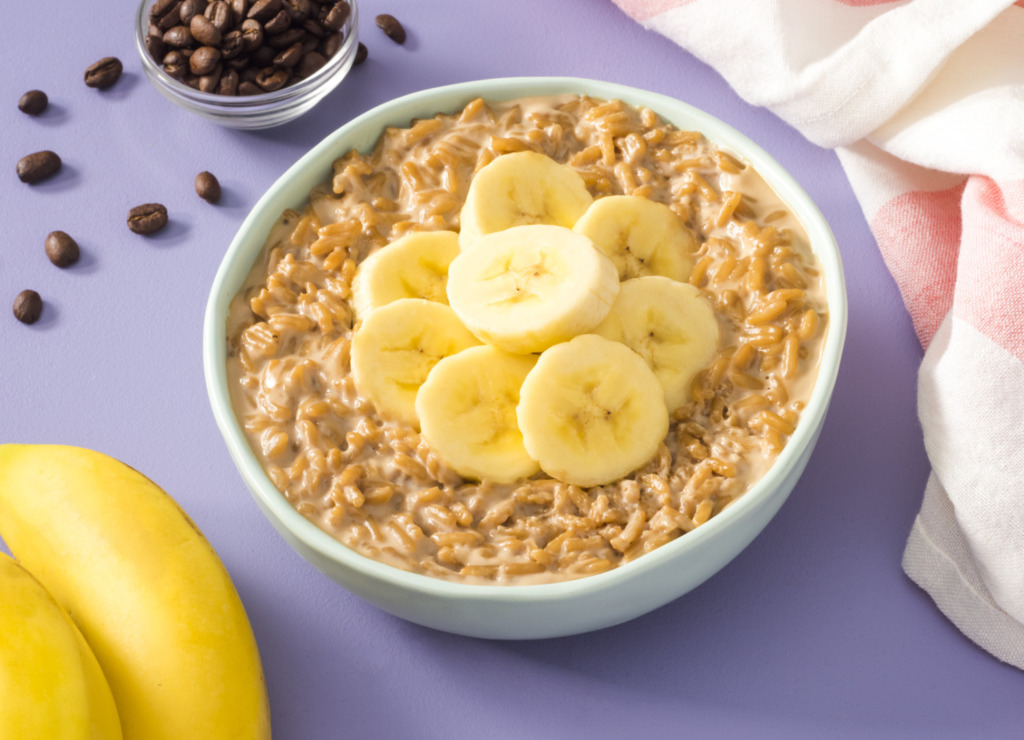 Double Up On Tropical Flavors
If mango isn't enough, why not throw in another heavenly tropical fruit? For instance – as you'll see by preparing this recipe – the coconut perfectly matches the taste of mango in this Coconut Curry Mango Rice. Don't worry, adding another ingredient to the dish doesn't mean that its preparation will take more time. In fact, preparing this savory delight won't take longer than 5 minutes. The base of this recipe is the essential Microwaveable Organic White Rice Cups, which takes on a highly intense aroma and flavor due to the unexpectedly harmonious blend of red bell pepper, coconut, mango chutney, golden raisins, green onions and curry powder. For a more subtle dish, omit some of the ingredients with bolder flavors.
No one can resist the unmistakable fragrance of oranges! Give in to your citrus craving with this Pineapple Orange Chicken. The sweetness of the pineapple makes it extra delicious giving it that perfect tropic twist, which is even more enhanced by the delicious taste of orange. Our Instant Brown Rice is the most suitable for this recipe. Once you learn the preparation properly, you won't even miss ordering takeout. You'll save time and money just by following our recommendations!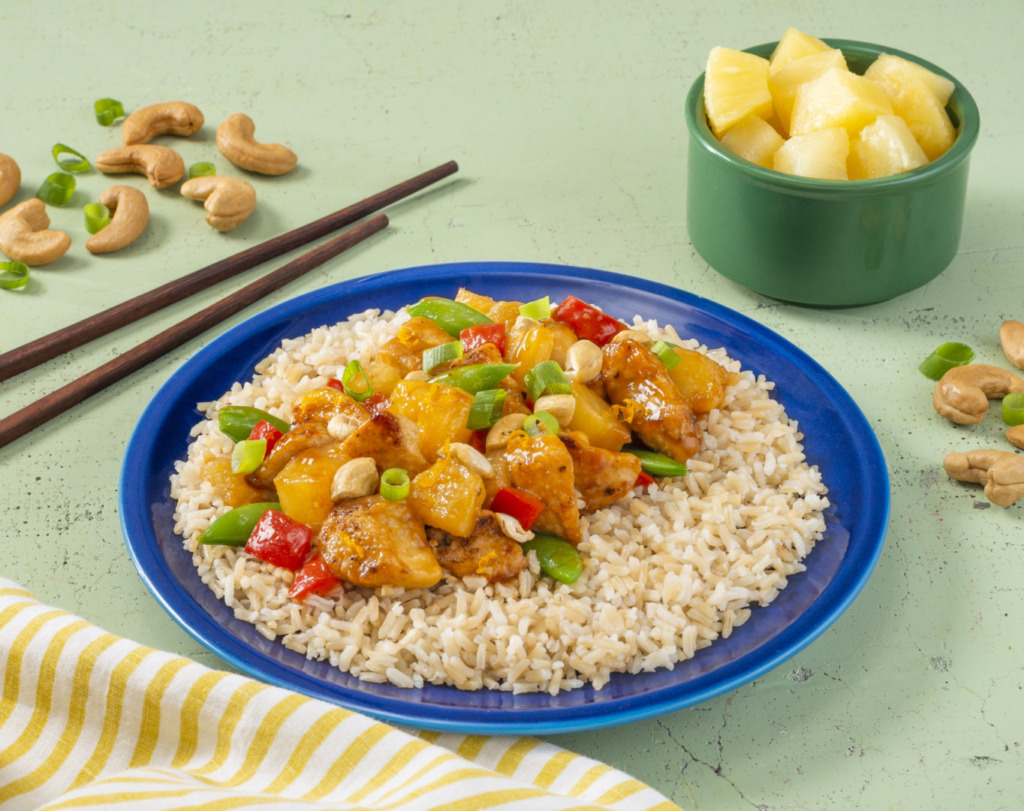 Sweet Tropical Treats
Not everything has to be a mixture of sweet and savory. In fact, here at Minute® Rice, we also love to create desserts with our wide variety of rice. Indulge in our Coconut Pineapple Rice Popsicles! These refreshing frozen treats are an authentic delight in which the impeccable combo of coconut and pineapple is held together by a delicious mix of Basmati Rice Cups and liquid honey.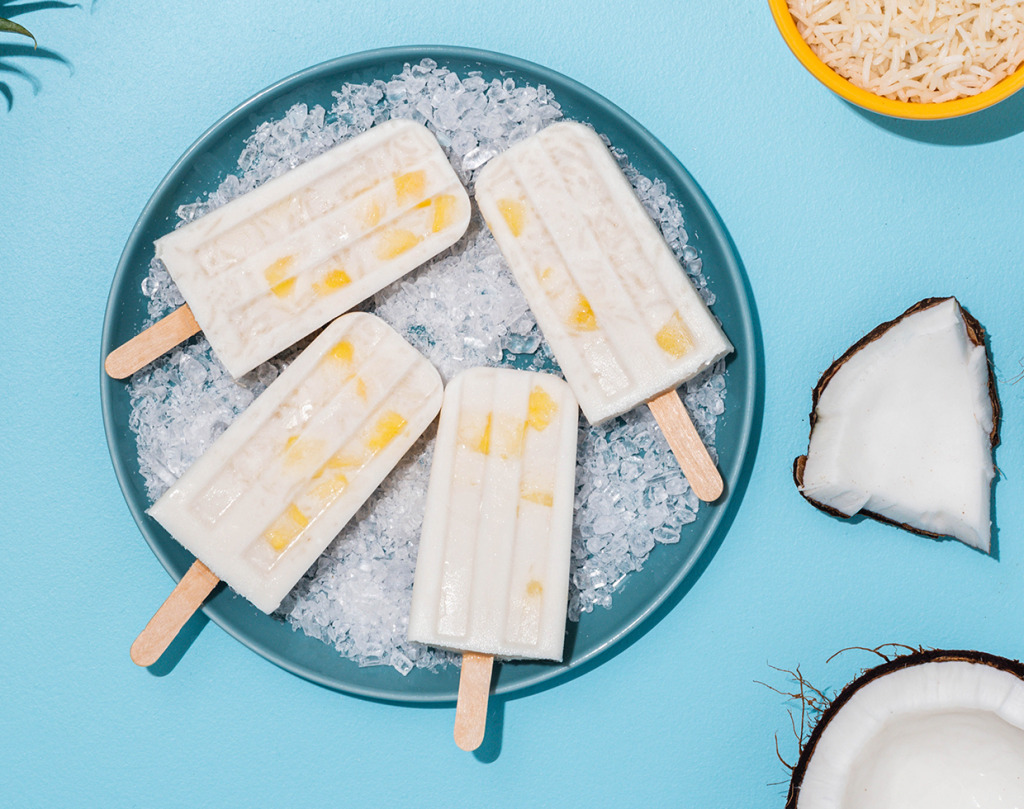 The best part of Minute® Rice? It offers unlimited possibilities no matter how much time you have or how much culinary experience you may have! Even if you are not a Michelin-starred chef, you can create delicious dishes! In fact, just by following the easy recipes above, you can prepare incredible plates boasting those tropical flavors in the blink of an eye.
For more meal ideas with Minute® Rice, stay up-to-date with our quick tips.