Whether you've got guests coming over, need a simple dinner to feed the whole family after a long and busy day or a quick lunch on the go, you can always count on a tried and true combo like chicken and rice for endless meal ideas. And, the magic of this tasty combo is that you can enjoy it simply on its own or make it more intricate by boosting the flavor and infusing your rice or finding clever savory stir-ins.
There are plenty of ways to enjoy a meal made with hearty chicken and rice, and we'll show you just how simple it can be using these 5 tips!
Tip #1 Start with The Right Rice
Whatever your schedule, Minute® makes cooking easy and takes the hassle out of mealtime.
Want to make a quick meal without sacrificing quality or taste? Choose any one of our Instant Rice varieties that are ready in 5-10 minutes from traditional White Rice to aromatic Jasmine Rice or a whole grain combination of Rice & Quinoa. Or if you're cut short for time, swap in our fully cooked microwavable Ready to Serve Rice varieties which heat up perfectly in just 60-90 seconds.
In any case, make sure to check out our beginner's guide on how to cook rice for help choosing what rice is best for you!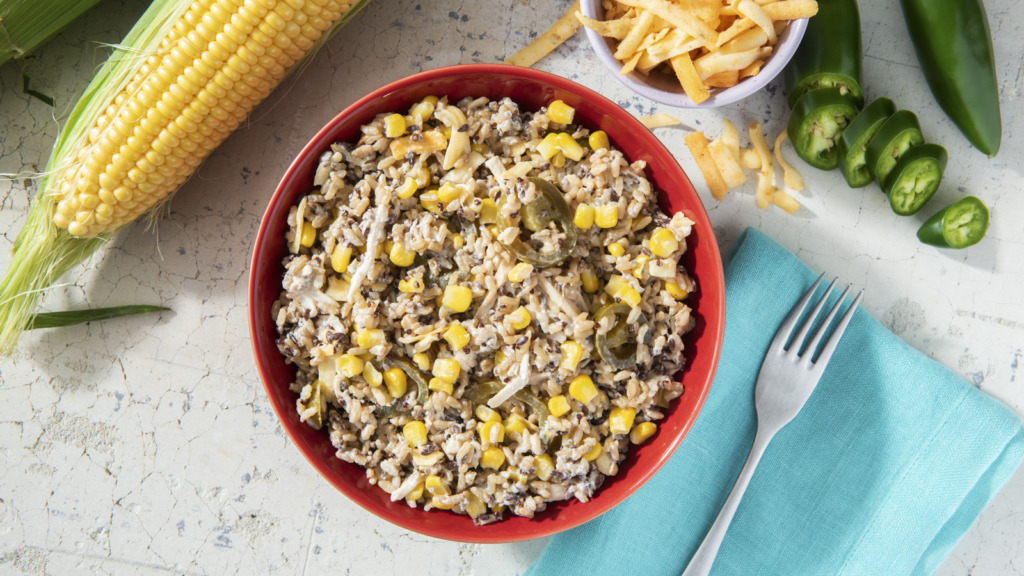 Tip #2 Cook with Ingredients You Have on Hand
To make simple and delicious meals with chicken and rice, work with what you've already got in your kitchen!
Save time and hassle by using rotisserie chicken from your local grocery store or leftover chicken from a previous meal. Also, make use of those herbs and seasonings you've got on your spice rack, canned goods on your shelf or dressings and broth you've got in the fridge. By using those simple ingredients you already have, you can make something delicious using chicken and rice in no time! We'll show you how.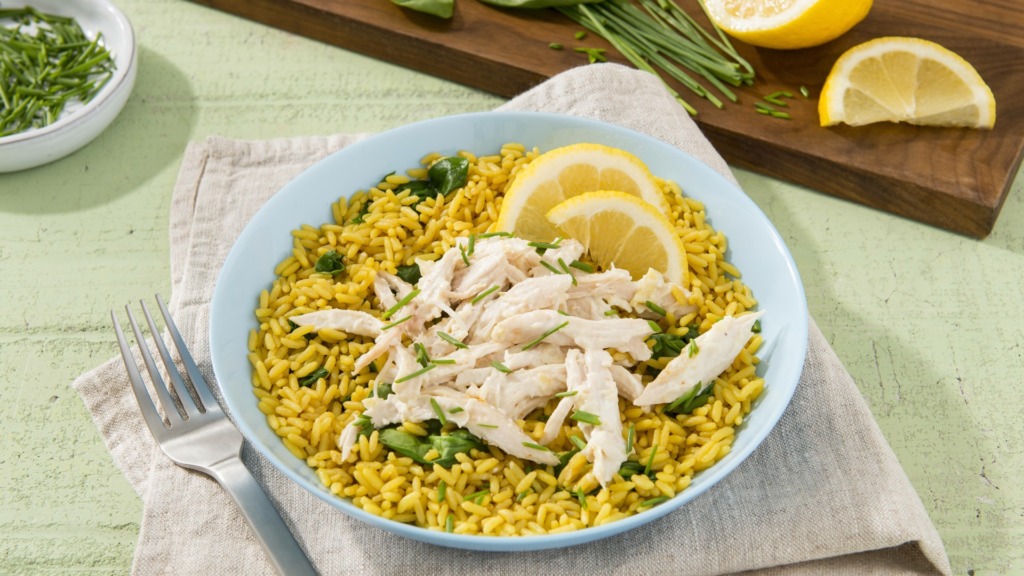 Chicken and Rice Ideas with Pantry Ingredients
Need something quick? Try using our No Recipe Recipe formula and start with precooked chicken, your Ready to Serve Rice of choice and add in all of your favorite ingredients. Use up that frozen corn in the fridge and those pickled jalapeños to try a simple 5 minute meal idea like this Jalapeño Popper Chicken Rice.
You can also get inspired by Tex-Mex flavors and turn Instant White Rice or Jasmine Rice into a tasty combo of Santa Fe Chicken and Rice. Combine precooked chicken with rice and pantry staples like black beans, corn, salsa and Cheddar cheese to make a vibrant and flavor-packed meal right at home in no time.
Tip #3 Use Chicken and Rice + Veggies
Looking to incorporate more veggies into your diet? We suggest chicken and rice salads, bowls or simple casseroles for a whole lot of flavor with a few more veggies snuck in. Feel free to swap in other vegetables of choice according to your preference.

Rice Salad
This Avocado Chicken Power Salad is perfect for lunch or dinner, and offers a hefty dose of much-needed Brussels sprouts, Napa cabbage, kohlrabi, broccoli, carrots and kale along with juicy tomatoes, green onions and creamy avocado. Try with crunchy, nutty and organic certified Minute® Ready to Serve White and Red Quinoa.
Rice Bowl
This Chicken Banh Mi Style Bowl is tossed together with carrots, cucumber and jalapeños and seasoned with fresh cilantro, mint and lime! Perfect when you're craving international flavors and definitely a better alternative to ordering take out. This dish is a fast and easy take on a Vietnamese classic.
Casserole Skillet
This Chicken Tandoori Rice Skillet Casserole is made using carrot, onion, zucchini, tomatoes and green onions. Who said chicken and rice couldn't be turned into a restaurant-style meal at home?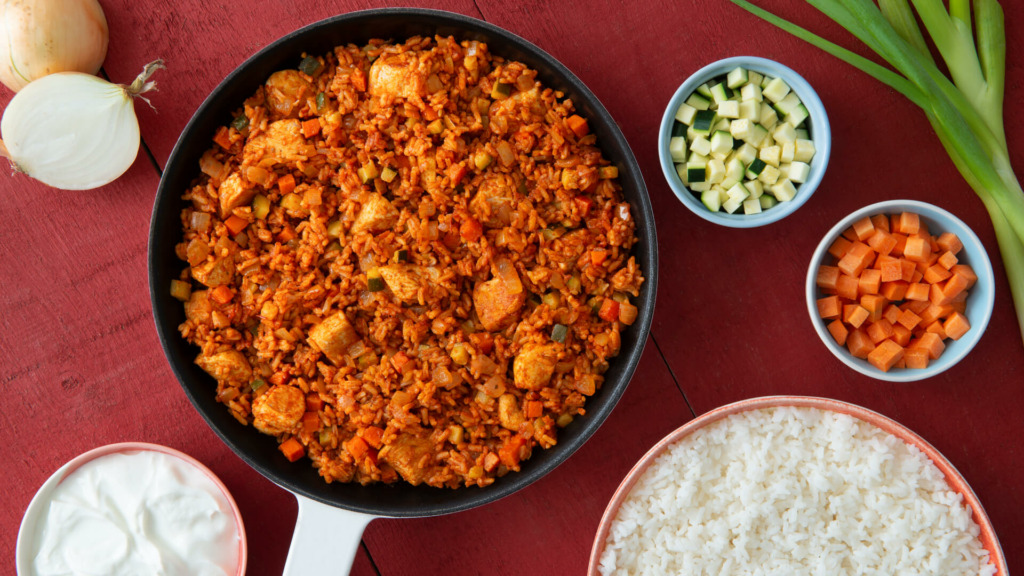 Tip #4 Make a Wrap or Burrito
Need some help getting meals in when you're always on the go? Wrap it up to take with you in a tortilla or flatbread!
That's right, chicken and rice are delicious even as filling. Just wrap them up in your favorite flour or wheat tortillas, wrap again in some plastic wrap or aluminum foil, and they're ready to go. No silverware or table necessary for a tasty chicken and rice burrito.
Make a Mexican rice recipe with this Chicken and Yellow Rice Burrito recipe or make it Greek by tossing this Greek Brown Rice and Veggie bowl with a bit of precooked chicken and tossing it into a flatbread, pita or large tortilla.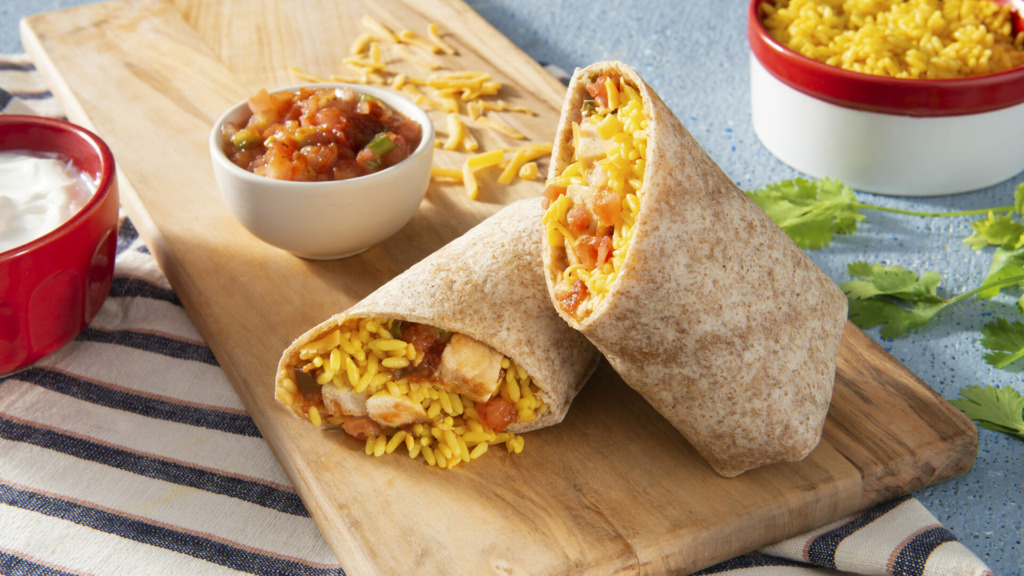 Tip #5 Keep it Classic
When the craving hits for home cooked comfort food dishes, chicken and rice has got you covered there, too.
Sometimes only classic flavors will do and chicken and rice isn't the only delicious duo here. Broccoli and cheese is loved by little ones and adults alike and is an easy way to create flavorful dishes. Try it in this easy Cheesy Chicken and Rice with broccoli all cooked together in a tasty skillet with Cheddar cheese and condensed cream of chicken soup.
It's fiesta time with this Spanish Rice with Chicken skillet using Minute® White Rice, perfect for absorbing all of the delicious flavor of sautéed chicken, onions and bell pepper together with canned tomatoes, broth, frozen peas and garlic powder. A simple take on Spanish paella or arroz con pollo with a few pantry ingredients in 15 minutes.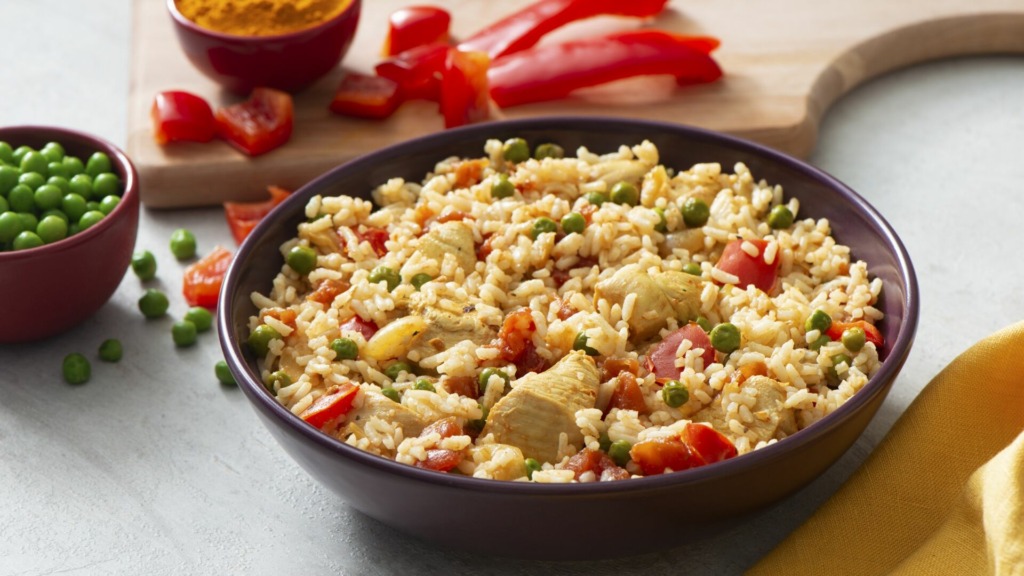 Did you know? You can even make your favorite Chinese takeout dishes at home like Chicken Fried Rice! Break out the frozen chicken and peas and carrots from the freezer for a meal ready in 30 minutes. Only have 5 minutes? Make this Microwave Fried Rice and toss in cooked, shredded chicken, voila!
Whatever your favorite type of meal, whether you love hearty soups, salads, Beans and Rice, or a bit of everything, there are endless ways to enjoy it with chicken and rice. Keep your favorite Minute® Instant and Ready to Serve varieties stocked up and get creative in the kitchen with all of our recipe combinations!