Make your mealtime a bit easier with these recipe ideas that require just 5 ingredients or less! At Minute® Rice, we're redefining "recipe" as a hassle-free meal that doesn't require a long shopping list and can be made by beginners or experts alike in the kitchen.
Stock up on your favorite Minute® Rice variety, a few pantry staples and keep some of these meal ideas in your back pocket for when you need something budget-friendly, quick and best of all — tasty!
Side Note: Before we jump in, things like salt, pepper and a cooking fat such as non-stick spray, butter or oil are not included in the count because we generally all have these at home.
Speedy Breakfast Ideas Start Your Day
Starting the day with a hearty breakfast is an excellent way to stay energized and get going on the right foot, but hearty doesn't have to mean complicated! Check out our top picks made with both sweet and savory ingredients.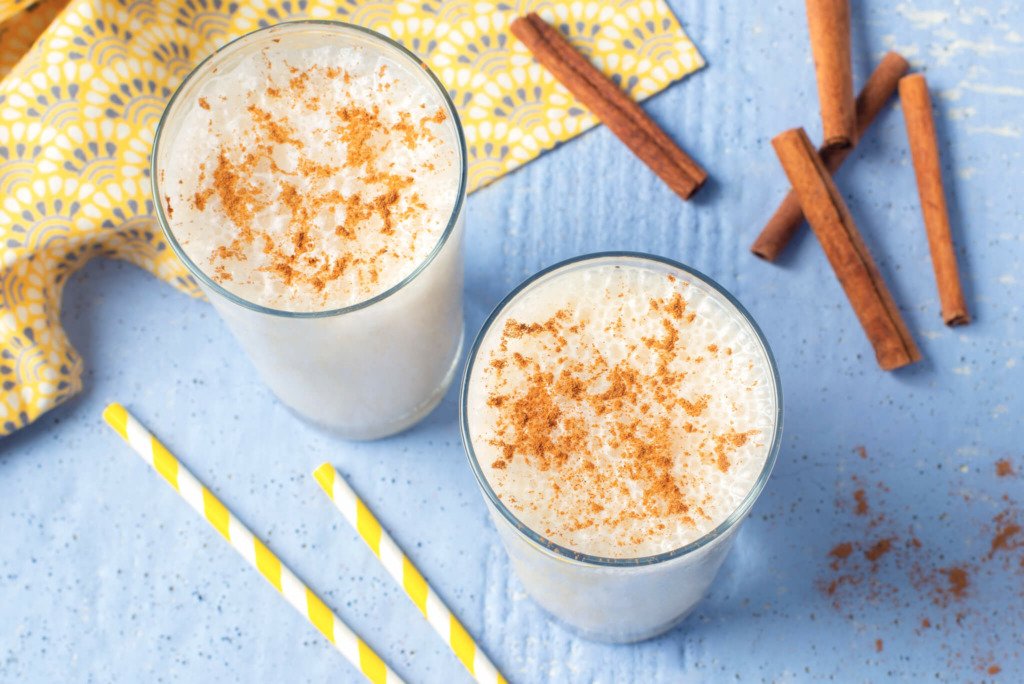 Sweeten Up Your Morning
Made with just four simple ingredients, prep and pack this Breakfast Bowl with Quinoa to enjoy on the go! All you need is one Ready to Serve cup of Minute® Brown Rice and Quinoa, ½ cup of vanilla Greek yogurt, fresh fruit and chopped walnuts! Get creative and use your favorite yogurt variety along with fruit and nuts that you have on hand.
Adding rice to your morning shake is a great way to help you feel full longer and more satisfied. This Rice Banana Horchata Shake is made with Minute® Instant Jasmine Rice, milk, bananas, vanilla ice cream (sub in yogurt if you choose!) and ground cinnamon. You can even use frozen fruit like berries or mango to switch up the flavor and simply leave out the cinnamon if desired. Decorate with a fun straw or cinnamon sticks to have some fun first thing in the morning.
Savory Breakfast Options
Prefer savory over sweet in the morning? These simple and delicious Quinoa and Sausage Breakfast Muffins are perfect for making in advance and grabbing throughout the week as you run out of the door. Made with Minute® Ready to Serve Organic White & Red Quinoa, Cheddar, turkey sausage, milk, and Gluten Free baking mix, these tasty little muffins are just the thing to get you fed and out the door.
Lunchtime
Need something quick on your lunch break? Jot down a few of these ideas to bring with you and mix together or stop by your local grocery store to pick up a few ingredients to toss together!
Recipes for Cheese Lovers
Quick and simple recipes like this four-ingredient Cheesy Ham and Broccoli Rice made with Minute® Ready to Serve White Rice is not only a delicious option but is ready in just a few minutes to heat up in the microwave. And, if ham isn't your favorite protein or you prefer vegetarian meals, recipes like this Cheesy Broccoli Alfredo Rice are perfect for those almost nonexistent lunch breaks.
Seafood in a Flash
This Loaded Rice Bowl has everything you love about the classic restaurant-style bagel layered with smoked salmon, thinly sliced cucumbers, a dash of soy sauce, Ready to Serve Brown Rice and specialty everything bagel seasoning mix!
If you just can't get enough shrimp, this simple Asian Shrimp and Rice Salad is great to prepare ahead with Ready to Serve Cilantro & Lime Jasmine Rice, cooked shrimp, snow peas and carrots with the dressing on the side. When ready to enjoy, drizzle your sesame ginger dressing over the top, toss together and enjoy.
Snack Attack
Whether your sweet tooth is calling or you just need a small something, a quick and easy snack is just the thing. Whip up an easy treat with ingredients you like best!
Love a bit of peanut butter and chocolate? Top this Nutty Buddy Honey Rice with a few chocolate chips and you're ready to go.
Want to enjoy a bit of pie outside of the holiday season? This Pumpkin Pie Rice Pudding is made with a mix of three ingredients including pumpkin pie filling, a vanilla pudding, and Ready to Serve Rice! Try these other versions using your favorite pie flavor like Banana Rice Pudding.
And for chocolate lovers, this Chocolate Coconut Almond Rice Pudding calls for four ingredients and is loaded with creamy goodness!
Chicken and Rice Dinner
Sometimes a long day might leave you feeling too drained to spend a lot of time or effort in the kitchen by the time dinner rolls around. For those days, sticking to classic combos like chicken and rice is an easy, yet satisfying way to enjoy a delicious meal. With just five ingredients and in a few minutes, jot down these recipes and our tips to making delicious chicken and rice meals and treat yourself to flavor-packed ideas:
Quick Pulled Pork
If you just love pulled pork or shredded beef, this simple Pulled Pork and Green Bean Rice Dinner calls for just four simple ingredients!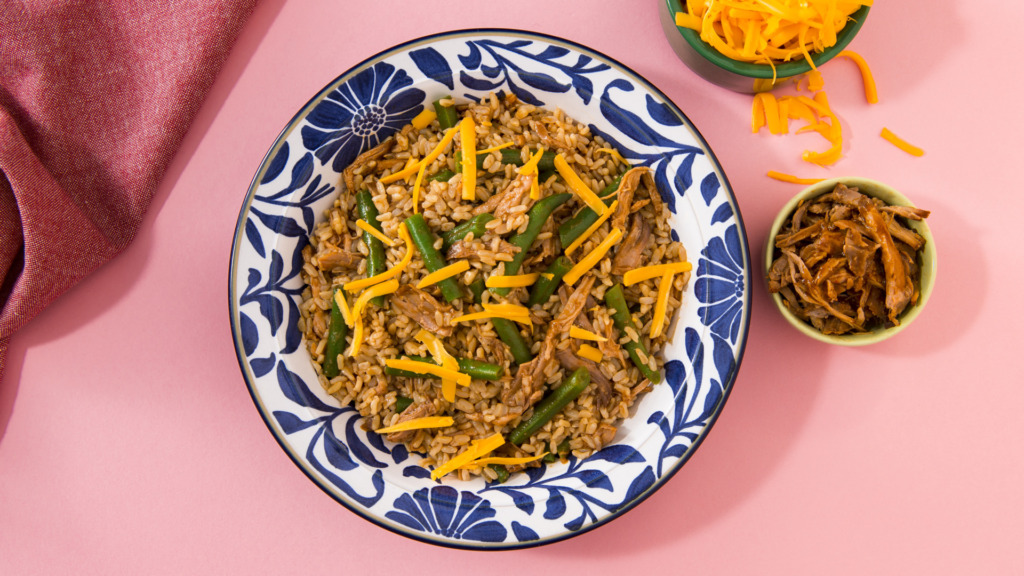 Meat Free Dinner
Eating more vegetable-forward meals can be great and when combined together, ingredients like rice and beans create a complete protein loaded with vegetables for a hearty meal! This flavorful Vegetarian Chili With Rice and Quinoa is made with chili style beans, Minute® Rice & Quinoa, tomatoes, seasoning and melted Cheddar Cheese for the perfect comfort food on a chilly evening. This hearty Southwest Rice Salad made with Minute® Ready to Serve Brown & Wild Rice, fresh cilantro, black beans, tomatoes, and green chiles is ready in just 5 minutes! You might also enjoy a CrockPot Red Beans and Rice recipe with White Rice and just a few of your favorite ingredients added in.
Delicious and satisfying meals don't have to be complicated. Work with what you have on hand and create tasty new meals in just minutes with your favorite Minute® Rice variety or check out our wide variety of delicious and simple recipes for tasty inspiration. Start tonight with our cheesy chicken rice.