Did you know? Fried rice is actually a lot simpler to make at home than you might think! And, it's one of the best dishes to use not only leftover rice but all kinds of leftover ingredients like vegetables, chicken or turkey and those packets or bottles of soy sauce you've got in your fridge.
With all of its different varieties and umami flavors, there is no wonder why this savory dish has a spot in everyone's heart – and kitchen. If you are more of a takeout than a homemade fried rice person, you've been missing out! First, make sure to stock up on your favorite Minute® Rice variety, and second, pay close attention to our cooking tips and recipe variations so you can learn how to make better than takeout fried rice at home!
Cooking Tips
1. Use Day Old, Cold Rice
For best results, use rice that has had enough time to cool down before sautéing along with other ingredients. This will prevent the grains from releasing more water and becoming mushy when stir fried. If you're on the run and making a last minute dish, no problem, use our Ready To Serve Rice without heating in the microwave!
Minute® Ready to Serve products are fully pre-cooked so technically no heating is required. For your next fried rice dish, simply remove film from the cup and empty the content into the wok, skillet or saucepan and sauté along with the other ingredients. Remember to break up any clumps the grains may have formed.
2. Use the Same Pan
Fewer dishes to clean up is also one of the advantages of making fried rice. For a tastier dish, it is best if you cook all the ingredients using the same pan or wok. That way, you can take advantage of every drop of flavor from all the components of your recipe. One-pan recipes save time on both cooking and clean up time.
If your go-to fried rice includes scrambled egg, make sure to pour and scramble right after your veggies are cooked to the desired texture. Or, make it even easier with this one-bowl Microwave Egg Fried Rice, ready in just 10 minutes.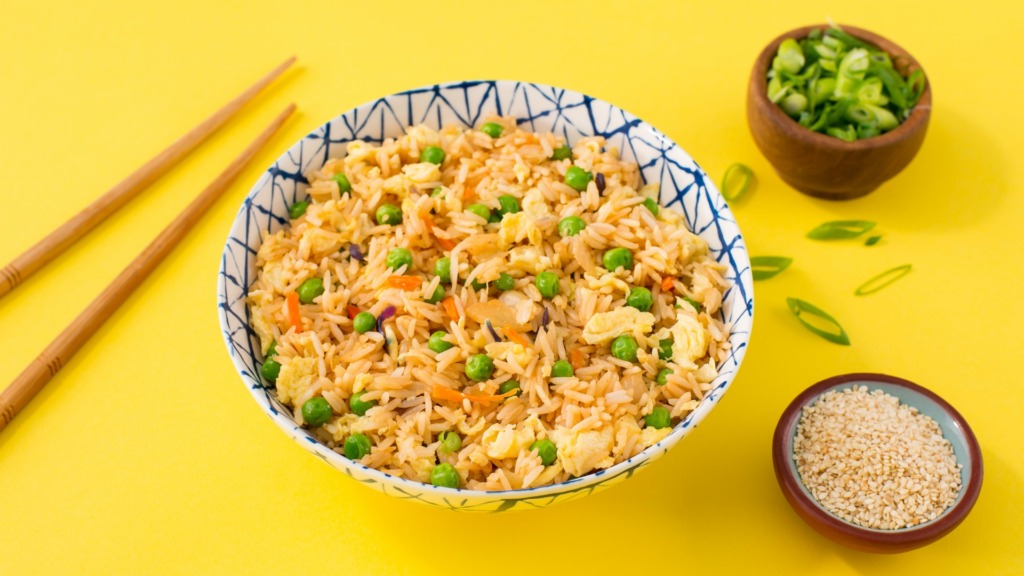 3. Enhance Flavor With Sauces
One of the easiest ways to enhance the flavor of your recipe is to drizzle with sauces, oils and spices. If you want to go all-in the next time you cook fried rice, make sure to sauté your veggies in peanut oil or sesame oil. Don't forget to add some soy sauce for an authentic yet effortless hint of flavor.
If you're eager to take your dish up a notch, using any of these sauces will lighten your fried rice recipe and burst with umami flavors:
Fish sauce
Teriyaki sauce
Oyster sauce
Hoisin sauce
Sriracha sauce
Remember to taste before adding salt or more sauce as these liquids have strong flavors. Or, try to find a low-sodium version if you're looking to cut down on sodium and salt.
4. Cook With Leftover or Frozen Vegetables
Using up leftover vegetables or a convenient bag of frozen vegetables makes for the ultimate short-cut when it comes to cooking without spending a lot of time in the kitchen. In addition to cutting back on waste, they will also take less time to cook as your leftovers roasted, steamed or sautéed vegetables have already been cooked and frozen vegetables are generally blanched before freezing!
Pro Tip: Make sure to thaw and strain before stir frying frozen vegetables as it will help prevent watery or soggy dishes.
Storage Tip: Fried rice can be stored in an air-tight container and refrigerated for about 5 days – making it the perfect recipe for batch cooking and meal prepping for the week. Start off a base of rice and veggies and change protein and sauces to make every meal a little different.
Fried Rice Recipes for Every Palate
Almost every fried rice recipe calls for the same staple ingredients: rice, veggies, soy sauce and a protein. Whatever your preferences, or what your daily schedule looks like, there is a tasty fried rice recipe that will tantalize your taste buds.
We've handpicked our favorite quick and simple fried rice recipes made with Minute® Rice, that require no chef skills! Which will you make first?
Vegetarian Fried Rice
A mix of shredded coleslaw, mushrooms and lightly beaten eggs make this Teriyaki Mushroom Fried Rice recipe a top pick for those that prefer vegetarian alternatives. Try with Minute® Instant Jasmine Rice and enjoy the rice taste and aroma combined with the sweet and tangy flavor of Teriyaki sauce – packed with umami flavors in every bite! Our stuffed eggplant recipe is another vegetarian option in the mix.
Chicken Fried Rice
If you're a fan of classic dishes, this Chicken Fried Rice recipe is just what you need. Only 30 minutes in the kitchen, and with an ingredient list that would out-do any restaurant delivery, this is the ultimate recipe for when the fried rice craving hits. If you're on a time crunch, substitute in Minute® Ready To Serve Jasmine Rice and savor perfectly heated aromatic grains in 60 seconds right out of the microwave. Alternatively, take a look at one of our 15 minute Chicken and Rice recipes. Add this recipe to your list of delicious Chicken and Rice Recipe Ideas for weeknight dinners!
Minute® Tip: This is the kind of recipe that proves how proper seasoning can make or break a dish – next time you're on a grocery run, don't forget to add Chinese 5-spice powder and rice wine vinegar to your cart.
Shrimp Fried Rice
With minimal cooking and loads of flavor, this Shrimp Fried Rice comes together faster than you can say "more, please." Using just the basics and Minute® Instant White Rice, this is one of the most authentic seafood fried rice dishes without all the fuss.
Pro Tip: if you are using frozen shrimp for convenience, cook them until tender while still frozen. This will help prevent over cooked shrimp, leading to juicier results.
Beef Fried Rice
Can you make fried rice with brown rice? Absolutely, yes! With Minute® Brown Rice (or Ready to Serve Brown Rice if you're in a rush), juicy beef sirloin steak and frozen stir-fry vegetables, you can make this Beef Fried Rice packed with all the whole grain goodness and tons of flavor. Add mandarin orange segments for a tropical hint and finish off a dash of Catalina dressing and soy sauce.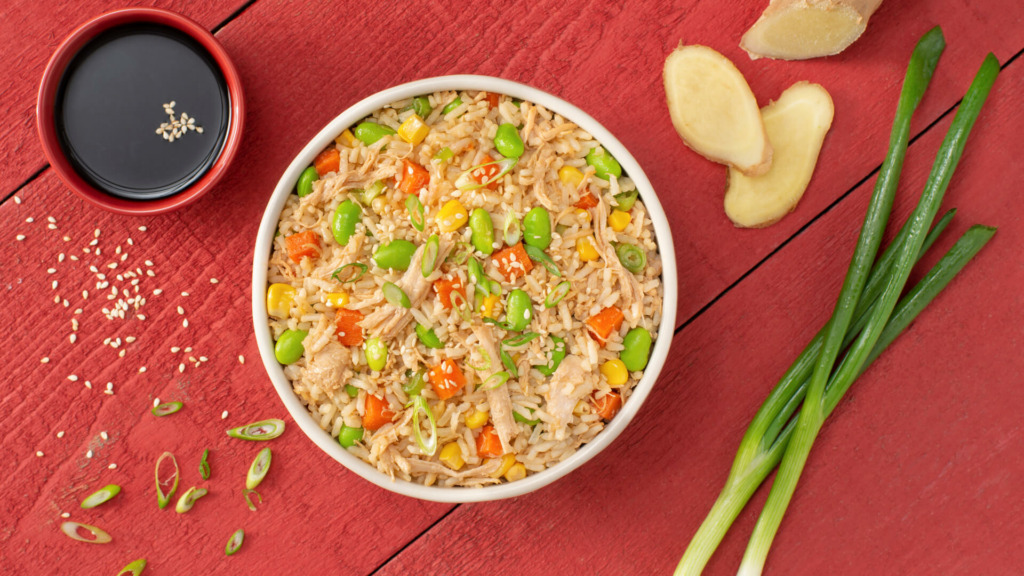 Leftover Fried Rice
Put those leftover vegetables like corn, peas or green beans and protein to good use in this Turkey Fried Rice with Asian-inspired flavors. Add this dish to your list of recipes to Repurpose Thanksgiving Leftovers or you can swap in any leftover chicken, beef or pork.
With all this recipe inspiration and cooking tips, ditch those last-minute delivery orders and start enjoying your very own homemade fried rice! For even more ideas, make sure to explore our fried rice recipe selection and other traditional rice dish ideas like rice and red beans or a dessert Rice Pudding.