We've all been there, too busy for a lunch break, so you end up eating at your office desk, or maybe over the kitchen counter because you just have a minute for yourself at home. In fact, you might know a person or two who eats lunch at their desk every day! The truth is that it's really not great for productivity or creativity.
That's why the initiative began to make your lunch count. Every April 13th is a reminder to use your lunch break wisely to get up, stretch your legs, relax your mind and recharge with something hearty to eat. At Minute® Rice, quality and convenience go hand in hand, so we've put together a load of delicious lunches that are ready to enjoy in under 10 minutes. Pack them ahead of time if you like to meal prep, or prepare them at home or the office in minutes, so you can enjoy your break rather than spending it in the kitchen or waiting in line.
Elements of a Great Lunch
Everyone deserves to enjoy a quality lunch, no matter their skill level in the kitchen. And, part of making your lunch count is using tasty and filling ingredients that will help to keep you fueled and functioning throughout the rest of the day. After all, there is nothing worse than going back to work and feeling sluggish after greasy fast food or crashing after a sugar high.
Here are four essential elements to build better meal options:
Protein: Get the energy you need with lean proteins like canned tuna or salmon, rotisserie chicken, deli meats like turkey breast, or meat free alternatives like quinoa, tofu, beans and tempeh.
Vegetables or Fruits: For those who are fans of vegetables or not so much, make this work for you! Choose those you like or try cooking them in new ways like roasting, steaming, sautéeing or pan frying. Using fresh or dried fruits can help add nutrients and a hint of something sweet.
Hearty Grains: Use any filling grain of choice like white rice, aromatic jasmine rice or maybe even whole grains like brown rice or wild rice. When in a rush use our microwavable Minute® Ready to Serve Rice which comes in perfectly portioned containers and heats up in just 60 or 90 seconds!
Add-ins: Spice things up with a tasty sauce or dressing, crunchy nuts, tortilla chips or French fried onions, shredded cheese, hummus, or anything else you enjoy to take your lunch over the top. Want more options? Start with our savory stir-in ideas for rice meals to find tasty inspiration.
Fun and Quick Lunch Ideas
Make your lunch something to look forward to every day that doesn't have to require much time cooking or fancy ingredients. Enjoy these quick meals ready in under 10 minutes, anywhere but your desk. Stand up, and go outside or sit at the kitchen table if you're eating at home. If you're at the office, join your co-workers and enjoy a real lunch, and maybe even some stimulating conversation.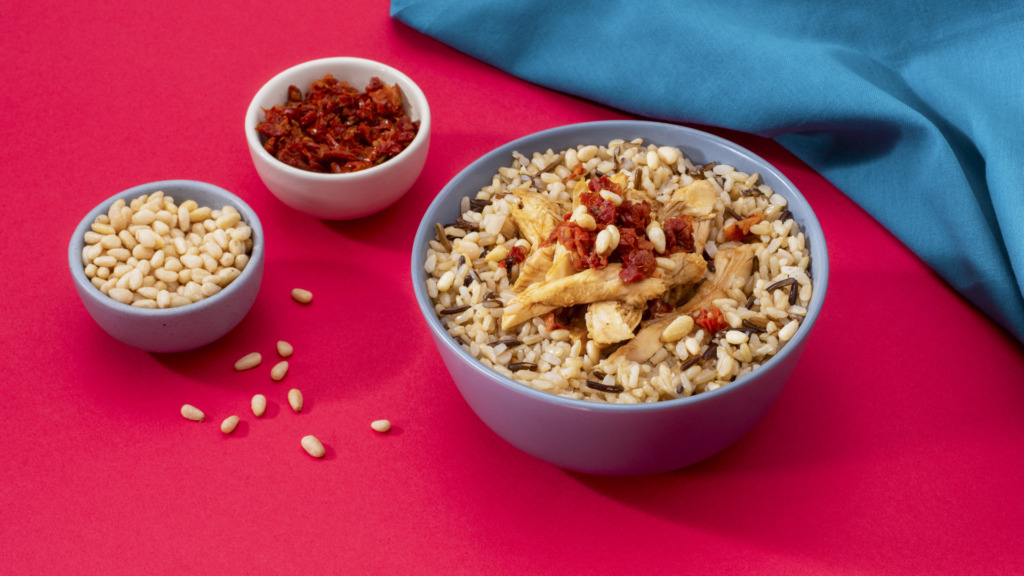 International Inspired
Transport yourself on your lunch break with tasty ingredients that can simply be reheated in the microwave or enjoyed freshly tossed together.
South American: This Chimichurri Tuna Salad uses store-bought herb chimichurri sauce and canned tuna over a base of Minute® Ready to Serve Brown Rice & Quinoa.
Mediterranean: With a few simple ingredients like rotisserie chicken, balsamic vinaigrette, nuts and Minute® Ready to Serve Brown & Wild Rice you can enjoy this Balsamic Chicken and Rice Bowl.
Indian: Try your hand at an Indian-style Tandoori Cauliflower and Rice Bowl with a base of Minute® Ready to Serve Cilantro & Lime Jasmine Rice, Tandoori sauce, cauliflower and fresh cilantro.
Middle Eastern: Make your own quick street food inspired meal with this delicious Shawarma Chicken and Rice Pita!
Spice Up Your Lunchtime
If you're one of the many who enjoys a lunch that can truly pack a punch, try out these flavorful and spicy options.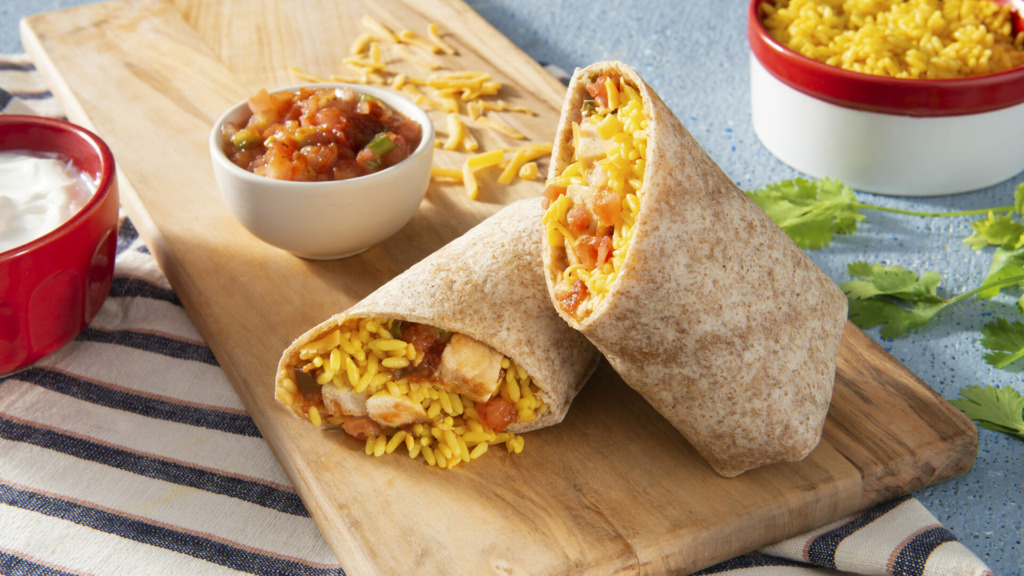 Forget the fast food burrito, make your own amazing meal like a 5 minute burrito. This Sriracha Salmon, Basmati Rice and Guacamole Burrito is tossed together with simple and spicy ingredients like sriracha sauce for a perfect meal for one. These Chicken and Yellow Rice Burritos can be adjusted to your favorite heat level by using a spicier salsa with hot sauce if desired! Cut the ingredient amounts in half for a meal for one, or save for two meals throughout the week.
You can also skip the tortilla and try this Spicy Chipotle Tuna on Rice  using a quick and creamy sauce blend of chipotles in adobo and a dollop of mayo!  This chicken cheesy rice recipe is also quick and easy.
Go Meatless
We've even got some ideas for those of you who eat vegetarian, vegan or are looking for a Meatless Monday Meal option!
This California Grain Bowl is loaded with whole grains like Minute® Ready to Serve Brown Rice & Quinoa and protein like chickpeas. Or try a Brown and Wild Rice Bowl with a tasty veggie burger and toppings like cheese, tomatoes, lettuce and ranch dressing! For something with a bit more Southern flair, try a Cajun Red Beans and Rice recipe. You'll be wanting to eat meatless more often with options like these.
Creamy and Cheesy
For those days when you just need something gooey and cheesy, you can still eat a quality and quick meal! Try this forever-classic "Mac" and Cheese in a Cup made with our Minute® Ready to Serve Jasmine Rice, shredded Cheddar, milk, cream cheese and garlic powder!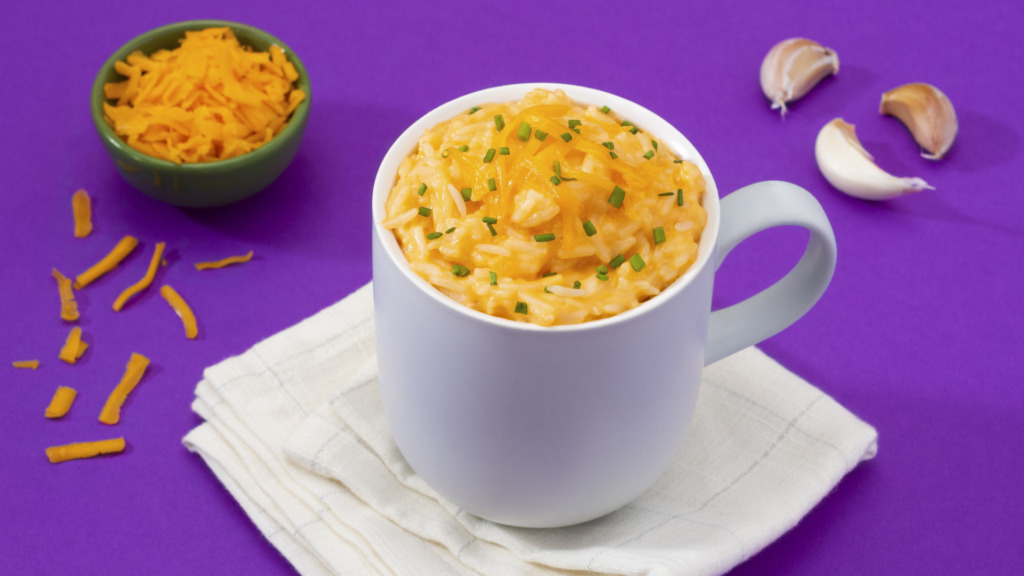 Looking for something a bit more restaurant-style? Try this Italian-inspired Cacio e Pepe Rice with Chicken using Parmesan cheese, black pepper and shredded chicken.
Sandwich-inspired
For those who just can't resist a classic sandwich at lunch, we've put together a few hearty meal ideas that are based on sandwiches!
Everything bagel anyone? This Loaded Smoked Salmon Rice Bowl is made using store-bought or homemade everything bagel seasoning mix, salmon, cucumbers, a bit of soy sauce and brown rice.
No more waiting in line at the deli when you can enjoy this Monte Cristo Rice Bowl made with lunch meat, Swiss cheese, arugula and Minute® Ready to Serve Brown Rice and Quinoa all drizzled in a dijonnaise sauce!
With a little help from Minute® Rice, it can be simple to stop and take a moment to enjoy a lunch that will not only keep you going but feeling full and ready to take on the day ahead! Start with a base of rice or quinoa and you've already got a quick cooking and filling base to get creative or top with your favorites for a meal to make your lunch count.