When life gets hectic, sometimes eating a quality meal is the last thing on your to do list, and it can be especially difficult if you're living a vegetarian lifestyle or like to eat meatless meals now and again. But, there's hope with Minute® Rice and grains.
We'll show you how to eat great meals using simple ingredient combinations in 5 minutes or less that are completely meat-free!
Choose a Grain Base
If you're looking to make quick and filling meals, we suggest you start with a base of grains.
With the neutral flavor of rice, it's the perfect way to give any dish that hearty touch to keep you feeling satisfied for longer. And, using Minute® Ready to Serve Cups, which heat up in just 60-90 seconds, your meal options are endless with on-the-go convenience anywhere, anytime.
Brown & Wild Rice Bowl with Veggie Burger
Each BPA-free and recyclable cup contains real, cooked rice, so all you need to do is reheat in the microwave if you choose, or enjoy it right out of the cup!
Add in Veggies and Protein
Once you've chosen your Ready to Serve Rice Cup variety whether it be classic White Rice, organic whole grain Brown Rice or a combination of seasoned Cilantro, Lime and Jasmine Rice, you're ready to add in your other ingredients.
Start with some of our recipe ideas here and then get creative in the kitchen and use our No Recipe Recipe formula to combine your favorite ingredients and create simple meals tailored to what you like best.
Vegetables
Vegetarian meals are perfect for incorporating more veggies into your diet and increasing your intake of foods that help keep you fueled for the rest of the day.
If you're trying to find tastier ways to enjoy vegetables without a laborious recipe, this 3 minute Super Crunch Salad is exactly what you need.  Our stuffed eggplant recipe could not be easier to make.

Choose your favorite store-bought variety of hearty vegetables or stop by your local grocery store salad bar and hand pick your favorite combo. Toss that with Minute® Ready to Serve Multi-Grain Medley, a few nuts or dried fruit and drizzle over a premade vinaigrette and you're done. Simple, right?
Protein
Want to add more protein into your meals? There are plenty of alternative plant-based ingredients or other forms of protein that don't have to come from animal products. These are some of our suggestions:
Chickpeas
Adding in chickpeas, also called garbanzo beans, is another great alternative protein for your meals. They are also a great way to give your dish an international touch like in this Greek Brown Rice and Veggie Bowl.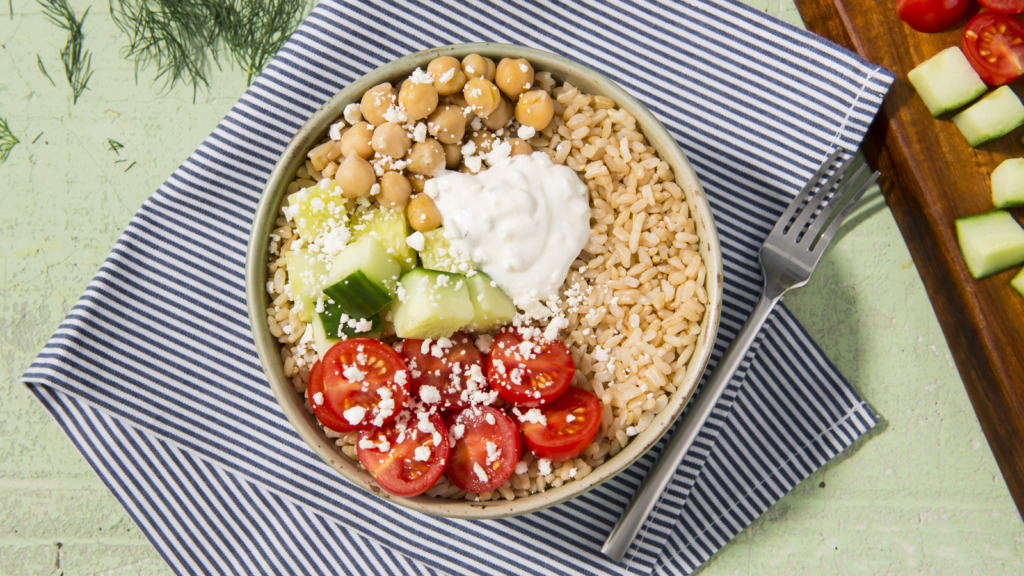 Keep a can or jar of chickpeas on your shelf to toss with a few vegetables, a Ready to Serve Rice Brown Rice cup, and store-bought tzatziki sauce for a meal in just 5 minutes!
Multi-Grain Mixes with Quinoa
Did you know? Quinoa is a great source of protein and fiber for your meals and when combined with brown rice in our Minute® Ready to Serve Brown Rice & Quinoa, it's a powerhouse of nutty flavors and whole grains that heat up perfectly in seconds saving you time and energy.
Start the day off on the right food with a Breakfast Cup with Quinoa you can make in just 3 minutes with 4 ingredients to take on the go!
Pinto Beans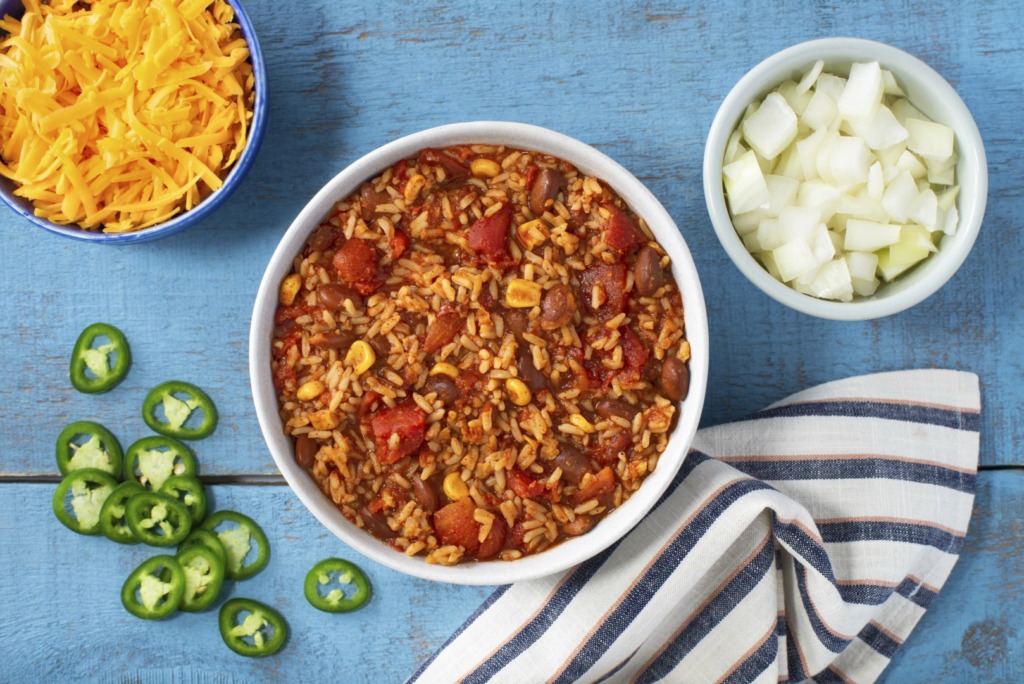 Pinto beans are commonly found on the shelf of almost every supermarket and they are perfect for adding into a wide variety of cuisines. In fact, we wanted to make it easier for you so we've created a plant-based protein blend of Southwest Pinto Beans and White Rice all ready to toss into a quick meal like this comforting Vegetarian Chili made in just 5 minutes.
To make your recipe a bit more convenient, we suggest using canned beans like in this recipe for Crockpot Red Beans and Rice. Although it requires a bit more time and uses red kidney beans, it uses a Crockpot to set and forget while you finish other tasks!
Nuts
Nuts and seeds are more than a simple snack food or adornment, these little bites are considered to be an energy-dense and nutrient-rich food source perfect for adding into all kinds of meals.
And, there are a wide variety available such as walnuts, slivered almonds, peanuts, pecans, hazelnuts, and even cashews, which are often paired with Asian-style meals like this Zucchini Noodle Rice Bowl.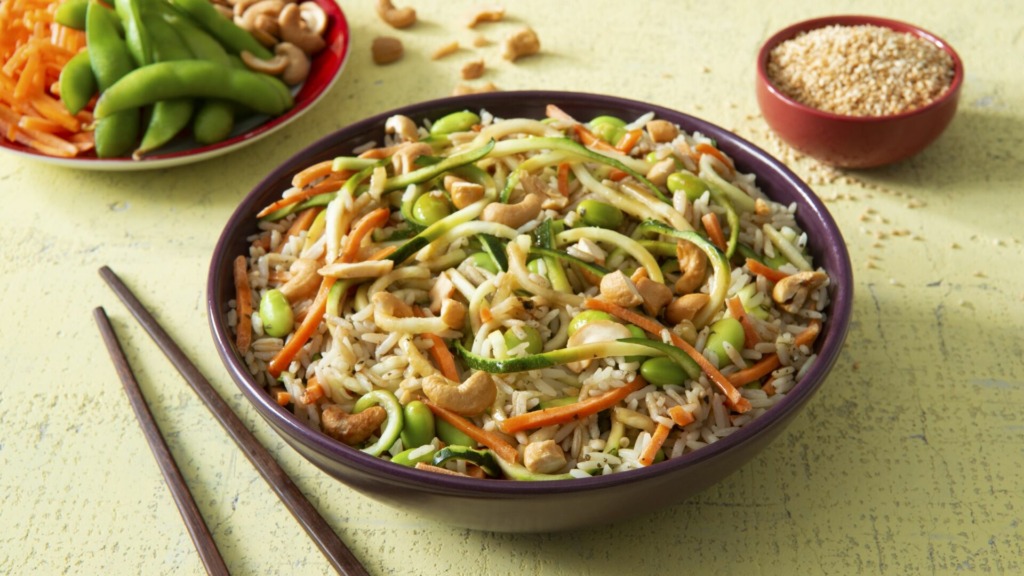 To make this recipe, toss 1 tbsp of cashews in with veggies, Minute® Ready to Serve Cilantro & Lime Jasmine Rice and your favorite Asian dressing – ideal for a tasty lunch at the office or a quick dinner at home.
Eggs
Many vegetarian diets also include eggs as they are a budget-friendly way to add lots of flavor, nutrients and high-quality protein to meals.
This quick and easy Microwave Fried Rice bowl is made with Minute® Ready to Serve Garlic & Olive Oil Jasmine Rice,1 egg, frozen peas and carrots and sauce for a microwave ready meal in 5 minutes – no stove required. Another great egg dish you can prepare if you have another 3 minutes to spare is this Fried Rice With Egg recipe.
Tofu
Tofu is a product of soy milk that comes in different varieties and textures. If you've never tried tofu before, you should try it now and we'll tell you why: it's high in protein, and many other nutrients as well as low in fat.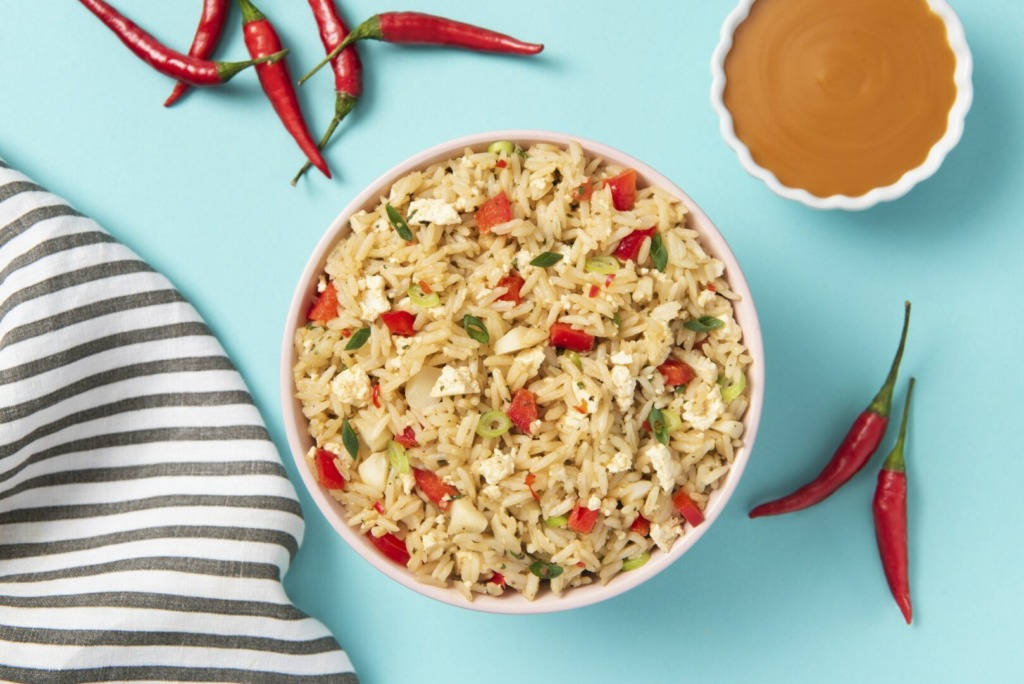 Need some help on how to eat it? No problem, Asian-inspired recipes like this quick Thai Tofu and Rice Salad are perfect for an introductory dish as the sauce helps to give the tofu added flavor! It's simple to make and packs everything you need into one delicious meal.
Veggie Burger
A simple protein source, a veggie burger is often made with a blend of hearty legumes, vegetables and spices which is perfect to pair with tasty vegetables, sauces and can be frozen or stored in the fridge for quick meals throughout the week.
Try out your favorite veggie burger in this Brown and Wild Rice Bowl ready in just 5 minutes!
So now that you've got a whole list of tasty meal options, which Ready to Serve variety will you choose first to make a delicious and hearty vegetarian meal? At Minute® Rice, we are on a mission to make meals simple, so you spend less time cooking and more time enjoying! For example, check out this 15 minute Chicken and Rice recipe.