Rice and grain bowls are not just convenient, they're also fun, flexible and flavorful! Not to mention, using Minute® Rice and Quinoa products, they can be incredibly easy to make for a weeknight dinner, simple lunch or even a filling morning meal in a bowl.
When it comes to what ingredients you can add in, the combination possibilities are endless, no matter what time of year it is. On account of their versatility, rice bowls can be both comforting and refreshing, depending on what ingredients you use. But, as the temperatures rise in spring and summer, we're going to take a deeper look into how to make your rice bowls fresher with delicious seasonal produce and our quick-cooking grains, so you can add it to your list of cold meal ideas to beat the heat!
You don't have to be a chef to start using your instincts in the kitchen. We've put together a helpful formula for anyone to create their own rice or grain bowl in five simple steps. Get ready to make your meal fast, so you can slow down and enjoy quality time with friends, family or much needed time alone.
Simple Formula For a Quality Grain Bowl
Not unlike our No Recipe Recipe Formula, there are few steps to creating your own grain bowl using what you have on hand or any leftovers, or by taking a quick trip to your grocery store salad bar.
1. Start with a Grain Base
Give your bowl a hearty touch with a filling grain base using rice or quinoa. With Ready to Serve Rice you can make as much or as little as you prefer. Each cup comes perfectly portioned for one, however, you can simply heat up more than one cup to make multiple bowls.
If you're planning on making a family meal or a bowl to share, use our Instant Rice Varieties which can be cooked in any quantity over the stove in just 5-10 minutes.
See just how simple it is with this Rice and Quinoa Bowl made using microwavable Minute® Ready to Serve Brown Rice & Quinoa, glazed carrots, chickpeas, spinach and a bit of yogurt.
Tip To Keep the Oven Off: When the weather gets warmer and the last thing you want to do is cook in the kitchen, we suggest using our microwavable rice or preparing a large batch of our Instant Rice to use throughout the week! That way you can simply toss everything together without having to turn on the oven or stove.
2. Incorporate Vegetables or Fruits
Making your rice bowl fresher means you'll need to use summer fruits and vegetables. If you're not sure what those are, we'll give you a brief breakdown of produce that has its peak season in the summer months. These options tend to be more water-rich to help you stay hydrated when the temperatures rise.
Vegetables: cucumbers, tomatoes, peppers, summer squash, sorrels, zucchini, okra, eggplant, shallots, corn, green beans, golden beets and more.
Fruits: melon, watermelon, mango, pineapple, grapes, plums, strawberries, raspberries, blueberries, black berries, cantaloupe and more.
TIP: For a more appetizing bowl, choose different vegetables with varying colors to make your bowl more exciting. Use what you have available to you locally or at your grocery store even if it's not on these lists!
Using cherry tomatoes and cucumber, put this Greek Brown Rice and Veggie Bowl together with a filling base of Minute® Ready to Serve Brown Rice. Make sure to include canned chickpeas topped with feta cheese and store-bought tzatziki sauce for extra delicious flavor.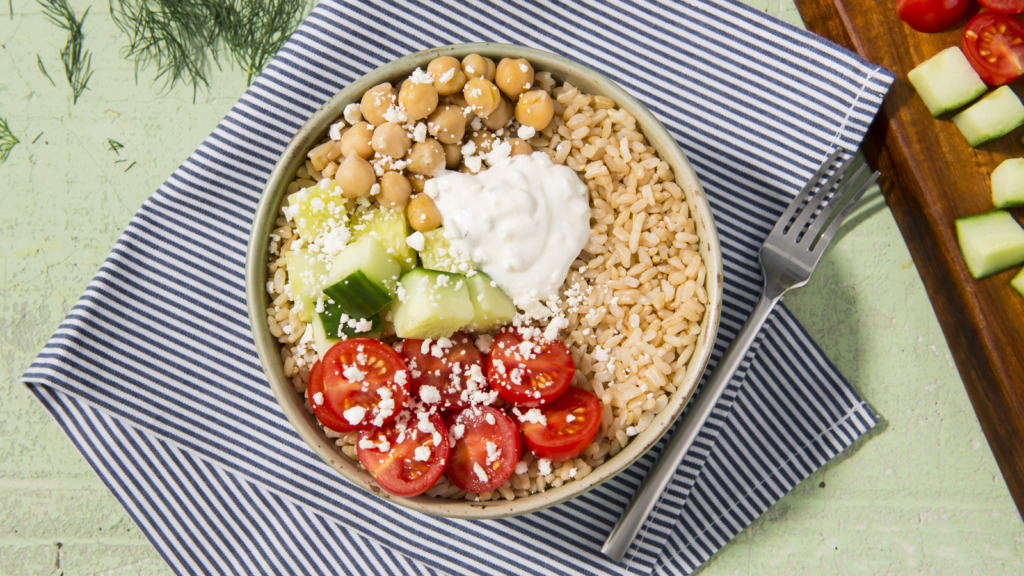 Using yellow squash or zucchini, prepare this simple Summer Squash Rice Bowl in the microwave with cherry tomatoes and Parmesan cheese.
Sweet fruit can also be used in savory recipes to offer a refreshing touch like in this Mango Basil Chicken and Brown Rice Salad. Serve in a large bowl with a base of Minute® Brown Rice.
3. Beef Up Your Bowl with Protein
To make a bowl more well-rounded and filling, you'll need protein on top of your grain base and vegetables/fruits. We suggest using meat, chicken or fish such as ground beef/turkey/pork, canned tuna/salmon, rotisserie chicken or deli meat. If you want to make it a vegetarian bowl use meat-free options like beans, quinoa, sliced veggie burgers, tofu or tempeh.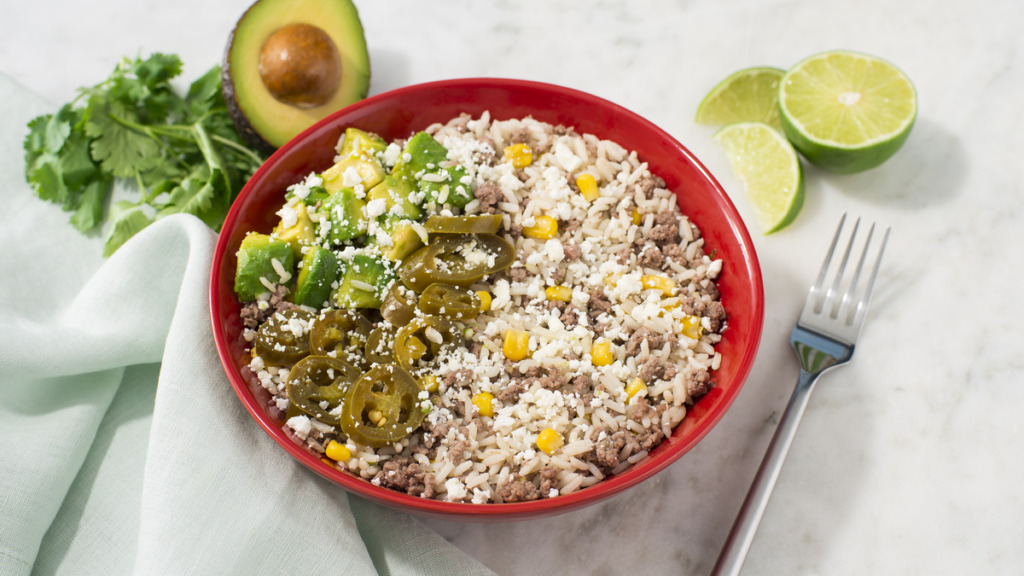 Ground Beef: Make this Mexican Corn and Beef Rice Bowl by cooking the ground beef in the microwave or heating up a sliced precooked hamburger patty.
Chicken: Balsamic Chicken and Rice Bowl using cooked rotisserie chicken.
Plant-Based: California Grain Bowl using chickpeas and a blend of Minute® Ready to Serve Brown Rice & Quinoa.
Fresh Tip: While you can use any protein variety of choice, in the summer months, some may suggest using leaner meats such as fish, chicken, turkey or vegetarian alternatives to feel less heavy afterward.
4. Extra Add ins
Now comes the fun part of adding in all kinds of tasty additions like walnuts, cashews, peanuts, slivered almonds, crumbled seedy crackers, seeds, crushed tortilla chips, herbs, microgreens, avocado, olives and so much more.
If you're unsure of what to add in, try to find contrasting textures. That means if you use soft beans (like in this New Orleans red beans and rice recipe) or cheeses, toss over a crunchy seed, vegetable or crushed chip topping. Likewise, if you are using an Italian or Greek dressing, you could use olives or some common herbs like oregano, basil or thyme. Try using Italian seasoning in this Garlic Parmesan Rice Bowl, made with a base of Minute® Ready to Serve Garlic and Olive Oil Rice.
Toppings can include flavorful options such as hummus, tahini, or fermented kimchi to make dishes like a Quick Korean Bibimbap Bowl using a stir-fried base of Minute® Instant Jasmine Rice. Yogurt is great for sweater bowls like this Maple Walnut Rice Breakfast Bowl using a base of Minute® Jasmine Rice using maple syrup, dried fruit, walnuts, Greek yogurt and more.
5. Sauce
Finish your bowl off by drizzling with a delicious store-bought or homemade dressing to tie the flavors together. A few favorites include: chimichurri, hummus, spicy sriracha, Italian dressing, vinaigrette, ranch, green goddess, pesto, mild/spicy salsa or an Asian-style dressing.
You can even combine sauces like store-bought pesto and Italian dressing in this Tuna and Bean Pesto Rice Bowl. Or, you can use those extra sauce packets or last bit of dressing you've got in your fridge to add to your rice bowl like in this Spicy Chipotle Tuna on Rice. Mix mayo with chipotles in adobo, sriracha or hot sauce to make a creamy dressing to dollop on top.
When you need a delicious and quick meal, let Minute® Rice help you make a quality meal fast so you can spend more time with family and friends or just get back to your to-do list. Start tonight with this: cheesy chicken rice.