Few pantry staples are as universal as rice, yet eggs may match the grains in terms of popularity. That's no surprise when you consider that both are versatile, budget-friendly, and – above all – delicious! From taking center stage to playing supporting roles in recipes, these ingredients have infinite possibilities.
When we say versatile we mean that both eggs and rice can be served for breakfast, lunch, or dinner. Rice and eggs are both tasty on their own, but a complete dish is greater than the sum of its parts. Preparing a filling meal doesn't have to fill your schedule!
With help from Minute® Rice, complete meals are more convenient than ever! Even if all you have is a microwave available, it's no problem! You'll surely find plenty of egg and rice dishes that can be tailored to your lifestyle! In fact, we'll show you just how quick and easy it is to make satisfying meals with this craveable combo.
Make Eggs in the Microwave
You don't have to miss out on satisfying meals just because you don't have a stove or simply don't feel like breaking out and cleaning a frying pan.
Savory Fried Eggs
Frying an egg in the microwave is a breeze! Sprinkle a pinch of salt onto a lightly greased microwave-safe bowl. Crack an egg, piercing both yolk and white with a fork to prevent the egg from exploding. Cover the dish with plastic wrap almost completely, allowing venting. Microwave on HIGH for 30-45 seconds.
Take your taste buds on a tour around the world by combining fried eggs with international flavors. Our savory Kimchi Fried Rice packs plenty of those irresistible Korean flavors – tangy kimchi, zesty citrus, and nutty sesame – in one bowl!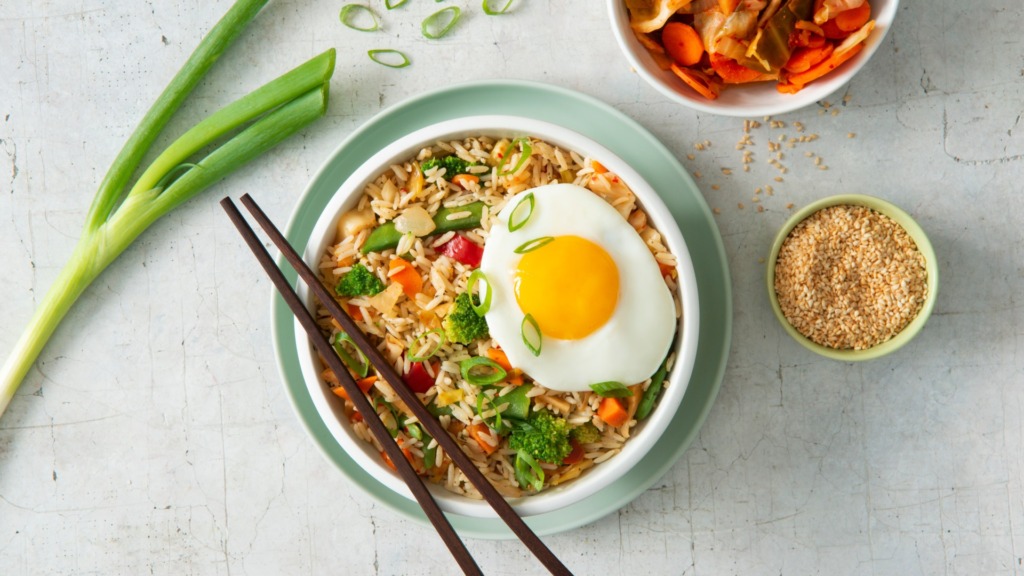 Next stop: the Mediterranean! This Pesto Egg Rice treat takes the TikTok treat to a new level of convenience – we show you how to make this internet sensation in the microwave!
Hearty Frittatas and Omelets
Why not mix things up? Stir together an array of your favorite omelet ingredients and pour mixture into a greased shallow, microwave-safe dish. Cook for 2-3 minutes until the center is set. Voila! A picture perfect meal in mere minutes!
This Easy Cheesy Rice Omelet looks and tastes just as tasty as the entrees at your favorite brunch restaurant! For a fluffier frittata, simply remove the yolks. This Egg White and Rice Frittata is light yet satisfying!
Scrambled Eggs and Rice
Scrambled eggs are both easy and versatile! Beat eggs before pouring into a microwave-safe bowl. Cover with plastic wrap but poke a few vent holes. Microwave on MEDIUM-HIGH for a minute or minute and a half. Take puffed eggs and, using a fork, shred into bite-size pieces.
Creamy Tip: For extra creamy eggs, add a dollop of sour cream while beating eggs.
So, start the day right with some huevos rancheros by adding in your favorite salsa with Minute® Ready to Heat Rice and scrambled eggs. Or, keep it classic with a microwavable Breakfast Scramble.
See how simple it is to prepare in recipe video.
Or wind down with a delicious egg and rice dinner. You can prepare a take out favorite in less time than it takes to order from your local restaurant! Our savory Singapore Rice folds in scrambled eggs with a few other tasty pantry staples to give you an extra boost of protein.
Egg and Rice Stovetop Sensations
While it's true that eggs can easily be made in the microwave, using a stovetop lets you control exactly how they're cooked. Whether you love the gooey yolks of over-easy or prefer the crispy edges around hard-cooked eggs, you can customize eggs to your liking!
Skillet Specialties 
With just one bite, you'll see why the Hawaiian Loco Moco is an island favorite! It's a quick and easy meal that calls for only 4 ingredients – fluffy White Rice, a juicy burger patty, a crispy fried egg and savory gravy!
Experiment with fried eggs on your favorite burgers, casseroles, or rice bowls! Today seems like the perfect day to try this perfectly seasoned Asian Fried Egg served over Ready to Serve Jasmine Rice. It's a simple yet satisfying meal consisting of only 5 ingredients!
Hard and Soft Boiled Eggs Ahead of Time
Simplify mealtime even more by using some of our favorite kitchen hacks. Boiled eggs are perfectly portioned proteins for grab-and-go breakfasts or rice bowl toppings. They also make great snacks as they can also be tossed right into a lunch bag.
Meal Prep Tip: Prepare a few hard or soft boiled eggs over the weekend to have for meals during the week. Store a batch in the fridge – just make sure to mark which eggs are cooked and which ones aren't!
The Difference Between Soft-Boiled and Hard-Boiled Eggs
Ready in as little as 3 minutes, soft-boiled eggs add a burst of flavor – not to mention a couple different textures – to a dish. The soft whites and sauce-like yolk takes Shoyu Rice to the next level. You could make a couple extra eggs while you're at it as they can be stored in the fridge for 2 days.
For firmer whites and crumbly yolks, cook eggs for about 7-8 minutes. Since hard-boiled eggs can be stored in the fridge for up to a week, they are excellent for meal prep! Get some extra protein by topping your favorite salad with a chopped up hard boiled egg. Or, swap out the fried egg for a prepped and ready to go hard boiled egg in this Bacon and Egg Rice Salad.
Egg and Rice Meals to Share
If you're hosting a get-together, there's no need to stress out about the menu! Why not whip up an easy egg and rice dish when hosting a brunch with family and friends? Cost effective and convenient, this perfect pairing is sure to please everyone around the table!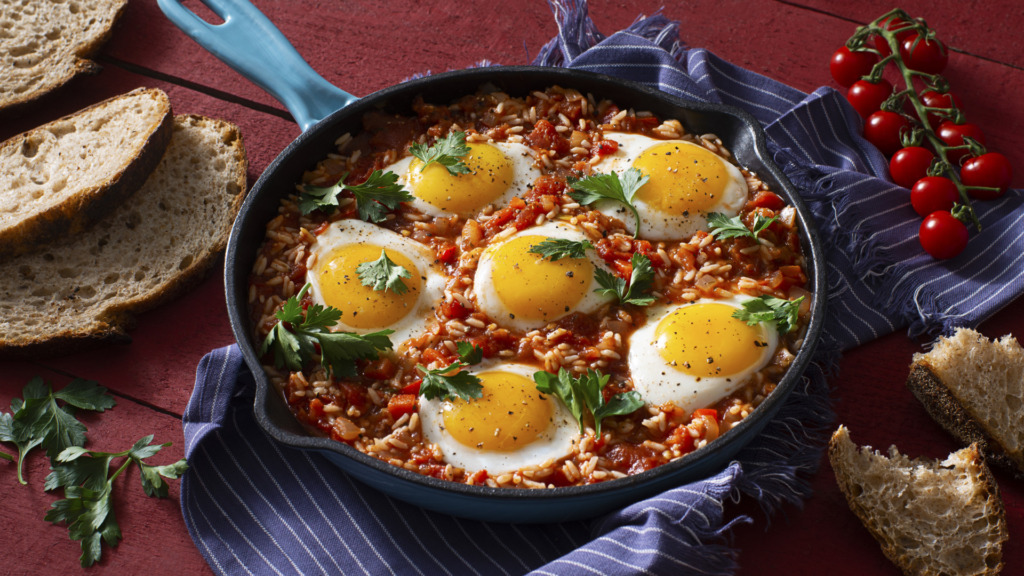 Oven-Baked Eggs
You won't regret investing in a good cast-iron skillet – not only do these pans ensure even cooking and temperature regulation, they also can be used on both the stovetop and oven. Grab a skillet to prepare a perfectly-seasoned One Pot Rice Shakshuka. Cook bigger portions of tasty frittata: packed with hearty whole grains, a slice of our Rice Frittata with Bacon and Edamame is both fluffy and filling!
Whether you're making a quick meal for yourself or a feast for family and friends, eggs and rice are a winning combination! And thanks to Minute® Rice, preparing plates with this perfect pairing takes as little as 5 minutes! We help you make meals fast, so you can slow down. If you are looking for a delicious vegetarian option this recipe is a must try: recipes for eggplant parmesan.