Both Cajun and Creole meals show us the diversity of the dishes that can be prepared using a few essential kitchen ingredients. Luckily, as long as you keep your spice rack full and your panty stocked, flavorful meals are well within reach – literally!
Best of all, you can have meals ready in no time thanks to Minute® Rice! For those with full schedules, it's essential to have fast and easy meal options. Whether you're hosting a Mardi Gras party or simply want a festive feast for 1, let us show you how easy Cajun and Creole dishes can be!
Are Cajun and Creole the Same?
Though both cuisines have complex flavor profiles, the simple answer is that Cajun and Creole are not the same. Despite using different cooking methods, they both include similar ingredients and are both integral components of the southern comfort food we all know as the beloved Louisiana cuisine.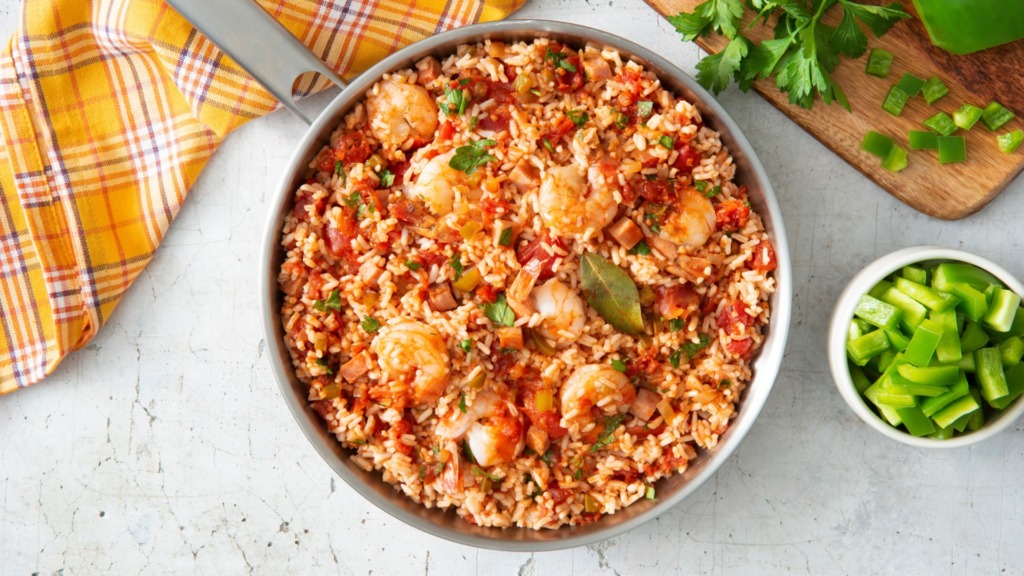 Similarities Between Cajun and Creole Cooking
Both cuisines feature dishes with loads of incredible tastes. Not only do you need to start a dish with a delicious base, you'll also need grains to soak up every drop of that flavor! It's no wonder that so many southern classics include rice.
Vegetables (Holy Trinity of Southern Cooking)
A delicious meal needs a good foundation, which is why Louisiana plates typically start with a sautéed mixture of chopped green peppers, onions and celery known as the Holy Trinity. Slowly simmering finely chopped vegetables is an ideal savory base for countless meals. Try it for yourself in this Kickin' Jambalaya.
Rice
Both of these cuisines use lots of rice in their dishes. Though it's a popular ingredient across the board in Southern cuisine, there are various ways to prepare and serve rice.
Gumbo is a prime example of a Louisiana favorite that has found its way on both lists. As Cajun gumbo is served over a bed of rice, it's considered a stew. You may want to make an extra serving or two of Louisiana Gumbo.
In contrast, Creole rice is added to a base of broth, spices, and vegetables, absorbing all those flavors while it cooks. Give fluffy Instant White Rice a flavor boost in just 5 minutes!
Minute® Rice is not only flavorful, It's foolproof!
Creole
Tomato
Enhance the Holy Trinity with canned or fresh tomatoes! The tomatoes and juice help to infuse flavor into Minute® Instant White Rice for all kinds of rice dishes.
Tip: You can even use that extra can of tomato sauce on your shelf if you don't have tomatoes on hand.
Herbs
Creole dishes are typically herb-heavy, containing oregano, thyme, rosemary, and paprika. With the addition of parsley and bay leaves. Stock up on these spices so you're ready to add them to dishes like this simple Shrimp Jambalaya.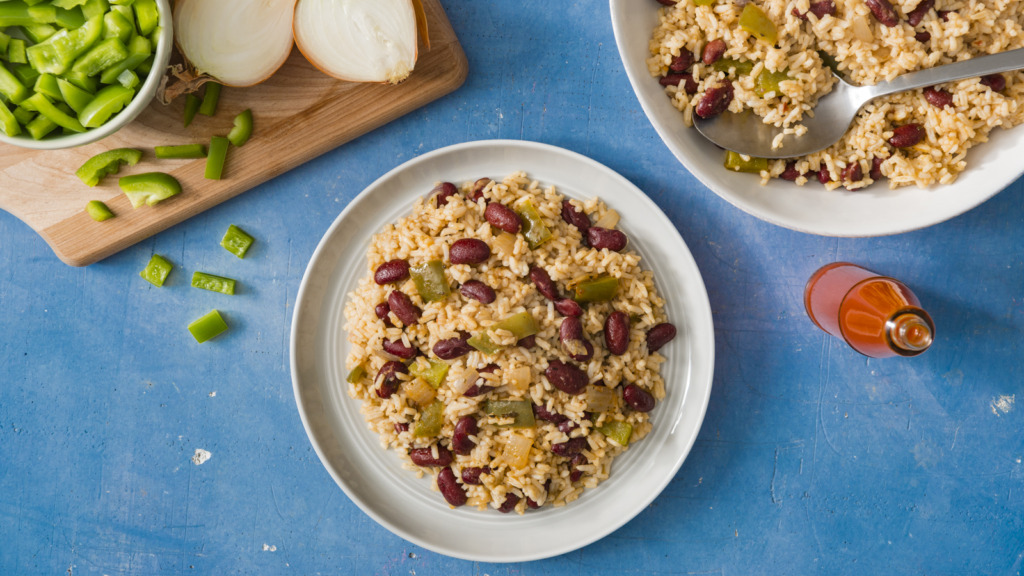 Beans and Rice
Another Louisiana Creole favorite, red beans and rice, repurposes Sunday supper leftovers. Ideal for soaking up flavor without falling apart, red beans traditionally slow-simmer with any leftover bones for hours, filling the house with tempting aromas – a promise that a satisfying meal is in the works. However, to make a quick version, this Tasty Beans and Rice recipe uses canned red beans, Cajun seasoning and Instant White Rice.
Cajun
Cajun Seasoning
Cajun dishes can be quite spicy, so If you want to turn up the heat in any of your recipes, sprinkle in Cajun seasoning! With cayenne pepper and red pepper flakes, your dishes will have that kick you're craving. What's more typical of Louisiana cuisine than a good old fashioned Cajun Shrimp Boil? Our quick version takes this beloved tradition and turns it into a 15 minute meal to share.  Looking for a vegetarian option? Try our: eggplant parmesan recipes.
There's no better excuse to try your hand at Cajun or Creole cuisine,– or both – than during Carnival. Use these ingredients to create your own festive weeknight Mardi Gras meal or share with friends and family with the help of Minute® Rice!