When the seafood craving strikes, there's no need to go out to eat. After all, it's easier than you may think to prepare meals with fish that taste just as good as they look. Don't take our word for it; see for yourself.
We'll show you the ins-and-outs of both preparing your favorite fish and selecting just the right shellfish to make incredibly simple yet flavorful dishes with Minute® Rice. Cook flavor right into Instant Rice in just 5 minutes and top with your other ingredients, or mix your favorites right into microwaveable Ready to Serve Rice. Either way, you're just minutes away from a fluffy grain base that will complement the popular seafood items you love. Let's start with the basics:
Selecting Seafood: Safety and Shelf Life
Before we delve into delicious dishes and recipe ideas, let's explore some of the most convenient options for fish and seafood. You may even have some of these options on hand! We'll take a look at some pros and cons of using fresh, frozen and canned items.
Using Fresh Food
Fresh catches are recognized as the most flavorful option as neither time nor temperature has degraded the original quality. Just keep in mind that raw fish and shellfish should only be refrigerated for 1 to 2 days; in fact, you may want to stop by your local supermarket right before preparing the meal!
Using Frozen Items
Thanks to the flash-frozen process, quality frozen products retain much of the texture and flavor of fresh seafood. Rather than a 2 day window, this seafood can be stored for longer. Oftentimes – particularly for shellfish – going frozen is much more convenient. For example, you can find packages of shrimp that have already been peeled, deveined and with the tails already removed.
How to Thaw Frozen Seafood
The night before you plan on making your meal, simply transfer to the fridge to thaw overnight. In a pinch, you can toss a sealed package into a bowl and run cold water for about 30 minutes. Once defrosted, seafood should be used within 48 hours. You'll want to place shellfish in a colander so it doesn't soak overnight in liquid — just be sure to put a tray underneath to catch any liquid.
Canned Options
This is probably the best seafood option for beginners. It is particularly convenient because seafood can go from pantry to plate without having to worry about heating, cooling, or thawing. Also, your dishes will be more consistent from meal to meal. Don't be afraid to stock up on all your favorite varieties.
Leftover Tip: If you find yourself with extra cooked fish, simply store it in the fridge for 3-4 days in an airtight container. If the filet is slimy, rather than flakey, it's time to toss it as it is likely spoiled.
Simply select the option that best fits your schedule. And now that you know there are options for every lifestyle, let's get into some of the different varieties of fish and shellfish that are particularly easy for beginners!
Shrimp
Shrimp is always a crowd-pleasing option and it's simple and quick to cook!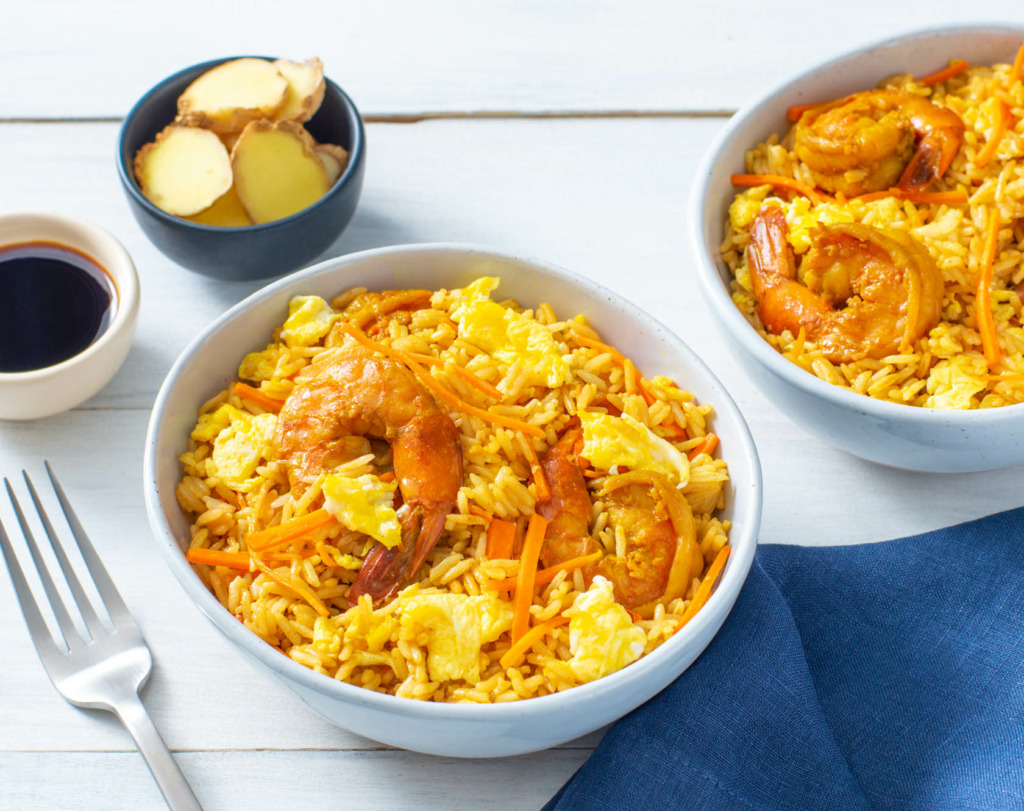 What is Cleaned and Deveined Shrimp?
Many recipes call for cleaned shrimp, which is another way of saying peeled shrimp. Also, most frozen shrimp come deveined, without the black digestive tract of a shrimp, ensuring that shrimp evenly absorbs flavors from any marinade or sauce. For the easiest mix-in – shrimp that you can toss right into your dish – look for the cleaned, deveined, and tails-off.
Skip the hassle of cracking open fresh crustaceans and opt for frozen shrimp to cook in this Quick and Easy Paella. If you'd like to try leaving the tails on, it might lead to a little more flavor for this savory Singapore Rice. Just make sure to have a plate nearby to discard the tails when done!
White Fish
Rather than choosing a strong-flavored fish – like salmon or tuna – a mild white fish simply soaks in the flavors of your dish. What's more, they cook quickly so they are ideal for those with busy schedules. In other words, this versatile protein is not only ready in no time, but also can be used in many of your favorite recipes. If you have 10 minutes, you have time to make this Fish with Bok Choy. Each and every bite of the flakey filet will boast tangy ginger and nutty sesame flavors!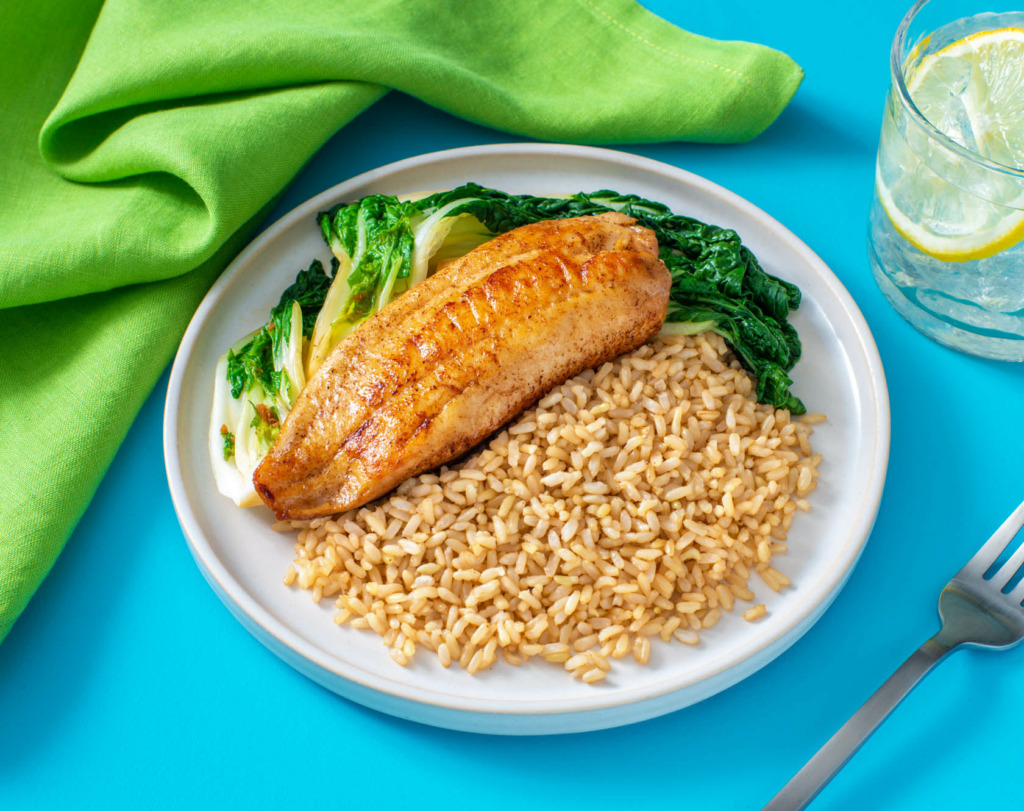 When is White Fish Done?
White fish cooks quickly, but the last thing you want is a dry filet. There are a couple ways to tell when your fish is fully cooked:
Texture: Insert a fork at the thickest part of the filet and twist: if it flakes easily, it should be good to go! To prevent the filet from falling apart, flake at an angle.
Color: The filet goes from translucent to opaque and loses that glossy raw sheen.
Temperature: Generally speaking, the internal temperature of fully-cooked fish should be 140-145F.
Tuna
For that irresistible melt-in-your-mouth texture, selecting sushi-grade high-quality frozen filets will do the trick. A satisfying Tuna Poke Bowl is a gourmet meal but ready in only 5 minutes using a base of our Minute® Ready to Serve Jasmine Rice.
On the other hand, nothing says comfort food like a creamy casserole. Packed with pantry staples like canned tuna and condensed cream of celery soup, this Seven Seas Casserole takes only 5 minutes to prep.
Salmon
Rich and buttery, salmon brings a ton of flavor to any dish. From boiling in a Salmon and Rice Chowder to grilling no-mess Teriyaki Salmon filets, there are plenty of cooking options:
Pan-Fried: 3 minutes per side over medium heat.
Baked: 8-10 minutes at 400°F.
Broiled: 10-15 minutes at 500°F.
Grilled: 15 minutes
While none of those popular methods take particularly long, nothing beats ready to eat fish!
Canned Salmon
Use flakey canned salmon for quick and easy dishes like this Tiktok Salmon Bowl. Our take on the internet sensation uses hearty Ready to Serve Brown Rice along with other common kitchen ingredients so when you're craving a seafood bowl with a kick, you'll have all the ingredients at your fingertips.
You could also use cooked salmon leftovers for that TikTok treat; in fact, that's how the original recipe creator prepares the dish! Simply Take a fork and flake the filet yourself.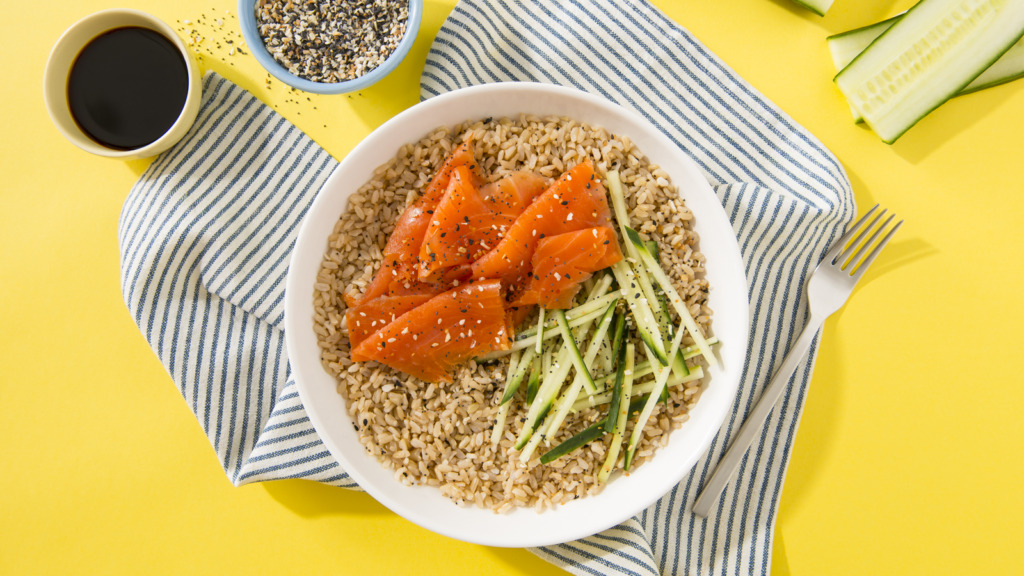 What is Smoked Salmon? (Hot Vs Cold)
Smoked salmon not only adds *smoky notes, it can be bought in ready to eat packages! Keep mealtime simple with a hassle-free dish; In only merely 5 minutes with only 5 ingredients, you could be enjoying a hassle-free Loaded Smoked Salmon Rice Bowl!
Crab Meat
Both precooked and imitation crab are particularly convenient because it can go directly from the can to the bowl. Take a look at the information below, and walk down the canned food aisle with confidence, knowing which crab variety is best for you.
What is the difference between Crab meat options?
Lump meat: If you want bites with big chunks of meat, lump crab may be just what you're looking for! This grade is great for crab cakes and chunky dips!
Claw: For a more shredded texture with a stronger flavor, grab the most budget-friendly option: claw meat. This delicious dark meat balances out heavy sauces and rich dips – the flavor is still notable without being overpowering.
​​Jumbo Lump Crabmeat: Also known as colossal lump, this delicacy is by far the most costly and most likely too flavorful to use in a recipe. This finger food should simply be paired with a sauce.
What is Imitation Crab?
While it may not actually be crab, imitation crab does still contain a bit of fish. However, it's important to note that there may be traces of crab for flavoring. If you want a particularly creamy Avocado Crab and Rice Salad or dip, this is a convenient option.
So next time you're craving some seafood, skip the expensive restaurant and stay in! Minute® Rice helps you prepare meals that are both delicious and fast, so that you can slow down. If you are looking for some dishes with meat try our