Nowadays it can be difficult to make sure that you have time to prepare a hearty and filling lunch every day. Between work and other commitments, it might seem like there simply isn't enough time in the week.
That's where Minute® Rice has got you covered. We're going to take a look at some simple lunch ideas that you can have ready in just 5 minutes using our microwavable rice cups and your favorite ingredients! These microwavable meals are perfect for a quick lunch whether you're eating at home, at the office, or on the go.
Pack Your Pantry
Before we begin, one way that you can get ahead of the game is to keep your pantry stocked. Although it is possible to make a quick stop at your local grocery store for some ingredients to mix into our rice cups, we suggest keeping a few of these items on hand.
With a well stocked pantry, you will also be able to prepare plenty of meals any time of day without even using a recipe. In fact, with our No Recipe Recipes there's no shortage of things you can make with minimal preparation by mixing together the Minute® Rice of your choice and any chopped vegetables, proteins or sauces you have at hand.
Here are just a few suggestions we have for your pantry at home:
Minute® Rice (White Rice, Basmati, Jasmine), for these 5 minute meals you will most likely want to opt for our Ready to Serve varieties. Each cup takes only 60 to 90 seconds to heat in the microwave.
Dairy Products (milk, cheese, yogurt)
Frozen, fresh and canned vegetables (broccoli, beans, tomatoes, lettuce, peas, kale)
Canned items like soup, tuna, salmon and veggies
Herbs & spices (garlic powder, cumin, cilantro)
Precooked proteins like beef, chicken, turkey, bacon, smoked salmon, tofu, tempeh, etc.
Jarred or canned Sauces like pesto, mayonnaise, ketchup, sriracha, soy sauce
Now that you have your ingredients, let's take a look at some simple recipes that can be prepared in no time.
Quick and Easy Rice Bowls
One of the best options when you've got little time to spare is a quick rice bowl. The great thing about rice bowls is that they are so easy and versatile to make. Start with our convenient microwavable rice cups and simply mix in whatever proteins you want (chicken, beef, etc..) along with your choice of veggies, sauces and other mix-ins.
Alternatively, you can try this easy Tuna & Bean Pesto Rice Bowl with our Minute® Ready to Serve Rice and get Italian flavor in just a few minutes with jarred basil pesto. This rice bowl is made with a base of our specialty yellow rice and canned white beans which form a protein. That means that you will stay fuller for longer!
If you have any leftover bacon in the fridge, simply reheat it in the microwave and use it along with some diced tomatoes, sriracha and mayonnaise in this Spicy BLT Bowl. Reimagine the classic comfort food blt sandwich using bacon which adds a nice crunch along with juicy tomato and whole grains.
By using store bought coleslaw and opting for Minute® Ready to Serve Jasmine Rice instead of the Instant variety, you can easily make this Egg Fried Rice in just 5 minutes in the microwave, so you'll never have to order Chinese takeout again! Perfect for a speedy lunch on the go, whether you're at work, home or in your college dorm room. If you like this combo, find more great microwavable egg recipes.
Microwave Tip: Believe it or not there are plenty of other quick and tasty meals that you can make in the microwave.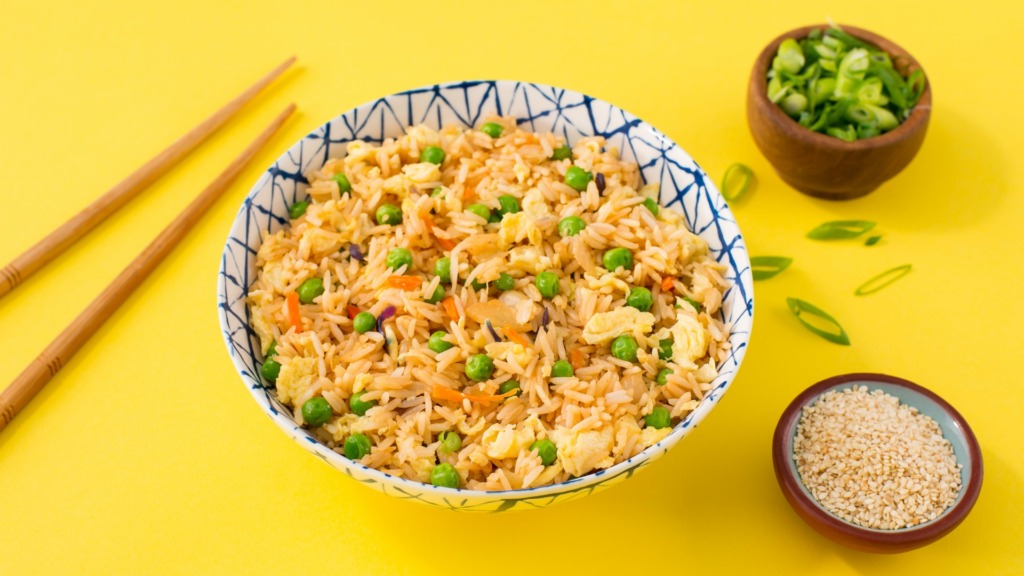 Simple Soup Ideas
Combine your favorite canned soup with whatever leftover vegetables you have in the pantry, fridge or freezer for a quick and simple soup recipe.
This 4-ingredient Cheddar and Broccoli Soup goes great with our Minute® Ready to Serve White Rice. Feel free to toss in any proteins you like (chicken, turkey etc.) to really take this soup to the next level!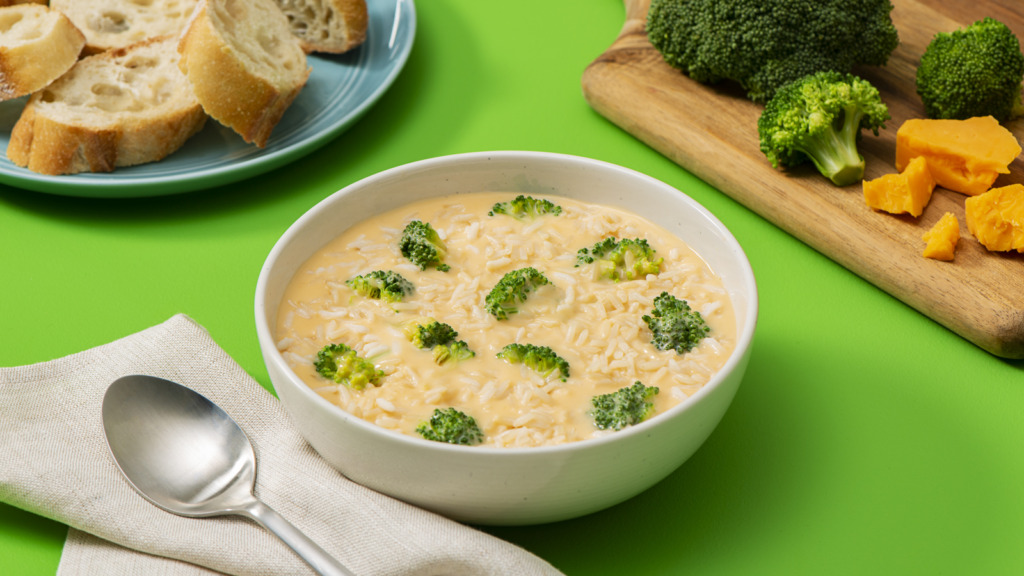 Alternatively, fans of Tex-Mex cuisine will love this Southwest Pinto Beans & Rice Soup. Taking just 5 minutes to prepare, this soup is packed with frozen fajita-style vegetables giving it a delicious flavor.
Rice and Quinoa Salads
Just because something is quick to make doesn't mean that it can't be light and delicious either! There are plenty of hearty rice and quinoa salads that are quick to make and will help you get more servings of fruit and vegetables.
This Quick Kale Salad With Smoked Salmon is the ideal meal to fuel your day and it only takes 3 minutes to prepare! Loaded with protein-packed foods like kale and salmon, this dish makes a perfect lunch no matter how hectic your day is! The great thing about this recipe is that you can really make it your own by trying it with a variety of different dressings and other additional ingredients.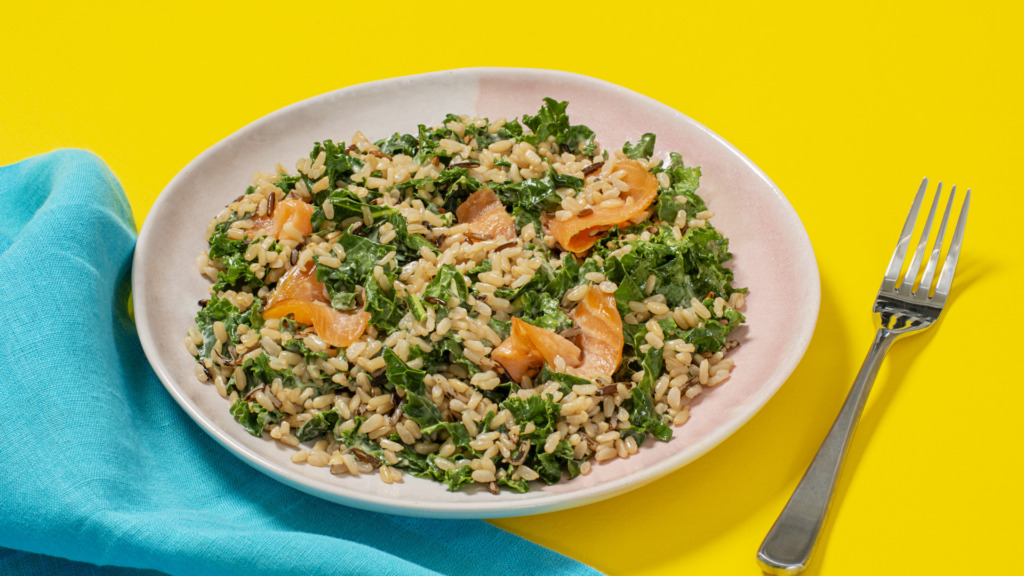 Alternatively, try preparing this Asian Chicken and Rice Salad and serve with mandarin oranges along with our very own Minute® microwavable jasmine rice cups. Accompanied with a tangy sesame and ginger dressing, this dish is always a hit and works great if you are looking for something to spice up your traditional salads.
Fast yet Filling Wraps
If you are really pressed for time, then why not try a wrap? They are often very simple and quick to prepare, for example this Sriracha Salmon, Edamame and Brown Rice Fusion Wrap. Made with Minute® Ready to Serve Rice and packed with protein and veggies, this recipe is perfect whether you are eating lunch at home or on the go.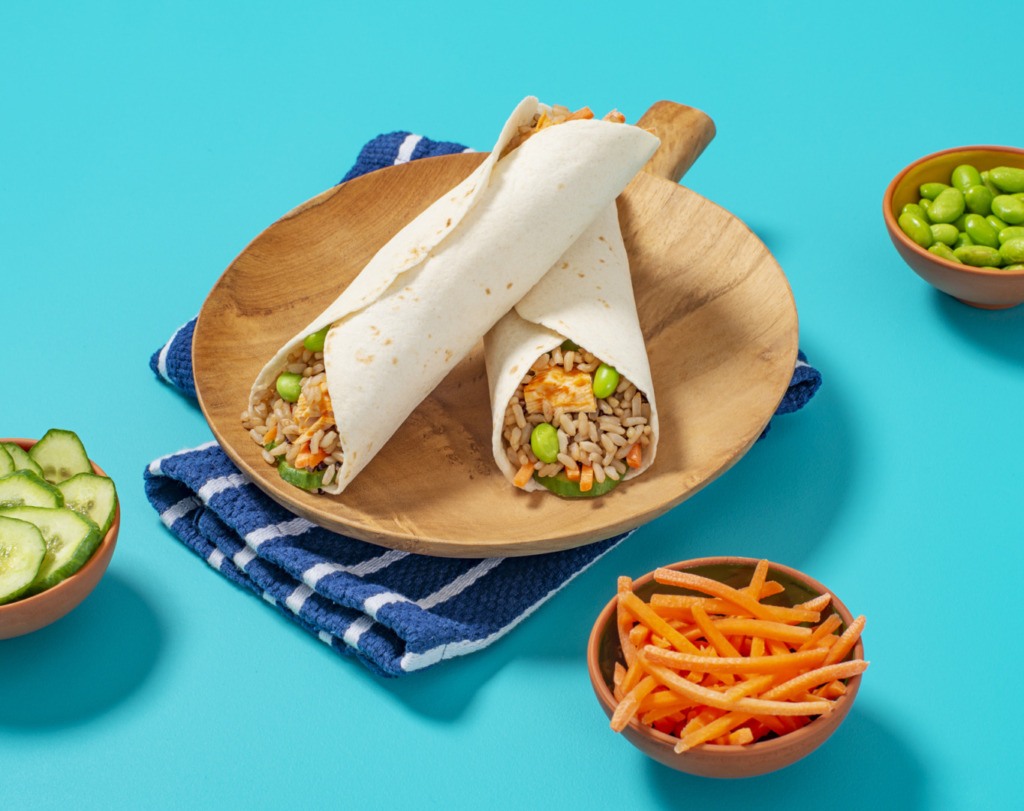 Alternatively, if you are looking for something with more of a Middle Eastern Flavor, then why not try this Shawarma Chicken and Rice Pita. This wrap is simple and takes little time to prepare, featuring Minute® Ready to Serve Jasmine Rice, vegetables and shawarma chicken. Looking for a vegetarian option? Try our eggplant parmesan recipe!
With Minute® Rice you're always just a few minutes away from something delicious and quick no matter if you're working at home, the office or on the go.