If you are looking to spice up your weeknight recipes, why not try using jasmine rice instead of traditional white rice? If you've never used jasmine rice before, this long grain white rice variety offers a delicious aromatic flavor to your meals. It's commonly used in Asian fried rice dishes or rice bowls, however it also makes a great addition to your weeknight dinner table!
With Minute® Rice, you can have jasmine rice ready in just 5 minutes. All you need to do is add it to boiling water and wait until the rice has absorbed everything. However, if you want your rice to be ready even faster, you can also use our convenient microwavable jasmine rice cups.
Jasmine Rice 101
Jasmine rice's versatility and aromatic flavor lends itself very well to all types of Asian cuisines, though it can be found in a wide variety of different recipes from all over the world such as fried rice, curries, salads and even desserts!
You may have seen this rice variety alongside traditional white and brown rice, or even other fragrant varieties like basmati. So, if you're scratching your head as to what is the difference between them, we'll give you a little insider information.
What's the difference between jasmine and basmati rice?
The main difference between these two rice types is that jasmine rice originally comes from South East Asia whereas Basmati typically comes from India and Pakistan.
Basmati grains are usually longer and thinner than Jasmine grains which are typically shorter and wider. Both have an aromatic flavor, though Jasmine has more of a floral taste, whereas Basmati is more nutty. Jasmine rice also tends to be stickier than Basmati which has more separate grains. You can try the difference for yourself using our microwavable Basmati Rice cups.
Meal Ideas Using Jasmine Rice
Now that we've piqued your interest, it's time to get cooking with some simple meal ideas. While you might only use rice for lunch or dinner, you can also use rice for breakfast, snacks and even desserts. Explore the versatility of Jasmine Rice with these simple recipes using Minute® Rice!
Breakfast
As an alternative to your typical morning oatmeal, why not try this Maple Walnut Rice Bowl with maple syrup, dried cranberries and Greek yogurt. This simple recipe is a delicious and filling way to start your day and is made with Minute® Instant Jasmine Rice.
Tip: Mix the 'wet' ingredients (maple syrup, yogurt) and the dry ingredients (dried cranberries, walnuts) together beforehand and store them separately, this way you can rustle up this 'breakfast bowl' whenever the mood strikes.
Lunch and Dinner
There are no shortage of lunch and dinner recipes that can be accompanied by or made with Jasmine Rice. Take a look at these classic recipes that can be prepared easily at home using all kinds of ingredients from meat and seafood to vegetables and meat-free alternatives. Our cheesy chicken rice casserole is a perfect weeknight choice.
Recipes With Meat
Start with this Teriyaki Beef, Broccoli and Rice Stir Fry with Minute® Jasmine Rice, Teriyaki beef and broccoli which can all be cooked up in just one minute! Although the serving size is just for one person it is easily adaptable to include the whole family by simply multiplying the ingredients depending on how many people you are cooking for.
Jasmine Rice with Ginger Soy Chicken is another savory recipe that will satisfy your family's craving for Asian cuisine. If you are really pressed for time, this meal can also be made with Minute® Ready to Serve Jasmine Rice which can be microwaved in just one minute.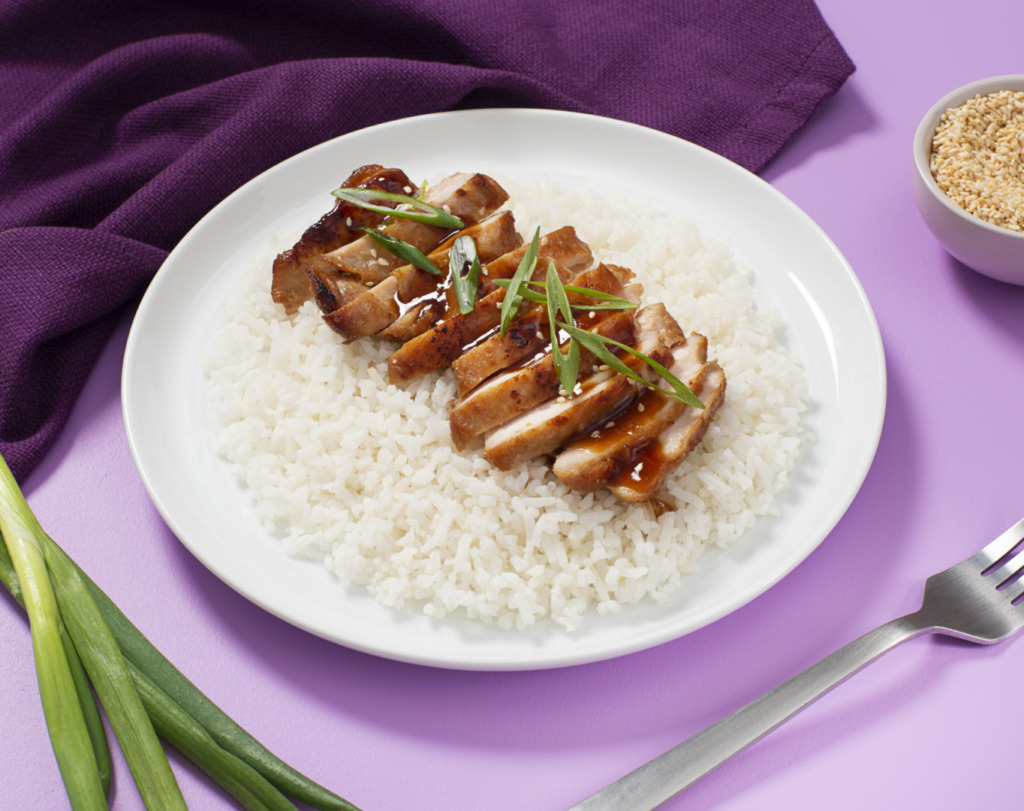 For a more comforting dinner option, try this Pumpkin and Spinach Layered Rice Casserole for a nice filling family meal. If you feel like you've made too much, don't worry, you can easily freeze any leftovers and have them on a later day.
Seafood Recipes
If you are looking for a light lunch or a side dish, why not try a shrimp salad? This Asian Shrimp Salad with Jasmine Rice made with juicy shrimp and crunchy snow peas is quick to prepare and can easily be adapted depending on how many people are in your family. This is a great alternative to traditional salads as the sesame and ginger dressing really offer a unique flavor. Add in your own proteins and vegetables as well to really switch things up.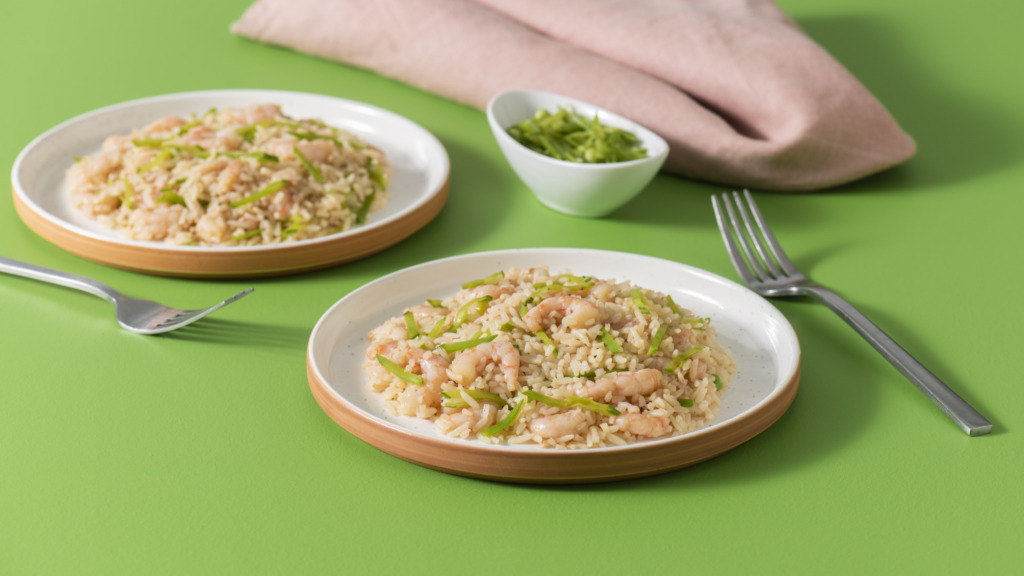 Alternatively, for a dinner recipe, you can also try this Smoked Salmon Poke Bowl with Jasmine Rice which goes great with our Minute® Ready to Serve Cilantro & Lime Jasmine Rice variety. Lightly tossed in a combination of rice wine vinegar, soy and teriyaki sauces along with Japanese furikake seasoning, your family is sure to love this bowl.
Vegetarian Recipes
A vegetarian side dish idea which utilizes Jasmine rice and is also loaded with lime, avocado and jalapeño, is our Mexican Street Corn and Rice Salad. The great thing about this dish is that it can also work as a dinner recipe as well.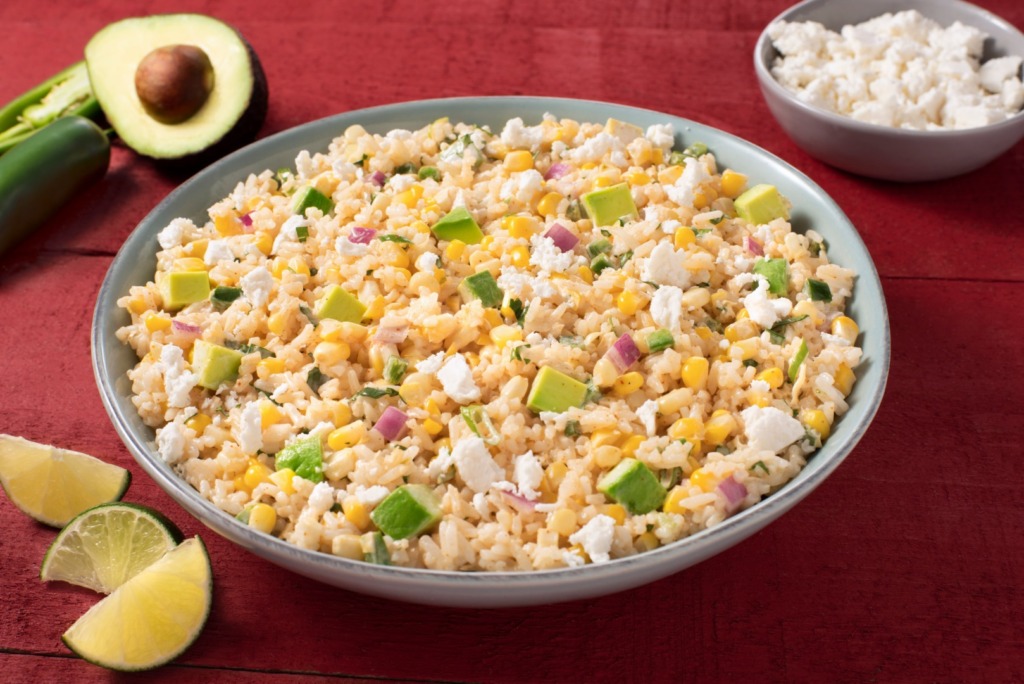 Another great veggie side dish is this Mint and Feta Rice Salad. With fresh mint and dill, this light recipe is perfect if you are entertaining guests. This salad can be prepared very quickly, once the rice has been cooked it's just a matter of mixing in the sauces, herbs and vegetables. Follow this rice salad recipe for a homemade dressing using olive oil, vinegar, mustard, garlic along with salt and pepper. Save some for later in the fridge to use throughout the week!
Sweet Treats and Desserts
Minute® Jasmine Rice's sweet and buttery aromatic flavor means that it's perfect for making sweet snacks and desserts.
For example, take a look at this recipe for Salted Caramel Rice Pudding Ice Cream Pie which uses jasmine rice mixed with dulce de leche instead of traditional caramel ice cream. This dessert is perfect for summer barbeques or Memorial Day, however it can also be enjoyed year round.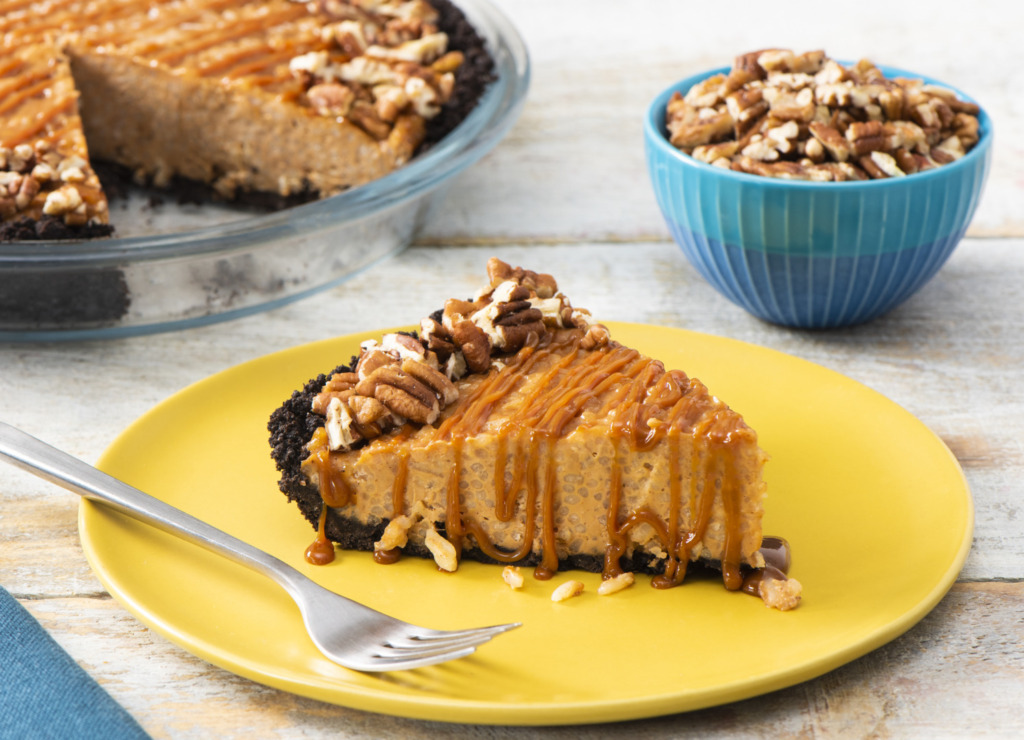 These soft and chewy Jasmine Rice and Dried Cranberry Cookies are a great way to use up any leftover cranberry sauce from after the holidays. These cookies are perfect if you need to rustle up a dessert at short notice as they take less than 30 mins to prepare. For anybody with a nut allergy, you can simply remove the walnuts.
If you like piña coladas, then you'll love this Triple Coconut Lime Rice Pudding. This tropical rich and creamy dessert tastes great when prepared with jasmine rice. For those with a sweet tooth, feel free to add more ingredients like pineapple or honey to really turn up the sweetness.
Finally for a quick snack that only takes 7 minutes to prepare, this tropical Mango Sticky Rice recipe can be served any time of the day. Although the recipe calls for Mango, you can use other fruits like pineapple or berries if you prefer.
Stay tuned to Minute® Rice for more helpful tips and tricks with meal ideas to make sure you eat a great meal anytime!