To the food that many would say needs no introduction, bacon is that crispy, salty and savory treat which pairs well with nearly everything. It has the power to upgrade any dish or ingredient to something to look forward to, and the beauty of it is you don't need to be a chef or have kitchen skills to prepare it.
In fact, it's popularity has risen to the point that it has multiple days just to celebrate it like world bacon day, national US bacon day and even bacon lover's day! But let's be honest, do you really need an excuse to celebrate bacon? We think not.
At Minute® Rice, we're all about convenience, so we've put together our top 7 favorite recipes with bacon for you to enjoy for a simple breakfast idea, lunch, dinner, a BBQ grilling side dish, or any time really.
The Best Ways to Cook Bacon
First, before we get into some incredible bacon meal ideas, if your recipe calls for precooked bacon, there are plenty of options available to cook it, no matter what supplies you have at home.
Classic Stovetop Method: You'll need a frying pan and a fork or tongs for flipping until it turns crispy and cooks through. Some experts say that for best results you should cook bacon starting in a cold pan and use low heat, but that all lies in preference.
Oven-Baked: Depending on the thickness and cut, your cook time will vary. Just make sure to cook your bacon in the oven with a higher heat on a baking sheet lined with parchment paper or foil.
Microwave: Yes, you can cook up crispy bacon in the microwave too! Try it for yourself with a microwave-safe plate covered with 1-3 paper towels on the bottom and 1-3 paper towels on the top to catch the excess grease. Cook in short intervals until cooked through.
Kitchen Gadgets: If you've got one, they also work for cooking bacon up! We're talking about an Instant Pot, Pressure Cooker or Air Fryer.
Reheat Cooked Bacon: If you're not at home or have limited kitchen supplies, simply buy precooked bacon that you can reheat in the microwave.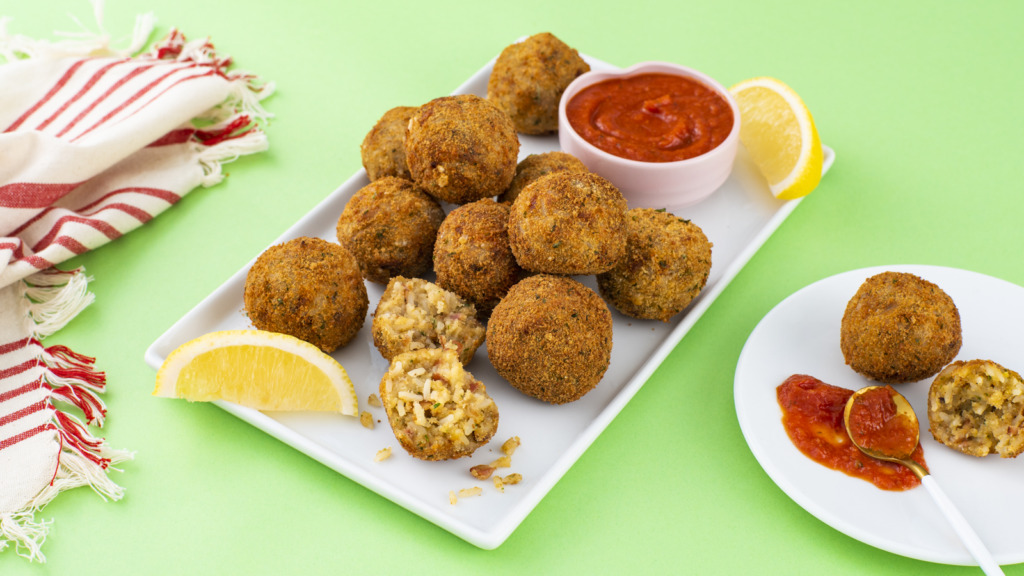 7 Tasty Recipes With Bacon
When in doubt, always use one of these tasty bacon recipes!
Meat-Free Bacon Options: With so many plant-based bacon substitutes on the market, any of these tasty recipes can simply be substituted with a vegetarian or vegan alternative, if desired.
1. Cheesy Bacon Bites
First on the list, these irresistible cheesy and smoky Bacon Croquettes are made with fluffy white rice and breadcrumbs for a hearty touch! Enjoy them for an appetizer, snack or side for dinner – don't forget to pair with a marinara or Alfredo dipping sauce.
2. Fresh Rice Salad with Bacon
That's right, bacon can also work as a delicious salad topping like in this Bacon and Egg Rice Salad. We're moving beyond a classic Cobb salad for a simple meal made with a hearty base of Minute® Ready to Serve White Rice, arugula, grape tomatoes, bacon, egg and store-bought Italian dressing. Not only is it delicious, but you can put it together in just 5 minutes.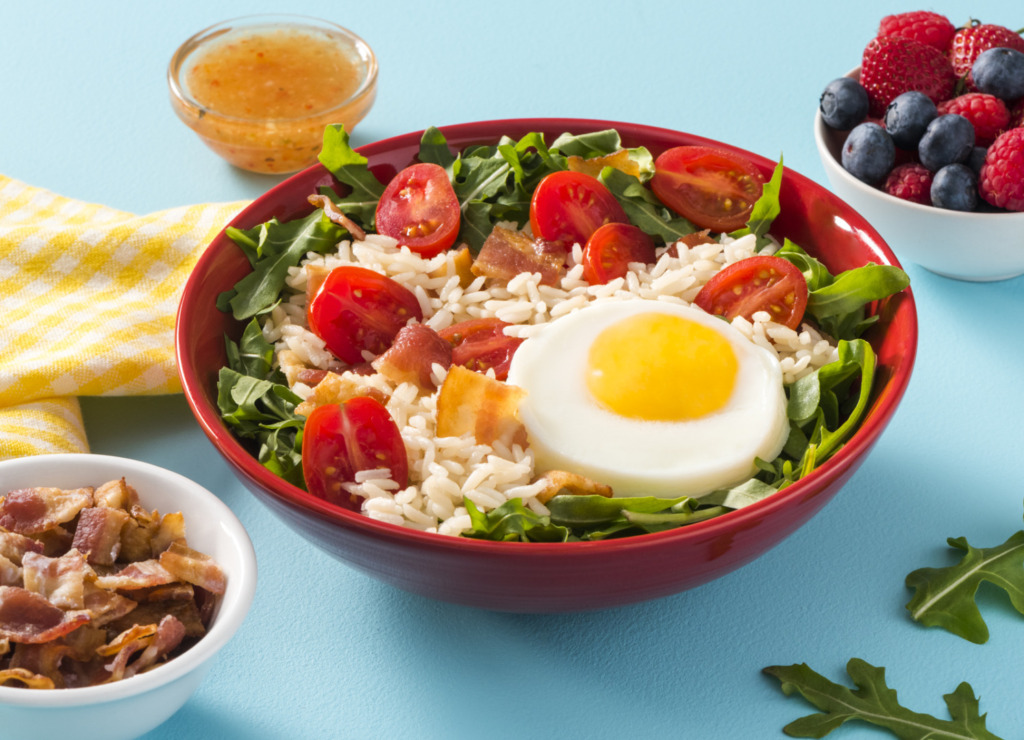 3. Ultimate BLT Combo
Just the sound of bacon, lettuce and tomato together is enough to make anyone's mouth water, but we've upgraded the classic trio sandwich to a BLT Rice Salad. But, unlike the traditional version, our secret is that this one is made with Minute® White Rice that's been lightly sautéed with onion and cooked with savory bacon drippings for over the top flavor in each bite.
Combine with fresh tomatoes, chopped lettuce, mayo, and you're good to go.
4. Bacon and Brown Rice Frittata
Following along with a breakfast theme of bacon and eggs, this tasty whole grain Brown Rice Frittata is made with thick-cut bacon sautéed in the pan where the other ingredients will cook for a base of wonderful flavor. Prepare it for breakfast, brunch or cut into slices and make a hearty sandwich layered with the same scallion sour cream from the recipe.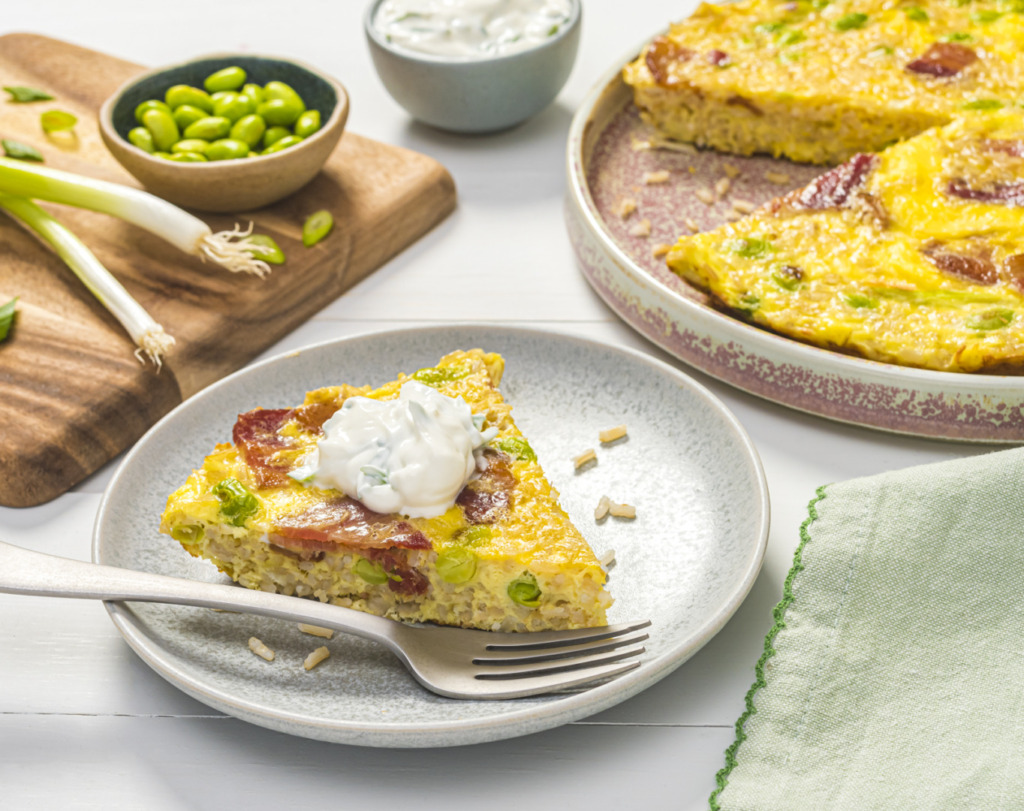 Veggie Tip: Substitute the edamame for another cooked green vegetable such as broccoli, Brussels sprouts, leeks or kale.
5. Bacon Casserole
Enhancing everything in its path, this Oven-Baked Spinach and Bacon Casserole is no exception. Using condensed cream of mushroom soup, whole grain Minute® Brown Rice, bacon and broth, this comforting meal is perfect for a weeknight dinner to keep you feeling full.
6. Creamy Risotto
Rich, creamy and filled with flavor, this fusion recipe of Chicken Carbonara Risotto combines two classic Italian recipes into one tasty dish. Made with you in mind, this risotto inspired recipe is simple to make for anyone to try and incredibly delicious with the help of Minute® White Rice.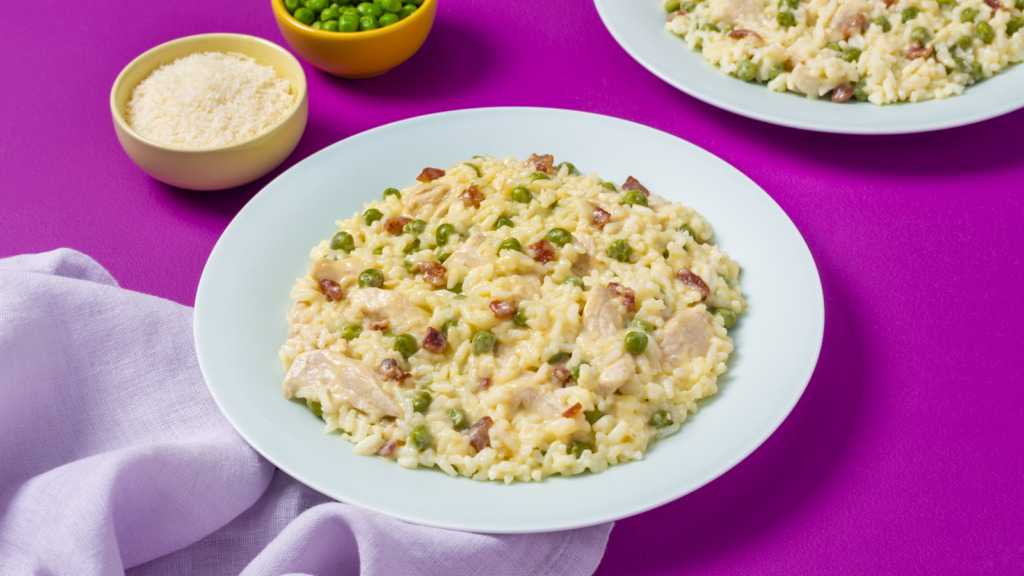 We've got more where that came from, try this Creamy Blue Cheese Risotto with bacon next!
7. Louisiana Jambalaya
Our last recipe is loaded with bold southern flavor! This Quick Chicken Jambalaya may sound complicated, but our recipe utilizes pantry staples like savory bacon, tender rotisserie chicken, barbecue sauce and canned diced tomatoes with our Minute® Premium Rice. New Orleans taste in just 30 minutes.
There are plenty of simple and convenient ways to make tasty dishes using quality ingredients, for example take a look at this Baked Chicken and Rice recipe or this Beans and Rice Recipe, also why not try a nice fried egg on rice recipe. Minute® Rice is here to help you get something tasty and fast, so that you can slow down.
If you are thinking ahead to dinner and looking for a vegetarian option try our eggplant parmesan recipe.