October 26th marks National Pumpkin Day, a day we can celebrate this magnificent fruit by decorating the house with Jack-O-Lanterns and making some delicious recipes with Minute® Rice!
Although there are plenty of fall ingredients we love cooking with, pumpkin is perhaps our favorite as it's so versatile. From rice puddings to casseroles, there's no shortage of different dishes you can make with pumpkin.
That said, life can be pretty hectic sometimes especially when you're juggling work and classes (if you're studying). Luckily, we have plenty of tips on how you can quickly add pumpkin to your rice dishes.
Pumpkin Products to Keep in the Pantry
We understand that not everybody has time to go out, buy and cut their own pumpkins. Fortunately, there are plenty of products that we can use to give our recipes that unmistakable pumpkin flavor. These include:
Pumpkin Puree
Pumpkin Pie Spice
Canned Pumpkin
Pumpkin Seeds
Pumpkin Pie Filling
Now that we've got our ingredients let's take a look at some recipes.
Pumpkin Recipes
Recipes With Pumpkin Pie Spice
Pumpkin pie spice is a great way to add some fall flavors to your meals. For example, try making this simple Pumpkin Curry Turkey Soup With Rice with your Thanksgiving leftovers. Garnish with some lime juice for some added flavor. If you don't have any leftover turkey, you can use chicken instead.
Recipes With Pumpkin Puree
For another pumpkin soup recipe, though this time with canned pumpkin puree, learn how to make this Southwest Pumpkin Rice Soup made with Minute® Instant White Rice.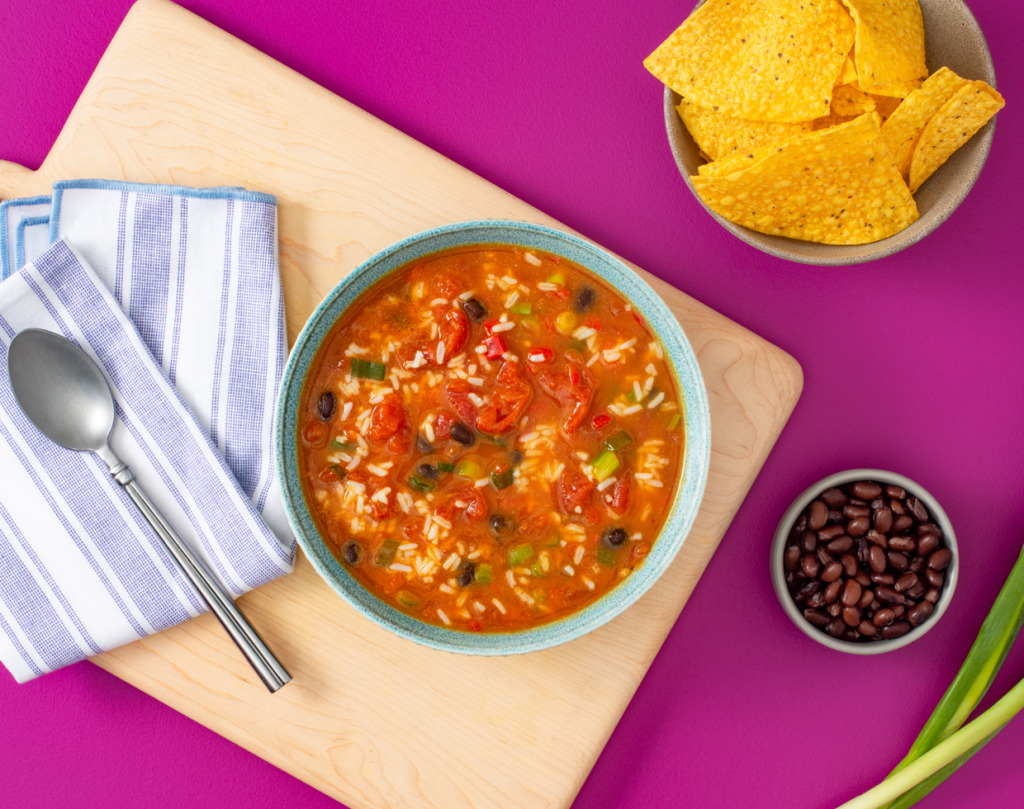 Alternatively you can also learn how to make this Pumpkin Mushroom Risotto with Minute® Instant White Rice and canned pumpkin puree.
If you're looking for something to serve for Thanksgiving dinner, try baking pumpkin purée into this Pumpkin and Spinach Layered Rice Casserole. If you don't have any mozzarella in the kitchen, you can use an alternative like fontina instead. If you have any left over, you can freeze this casserole and enjoy it for the rest of the week!
For another pumpkin recipe that can be made using pumpkin puree, learn how to make this Pumpkin and Rice Stuffed Pepper Recipe with Minute® Instant Brown Rice.
Pumpkin Salads
For a salad, mix together Minute® Instant Brown Rice with some canned pumpkins and other veggies and dressings to make this Pumpkin Apple Walnut Harvest Rice.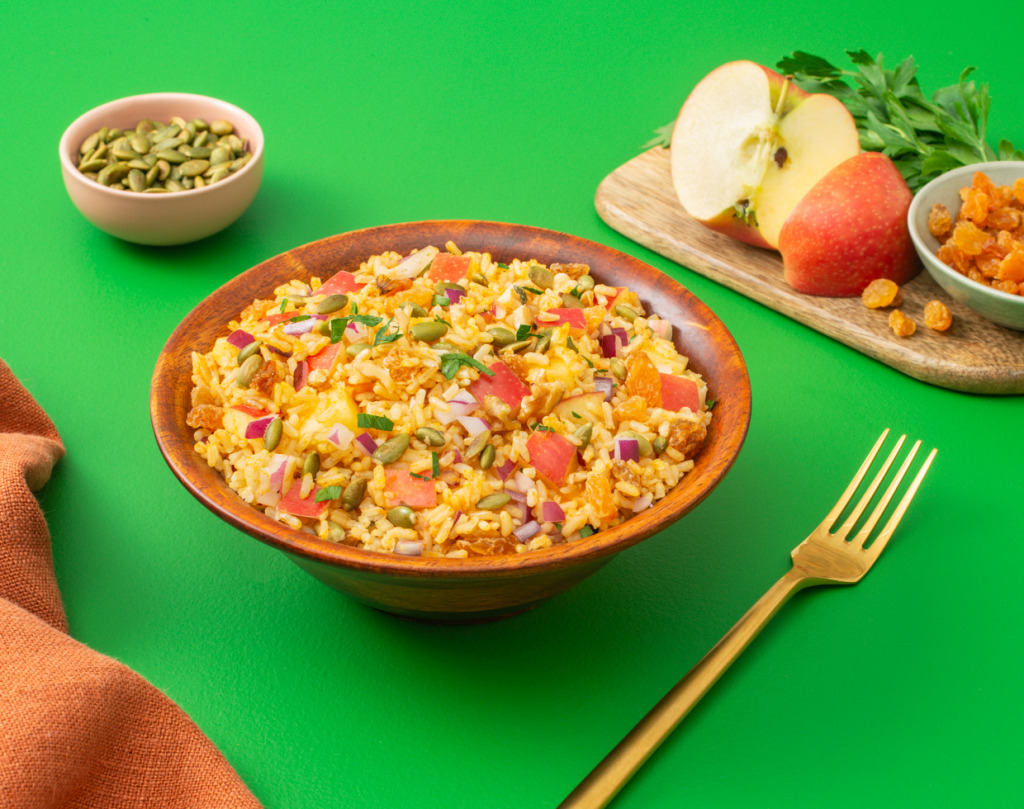 Alternatively, if you have any pumpkin seeds in the pantry, they make a crunchy addition to this Arugula, Pear and Multi-Grain Rice Salad made with Minute® Multi-Grain Medley Rice Cups. If you don't have any arugula in the kitchen, you can use iceberg lettuce instead.
For another crunchy salad that can be made with pumpkin seeds, try this Roasted Beet and Rice Salad which is made with Minute® Instant Jasmine Rice, spinach, feta cheese and a homemade tangy lemon vinaigrette.
Pumpkin Desserts
If you're in the mood for something a little sweeter, check out this tasty Pumpkin Spiced Rice Pudding made with Minute® Instant White Rice and canned pumpkin. To make this dessert creamier, try increasing the amount of water into the mixture.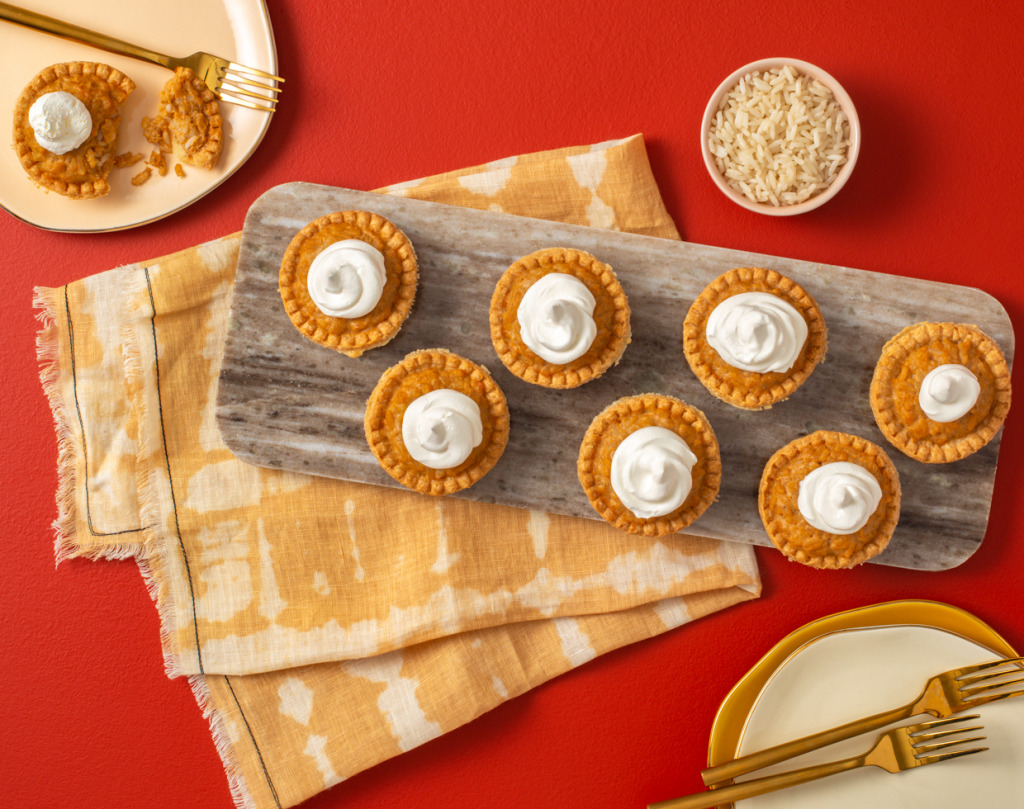 Pumpkin pie filling makes an excellent stir in, like in this Pumpkin Pie Rice Pudding which is made with Minute® Jasmine Rice Cups. This recipe is a great seasonal dessert that can be ready in just a few minutes. Try splashing in some rum or brandy to really bring out the flavors in this dessert.
Mix it Up With
Alternatively, you don't even need to follow a specific recipe. By mixing in some pumpkin along with some other simple ingredients, you can have a simple, great tasting meal in no time at all. For some inspiration, check out the Mix it Up With section on our website. 
Whatever the season, Minute® Rice has you covered with plenty of great tasting recipe ideas and more!