When it comes to Cilantro & Lime Jasmine Rice Cups, you will be beyond impressed with the refreshing recipes you can make with this zesty, perfectly portioned rice.
The aromatic Jasmine rice combined with tangy natural flavors including: lime juice, cilantro and sea salt, is the perfect combo to step outside of the box. These recipes are ideal to have in your back pocket for quick weeknight rice bowls, or easy side dishes. From soups to salads and beyond, this rice allows you to enjoy delightful meals any time of the day.
How to Cook Minute® Rice Microwaveable Cups
If you would like to prepare the rice on the stove instead of in the microwave, simply remove the film from the rice and place the contents in a skillet or small saucepan. Add 1 tablespoon of water (or broth) and heat on low for one to two minutes until heated through and stir occasionally. Remove from heat and serve immediately.
If you are wanting to dip your toe into the wading pool of delicious and easy recipes, making a side dish or a light lunch has never been easier.
Sides and Light Lunches with Cilantro Lime & Jasmine Rice
Sometimes you may just need a side or appetizer recipe for that family gathering or neighborhood party. Minute® Rice has got you covered and the best part? All our recipes are fast and easy.
Stuffed Veggies
If you find yourself craving seafood and veggies, our Shrimp & Rice Stuffed Avocados are easy to assemble and will fill all your cravings. They are creamy and delicious and the total prep time is only 6 minutes!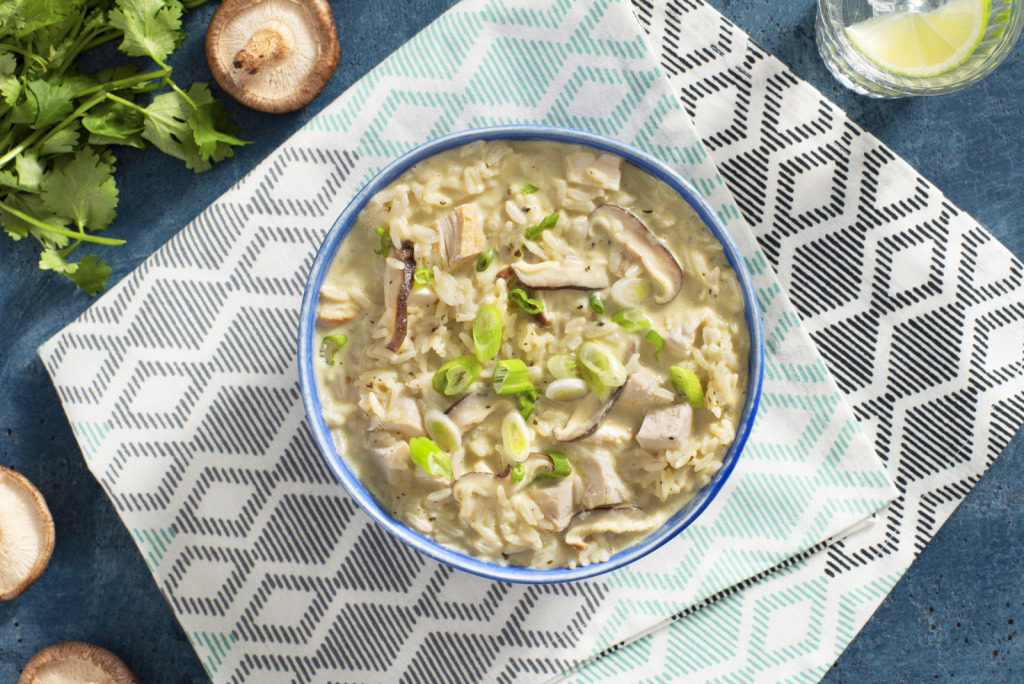 Soup
Craving a bowl of rich, warm soup? Our Thai Chicken and Rice Soup is the perfect option if you cannot be bothered with takeout and it will be ready in 5 minutes or less. Made with all the delicious Thai flavors you love like: creamy coconut milk, green curry paste and green onions, you will soon be on your way to Thai food bliss.
Salads
If you are looking to add some more greens to your weekly meals, Minute® Rice has several salad options to add to your menu whether it be for lunch or dinner. A very easy salad to make with ingredients that you will already surely have at home is this Mexican Cobb Salad. It is made with beans, corn, tomatoes and avocado. If you would like to add some more protein, add some bacon or chicken to dress up this timeless classic.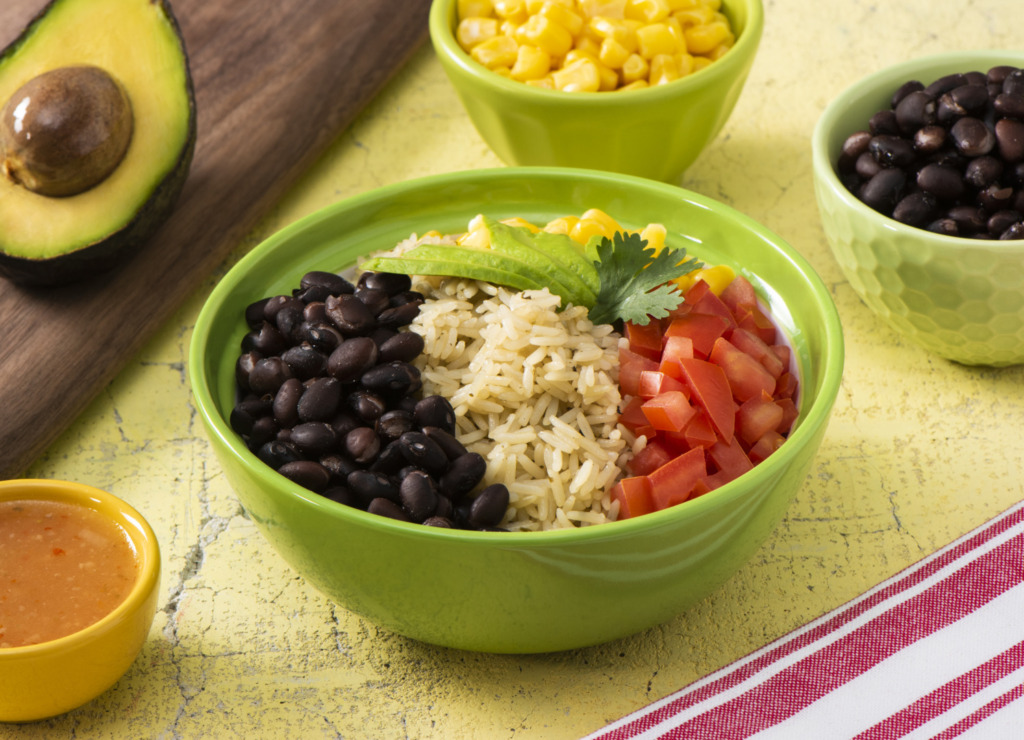 A perfect side salad option is this Black Beans and Rice Mango Salad. Made in five minutes or less, this fresh salad hits the spot. The sweetness of the mango brightens the earthiness of the beans and wild rice.
Do you love a Bloody Mary cocktail? Our Bloody Mary Rice Salad is made with all of the same delicious ingredients as this timeless cocktail (minus the vodka of course). Ready in minutes, this dish includes: Italian dressing, celery sticks, a few grape tomatoes, a bit of horseradish and Worcestershire sauce (all of which you probably already have at home).
If you enjoy seafood and are craving some shrimp our Shrimp and Rice Salad will definitely hit the spot. This salad is packed full of flavor and is ready in five minutes or less. It is an ideal option for a quick meal or a lunch on the go. Made with snow peas, carrots and shrimp it is then perfected by adding zesty sesame ginger dressing.
Rice Bowls
A poke bowl is a Hawaiian inspired dish and is an excellent way to incorporate fresh seafood into your diet. Usually the bowl includes seafood and veggies. It's lightly tossed with a blend of sauces. Minute® Rice allows you to feel like you are heading to the big island by offering our Smoked Salmon Poke Bowl with Jasmine Rice. This quick and easy meal is fun for the whole family to enjoy. With flavors ranging from savory to sweet, salty and tangy you will be hooked at first bite.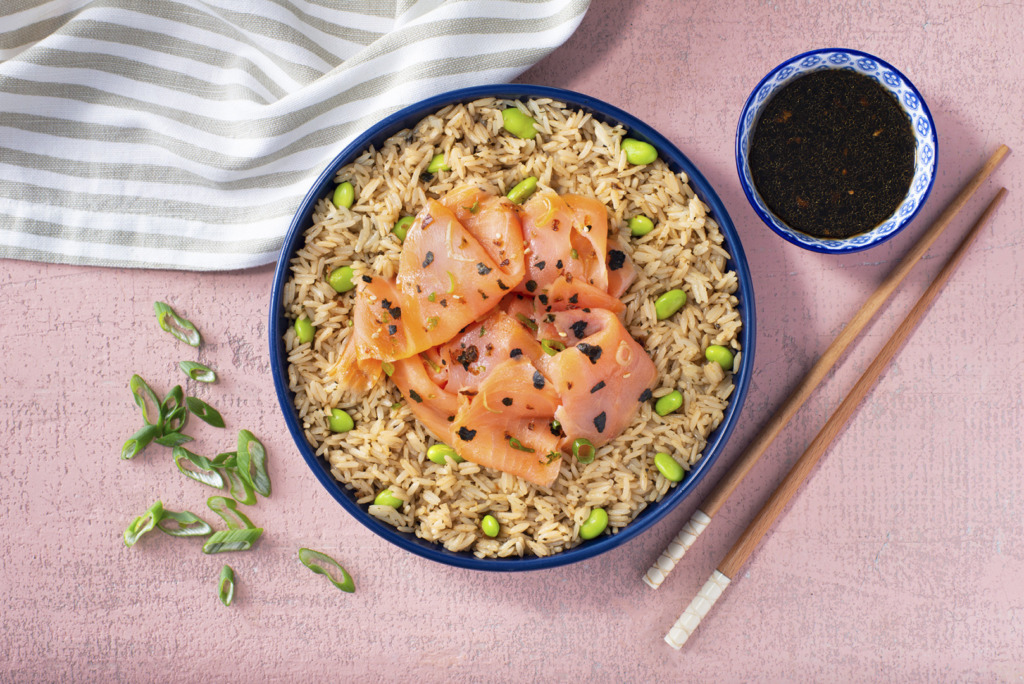 Changing gears and heading straight towards the border, make the whole entire family happy with our Mix it Up Cilantro Lime Taco Bowl. This super easy recipe is ready in no time and can easily be customized to everyone's personal preferences. Made with chopped jalapeño, black beans and avocado, this recipe will soon become a family favorite.
Main Dishes with Cilantro Lime & Jasmine Rice
If you need some heartier options and are looking for recipes that are sure to leave everyone stuffed and happy, try our Vegetarian Mexican Meatballs. Made with plant based meatballs, salsa, avocado and feta cheese, these vegetarian meatballs are incredibly easy and super versatile. Have some leftovers? Stockpile these in your freezer and your future self will thank you!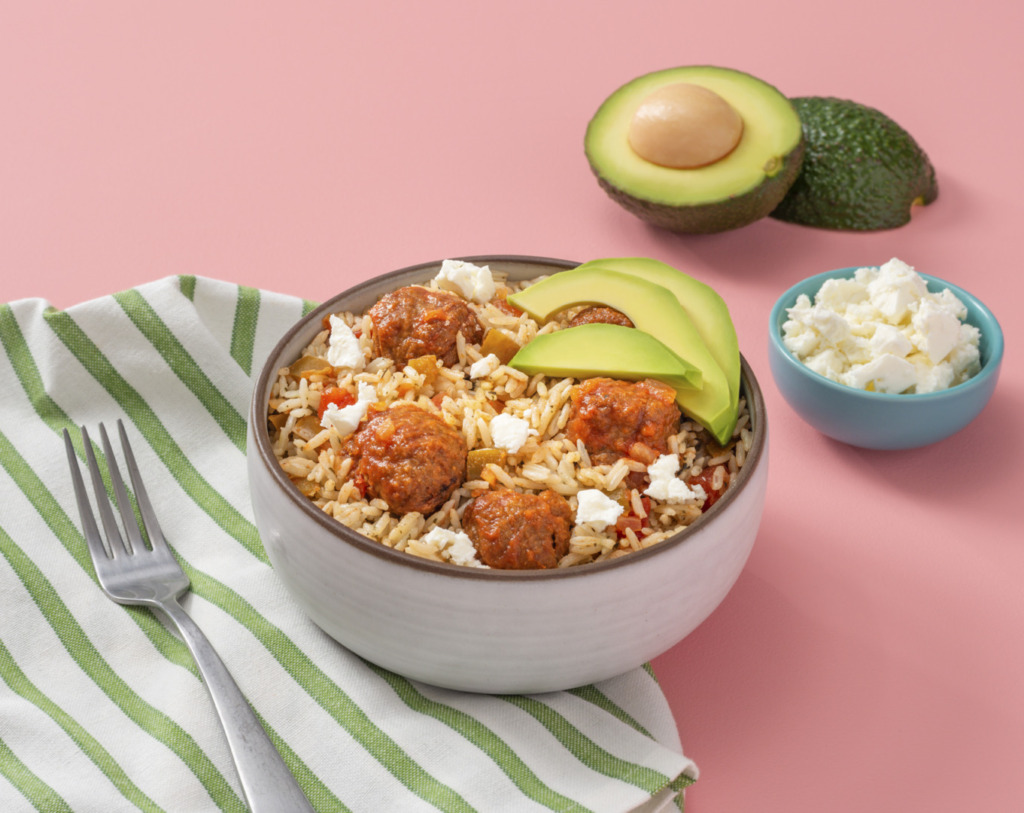 It is easy to fall in love with this Mexican beef stew: Birria with Rice. Its bold, complex flavors will have you wanting seconds. Made with pulled pork, avocado and more, this hearty meal will have you smiling at the dinner table.
Easy, cozy, delicious and fun. Our Power Rice-Stuffed Sweet Potato is an easy dinner solution for a busy midweek meal. Used as a canvas for whatever you are craving, enjoy this versatile option and make it a creation all your own.
If you are craving Thai, try our Thai Sweet Chili Rice. This is the perfect meal choice if you are on the go and it is ready in five minutes or less. Made with our Cilantro & Lime Jasmine Rice Cups, crunchy vegetables, sweet chili sauce and rotisserie chicken you are on your way to culinary bliss. 
Hungry for More?
Cilantro & Lime Jasmine Rice Cups are now available in a 2 pack! It's the same great taste, but now you can opt for a 4.4oz portion or enjoy double the amount of the deliciousness by making both cups!
For more recipe inspiration for quick and easy ideas– check out our website.