With flavor perfectly packed into every bite, meatballs are a wonderful family-friendly comfort food. They are also versatile for a wide variety of dishes whether they're smothered in sauce, squeezed into a sandwich or skewered on a stick.
Convenient for batch cooking and meal prep or even a tasty appetizer or snack, we've got a few delicious and simple meal ideas using store-bought options as well as a recipe for how to make homemade meatballs! So, get your shopping list ready for these tasty dishes made with the help of Minute® Rice.
Simple Recipes with Meatballs
All four of these recipes are perfectly portioned for a meal for one coated in different sauces that you can take with you on the go. Or, if you'd like to make them into a family-meal simply double or triple the ingredients based on the amount of people.
Use your preferred pre-cooked variety, whether it be store-bought or homemade using our recipe below! If you use frozen meatballs make sure they're thawed before using. Note: These dishes also work well with vegetarian meatballs, too.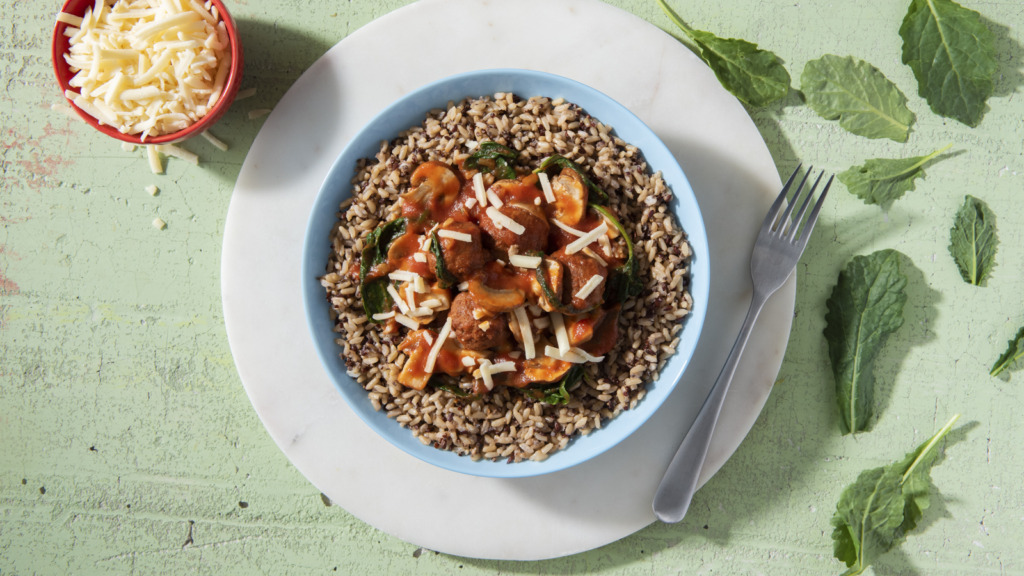 Rivaling the flavors of your favorite spaghetti and meatball dish, this simple bowl is put together in just 10 minutes. All made in the microwave, start with kale, mushrooms, prepared meatballs, your favorite tomato sauce and a hearty base of Minute® Ready to Serve Multi-Grain Medley all topped with mozzarella cheese.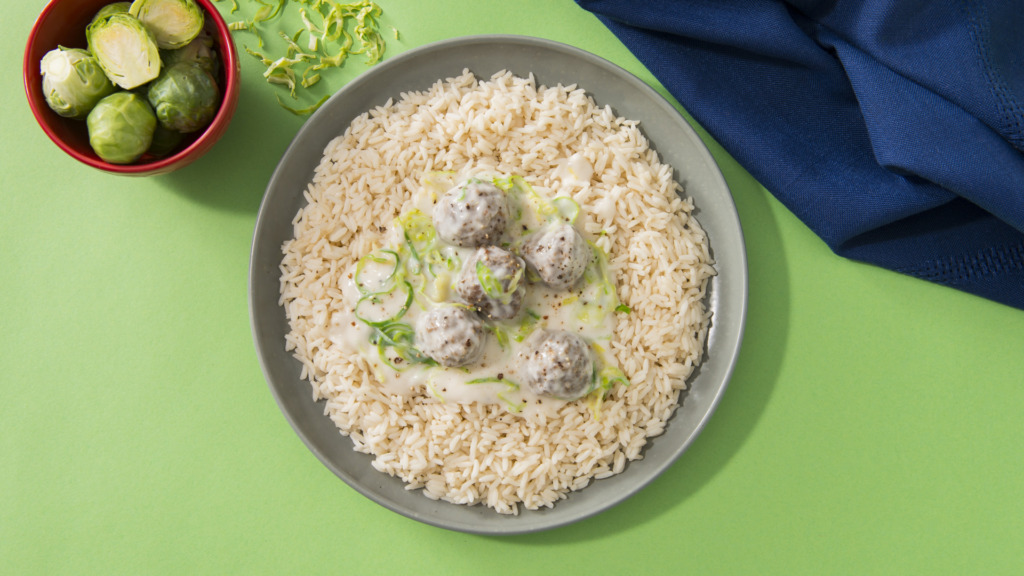 For something a bit creamier, reminiscent of Swedish meatballs, this rice bowl is made with jarred Alfredo sauce for a simple and rich taste in minutes. With just four ingredients, including Brussels sprouts, meatballs, sauce and Ready to Serve White Rice, you can put this combination together anytime, anywhere!
Give your meal a Tex-Mex touch with enchilada sauce, meatballs, corn, beans and of course guacamole! Make this quick dish your own by swapping in or out other favorites like salsa in place of enchilada sauce, cheese, black beans, lettuce, tomatoes or a few crunchy tortilla chips. See just how easy it is to put together in our video below.
Make your rice bowl a plant-based bowl of Mexican Albóndigas starting with a base of Ready to Serve Cilantro Lime Rice, avocado, cheese, salsa and plant-based meatballs. Pack a fiesta of flavor in every bite!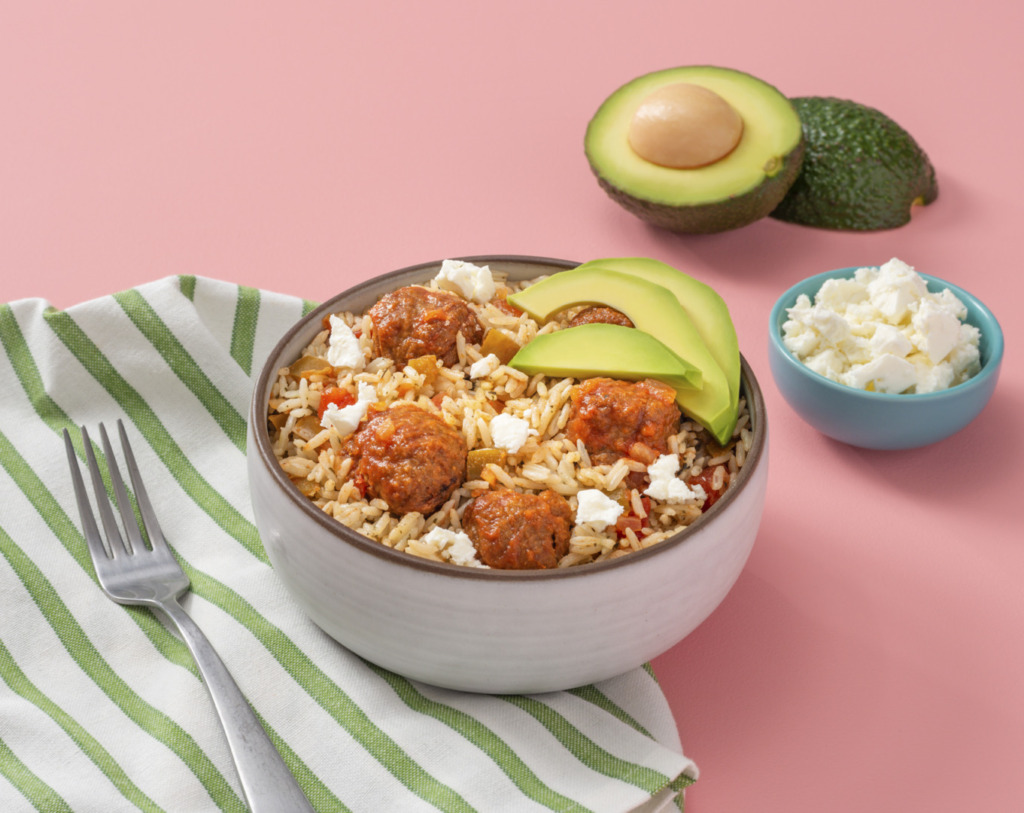 Super Simple 6-Ingredient Meatball Recipe
Making your own meatballs is actually a lot simpler than it might seem. Our quick and convenient version is Gluten Free and easy to make in bulk to freeze or use for meals throughout the week!
These Porcupine Meatballs are simple and tasty to make.
Ingredients:
1 tbsp butter
1 small onion, finely chopped
1 lb lean ground beef
1 cup Minute® White Rice
1 egg, lightly beaten
1 packet (1.5 oz) meatloaf seasoning
1 1/4 cup water, divided
1 jar (24 oz) pasta sauce
Steps:
Step 1–Melt butter in a 3-quart saucepan over medium-high heat. Add onions and cook, stirring, until tender.

Step 2–In a large bowl combine onions, beef, rice, egg, seasoning and ¼ cup water; mix gently by hand until well blended. Shape into medium-sized meatballs.

Step 3–Pour pasta sauce and remaining water into the same 3-quart saucepan. Stir and bring to a boil. Add meatballs and return to a boil.

Step 4–Reduce heat to low and cover. Simmer for 15 minutes, or until meatballs are cooked through.

Recipe Tips
Substitute ground turkey, lamb, chicken or meatless ground for the beef used here.
If desired, swap in other seasoning packets like taco seasoning, chicken seasoning and Italian or Swedish meatball seasoning.
Whole Grain Version
If you'd like to try making your own version of homemade meatballs but with whole grain brown rice, try these oven-baked Polynesian Meatballs using a sweet teriyaki sauce.
How to Use Them
Meatballs can also be served over extra cooked Minute® Rice and topped with grated Parmesan cheese.
Make them into sliders between toasted bread.
Serve them as a finger food appetizer with toothpicks.
Make a homemade sandwich with mozzarella.
How to Freeze Meatballs
These meatballs can also be made in advance and frozen to use for different meals. If you'd like to increase the amount, simply double the meatball ingredients and roll into however many you prefer.
The meatballs can be frozen before or after cooking. For more tips, first take a look at our guide to freezing meals with rice.
To freeze them before cooking: Using the porcupine meatball recipe above, we suggest you stop at step 2 and arrange them evenly and separate in a single layer on a baking sheet and freeze them until solid. Transfer them to a freezer bag or a sealed container. Thaw in the refrigerator before cooking or pop right in the oven from frozen.
To freeze after cooking: Prepare your meatballs as directed in the recipe and cool completely. Then divide how you prefer into individual meal sizes or together. Place in freezer bags or sealed containers and freeze.
Enjoy the simplicity of using meatballs in new ways with these recipe ideas or getting ahead of meal prep and making your own meatballs at home. At Minute® Rice, we're all about convenience in the kitchen with cooking tips and hacks to make your life easier! Once you've taken a look at these meatball recipes, why not take a look at this recipe for Red Beans and Rice. Also try our: cheesy rice and chicken.