As fall beckons, so too does a whole range of delicious seasonal vegetables for us to enjoy. From Brussels sprouts and beets to pumpkins and butternut squash, fall veggies can be used in a variety of recipes that are not only delicious, but also surprisingly easy to make. Read on to learn more about seasonal cooking and how you can add a fall twist to your favorite recipes.
Sustainability: Benefits of Using Seasonal Autumn Vegetables in Recipes
Cooking with seasonal produce has a lot of upside. Buying seasonal produce from your local grocery store is not only a great way to support your local economy, it's also great for the environment.
Choosing seasonal autumn vegetables reduces the carbon footprint associated with transportation and storage of out-of-season produce. By opting for local, in-season vegetables, you're helping out the planet in a big way.
As well as that, seasonal vegetables grown locally and harvested at their peak tend to be more affordable, saving you precious dollars over the course of the season.
Fall Harvest: What's in Season?
Before you begin thinking about the kinds of meals you'll be making this fall, it's worth taking stock of which fruits and vegetables are in season. Here's a quick guide to some of the most popular seasonal ingredients you can buy from your local store this fall:
Fall Fruits
Apples
Pears
Pomegranate
Figs
Grapes
Raspberries
Blackberries
Plums
Fall Vegetables
Onions
Carrots
Sweet potato
Pumpkin
Squash
Broccoli
Spinach
Kale
Celery
Now that you're up to date on what's in season, let's take a look at how you can add a seasonal twist to your favorite meals.
Fall Twists to Casseroles
As the temperatures change so too do our cravings. Colder weather tends to make us hanker for warm, hearty meals like casseroles. Not only are they convenient and easy to make, but also super adaptable. For a casserole brimming with fall flavors, check out this Pumpkin and Spinach Layered Casserole. Packed with rice, cheese, pumpkin and spinach, this satisfying meal takes only 10 minutes to prepare, so you can sit back, relax and let the oven do the work!
Alternatively, for a recipe that's both seasonal and creative, try your hand at this Sweet Potato Rice Casserole. With its delicious combo of sweet potato, fragrant Minute® Basmati Rice Cup and marshmallows, this casserole is sure to be a hit among kids and grown-ups alike!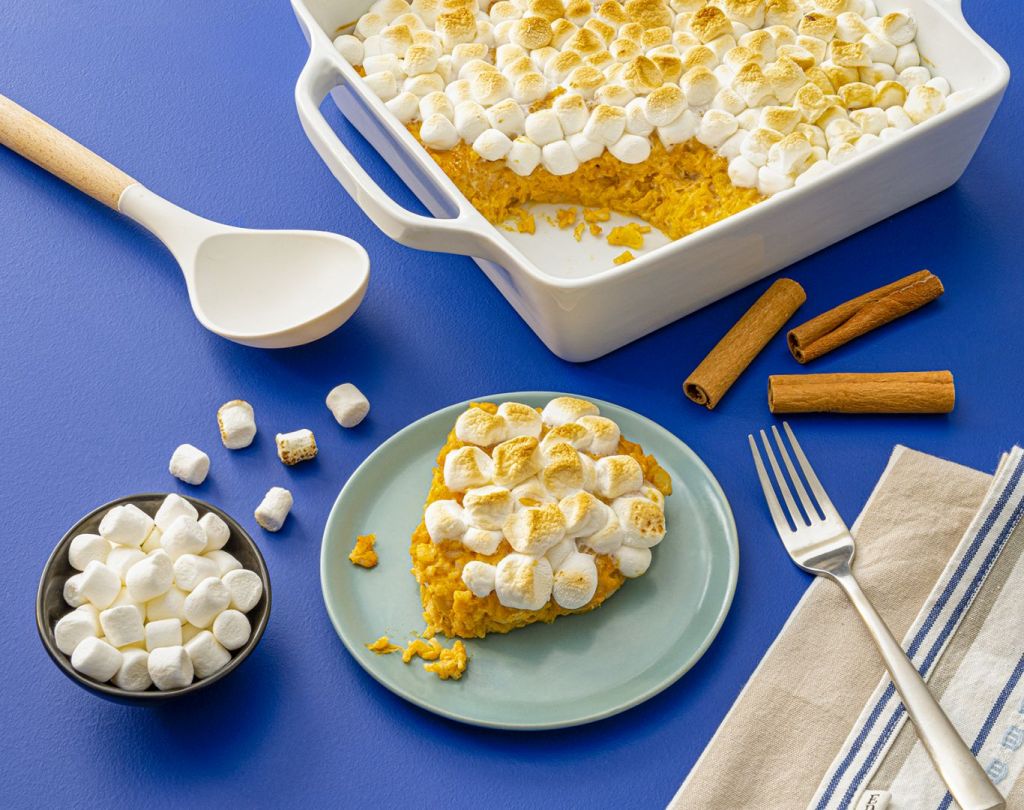 Roasted Autumn Vegetable Recipes
Fall is a great time to brush up on your oven skills and what better way to do so than with some delicious roast vegetable recipes with fall ingredients. Roasting is not only a great way to bring out the flavor of your fall ingredients, but also a low-stress cooking technique that frees you up for other activities.
In this recipe for Brussels Sprouts and Rice with Vanilla Pecans, you'll be amazed how little effort it takes to make a meal that's both creative and satisfying. With a unique and seasonal combination of earthy Brussels sprouts, pecans, and pomegranate, it's the perfect dish to serve to friends and family at your next gathering.
Stuffed In Season Vegetables
When you think of stuffed vegetables, you probably picture stuffed peppers, zucchinis and eggplants, but it's also worth remembering that fall offers up a whole host of possibilities for delicious stuffed vegetable recipes that are easy to make.
What Are the Best Fall Vegetables to Stuff?
When choosing a vegetable to stuff, the most important thing to bear in mind is size. Having room to add flavorful fillings to your vegetables is key. Luckily, fall provides us with some good-sized vegetables to work with, such as pumpkin, acorn and butternut squash, sweet potatoes and beets.
For a hearty meal that's sure to hit the spot, try this Kale and Sausage Multigrain Stuffed Acorn Squash. It's the perfect meal to warm you up after a busy day.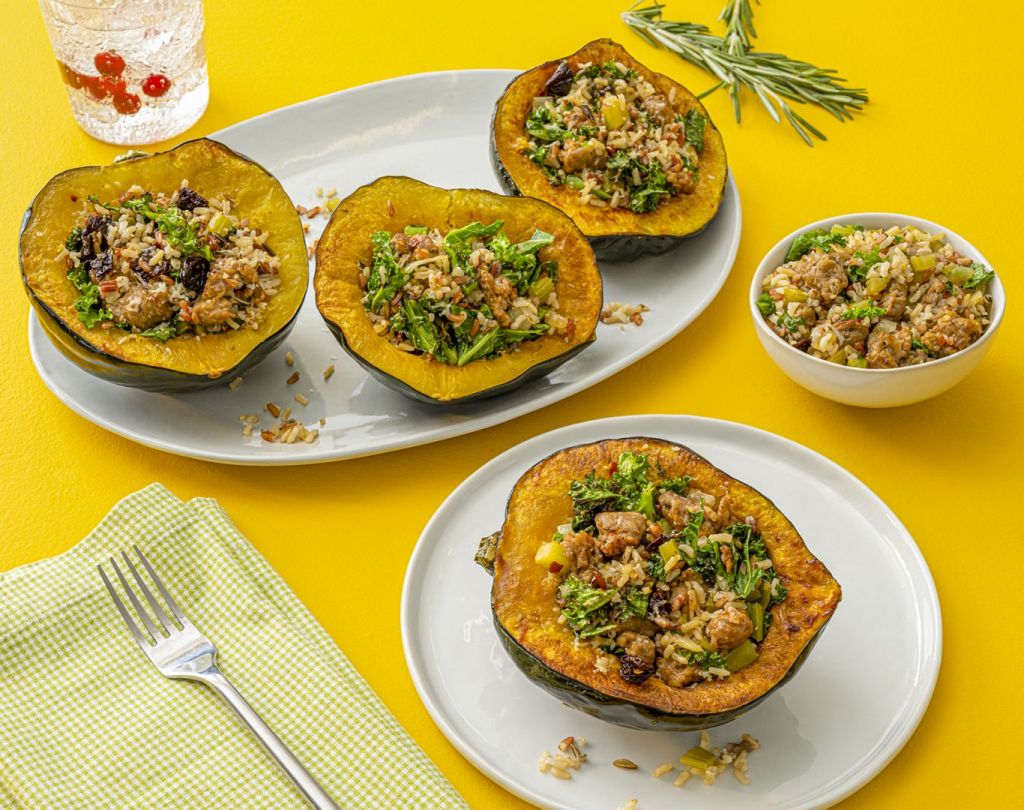 Adding Fall Flavor to Rice Pudding
With the coming of fall, we gradually begin to move our lives back indoors and that means more gatherings of friends and family in the warmth of our cozy homes. Simple, stress-free dessert recipes are a must at this time of year and that's why rice pudding is a firm favorite.
To add a fall twist to this classic dessert, why not give this Pumpkin Spiced Rice Pudding a try. Combining the best of pumpkin pie and rice pudding, it's a dessert that is sure to get everyone excited about the season.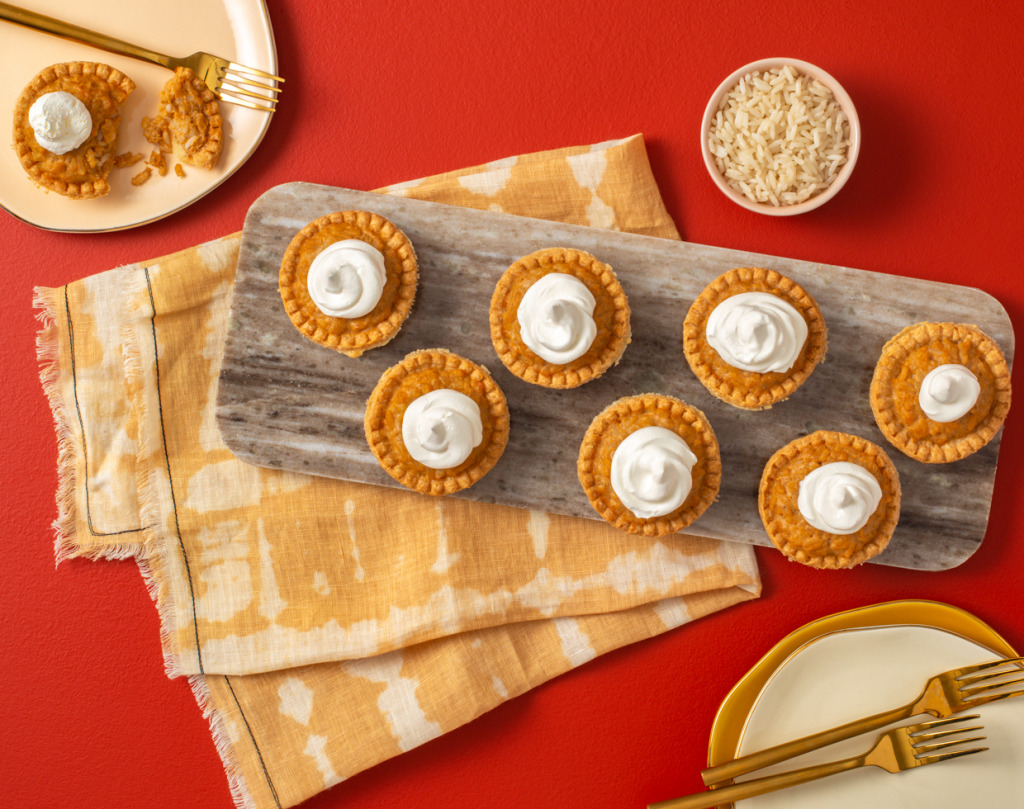 For more pumpkin inspiration this fall check out our guide to National Pumpkin Day. Falling on October 26th, it's the perfect excuse to celebrate all your favorite pumpkin recipes as well as a chance to add a few new ones to your repertoire!
Tips for Shopping and Storing Autumn Vegetables
Choosing the Freshest Seasonal Vegetables
When shopping for fall vegetables, look for these indicators of freshness:
For Brussels sprouts, choose firm, bright green sprouts with tightly closed leaves.
Select butternut squash that is heavy for its size and has a hard, unblemished skin.
For kale, opt for vibrant, crisp leaves without any wilting or discoloration.
Proper Storage Techniques to Extend Freshness
To keep your fall vegetables tasting fresh, follow these simple storage tips:
Store Brussels sprouts, kale, and fennel unwashed in a perforated plastic bag in the refrigerator's vegetable drawer. Use within 1 week.
Keep butternut squash in a cool, dry place, away from direct sunlight. It can last for several months if stored properly.
For cut butternut squash or other sliced vegetables, store them in an airtight container in the refrigerator and use within 3-4 days.
For best results, keep the greens attached to beets until ready to use. Store beets in a plastic bag in the refrigerator's vegetable drawer for up to 2 weeks.
If storing pre-cooked autumn vegetables, ensure they have cooled completely before refrigerating them in airtight containers for up to 4 days.
Fall is for Fun!
Now that you've got some seasonal meal inspiration, it's important to make the most of this fall season. Gather friends and family around and enjoy simple yet delicious meals in the comfort of your own home! And if you're looking for more meal inspiration, check out the Minute® Rice Blog!