White rice is probably the most common rice variety sitting in the pantry of many households, from a variety of different cultural backgrounds. Its neutral flavor and slender grains, that cook up with a delightfully fluffy texture, make it the perfect grain for a wide array of dishes. Combined with chicken, in a sweet rice pudding or on its own, you can never go wrong cooking white rice for you and your family.
Whether you're looking to explore new dishes or need some inspiration to step out of your comfort zone, we've put a selection of the best recipes you can make with this beloved grain. Jot these ideas down and make sure to have a box or two on hand when hunger strikes!
How to Cook White Rice
First things first, let's start with the basics. At Minute® Rice, our mission is to turn any meal into something quick and simple, including making the perfect rice every time. Rest assured we've simplified the process to make your life easier. It only takes three easy steps, if you go with our Instant variety, or just two if you prefer the microwavable rice cups.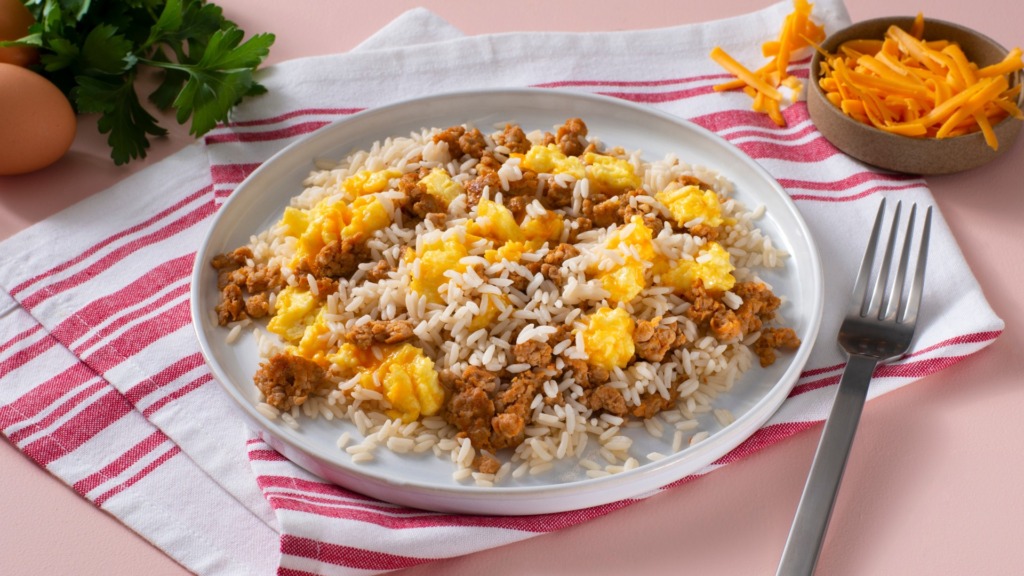 Not sure how to choose between them? It all depends on how many people you're cooking for, the cooking items you have on hand, and the available time – keep reading and learn more about how you can optimize meal time!
Instant White Rice
This is your go-to when cooking for more than one person or batch cooking for the week. All you need is a box of Instant White Rice, a pot, 5 minutes, and a stove. Literally, you just need to know how to boil water.
Step 1
Boil water.
Step 2
Add rice, cover and remove from heat.
Step 3
Wait 5 minutes or until water is absorbed. Fluff with a fork and enjoy.
Ready to Serve Cups
Minute® Ready to Serve are a lifesaver when you're in a rush! Try them for fluffy white rice, conveniently portioned into single serving cups that you can heat in the microwave and enjoy on the go.
Step 1
Remove film from the rice cup and place in the microwave.
Step 2
Heat on HIGH for 1 minute. Stir and serve immediately.
Yes, it is as simple as that!
White Rice Recipes
Now that you've got a fool-proof recipe to make fluffy white rice, let's talk about whipping up complete meals with these grains. There are many ways to categorize meals with white rice, it's a kitchen staple for a reason!
To keep things simple, we've decided to split them according to mealtimes – but that's truly for you to decide. In case you were wondering, there are two things all these recipes have in common: white rice, and maximum simplicity. Let's dig in.
Starting the Day Off Right
Never thought about having rice for breakfast? You'd be surprised by how energizing and tasty it can be. Pairing white rice with eggs and a few other ingredients can lead to a filling meal that is sure to get your day going on the right foot.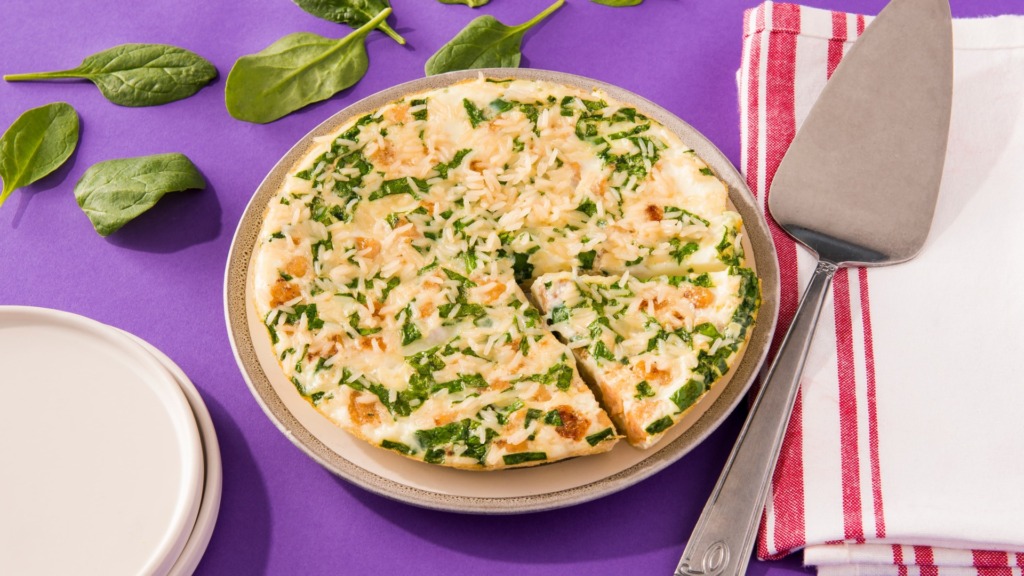 Our first pick is a delicious Frittata, or Italian style omelet, made with egg whites and Minute® Ready to Serve Organic White Rice. Follow our ingredient suggestion and whisk egg whites along with spinach and turkey sausage, or make it your own with your preferred add-ins. Aside from easy to make, this microwave-friendly recipe is great for enjoying your greens, even for breakfast!
If you prefer scrambled eggs in the morning, make your dish more filling by serving over grains and chorizo. Rice is a great alternative to other more common breakfast foods like bread or bagels, and this Breakfast Scramble is here to prove it.
Speedy Lunch Ideas
What to eat when you don't know what to eat… We've all been there! No matter what you prefer, these lunch recipes with white rice are crave-worthy. Starting with a base of fluffy white rice, the ingredient combinations are endless – check out some of our favorites:
For the Cheese Lovers
Cacio e Pepe is a classic Italian recipe that's usually made with pasta and calls for cacio (cheese) and pepe (pepper). For a convenient twist, we've replaced pasta with our white rice cups that are ready in just 60 seconds. Combine with the other ingredients and buon appetito! Add cooked shredded chicken to make it a meal on its own, or skip it for a flavorful side dish.
Tasty Green Salad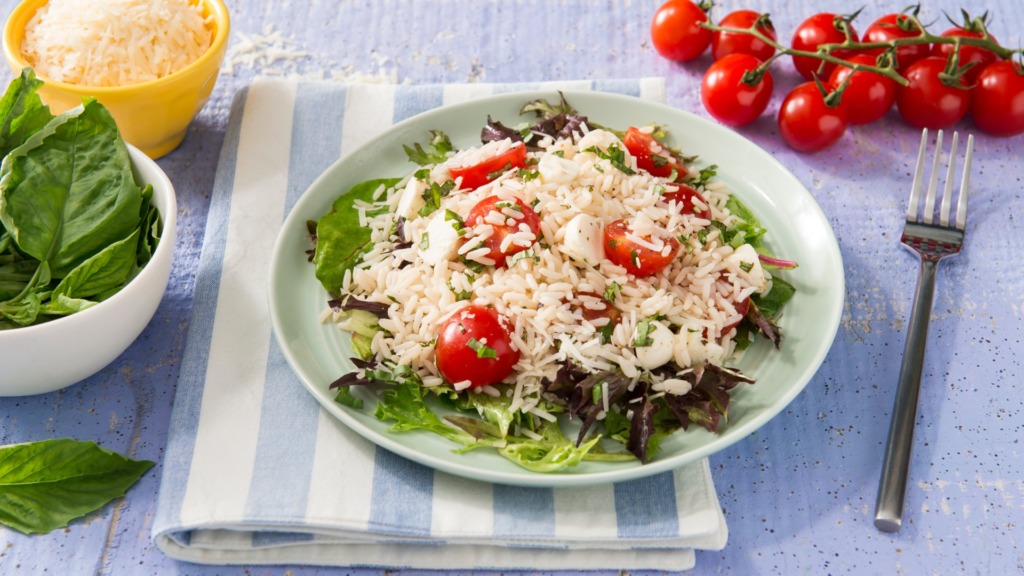 Take Caprese salad up a notch by serving it over leafy greens and combining with filling white rice. If you like to keep lunch a little lighter, this recipe is for you. Our Caprese Rice Salad is fresh and layered with cherry tomatoes, assorted salad greens, mozzarella cheese and fluffy organic white rice. Bring out all the recipe flavors by drizzling with a balsamic vinaigrette.
Fried Rice Made Even Easier
Fried rice is an all-time favorite dish because it's delicious and very easy to make. If you thought it was easy to make before, wait until you try our version of Unfried Rice. Instant white rice is boiled in a flavorful combination of chicken broth and veggies and then stirred with scrambled eggs for the ultimate speedy lunch recipe. Try it yourself and watch your masterpiece come together in less than 20 minutes!
Effortless Weeknight Dinners
Stock your pantry with Minute® White Rice varieties and you'll always have something to start with when it comes to whipping up something effortless but still enjoyable after a long day at class or work like this cheesy Mexican rice recipe. The secret of mastering mealtime is learning how to combine foods properly and cook with what you have on hand. So, no need to strictly follow the recipe list but keep in mind that some ingredients can be easily replaced and still lead to incredible results.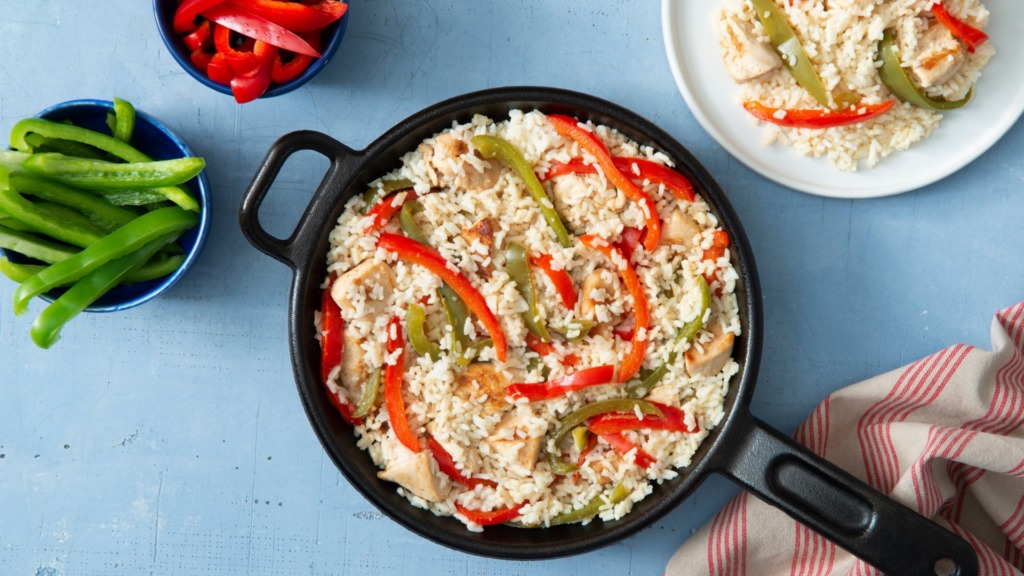 Casseroles and skillets or beans and rice are some of the best recipes to effortlessly whip up for dinner. If you're in the mood for something comforting and veggie packed, try our Creamy Cornucopia Casserole. For fresh and zesty flavors, this Chicken and Rice Skillet with Italian dressing and colorful bell peppers will get the whole family coming back for more. Remember, the beauty of these recipes is that some ingredients can be substituted, especially the veggies, either because you don't have them on hand, or because you want to switch up the flavors.
Indulgent Snacks or Desserts
No day should end without treating yourself to something sweet and decadent. Rice pudding is one that jumps to the top of our list, so we couldn't complete our list of top recipes with white rice without giving a shout out to our Classic Minute Rice Pudding – a true creamy delicacy simmered with milk infused with cinnamon, sugar and vanilla.
White rice is definitely an ingredient you want to keep on hand as it will pair beautifully with almost everything. Whenever you're lacking inspiration, this is where you should start! Now, these recipes are our top picks, but what are yours? Share your favorites with this pantry staple by using #MinuteRice or tagging us in your posts!