Do you have leftover Easter eggs that you just don't know what to do with? Deviled eggs aren't the only way to enjoy your colorful masterpieces. There are plenty of delicious recipes you can make with hard boiled eggs that will help you eliminate waste. From veggie bowls to a classic rice salad, these easy recipes are sure to satisfy your taste buds. So grab your leftover Easter eggs and get cooking with these flavorful rice-based recipes Minute® Rice has to offer!
Before we dive into those recipes, are you sure you are preparing your hard-boiled eggs correctly? Minute® Rice has some special tips to make the process as easy as possible.
Eggs 101- Let's Get Cracking
Hard-boiled eggs are a great food to have on hand because they are so versatile, in fact, you can add this protein to just about anything! They are delicious on their own as well as in salads, bowls, fried rice and more. You might be wondering, "How long does it take to hard-boil an egg?" Well, the answer is 6 minutes! Tip: It's important to avoid overcooking hard boiled eggs because that can result in a gray ring around the yolk and cause them to feel rubbery.
Things You´ll Need:
A Pot with a Lid
Eggs
Water
Instructions
Step 1. Place your eggs in a single layer on the bottom of your pot and cover with cold water. The water should be about an inch or so higher than the eggs. Cover the pot with a lid.
Step 2. Over high heat, bring your eggs to a rolling boil.
Step 3. Remove from heat and let stand in water for 10-12 minutes for large eggs. Reduce the time slightly for smaller eggs, and increase the standing time for extra-large eggs.
Step 4. Drain water and immediately run cold water over eggs until cooled. Rapid cooling helps prevent a green ring from forming around the yolks.
Tips
A hard cooked egg's shell can be peeled by first crackling it all over with a hard surface and then rolling it between your palms to release it. Peeling should start at the larger end. To aid in shell removal, hold the egg under cold running water or submerge it in a bowl of water.
Hard boiled eggs with the shell on and kept in a sealed container will keep for 1 week in the fridge.
To determine whether an egg is hard boiled or raw, spin it! If it spins round and round evenly, it is hard boiled. If it wobbles while spinning, it is a raw egg.
Adding a teaspoon of vinegar to the water may help keep egg whites from oozing out if an egg does crack while cooking. Also some people find adding 1/2 teaspoon of salt to the water helps prevent cracking as well as making the eggs easier to peel. If desired, add either or both of these ingredients as the water begins to boil.
How to Color Hard Boiled Eggs
Now that your eggs are boiled, you have the perfect canvas for your favorite springtime tradition. Follow some of our tips to take your decorations to the next level by making your eggs the most vibrant and beautiful they can be!
Quick Tips for Dyeing Eggs
Find a heat resistant container that is deep enough to cover the egg completely.
Mix teaspoon of vinegar and 20 drops of your favorite color food coloring with hot water
Opt for tongs when dipping eggs.
Dye your eggs in warm water (never cold) as warm water helps the dye absorb better than cold water does.
Leave the eggs in the dye for 5 to 10 minutes.
Different tints depend on the time the eggs are submerged.
Tasty Hard Boiled Egg Recipes
Now that your hard boiled eggs are beautiful and ready to eat, Minute® Rice has several amazing recipe options to choose from to help you consume them in yummy ways.
Salads
For a delicious and easy way to use up those leftover hard boiled eggs, why not try our Classic Rice Salad? Ready in only five minutes, this simple and satisfying dish is very versatile and is a perfect choice for a dish, appetizer, lunch or snack.
We've created a variation to the traditional, all-American potato salad by using fluffy white rice in place of the potatoes. The hearty grains give a traditional comfort salad a layer of delectable texture and flavor.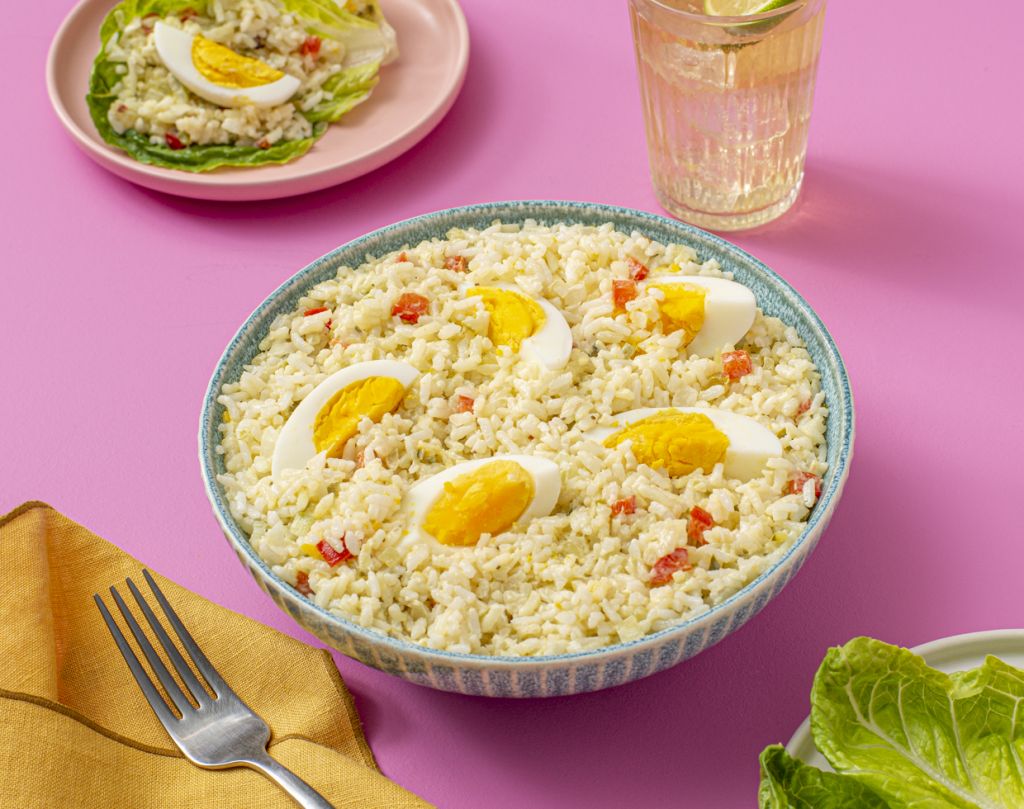 The combination of leafy greens can be enjoyed in a variety of ways, including wrapped in lettuce leaves or eaten on its own with a fork. It makes a delicious side dish or a light main course for your next picnic or barbecue outside. Check out multiple lettuce wrap recipe ideas Here.
This salad can be used as a meal prep alternative or as a side dish with dinners throughout the week because it can be stored in the refrigerator for up to 5 days.
If you enjoy the sound of this salad you can add a little extra flavor by substituting our microwaveable Minute® Ready to Serve White Rice. With these suggestions and dishes, preparing wholesome, mouthwatering meals is no longer synonymous with spending hours in the kitchen.
To get started, combine Minute® Rice Light & Fluffy Instant White Rice with mayonnaise, chopped onion, sweet pickle relish, mustard, salt and – of course – 2 hard-boiled eggs. This salad is a great option because you more than likely already have all the ingredients that you need in your kitchen. If you are feeling extra hungry, feel free to add some more eggs into the mix or add in some extra protein!
In the mood for some seafood? This tasty recipe for Tuna and Rice NiÇoise Salad is another great way to use up your leftover hard boiled eggs. This dish comes together in only 5 minutes. It´s made with our Minute® Rice Ready to Serve Yellow Rice, capers, cherry tomatoes, green beans, tuna, hard-boiled eggs and more. This French inspired dish makes a well balanced lunch option or even a light dinner.
If you are not a fan of canned tuna, there are several other alternatives you could try – cooked chicken, salmon or tofu are just a few.
Veggie Bowls and Fried Rice
If you are looking for other ways to use up those hard-boiled eggs besides in a salad, why not try a veggie bowl or a fried rice recipe? A delicious bowl to try is our Deconstructed Deviled Egg Bowl made with rice, a hard boiled egg, mayo, dijon mustard and chopped pickles.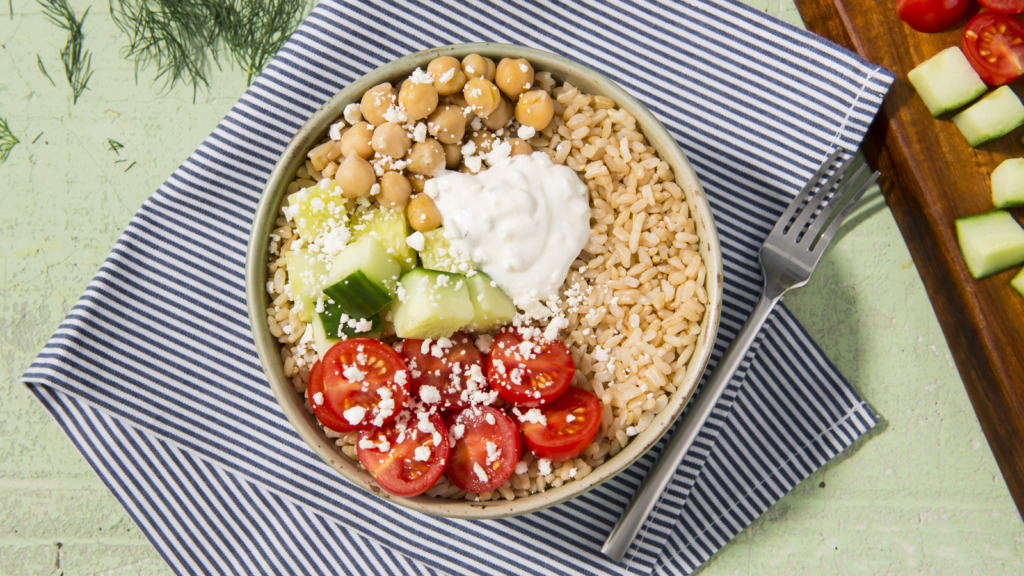 Why not add some extra protein to one of your favorites? Our Greek Brown Rice and Veggie Bowl is ready in only 5 minutes and the incredible Greek flavors will immediately transport you to the Mediterranean. This Greek-inspired rice bowl is loaded with chickpeas, hard boiled eggs, juicy cherry tomatoes, freshly chopped cucumber and is topped with crumbly feta cheese and your favorite store-bought tzatziki sauce. It's the perfect choice for any meal.
An Eco-friendly Easter Idea
From eliminating food waste to creating more sustainable packaging, Minute® Rice is firmly committed to a more sustainable future. There are many ways you can repurpose our BPA-free cups. After enjoying your delicious hard boiled egg meals, why not take advantage of those empty Minute® Rice Ready to Serve Cups by making a fun DIY Easter project? Reusable Rice Cup After all, it's the perfect time of year to start your garden – and you can never have too many plant pots !
No matter what leftovers you have after this Easter holiday, you can create simple and delicious new meals with your favorite Minute® Rice.