Whether we like it or not, we all have an impact on the environment. But, the great thing is we can choose to make that impact a positive one. That's where our habits come into play, including the way we eat. Have you ever heard about sustainable eating? It's ensuring that our current food needs are met, while also looking to provide for future generations.
Earth Day may come and go every April, but at Minute® Rice, we like to think of it as a yearly reminder to take another step toward learning what we can do to care for the environment. No matter how hectic life can get, there are always small and simple improvements we can all make, and we'll show you how, starting in the kitchen! We've got realistic, budget-friendly solutions to issues like food waste and packaging pollution that you can implement, along with useful and tasty recipes.
Reduce Food Waste
We're starting where we know best — with food! These three tips help to cut down on food waste, which is a large contributor to environmental issues and unnecessarily wastes resources such as water and soil.
However, for most, it might be pretty overwhelming to try and start making lots of changes at once. We suggest starting with just one of these and working your way up. After all, the goal is to make lasting efforts you can keep up with and add to your daily routine.
1. Eat Down Your Fridge
What does this mean exactly? Eating down your fridge refers to using up the leftovers before having to toss them out and buy a load of new groceries. There are all kinds of meals you can put together to use up those extra vegetables or produce that don't have to be boring or overly complicated.
One pot meals are our go-to options. Why? It's the perfect way to use up any extra vegetables in one tasty meal that uses fewer resources and makes for less clean-up!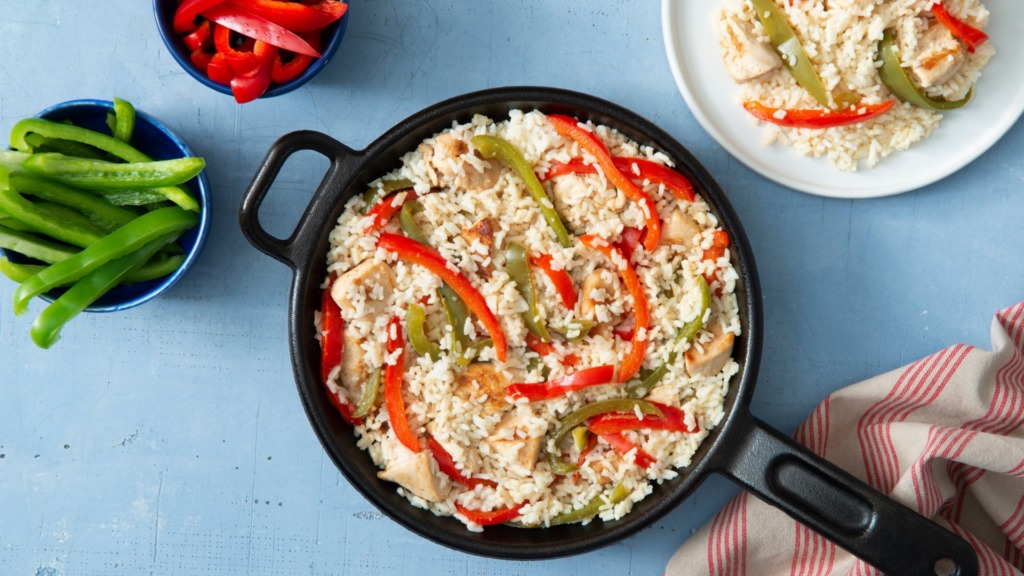 Try these options for a meal this week:
One Pan Skillets: Put those extra vegetables to good use in this One Pot Beef and Rice Skillet with broccoli or other greens, a Zesty Chicken and Rice Skillet with peppers, or Chicken and Rice Primavera with all kinds of veggies to clear out your fridge. Make them work for you by swapping in what you like best or have on hand. If you are pressed for time you can also check out one of our 15 minute Rice and Chicken recipes. Another great chicken recipe to try is our: chicken cheese and rice.
Grocery Tip: One pot meals are also perfect for using any imperfect produce at the store that may still be perfectly fresh but look less desirable for others. This prevents them from being tossed out based on appearance.
Soup or Stew: Simple to make and enjoy, use up vegetables in a Hearty Rice Minestrone Soup. The best part? You can toss everything into your Instant Pot, set it and get back to the kitchen when dinner is ready to enjoy!
Dessert: Using up food isn't just for lunch or dinner! Make good use of fresh or frozen fruit before it goes bad and yogurt in a breakfast, snack or dessert like this parfait-style bowl of Four Grains with Berries and Yogurt.
2. Plan Ahead
You can find ways to eat up those leftover vegetables or get ahead of the game by organizing your meals beforehand. This doesn't have to require much extra work, simply set aside a bit of time before you go to the grocery store and write down a list of things you'll need for meals throughout the week. This will help you save time and money as it makes for fewer impulse buys.
Shopping Tip: Like we said, life can be hectic, so we suggest you stock up on pantry foods like rice and quinoa that have a longer shelf life than fresh produce. That way you'll be prepared for the unexpected when you need a quick and filling rice bowl or salad. This Quick Rice and Beans Burrito Bowl starts with a plant-based Ready to Serve blend Minute® Southwest Pinto Beans and Rice topped with your favorite burrito fillings! Or, try a convenient Pressure Cooker Red Beans and Rice.
3. Freeze Meals
Another great method for planning ahead is to freeze an entire meal. After a long and busy day, all you'll need to do is remove from the freezer, reheat and enjoy to feed you and your family. Need a meal for one? No problem, simply store in individual containers and eat as needed.
For more tips and freezer-friendly meals ideas take a look at our guide to freezing meals.
Fun Ways to Reuse and Recycle Packaging
Another simple change you can make is to choose products that come in recyclable packaging. Recycling helps to save raw materials, energy and water and keep landfills from piling up!
1. How to Recycle Your Packaging
All Minute® Rice products are recyclable. Fold the cardboard boxes of our Instant Rice varieties and recycle them curbside at home, as normal. As our Instant Rice & Quinoa comes in pre-portioned bags, simply bring those to your plastic grocery store drop-off.
Our Ready to Serve Rice comes in a 100% recyclable carton along with BPA free cups. Simply discard the seal lid and rinse out the cup. However, these cups are also ideal for reusing in many different ways.
2. Reuse Ready to Serve Cups
Reusing your convenient BPA free cups keeps them out of the bin and gives them a new life! There are an infinite amount of possibilities for reusing plastic cups, all you need is a bit of creativity. Try any one of these fun ideas for adults and kids alike.
Gardening: Use your cups as starters for new vegetable or flower seeds. They can also work as pots for smaller cactus or other potted plants. Decorate however you choose beforehand.
Take a look at this simple video for some pointers:

Art: Create circle art by using the cups as stencils or use them to decorate for a holiday or season like a christmas wreath, snowmen, spring wind chimes, flowers, ghosts, pumpkins, mini hanging lights or store breakable house decorations safely.
Make your own Halloween ghost by following this video here:

Games: Use your extra cups to make fun games like cup stacking or tower competitions.
Molds: Use these cups as a popsicle mold or to repurpose for other fun dessert or parfait cups.
See, there are plenty of ways to decrease your environmental footprint, and using these helpful ideas from Minute® Rice, you can get started anytime in the kitchen. Remember, start simple and work your way up. For information on how to make classic dishes such as Fried Rice with Egg you can check the recipes page on our website.