If you're wondering what a plant-based diet is exactly or you're just looking for vegetable-focused meals to add to your weekly menu, we've got what you're looking for. In fact, now more than ever there are plenty of ways to branch out and try different meals with all kinds of ingredients. There's no shortage of protein-packed plant-based recipes you can make with ingredients like stuffed vegetables, mushrooms, fruit, rice and quinoa to name a few!
At Minute® Rice, we're always exploring different ways to bring sustainability to your meals. We'll show you how to make quick and convenient meals using more plant-based ingredients like rice and quinoa just in time to celebrate Earth Day!
What is Plant-Based Eating?
First, before we get into meal ideas, let's unpack what plant-based means. From its name you can guess that it focuses on foods that are originally from plants, however unlike vegetarian diets, it does include meat and other animal products, just less. The idea is to focus your diet around foods that are plant-based rather than other meat products.
Meatless Mondays
If you like the idea of switching to a more plant-based diet but maybe don't feel quite up to totally ditching meat yet, then Meatless Mondays may be just the thing for you. This is a worldwide movement to try and reduce meat consumption, the idea is to skip meat for just one day a week and eat a vegetarian or plant-based meal instead.
Giving up meat altogether can be quite a commitment for some people, however giving it up for just one day per week is perfectly doable no matter what your meat consumption is.
Exploring Plant-Based Rice and Quinoa Recipes
So you want to start exploring different plant-based meal options, great! But where to begin?
Here we've combined a list of some of our favorite meat-free recipes which you can make using Minute® Rice and Quinoa products.
Quinoa Recipes
For those of you who are unfamiliar with quinoa, this so-called superfood from South America is technically a seed instead of a grain, like rice. It lends itself very well to recipes that feature a lot of vegetables. Here are some plant-based quinoa meal ideas.
For a quick and easy to prepare lunch, take a look at this plant based Quinoa Carrot Walnut Salad made with Minute® White & Red Organic Quinoa. As this recipe does not have to be heated, it can be ready in just 3 minutes! There are also plenty of other ingredients that can be added like avocado, cherries and dried cranberries to boost the flavor even more.
This 15-minute Vegetarian Chili With Rice and Quinoa is a hearty option that mixes together plant based staples like chili beans and diced tomatoes with other ingredients like cheddar cheese along with Minute® Rice & Quinoa.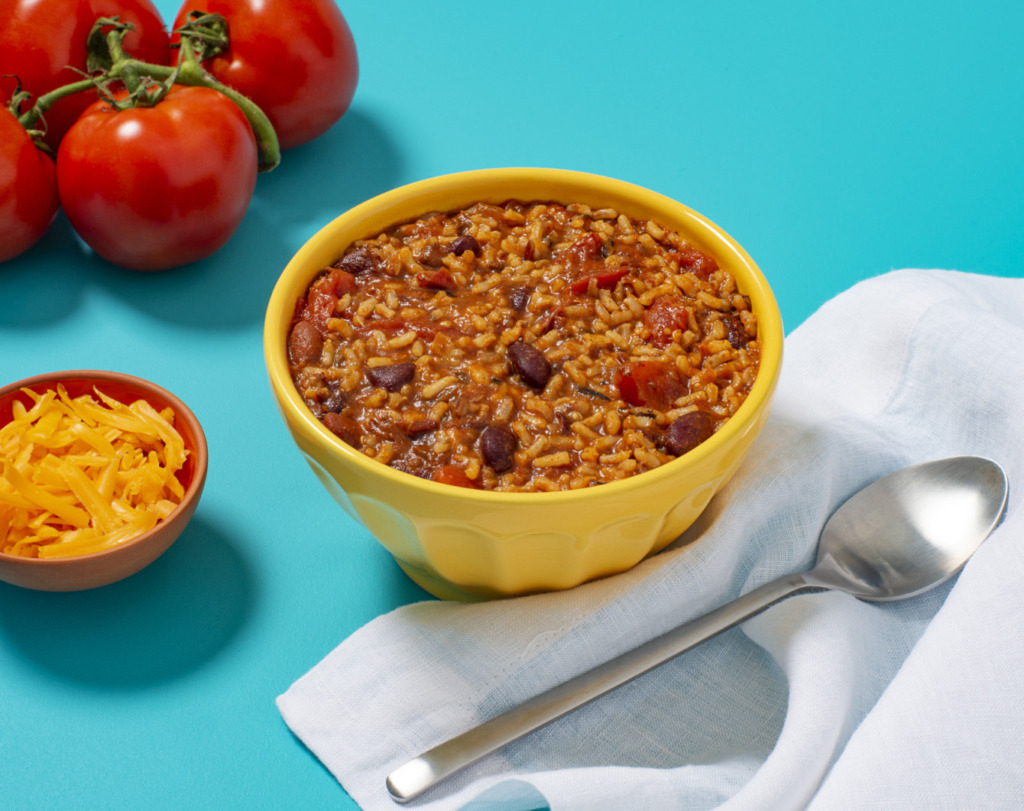 Brown Rice Recipes
Brown rice is also an excellent accompaniment to vegetarian or plant based meals like this filling yet delicious Rice Bowl With Veggie Burger recipe. This dish is absolutely packed with plant based ingredients like lettuce and tomatoes which can be prepared in just 5 minutes! Try topping the veggie burger with different types of cheese, dressings and vegetables to really make this recipe your own.
Made with a combination of Quinoa and Brown rice, this 5-minute Rice and Quinoa Bowl With Harissa Glazed Carrots is a delicious, plant-based, energy packed bowl that will keep you going throughout the day. Although the Harissa paste does have a bit of a kick, it's not too overwhelming and compliments the carrots nicely. This meal certainly doesn't lack anything, the Quinoa, Brown Rice and Chickpeas work together to create a protein.
White Rice Recipes
Quicker to cook and used in more traditional meals, there are also plenty of plant-based recipe ideas that utilize white rice.
This Fiesta Rice plant based recipe with tomatoes and avocados takes just 5 minutes, and is a great option if you are looking for a plant based recipe which packs plenty of colors and flavors. Although this recipe calls for Minute® Ready to Serve White Rice, it also tastes good with Minute® Cilantro and Lime Jasmine Rice.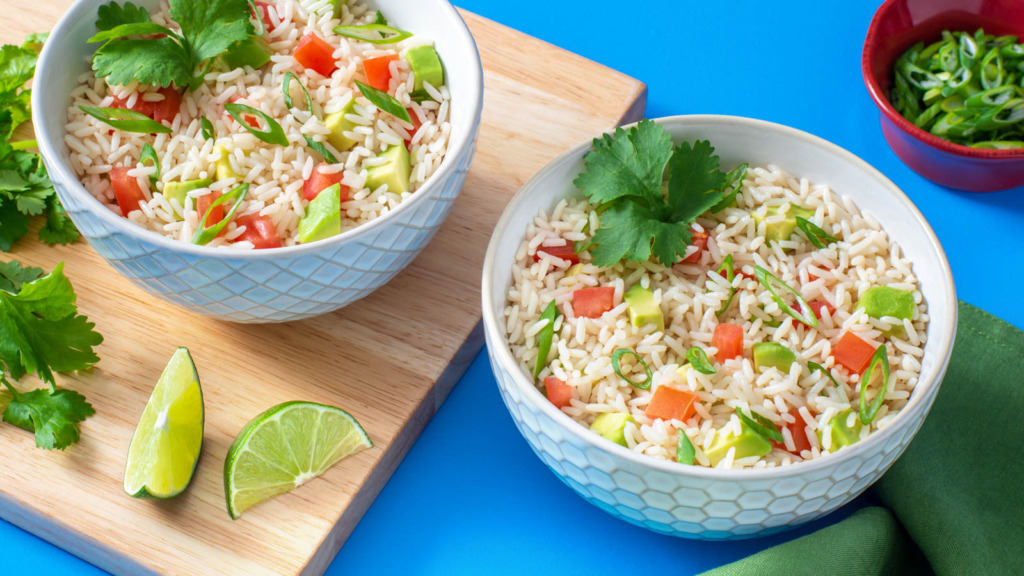 For a plant-based recipe with more of a Mediterranean flavor, try this Greek Salad made with Minute® Ready to Serve White Rice, cucumber, tomatoes and red onions. Make sure your pantry is well stocked with other Greek ingredients that you can add into the mix, for example: yellow peppers, raisins or dried currants, artichokes and Kalamata Olives.
Jasmine and Basmati Rice
Sweeter and more aromatic than brown and white rice, you may think that Jasmine Rice would be better suited to desserts than a plant-based meal. There are plenty of great tasting veggie loaded meals with natural ingredients that utilize Jasmine Rice.
Made with plenty of vegetarian ingredients like chickpeas, hummus and feta cheese along with Minute® Cilantro and Lime Jasmine Rice, this Power Rice-Stuffed Sweet Potato works great any day of the week. The chickpeas, hummus and feta cheese provide a nice helping of protein making this a great comfort meal throughout the fall season.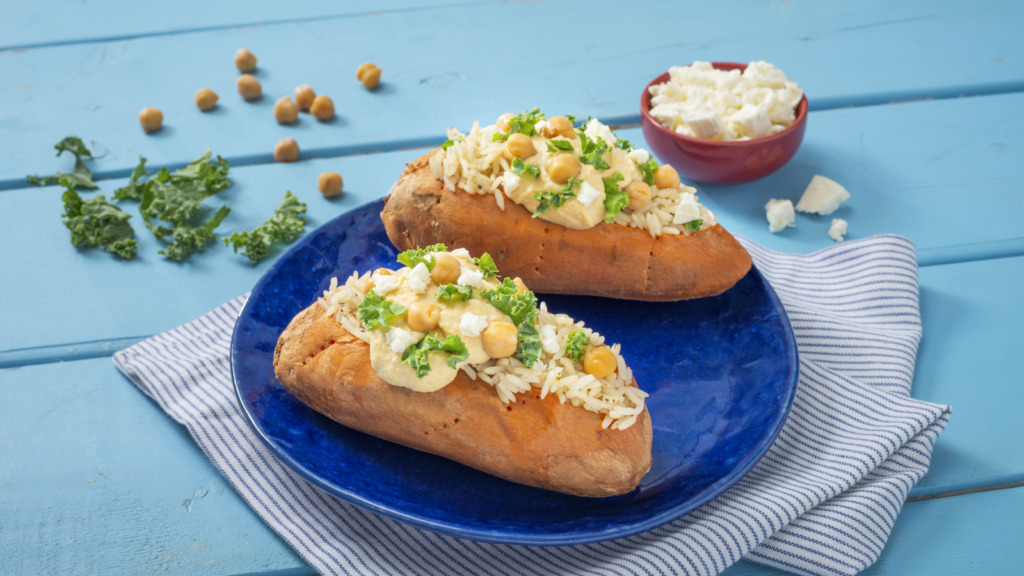 Ready in just 10 minutes, this Garlic-Butter Kale Rice provides a colorful and tasty vegetarian side dish that is sure to impress the next time you are entertaining guests. To reduce prep time even further you can buy pre-washed, cut kale or baby kale as you won't need to massage the leaves before cooking.
These Vegetarian Mexican Meatballs are the perfect substitute for the real thing, prepared with avocado, salsa along with Minute® Ready to Serve Cilantro Lime Rice. The whole thing requires just 5 ingredients and 8 minutes to make! Once you have tried this dish, you can try vegetarian meatballs with any number of different dishes!
Enjoy this seasonal Fall Harvest Rice Bowl with squash, apple and Maple Syrup along with Minute® Basmati Rice. The basmati rice works well to absorb the flavor of the Maple Syrup leaving you with a great fall flavored dish.  
For a non plant-based option try our: chicken cheese and rice.
For more great recipes along with tips and tricks in the kitchen make sure you stay tuned to Minute® Rice.