Not all of us can be expert chefs or even find the time to make a delicious meal as often as we'd like! That's where No Recipe Recipes come into play. Not sure what that is? Keep reading and you'll learn how easy it is to customize a rice bowl, make a soup or rice salad just by popping a Ready to Serve cup in the microwave and tossing in a few of your favorite ingredients or just using what you have on hand!
No matter how busy your schedule is, you can prepare meals or snacks at home, in no time with our No Recipe Recipes formula. Jot down a few of our pairing suggestions to spark your inner chef, get creative, save time and eat great – we guarantee there's more than one advantage to learning how to 'cook' without following an actual recipe.
Cooking Without a Recipe
To make these No Recipe Recipes, simply follow our 4 step method to create delicious meals with minimal to no cooking, and all without sacrificing quality or taste. One of the best things about these non recipes is that with just a few ingredients, you can put together your own side or meal without worrying about time consuming recipes, measuring ingredients or strict cooking instructions.
We'll show you how to take what you have on hand and turn it into something delicious. With just a bit of guidance and kitchen creativity, the rest is up to you – how much sauce is too much sauce? We'll let your taste buds decide!
The 4-Step Method
1. Microwave your grains
Who doesn't love filling grains? The ease, variety and versatility of grains make them the perfect base for almost any meal to keep you feeling full longer and more energized.
The first step in our No Recipe Recipes method is to heat the convenient Minute® Microwavable Ready to Serve Cups. No need to spend 20 minutes over the stove, simply pop one in the microwave and in a matter of seconds you'll be enjoying perfectly fully cooked rice, a hearty blend of rice and quinoa or 100% quinoa.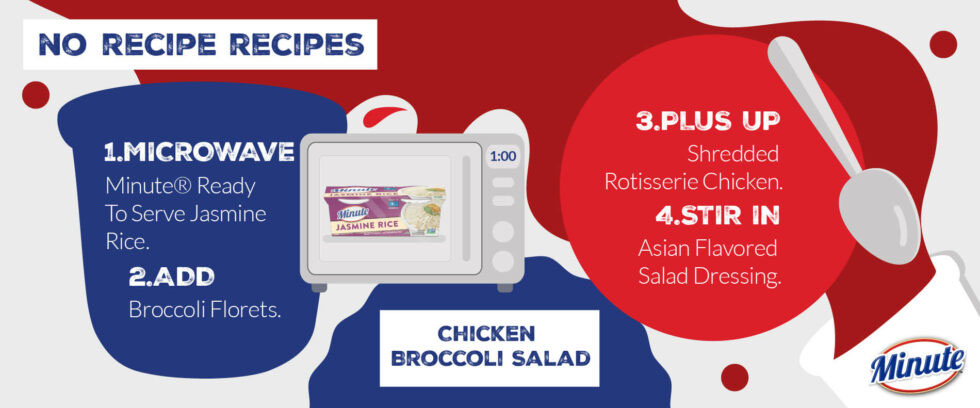 Whether you're a fan of whole grains, organic rice or lightly seasoned grains, there's a Minute® Ready to Serve cup to suit your preferences. As we said, the best part about these recipes is that you're free to choose your favorite rice or grain variety.
2. Add some veggies
The second step in the method is to add any chopped veggies you have on hand to your grains – fresh, frozen or canned vegetables will all work. Give that frozen broccoli or vegetable blend of peas and carrots in the back of your freezer an opportunity to pair up with some nutrient-filled grains in a delicious No Recipe Rice Bowl or in a refreshing rice salad.
Quick Tip: If you don't have the time for chopping or defrosting, swing by the salad bar at your local grocery store and mix and match a few of your favorites like fresh greens or maybe a few sliced bell peppers for a meal or two!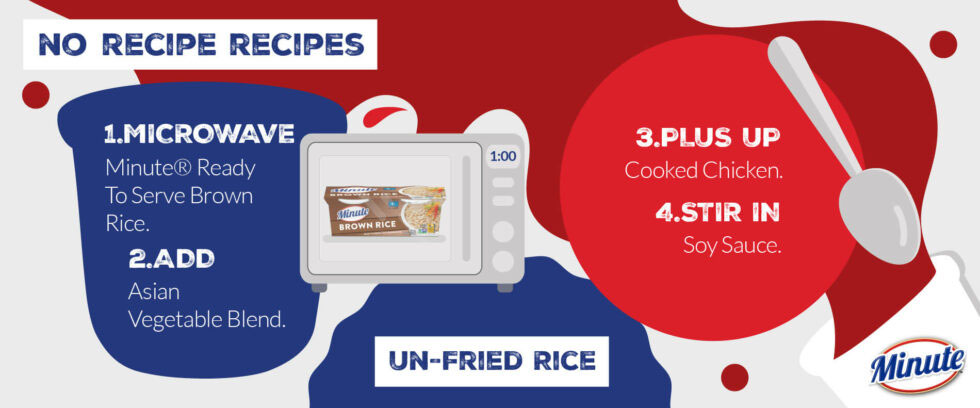 Fresh vegetables add a nice crisp texture and bright color but the convenience of cooking with pre-chopped and precooked frozen veggies helps when you're tight on time. Just remember to sufficiently thaw the frozen veggies and either microwave or sauté before mixing with the grains.
3. Plus up with a protein punch
Most meals feel incomplete without an extra dose of protein-packed foods. The third part of the method is to enhance your rice with meats, poultry, seafood, beans like black beans or chickpeas and lentils, tofu, cheese, or whatever protein you choose. The possibilities are endless! For a delicious meal on the go, try this quick red beans and rice recipe.
Get creative and customize with what you have in your pantry like canned tuna or frozen chicken and beef or you could also pick up some pre-cut rotisserie chicken at your grocer alongside those salad bar veggies. The results will be nothing short of fantastic.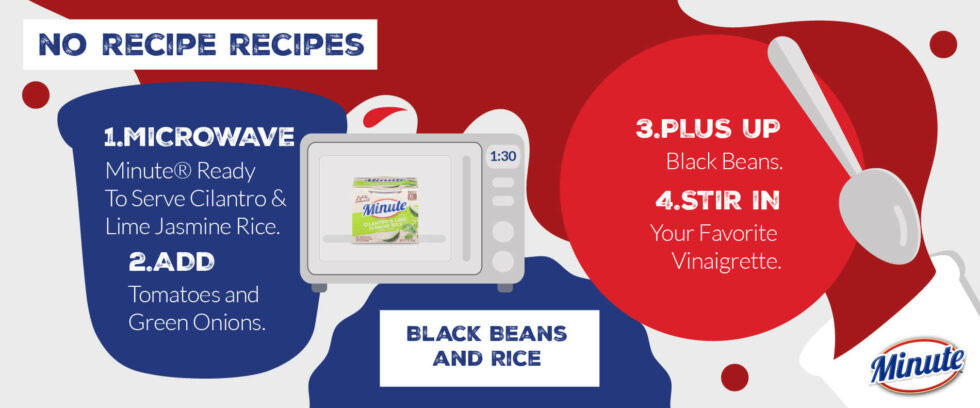 Pro tip: Try to find a good balance in the texture of your add-ins! If you go with crisp fresh vegetables like broccoli, cucumber or red pepper, use creamy textured beans or soft rice and quinoa to keep the texture interesting. Or add in your favorite crunchy croutons to a chicken Caesar rice salad.
4. Stir in your favorite sauce
Sauces, vinaigrettes, marinades, condiments, juices, and dressings are the real game-changers when it comes to flavor. A flavorful sauce or dressing can take a plain meal to a whole new level, as your No Recipe Recipe starts with a mild grain base, adds vegetables and proteins, and from there, your stir-in flavor possibilities are pretty much endless.
For the final part of our foolproof 4-step method, stir in (or drizzle) the finishing flavor kick for your personalized meal, check out a few examples to get you started:
Flavored oils: sesame, avocado, coconut, Meyer lemon, roasted garlic
Store-bought sauces: marinara, pesto, soy, sweet Thai chili, hoisin, salsa, curry, pad Thai, spicy Thai Mango, barbeque
Dips: guacamole, hummus
Dressings: ranch, thousand island, Italian, honey mustard, vinaigrette, sesame ginger, Asian
Marinades: chipotle, honey bourbon, lemon pepper, herb & garlic
If you're short on time or cooking skills, go with a quick store-bought sauce or dressing but, if you're feeling adventurous and want to try new flavors, try a quick and fresh alternative by combining the ingredients below:
3 parts olive oil, to 1 part vinegar plus half teaspoon Dijon mustard.
2 parts mayonnaise and 1 part honey mustard.
Like your meals spicy? There are a lot of ingredients that can take your meal up a notch with a delicious spicy kick – give these suggestions a try:
Hot sauce
Sriracha
Wasabi
Habanero, Jalapeno or Chipotle pepper
Sweet & Spicy Mayo
Tips to build your own meal
Now that you've learned the No Recipe Recipe method, here are some helpful tips to keep in mind, so you can start having fun building your own rice/grain-filled dish.
Stock up your pantry
The recipes we go back to, again and again, are usually the most simple and start with kitchen staples. By properly stocking your pantry with a wide selection of ingredients, you'll be able to easily pull together a delicious meal without any extra grocery store runs. We're talking about canned goods, store-bought sauces or dressings, frozen foods, fresh veggies, cheese and of course, rice and grains.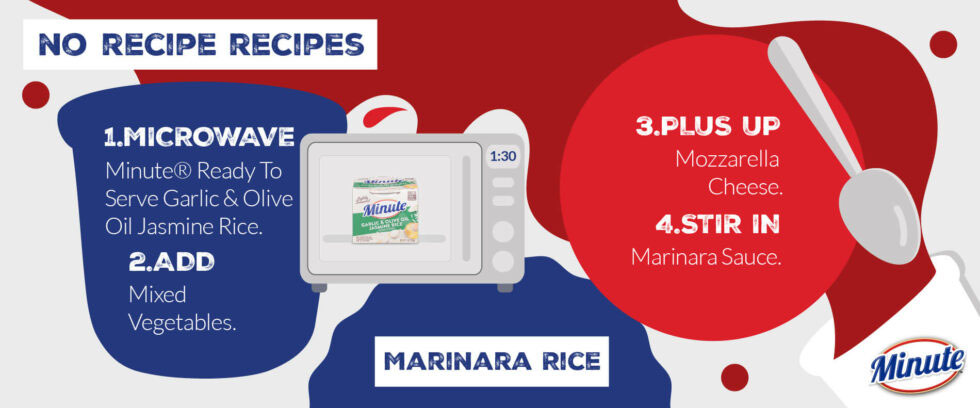 For minimal effort in the kitchen, Minute Microwavable Ready to Serve Cups can be your greatest ally and best friend. These cups are perfectly portioned, do not contain artificial preservatives or flavors, come in a variety of different options so no meal is repetitive or boring. From aromatic Jasmine Rice, Whole Grain Brown Rice & Quinoa to Cilantro & Lime Jasmine Rice believe us when we say Minute® Ready To Serve Cups are lifesavers!
Play with dressings
You'll be surprised at how easily you can turn fruits, vegetables and even store-bought salsa into a delicious dressing for your No Recipe Recipe creation.
Make a homemade tomato sauce by oven roasting some tomatoes with oil, garlic and herbs and then tossing into your blender. Or use a flavorful salad dressing and thin it out with store-bought pesto and olive oil. For a sweet alternative combine fruit and Greek yogurt in a blender.
Cook smart (save time and money)
Cooking without being tied to a recipe will help you learn to cook and feel more comfortable in the kitchen with what you have on hand while also cutting back on grocery expenses. The No Recipe Recipes method can help even the most novice of cooks gain experience even with a busy schedule or on a strict budget, while enjoying tasty and filling meals to be proud of.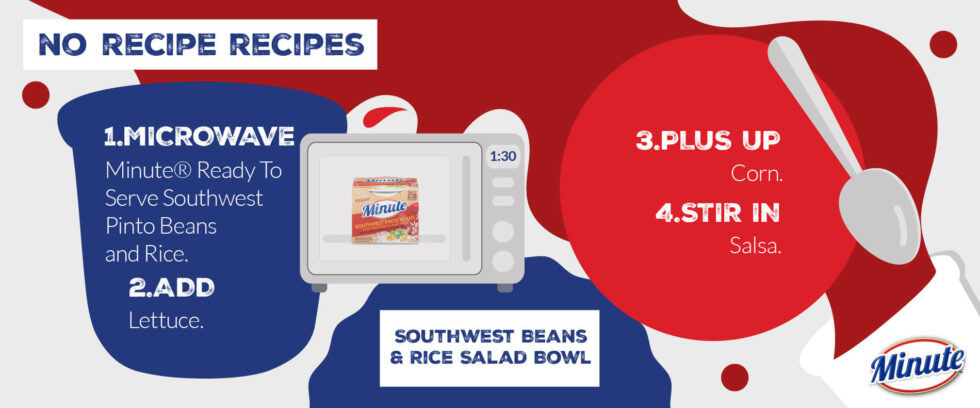 Another benefit to No Recipe Recipes is that without measured ingredients, cleaning up will be a breeze as there won't be any extra measuring cups, spoons or bowls to wash. See, we told you there was more than one reason to love these meals.
Master the ingredient ratio
Deciding how much of each ingredient to add not only depends on your preference, but on the number of people you're sharing your meal with.
Minute® Ready to Serve Cups are single-serving portions, however, if you've got more people to feed or you're planning on sharing with a crowd, you could use both cups in our bi-pack sleeves or try our slightly larger 7 oz. single microwavable cups.
If you're a veggie-lover, we recommend keeping a 1:1 ratio with the grains and the added vegetables. You can even use the microwavable Minute® cup to measure the vegetables before tossing them in with the rice/grains.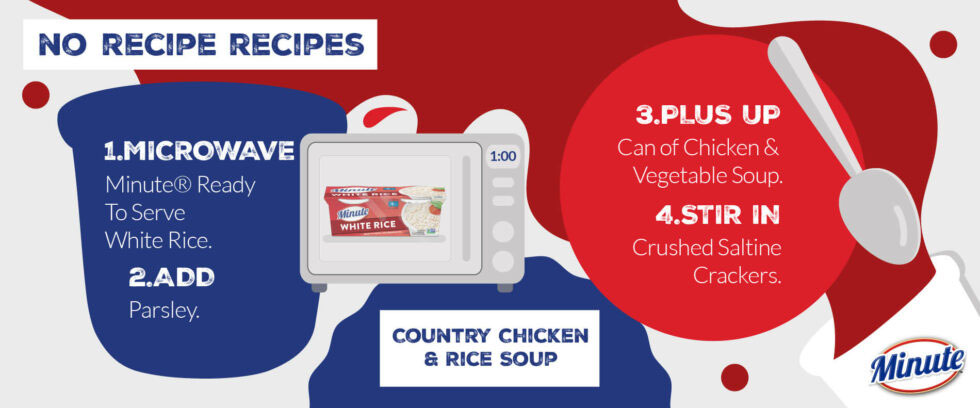 The same applies to any protein plus-ups. Depending on how hungry you are, add the desired amount of protein – make it half or fill the entire cup with protein to keep the meal balanced. Regarding the sauce amount start off with a smaller amount as you can always add more if you want more flavor.
We won't judge your love for salsa or heat, so drizzle as much as your taste buds desire. And, in case you were wondering, any extra mix-ins are always welcome! Feel free to sprinkle your meal with chopped nuts, seeds, fresh herbs, seasonings, sea salt…after all, you make the rules with your personalized no recipe meal.  Looking for a meal idea tonight? Check out our: cheesy chicken and rice.